I know, this band has already been suggested for inclusion...
But it's still missing in the database!
http://www.obscura.it/ - http://www.obscura.it/
This is what wrote Erik Neuteboon sometimes ago...
OBSCURA – Le Citta Invisibili (***1/5)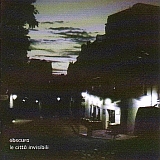 This is a new Italian sextet, their music sounds as a pleasant and alternating blend of several styles in which the contrast between the sparkling Grand piano and heavy guitar riffs like Black Sabbath are very remarkable! It give an extra dimension like in the varied compositions Limbo Cosmico Part I (from mellow flute to heavy guitar and a wonderful, very sensitive guitar solo, supported by huge Mellotron waves, Progheaven!), La Citta Del Sole (sparkling piano and heavy guitar riffs, an accellaration with organ and guitar and finally Fender Rhodes and again heavy riffs), Limbo Cosmico Part II (beautiful interplay between piano and flute, a moving guitar solo with lush organ

and a great final part with good vocals, flute and choir-Mellotron)) and the excellent final composition Guernica (alternating with Fender Rhodes piano/flute and neo-prog with fluent synthesizer flights, organ and propulsive drums and a compelling part with wah-wah guitar, first supported by organ and then by majestic choir-Mellotron, goose bumps!). This CD delivers two short pieces: Bersebea featuring Grand piano arpeggio's and mellow flute and Ipazia with a flute/acoustic guitar duet, wonderful.
Although they still have to mature a bit in composing, to me this debut album by new Italian band Obscura sounds as a very pleasant blend of symphonic (tasteful vintage keyboards), classical and hardrock