RPWL - live DVD in progress

Printed From: Progarchives.com
Category: Progressive Music Lounges
Forum Name: Prog News, Press Releases
Forum Discription: Submit press releases, news , new releases, prog music news and other interesting things happening in the world of progressive music (featured in home and artist page)
URL: http://www.progarchives.com/forum/forum_posts.asp?TID=56386
Printed Date: September 30 2014 at 05:12
Software Version: Web Wiz Forums 9.69 - http://www.webwizforums.com


Topic: RPWL - live DVD in progress
---
Posted By: Easy Livin
Subject: RPWL - live DVD in progress
Date Posted: March 13 2009 at 16:28
---
RPWL - does this German band need any special introduction? Not really but those of you who are unfamiliar with the band and their music should definitely read below info…
Their story began in 2000 with the debut album "God Has Failed". Glorious reviews and praise in all relevant magazines, a successful tour through half of Europe, appearances at various festivals left no doubt - the band had become a must-to-hear of the progressive/symphonic rock genre.
In march 2002, RPWL released the follow-up album entitled "Trying To Kiss The Sun". With this album, the band emphatically shed off their reputation of being a Pink Floyd cover band and created a sound of their own. The band toured extensively through Germany and Europe, taking their shows to a new level with a quadraphonic sound system, which made their already huge live sound even more gigantic. With the album being published in the USA and South America, RPWL gained fans and recognition all over the world. Wanting to deliver the surround sound of their concerts directly to the hi-fi, they decided to release a very special album: "Stock", which - in addition to the stereo CD - included a 5.1 surround mix on a DVD. Although "Stock" is a compilation of the previously unreleased and older material, the press gave it an enthusiastic reception; and the subsequent tour was a huge success. During this tour, elaborate video projections were used for the first time, and have since become an integral part of the band's shows.
In January 2005, "World Through My Eyes" was released. The album featured a special guest, Ray Wilson (ex-Genesis, Stiltskin), who contributed his remarkable voice to the track "Roses". In late 2005, the highly anticipated live album "Start The Fire", was finally released. Along with Ray Wilson's special appearance, RPWL's characteristic interpretations of Pink Floyd songs were the highlights of this album. With the new live album under their belt, the band played numerous shows over the next few months, including appearances at festivals such as Open Flair, Eschwege (with Ray Wilson as their guest) and eventually the largest progressive rock festival, the Baja Progfest in Mexico. Later on Kalle Wallner took the time off to release his solo album "Mirror" under the name of Blind Ego, with prog-giants such as John Jowitt, Paul Wrightson and John Mitchell by his side. The other RPWL members also focused on their solo projects. To make waiting for the new RPWL album a little shorter, the band released the album "9" in late 2007. It was a special edition CD limited to 999 copies! Along with five live tracks, the CD included additional four solo track written individually by each member of RWPL but performed in the studio by whole band.
Their most recent studio album "The RPWL Experience" was released in 2008. There are many beautiful things to be discovered there, in musical as well as in lyrical terms, and it is definitively another step forward for the band. After this release RPWL did more than 40 shows all over the world.
In February 2009 RPWL headlined the second day of the first edition of the ProgRock Festival in Katowice, Poland. Their fantastic show was recorded for the band's first live DVD. The set-list included RPWL's greatest hits such as "Hole In The Sky", " Breathe In, Breathe Out", "Three Lights", "Trying To Kiss The Sun" or "Roses". Metal Mind Productions plans to release the yet untitled DVD in early July. More info to follow as the work on the DVD progress.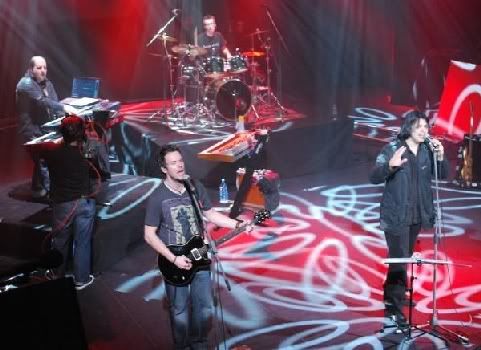 RPWL in Katowice 17.02.2009 – photo by Agnieszka
Additional photos taken at the show by Marta Tłuszcz can be seen here: http://www.metalmind.com.pl/index.php?dzial=artysci&id=599 - http://www.metalmind.com.pl/index.php?dzial=artysci&id=599
Metal Mind Productions - Promo Dept.
POLAND
---
Replies:
---
Posted By: Neu!mann
Date Posted: March 20 2009 at 10:50
---
Just a quick digression:

I attended the 3-day Rites of Spring prog festival (ROSFest) outside Philly in May of last year, where both RPWL and Blind Ego performed...the guitarist did double-duty in both bands.

RPWL had a very strong set...hard to define their sound: down-to-earth space rock? Or is that a contradiction? I also seem to recall their lyrics having a strong political bent, with an eye on current events.

Very interesting band: I look forward to hearing more from them.

(returning to lurker mode now)
---
Posted By: Windhawk
Date Posted: April 09 2009 at 13:55
---
Update - from a press release by Metal Mind.

----------------------------------------------

As announced in February, Metal Mind Productions will release the first DVD of German masters of ambitious rock - RPWL! "The RPWL Live Experience" features an impressive performance, filmed in mid February at the Wyspiański Theatre in Katowice, where RPWL played as the headliner on the second day of the ProgRock festival. The band's music definitely has its own style – modern, yet also drawing from the best traditions of the prog-rock genre. All in all - brilliant compositions, catchy melodies, mature and intriguing sound! The set-list included RPWL's greatest hits such as "Hole In The Sky", "Breathe In, Breathe Out", "Three Lights", "Trying To Kiss The Sun" or "Roses".
The DVD also features an interview with Yogi Lang and Kalle Wallner, "Breathe In, Breathe Out" video clip, Tour Footage 2006 (incl. Sleep Demo Version), photo gallery, desktop images, Dolby Digital 5.1 Surround sound and much more! "The RPWL Live Experience" will be available in the following formats: DVD, 2CD, and in a limited DVD+2CD edition.

Metal Mind Productions will release "The RPWL Live Experience" on 15th June in Europe and 14th July in USA (via MVD).

-------------
The Progressive Rock record labels project: http://www.progarchives.com/forum/forum_posts.asp?TID=85100
---
Posted By: Easy Livin
Date Posted: April 26 2009 at 09:47
---
The cover image has now been released: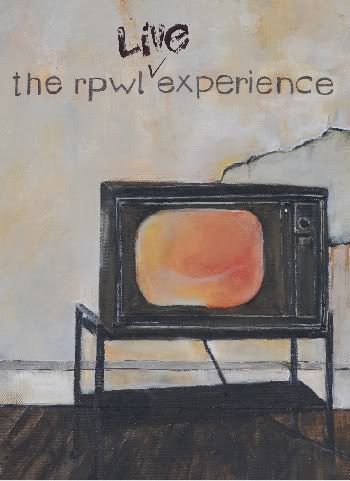 -------------

---
Posted By: Windhawk
Date Posted: May 08 2009 at 14:13
---
Update from Metal Mind on this one:

-------------------------------------------------



German band RPWL revealed the tracklist of their first DVD release "The RPWL Live Experience".

The DVD features an impressive performance, filmed in mid February at the Wyspiański Theatre in Katowice, where RPWL played as the headliner on the second day of the festival ProgRock 2009. The band's music definitely has its own style – modern, yet also drawing from the best traditions of the prog-rock genre. All in all - brilliant compositions, catchy melodies, mature and intriguing sound!

Tracklist:


1. Hole in the Sky
2. Breathe In, Breathe Out
3. 3 Lights
4. Start the Fire
5. Silenced
6. This Is Not a Prog Song
7. Sleep
8. Opel
9. Waiting for a Smile
10. Trying to Kiss the Sun
11. Wasted Land
12. Roses
13. Biding My Time
14. I Don't Know

The DVD also features an interview with Yogi Lang and Kalle Wallner, "Breathe In, Breathe Out" video clip, Tour Footage 2006 (incl. Sleep Demo Version), photo gallery, desktop images, Dolby Digital 5.1 Surround sound and much more! "The RPWL Live Experience" will be available in the 3 formats: DVD, ltd. 2CD, and ltd. DVD+2CD.

Metal Mind Productions will release "The RPWL Live Experience" on 15th June in Europe and 14th July in USA (via MVD).




-------------
The Progressive Rock record labels project: http://www.progarchives.com/forum/forum_posts.asp?TID=85100
---
Posted By: Windhawk
Date Posted: June 09 2009 at 13:02
---
Latest news on this one from Metal Mind:

------------------------------------------------------



On June, 22nd Metal Mind Productions will release the first DVD of the German band RPWL.

"The RPWL Live Experience" DVD features an impressive performance, filmed in mid February at the Wyspiański Theatre in Katowice, where RPWL played as the headliner on the second day of the festival ProgRock 2009. The band's music definitely has its own style – modern, yet also drawing from the best traditions of the prog-rock genre. All in all - brilliant compositions, catchy melodies, mature and intriguing sound! The set-list included RPWL's greatest hits such as "Hole In The Sky", "Breathe In, Breathe Out", "Three Lights", "Trying To Kiss The Sun" or "Roses". The DVD also features an interview with Yogi Lang and Kalle Wallner, "Breathe In, Breathe Out" video clip, Tour Footage 2006 (incl. Sleep Demo Version), photo gallery, desktop images, Dolby Digital 5.1 Surround sound and much more!

And today you can see a preview track – "Breath In, Breath Out" - on the MMP's profile on YouTube: http://www.youtube.com/profile?user=MetalMindPoland - http://www.youtube.com/profile?user=MetalMindPoland

RPWL

"The RPWL Live Experience"


Label: Metal Mind Records
Format: DVD / ltd. DVD+2CD / ltd.2CD
Genre: progressive rock
Release date: 22.06.2009 Europe / 14.07.2009 USA

Tracklist:

1. Hole in the Sky
2. Breathe In, Breathe Out
3. 3 Lights
4. Start the Fire
5. Silenced
6. This Is Not a Prog Song
7. Sleep
8. Opel
9. Waiting for a Smile
10. Trying to Kiss the Sun
11. Wasted Land
12. Roses
13. Biding My Time
14. I Don't Know

"The RPWL Live Experience" will be available in the 3 formats: DVD, ltd. 2CD, and ltd. DVD+2CD. The release date is scheduled for 22th June in Europe and 14th July in USA (via MVD).




-------------
The Progressive Rock record labels project: http://www.progarchives.com/forum/forum_posts.asp?TID=85100
---
Posted By: Easy Livin
Date Posted: October 03 2009 at 04:26
---
In late June Metal Mind Productions released the first DVD of the German band RPWL. "The RPWL Live Experience" DVD features an impressive performance, filmed in mid February at the Wyspiański Theatre in Katowice, where RPWL played as the headliner on the second day of the festival ProgRock 2009. The band's music definitely has its own style – modern, yet also drawing from the best traditions of the prog-rock genre. All in all - brilliant compositions, catchy melodies, mature and intriguing sound! The set-list included RPWL's greatest hits such as "Hole In The Sky", "Breathe In, Breathe Out", "Three Lights", "Trying To Kiss The Sun" or "Roses". The DVD also features an interview with Yogi Lang and Kalle Wallner, "Breathe In, Breathe Out" video clip, Tour Footage 2006 (incl. Sleep Demo Version), photo gallery, desktop images, Dolby Digital 5.1 Surround sound and much more! "The RPWL Live Experience" is available in 3 different formats: DVD, ltd. 2CD, and ltd. DVD+2CD.

A preview track – "Breath In, Breath Out" – can still be viewed on MMP's YouTube profile:
http://www.youtube.com/profile?user=MetalMindPoland - http://www.youtube.com/profile?user=MetalMindPoland .

The band will be performing live at 10.10.2009 - UK - Lydney - Summers End Festival



-------------

---