After The Fire was a popular band from England in the 1970s who were bridging both the Christian and the secular market with their music. They also had quite a big hit single with Der Kommissar. Their first album was quite ELP/Genesis inspired.
I caught up with Peter Banks for the After The Fire story.
What are you up to these days and how is life in Essex, England these days ?
Once 'Life in the City' finished when I moved out into the country I created a commercial studio with which I modified my musical career to work on advert and film music. This slipped sideways into providing computers to other musicians and that went on to become 'The Maldon Computer Company'. The company also slipped sideways into all things Internet and I have maintained a foot in that area in the latest incarnation 'Datapartners Internet' (www.datapartners.co.uk) which create online gizmos. I now enjoy life on the coast both outside on the beach and in my studio!
How is it to be mistaken for the ex Yes guitarist, like I did when I got your email ?  
It happens! During my time with After The Fire I added Memory as a stage name and I was known as Memory Banks or Peter Memory Banks. I have spoken to one of the musicians in Peter Brock Banks' band and we are toying with the idea of a photo session of both of us together to finally lay that myth to rest.
Remember to send us a copy !  When was After The Fire set up, by whom and how was your formative years ?
http://www.afterthefire.co.uk/original/biography.htm - http://www.afterthefire.co.uk/original/biography.htm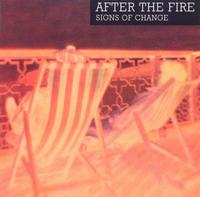 Please tell us more about your first self released album Signs Of Change from 1977.  
This is covered in the sleeve notes
This album was an ELP/Yes/Genesis inspired album. But you changed over to a more pop orientated band when you signed on CBS and released your second album Laser Love in 1979. Why ?
Because we didn't get signed and as punk was exploding into the world playing what was to become know as Prog Rock was out of date.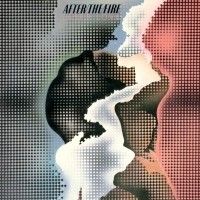 Please tell us more about this album.
When we released Signs of Change we suddenly found we were able to write short pieces which were actually punchy commercial songs, more like singles than epic album tracks. Laser Love is a collection of the songs we were playing live out on the road at the time. Once we made the change to the new material we were signed really quickly so the strategy worked.
Please tells us more about the 80-f album from 1980. The style was more pop again ?
We had two attempts at recording this album and we were gutted when we were taken to one side and told our finished album was not good enough. A different produced, Mack, who was working with Queen and ELO, was called in, we auditioned for a new drummer, appointed Pete King, wrote some extra songs and re-recorded the drums.
And the Batteries Not Included album from 1982. Stylewise how would you describe this album?
It was varied and experimental in the classic third album sense. We wanted to move forward and critics said it was our best ever.
You also had a top ten hit with the single called Der Kommissar. It was mo less than an English version of Falco's song of the same name. Please tell us more about this experience.  
We recorded Batteries Not Included in Munich, South Germany and so landed up spending a lot of time in Germany. At the time there was a music scene called Neue Deutsche Welle ( http://en.wikipedia.org/wiki/Neue_Deutsche_Welle - http://en.wikipedia.org/wiki/Neue_Deutsche_Welle ) which translated literally means New German Wave (or German New Wave) which had the form of punk or power pop but was sung in German and even local German regional dialects. It had a real excitement and breath of fresh air about it. I heard Falco's original when it was little known and presented a way of doing a cover to the guys in ATF and they loved it... the rest is history!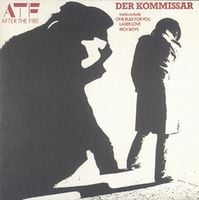 Please tell us more about the Der Kommissar compilation album from 1982.
This was a selection originally put together in Sweden where Der Kommissar became a hit in 1982 and they wanted an album with the single on so put together a 'best of'. This model was copied in other territories and there are a number of different versions out there.
That album was later re-released in 2005 with some extra tracks. Please tell us more about this release.
We had no idea there were plans for this at all until it was all pretty much decided. However, I was consulted on the sleeve notes and choice of tracks.
What was your experiences with CBS ?  
We were very green at the time, only Pete King had signed to a major label before, so it was a big learning curve. Looking back we had huge support from many of the guys there, especially the then head of A & R Muff Winwood who produced some of the tracks on Der Kommissar.
Wikipedia, which helped me out of a great pickle because my usual reliable reference source is very misleading and I almost sent you a Fawlty Towers esque interview sheet, has references to the Live at Greenbelt, AT2F and Radio Sessions 1979981 albums. Please tell us more about these albums.
These are all albums that have been released on Angel Air records since the band got going again in 2004. The Live at Greenbelt was originally a video of us playing our return gig at Greenbelt 2004. This was imagined as a one-off reunion gig and so was filmed for posterity. We released a DVD on our own Roughmix label and Angel Air licensed it and produced a soundtrack CD with a couple of bonus tracks.
AT2F is a collection of high quality demos the band recorded in 1982 in readiness for the next ATF album which never happened and the Radio Sessions is a suite of live In Concert radio shows we recorded for the BBC.
You headlined the Greenbelt festival several times. For those who don't know; this is a Christian music festival and undeniable the best dating event for young Christian boys and girls. The church (wedding) bells are annually getting a thorough workout after this festival and the tens of other copycat festivals around the world. And long may this continue.  
Existing well below the media and newspapers radar; these festivals are the biggest music events in the world right now.
How was it to headline those festivals ?
Despite what you say in your question Greenbelt is totally unique amongst festivals with a Christian perspective. It has a huge gamut of contributors ranging from the Archbishop of Canterbury through to artistes like Billy Bragg who calls himself agnostic yet has huge sympathy for the political views that your average, thinking Greenbelt attendee.  
We headlined it a few times, most notably in 1979 when we had achieved chart success in the UK. Read more on Julian's excellent history here: http://friends.afterthefire.co.uk/contents.htm - http://friends.afterthefire.co.uk/contents.htm
GB79 page here: http://friends.afterthefire.co.uk/dits-ch14.htm - http://friends.afterthefire.co.uk/dits-ch14.htm
.......but you also sold out Marquee Club and people were quing around the block. Please tell us more about this too.
http://friends.afterthefire.co.uk/dits-ch09.htm - http://friends.afterthefire.co.uk/dits-ch09.htm
You are playing the Devil's music, some preachers in the USA is telling us. Do you ?
This is a HUGE question which I would love to spend some time answering! However, to give an idea I would say it does not have a 'Yes or No' answer but a much more interwoven response. I have covered some of this on my blog: http://banksyboy.blogspot.com/ - http://banksyboy.blogspot.com/ and specifically here:
http://banksyboy.blogspot.com/2010/03/art-music-and-falling-short-on-godpod.html - http://banksyboy.blogspot.com/2010/03/art-music-and-falling-short-on-godpod.html
Why did ATF break up ?
It was a complicated set of circumstances that meant we would pretty much permanently be in debt to CBS. Our management (Harvey Goldsmith) sought and secured a deal with Atlantic for North America that would have restored some money into the pot and put us on a better footing. Sadly CBS released Der Kommissar in Canada before the deal was signed and that effectively scuppered it. We had been on the road from the 70s and were, frankly, worn out with no prospect of earning more than the tiny retainer of £ 40 a week!
You had a twenty-one year break. How did you fill your time without ATF ?
Loads of commercial stuff as well as enjoying becoming a father!
You reformed in 2004. Please tell us why and how this come about.  
An enthusiastic follower of ATF organised a Fan Convention and as singer Andy Piercy could not attend I had the idea of having a Karaoke style session where we would play and some of our fans could pick songs and sing along! It worked really well. After that we were asked to play at Greenbelt 2004, as above, and then we were asked to play more...
What is the plans for ATF ?
We have been playing an annual Autumn tour of a handful of dates for the last 3 years and we are already booked up for 2010 and some stuff in 2011.
Just to wrap this interview up; do you have any regrets in your music career ?  
Just some minor ones! We had a fantastic time, not without many trials and tribulations, so my only regret is really not being aware of how well we were doing at the time and maybe should have been a bit more bold about our achievements.
What is your five alltime favourite albums ?
Hard one this, as I have faves for a time and love re-discovering CDs I haven't listened to for a while! I have SO many faves... here is a handful:
Beatles: Rubber Soul
ELP: Pictures at an Exhibition
Mark Knopfler: Sailing to Philadelphia
Imogen Heap: Speak for Yourself
Peter Gabriel: Scratch my Back
Anything you want to add to this interview ?  
A: I would like to put some of this up as a resource on the ATF website for other writers to download as it has taken me AGES to write all this up! So am asking your permission too?!
Yes, we would active encourage everyone interviewed to carry copies of PA interviews on their websites/blogs, but please include both the name of the interviewer and http://www.progarchives.com/ - with link as source.
A big thank you to Peter Banks. After The Fire's PA profile can be found http://www.progarchives.com/artist.asp?id=4040 - and http://banksyboy.blogspot.com/%20 - is highly recommended too.