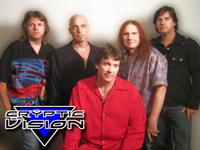 Cryptic Vision from USA has built up a good name over the last years. Their brand of Heavy Prog is pretty good and deserve a larger audience. I caught up with the band through Rick Duncan for the latest news and a presentation of the band.
-------------------------------------------------
When was Cryptic Vision formed and do you have any background from other bands ?

Cryptic Vision began around 2002 as a recording project between Myself, Todd Plant and Robert Van Dyne. Todd had done vocal tracks on several songs that I had written back in the early 90's and before this he was in the band Zion with Robert. The album originally was going to be some of the proggier songs that Robert and I had written plus some new material. During the recording, Robert was working full time and going to medical school so he didn't have the time available to record. I also was thinking about making more of a concept album so Todd and I forged ahead. We did use one of Robert's songs "Colored Leaf" which he was able to do keyboards and part of the guitar solo on.   
Whose bands were you influenced by ?

I have always been a big fan of Kansas and Yes and I think those are probably my biggest influences.

To start with; please give me your (long or brief) thoughts and lowdowns on.......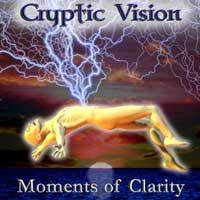 Moments of Clarity from 2004

Like I had said Moments was a recording project. The process was pretty much I would do a sequence of the song to demo it. Todd would do a scratch vocal and then I would re-sequence the song with just the keyboards and a click track. I would then track the drums, bass and rhythm guitar. Todd would come in and do his final vocal tracks. For the solos and more intricate rhythm parts, I had different local guitarists and bass players do the tracking. Todd had also worked with Ralph Santola in the bands Eye Witness and Millennium 
and suggested him for tracking guitar solos. I also had several solo sections that I wanted keyboards or possibly violin. We contacted Howard Helm and he did the keyboard solos and additional keyboard parts. I had some local violinists in to do some tracks but they weren't used to doing "solos" and I had met David Ragsdale a few years earlier and decided to contact him for the solo sections. I sent tracks to him and he did his solos at his studio in Las Vegas. Shortly after the album was finished we got signed to Progrock Records.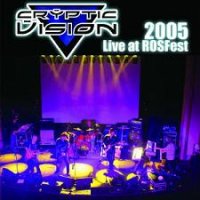 Live At RoSFest 2005 from 2005

After Moments of Clarity was released we were asked to play ROSFest 2004 but we didn't have a live band so we couldn't do it. In 2005 we put together the live band with Todd and I along with Sam Conable on bass, Tim Keese on guitar and John Zahner on keyboards. We were again asked to play ROSFest 2005 which turned out to be our 3rd live gig! I recorded the show and though it's not a flawless performance, Their was a certain nervous energy to it and I thought we could release it as a live album.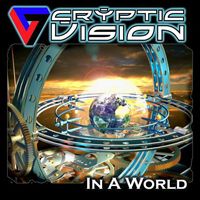 In A World from 2006

In 2004 we moved from Sarasota where my studio was and I started building a new studio from the ground up. The construction process took way longer than I thought it would and we were in limbo because we now had the band and the songs, but nowhere to record. Finally in late 2005 the studio was complete and we were able to start tracking. This time around was a little different because I would do a sequence of the song and then we learned it and tweaked it as a band. Sam also wrote lyrics for 2 of the songs and Todd wrote lyrics for another. When we came to track the songs I would use the sequence and a click track as a reference to do drum tracks. Sam would do his bass parts and Tim would do his guitar rhythms and solos. Todd then came in and did his vocal tracks and Sam and Tim did some backing vocals. While we were recording John Zahner was also recording and touring with Jon Oliva's Pain so he wasn't available to do much tracking. We decided to bring Howard Helm back in since he had done tracks on Moments. Howard stayed on as a permanent member for doing live shows. Like Moments we also had some special guests. Ralph Santola, David Ragsdale and Alan Morse all did some amazing solos.

What happened after the release of that album ?

After we released In A World we started doing more live shows. We played CALProg 2006 and did series of festivals and opening shows for The Flower Kings, Toto, Kamelot, and Asia.

You are currently writing and recording a new album called Of Infinite Possibilities. Please tell us more about your new album.

Of Infinite Possibilities is part 3 of the trilogy and the title track sort of ties the 3 albums together. It is also the longest (21:00) and grandest CV track to date. The opening track is also a longer track and most of the other songs are shorter format but still very proggy.
I think the overall flow of the album is the best of the 3. We only have one song left to track and a few solos and overdubs. We slowed way down in mid production due to my wife's health but we hope to be able to release it later this year.

How was the writing and creative processes in your band ?

I write the music and a lot of the lyrics. Sam and Todd also help with the lyrics.  We don't get to get together much for rehearsing or writing because we all live in different parts of Florida.

How would you describe your music and which bands would you compare your music with ?

I would say we are sympho-prog. We get a lot of comparisons with Kansas and Spock's Beard.

How easy/difficult is it to promote your albums these days and how easy/difficult is it to get gigs ?

The music industry has changed drastically in the last 10 years. It's become much more DIY which is both good and bad. I think for prog rock, the best promotion is from web sites like this. As far as shows it's always been hard for prog bands to stay working. We have been lucky to play some nice venues with appreciative crowds but it's generally hard to find good prog gigs.

What is your five favourite albums of all time ?

Only 5, That's so hard

Foxtrot - Genesis
The Yes Album - Yes
Leftoverture - Kansas
V  -    Spock's Beard
Dead Wing  - Porcupine Tree

Honorable mentions: Rush, Pink Floyd, The Flower Kings, Dream Theater, Transatlantic, Kaipa, IZZ, and The Beatles!

Anything you want to add to this interview ?

Just a big thanks to everyone has supported Cryptic Vision and to Prog Archives for creating a great resource for prog rock!
Thank you to Rick and Cryptic Vision.
Their PA profile can be found http://www.progarchives.com/artist.asp?id=1269 - and their homepage is http://www.myspace.com/crypticvision -