King Eider from Holland was a one off project in the symphonic prog genre. They released one album before the members returned to their respective bands again.
I caught up with Hans Gerritse for their story.
#############################################
Your biography has been covered in your ProgArchives profile so let's bypass this and go straight to your album. But why did you choose that name ?
I came up with that name when we (Derk-Evert and me) were writing an instrumental piece of music that ended up on the cd as track two. We thought it had an 'arctic' sound and the name King Eider came in my mind for I am a huge birds fan. Later on I wrote the lyrics to the following song so we had a 'mini'-concept. A few other songs happened to be in the same vein and could be altered a little to connect to the concept.
I always thought King Eider was a good name for a symfo act. Somateria Spectabilis is the scientific name for the bird, so that became the title for the album.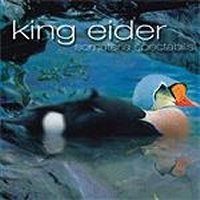 Please give us your long or brief afterthoughts on your only album to this date Somateria Spectabilis from 2005.




For me the album has some really great moments. Some of them I consider my best guitar efforts to date. For instance the ending solo on Somateria Spectabilis, the acoustic part in Atlantis '69 and the ending solo in the same song. Also some 'leftover' ideas that lingered for years could be included, which is nice. I am happy with the overall sound of the album (also thanks to Mike van Dalm, who did a great job mastering the cd). I think the vocals could have been done better, but at that stage we really wanted to finish the work after a period of ten years. You see, Derk-Evert and I both have other occupations, and a family, and other bands, so there wasn't always time to come together and start recording. That is why it took so long.

What did you do after the release of this album ?

We cashed tons of money!


And we had the privilege of doing a live show of the album at the progfarm festival. Thanks to Koen Roosen of Flamborough Head, who arranged it.

The members of that live band started a new band called Leap Day, along with guitarist Eddie Mulder.




How is your writing and creative processes ?




Most ideas were already there, some Derk-Everts, some mine and we did some jamming together that ended up in a few songs.

Then you just start recording and piece everything together.




How would you describe your music to those here who are unfamiliar with your band ?


I would say classic symphonic rock. We were at that time mostly inspired by albums like the snow goose and nude by Camel and trick of the tail, duke and wind and wuthering by Genesis.




Is music your main occupation or do any of you have daytime jobs outside the music scene ?




No it isn't, and I can say for most musicians in the prog-scene it is not. Making music that is not commercially interesting only costs money. But that is no problem if you got a job. It is so nice to have your album distributed over the globe and get all that feedback from fans allover the world. I always say: better 20 people really loving my music than 1000 people just liking it and having a chat at the bar of the venue while you play that night.




How do you see the future of King Eider and what is the latest updates and the plans for this and next year ?


There never was a band. King Eider was a project of Derk-Evert and myself. Right now we have no intention of working together on another album. Derk-Evert is releasing nice albums with Lead Day. I still enjoy playing in Nice Beaver and we  are working on our third album. 

I am also playing in a new dutch prog band "The Sunday Goose". That band will record their first album at the end of this year, and I really look forward to that.







Thank you to Hans for this interview





Their PA profile is http://www.progarchives.com/artist.asp?id=2452 - and their homepage is http://www.kingeider.nl/ -