SBB, a legendary jazz/rock band from Poland, return with a brand new studio album entitled "Blue Trance". The band, comprised of the phenomenal composer Józef Skrzek, the excellent guitarist Apostolis Anthimos and the flawless drummer Gabor Nemeth propose a perfect blend of the sincerity of blues and the freedom of jazz. The music on the album is mature and rich in emotions.
A video clip for the song "Los Człowieka" ("The Fate of Man"), which is to promote the band's brand new album, is currently being produced. Darek Świtała, the director of the video, comments: "We shot the video at several locations, including a luxurious apartment, the cult Old Timers Garage club in Katowice, and even a reservation by a one-of-a-kind celadon lake. Except for Jozef Skrzek, an increasingly popular model CaradelNeil appeared on the set. Importantly, certain chemistry between her and the artist was instantly born, which helped the material acquire an even more emotional character. This was really significant since it is difficult to translate SBB's music into the medium of a film... Also, in the case of the newest video, it is hard to talk about a typical, banal script. Its essence is constituted by, first, unique and poetic shots and, second, a certain universal character, allowing the viewers their own interpretation of this combination of picture and music."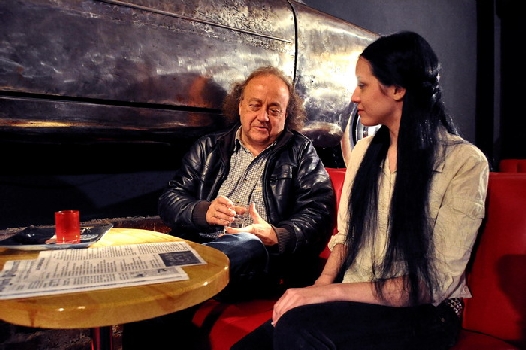 Józef Skrzek and CaradelNeil on the set of "Los Człowieka" video

The video will be revealed soon on YouTube.

And today you can listen to the audio version of the track "Los Człowieka" which was posted today on the Metal Mind Productions' official profile on myspace. http://www.myspace.com/metalmindproductions - http://www.myspace.com/metalmindproductions

"Blue Trance" will be available in two formats: a standard CD and a limited edition CD digipak with 2 bonus tracks. Here are the confirmed tracklists:

CD:

1. Etiuda Trance
2. Los Człowieka
3. Red Joe
4. Święto Dioni
5. Szczęście Jak Na Dłoni
6. Doliny Strumieni
7. Karida Beach
8. Blue Trance
9. Muśnięcie Kalimby
10. Pamięci Czas
11. Coda Trance

Limited CD digipak:

1. Etiuda Trance
2. Los Człowieka
3. Red Joe
4. Święto Dioni
5. Szczęście Jak Na Dłoni
6. Pentatonica (Bonus Track)
7. Doliny Strumieni
8. Karidabeach
9. Going Away(Bonus Track)
10. Bluetrance
11. Muśnięcie Kalimby
12. Pamięci Czas

13. Coda Trance

Metal Mind Productions set the release date for November, 1st in Europe and December, 7th in USA (via MVD).

--------------------------------------
Metal Mind Productions - Promo Dept.
Katowice POLAND



-------------
ProgArchives.com
The Ultimate Progressive Rock Music Discography, Reviews database and Forum.