A member of prog-folk band The Morrigan, Colin Masson is an English multi-instrumentalist who focuses on guitar, both acoustic and electric but especially the latter. On his solo album - for which he did the artwork- he plays bass, recorder, percussion, keyboards and trombone. His material is made up of lush sounds that float somewhere between symphonic prog and new age, with interesting Medieval/Gryphon-like elements (especially the recorder parts) that contrast with the screaming electric guitars.
Colin Masson has released two albums so far. I got in touch with him for his story. 
=============================================
You are a member of the pretty successful The Morrigan and you are also a solo artist. I guess the answer to the question "why go solo" is the difference in music between you as a solo artist and The Morrigan. But to give you the chance to speak too in this interview, what was the reasons you also went solo ?
I don't think that I ever consciously decided that I was going to be a solo artist. Even prior to my joining the Morrigan, I had always been working on something or other, and so really it was a continuation of something I always did. I never thought of the two as being in conflict.
Who was the musical inspirations behind your solo work ?
I take my inspiration from all over the place. I am aware that people will often make comparisons between my work and that of Mike Oldfield. I can see that this would be entirely justified, as his and my guitar sounds are very similar. I am quite happy to admit that he was a great influence upon me when I was younger, and indeed if it hadn't been for hearing his playing, I might not even have taken up the guitar at all! However I am not so enamoured of his later work, particularly the dance music that he's been indulging in lately (I think it's a waste of a great talent). Also although guitar comparisons are obvious, I would say that when talking about music more generally, I spread my net a good deal wider. I have extremely eclectic musical tastes, ranging from traditional and early music, through the Renaissance, baroque, all the way up to early 20th-century orchestral music. Then also progressive rock, hard rock of the old school, through to reggae and world music.
My favourite musician of all time is probably J.S. Bach, but you can add Ralph Vaughan Williams, Sibelius, Praetorius, Shostakovich, (I could go on forever here).
On the rock side, I think my favourite guitarist has been for a long time Andy Latimer from Camel. You can add to that the likes of Peter Gabriel, and then there are folk musicians like Matt Molloy of the Chieftains. In the pop world, the likes of Annie Lennox and the Eurythmics have always been a favourite. All of this stuff goes into the melting pot. I think you can see where I'm coming from.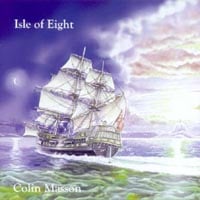 Please tell us more about your first album Isle of Eight from 2001
It was mostly recorded on a Roland VS 880 hard disc recorder, which at the time was pretty cutting edge, it was largely inspired by the place that Cathy and I were living in at the time, which is called Coombe Bissett Down. It was very isolated and we were surrounded by what you could describe as archetypal Wiltshire countryside. I think it is true to say that my work is very often inspired by landscape or atmosphere. In all it took about two years to record. I think that sometimes I can be a bit too perfectionist and become my own worst enemy.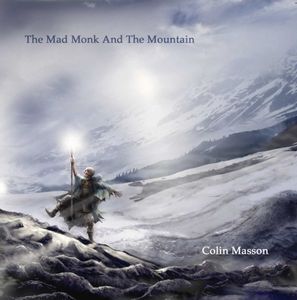 Please tell us more about your second album The Mad Monk and the Mountain from 2009
If the" Isle of Eight" album was inspired by where we lived, a lot of "the Mad Monk and the Mountain" had its roots in a couple of holidays that we spent in Switzerland a few years ago. I was totally blown away by the place, we didn't go during the skiing season, rather at the end of May when most of the wild flowers are in bloom. The combination of landscape, Flora, architecture, and also hospitality (though we were not staying in a tourist area, rather in an agricultural village in the Rhone Valley), was utterly inspiring. Of course this doesn't entirely apply to the whole album. The track "Two Lighthouse Keepers", rather has its roots in the Cornish coastline which I know very well. By the time that I started working on this album we had moved into Salisbury (rather through necessity than any desire to move away from where we had been living for 12 years). And the album was recorded pretty well entirely in our bedroom which is just about large enough to swing a cat in.
Why the eight years long break between the albums and what is the latest update on your solo career ?
I think mostly life got in the way. Truth to tell after about 20 years of making music, and at the end of it still finding yourself playing in pubs, with the occasional festival thrown in can become a little demoralising. Plus I was finding that I was getting extremely worked up about the minutiae of recording, trying to get a guitar note to sound "just so", trying to get the quality of the playing and the recording up to scratch. This was particularly true of the Morrigan "Hidden Agenda" album, which I worked on pretty well every night for about 18 months. In the end I realised I wasn't doing myself any good, and I needed to back away from the music for a few years. Also bear in mind that I have a day job, so time became a scarce commodity.
However, having given myself something of a break (and also doing artwork which is another string to my bow as I am a qualified graphic designer), I now find that I can come back to music with a somewhat fresh outlook and I am enjoying it again.
Just to give those of us who are unknown with your solo albums a bit of a reference point or two: How would you describe your music ?
The tracks tend to be quite long, largely instrumental, although there are songs. I think you could call the style something like "symphonic prog", although to me that sounds a little bit pompous. It is largely written on the keyboard, although the main melody instrument tends to be the guitar, either acoustic or electric. There are also recorders, whistles, flutes, and even the occasional trombone. It doesn't always take itself too seriously, and you are quite likely on occasion to find that a technically complex piece with compound time signatures, and distant chord progressions will suddenly turn itself into a Morris tune, complete with bells! I think that there is also a fair amount of early music influence (another band I forgot to mention that I admire a great deal is Gryphon, who were I think quite unique). You will also find on occasion somewhat heavier guitar driven passages.
Your wife Cathy Alexander is still with you on your solo albums too. You have worked together for a long time. Is the cooperation different on your solo albums than in The Morrigan ?
I think the main difference is that in the Morrigan Cathy will entirely write her own parts, whereas with my work she will at least take my ideas as a starting point. I have to admit it rarely ends up sounding like I thought it was going to, usually it is much better. She also tends to be my quality control, if something I have written irritates her or she doesn't think it's working, she's quite happy to tell me. This usually ends up with me sulking for a few hours before I realise that she is inevitably right, whereupon I go back to the recording and change everything.
Besides of music, what else are you up to in your lives ? Is any of you involved in any other bands or projects ?
We are always busy. In the last couple of years I have been doing a lot more graphics than previously. I have a page on the http://careldewinter.deviantart.com/ - - and am currently working on an exhibition. though I'm not yet sure when that will come to fruition.
Additionally we have been playing in a band called http://artorius.co.uk/ - , with Max Hunt, the keyboard player from Fragile and Tantalus along with his wife Gerlinde, they have both been friends of ours for many years.  
I have also spent quite some time modding the Oblivion computer game, which is a pretty strange form of relaxation.
Cathy for her part makes jewellery both for fun and profit, and has taken up photography, in which she shows considerable talent.
What is your experience with the music industry and the internet music scene ?
I am not a great fan of the music industry, I have seen far too many talented people sold down the pan by the big record companies, so now that the Internet is eating into their profits I'm afraid that I don't feel much sympathy. It's not quite the same, I think, of the smaller companies who are now having real difficulties. The company we were attached to "English Garden" went to the wall some years ago, and other companies who promoted new talent and were themselves very often enthusiasts can no longer afford to make ends meet, I'm thinking of Delerium Records as a good example; I believe they folded about 18 months ago. The big companies are only about money and now that they are feeling the pinch they retreat into the likes of X-factor and Britain's Got Talent which I personally find totally repulsive.
The Internet itself is something of a double-edged sword, obviously downloading music has eaten into musicians' CD sales, and that includes us, but we also found that it was very easy and not particularly expensive to put our stuff up on I-Tunes. Although it will never make us rich, there is probably enough turnover on that to make it worthwhile carrying on.
I don't think people should be afraid of the Internet, rather consider it an opportunity of doing things in a new way. The downside of course is that if people expect to download their music for nothing, there is very little incentive for bands to record any new music. I read an interview recently with Ian Anderson from Jethro Tull, in which he said that although the band will quite happily tour until they drop dead, they weren't intending to record any new albums as there simply wasn't any money in it any more. I think that's a real shame.
What is your plans for the rest of this year and next year ?
Hopefully The Morrigan will be gigging towards the end of the year, although one or two of the other band members have pretty pressing outside commitments at the moment. Cathy and myself are working on an acoustic duo set but we will probably be doing around the Salisbury area on a fairly regular basis.
I have quite a lot extra recorded material that has built up over the last few years so I think it is quite likely that there will be a much shorter break between this album than the next one.
Anything you want to add to this interview ?
Only to say thank you very much your interest, and to admit that I have probably gone on too long already. Many thanks!
Thank you to Colin for this interview

His PA profile is http://www.progarchives.com/artist.asp?id=1528 - and his homepage is http://www.myspace.com/colinmasson -