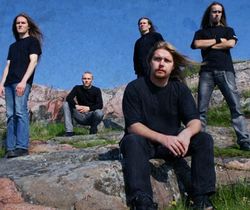 Malpractice is a Finnish progressive metal band formed in 1994.Initially formed as a thrash band,MALPRACTICE released one EP in 1996 titled "Memorial" before abandoning the thrash elements and switching to a more melodic,progressive metal style.Later in the same year MALPRACTICE released another EP,this time a prog metal effort titled "Frozen".

Three albums has so far followed. I got in touch with them and Joonas Koto answered my questions.
#########################################################
Your biography has been covered in your ProgArchives profile so let's bypass the biography details. But which bands were you influenced by and why did you choose that name ?
When I started the band back in 1994 Malpractice was highly influenced by Testament, Forbidden, Coroner and a few other highly skilled technical Thrash Metal bands and the band's name is taken from a Testament song of the same name. I have been listening to a lot of progressive music since my childhood because my father is a huge fan of Gentle Giant, ELP, Yes, Rush and so on, so I was constantly exposed to prog at home and that's where my progressive influences basically come from. As I've gotten older I've started to take influences more and more from the progressive side of music and nowadays that's the stuff I like to listen to at home. Not that much metal anymore.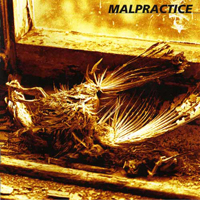 Let's go straight to the first album. Please tell us more about Of Shape
And Balance from 1999
At this point we had already moved away from thrash and more into the progressive territories. We had already released two EP's before this album. The first one "Memorial" was all out technical thrash and the second one "Frozen" a lot more progressive and melodic. We paid for the studio ourselves and released a small 500 copy batch on our own in 1998. A small Finnish record company called Mastervox records licensed the album in 1999 and released it. Musically I still think it's pretty adequate but production wise you can hear it's done in 8 days with a novice recording engineer. Actually the guy (Miitri Aaltonen) who engineered the album is a nominee in the Finnish equivalent of the Grammy's this year so both parties have come a long way since. There are a few songs on that album I'd still like to play live like the epic 13+ minute "In Shallow Waters".
And then your band seemed to go into hibernation for a while. What happened ?
The main reason for Malpractice's inactivity during those years was me joining To/Die/For. I was constantly either in studio or on tour around the world with T/D/F. Whenever we had a break we rehearsed and wrote new stuff with Malpractice and we even made a few demos during that period. Most of the stuff you can hear on "Deviation From The Flow" and even some songs on "Triangular" were written during my T/D/F stilt. We also had to find a new drummer and that wasn't an easy task either.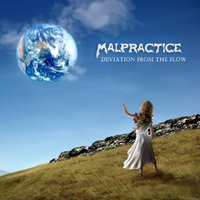 Please also tell us more about your second album Deviation From The Flow from 2005
We got finally a deal from Spinefarm records with one of our demos. The A&R guy there at the time had been a fan of Malpractice since our "Frozen" EP and my previous band To/Die/For was also signed to Spinefarm so it was basically the situation which the song "The Industry" on that album is all about: "It's not about who you are, it's all about who you know". Musically Malpractice had taken a quantum leap since the previous album and this time we made sure the album would be well produced. We recorded the album at Astia-Studios with producer Anssi Kippo (Children Of Bodom, Sinergy, Norther etc.) and he's been our main man ever since. I think there are no fillers on "Deviation" but it lacks a bit nuance, at least if compared to "Triangular". We recorded the album with me handling all of the guitar duties because our previous guitarist Sami Pesonen had to leave the band due to his work assignment in Ireland and by the time we entered the studio our new guitarist Markus Vanhala (Omnium Gatherum, ex-Manitou) hadn't had time to learn all the guitar parts because all of this happened with a few week's notice.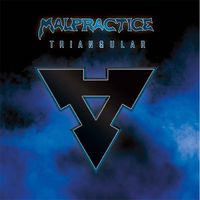 Please also tell us more about your third and most recent album Triangular from 2008
With "Triangular" we kind of revisited our thrash roots, especially with the song "Deception". This time the mellow parts were softer and the heavier parts more ferocious. Me and our drummer Toni Paananen produced the album with Anssi Kippo handling most of the recording and mixing. Drums and vocals were recorded at Astia Studios again but this time due to given recording budget we had to record guitars and bass at South-East Sounds with Teemu Aalto. On "Triangular" we also had two new members in the band. Markus Vanhala on guitar and Aleksi Parviainen (Reversion, Soulcage) on vocals. Our previous vocalist Mika Uronen decided to quit music business for good soon after we finished recording "Deviation". Now with a more versatile vocalist we could take the extremes further apart. "Triangular" actually has the first ever Malpractice ballad called "Waves". The changes comparing to the previous album are subtle but noticeable.
You are working on a new album according to your homepage. Please tell us more about what we can expect from this new album.
This time we're taking even more chances with the new material. The basic Malpractice stuff is still there but there's also some echoes from bands like Voivod and even, god forbid, punk! Simple gets simpler and complex gets totally out of hand. The next album is a theme album lyrically. Not one continuing story but like Rush did with "Roll The Bones" all the lyrics revolve around a certain theme. For the first time in Malpractice's history the next album will contain only new material. All of the songs have been written after the release of "Triangular".  
What is the lyrical topics on your albums ?
Basically our lyrics deal with everyday life. Relationships, depression, thoughts, dreams, reality. One of my favourite topics is how one can easily get lost in the mass and lose identity. The forthcoming album is all about that. How a well educated, gifted individual doesn't get the break he/she deserves and gets lost in the crowd, faceless and nameless. And that leads to personal problems and substance abuse. Frustration and urban discomfort are the main keywords. Just like Malpractice is the "best kept secret" in the music business.  
What inspires you to create new music and what is your recording technics ?
Most of the songs I write tend just to happen when I'm noodling around with my guitar. I don't take influences from anywhere consciously but of course you can hear my musical influences all over the place. Music comes first and then the lyrics.Our recording process is quite normal. First we lay down a click track and a guide guitar. Then comes the drums, guitars, bass and finally vocals and solos. On the next album the drums will be recorded at Astia Studio A with Anssi Kippo but the rest of the stuff will be recorded at Astia Studio B by me. I have been working there as an engineer occasionally so I'm pretty familiar with the facilities and equipment.
Just to give those of us who are unknown with your music a bit of a reference point or two: How would you describe your music ?
This is always a hard question to answer. Malpractice has developed a unique sound over the last 15 years but I guess if you throw in one part Megadeth, one part Fates Warning, one part Queensryche and bits and pieces of Voivod, Testament, 80's metal and odd-time signatures topped with highly skilled instrumentalists that's how you get the Malpractice sound.  
How is your gigs situation at the moment. Do you find it difficult to get gigs these days ?
At least here in Finland it's pretty difficult to get gigs at the moment. We do something like 10 gigs a year and that's not nearly enough. The situation here at the moment is that there's way too many touring bands and way too few venues. We have a booking agent but there's a limit how much he can do given the circumstances. Our main goal has been for years to play somewhere outside Finland but so far that hasn't come to reality.
What is your plans for the rest of this year and beyond ?
Our main goal at the moment is to record and release a new album during this year. We just got sacked from Spinefarm records because our record sales weren't enough for them. Spinefarm merged with Universal just when we got signed and suddenly we realized that all the people we had worked with there, were gone. We got kind of left without support. Minimal promotion equals minimal sales. But we're going to record a new album during this spring and see what will happen next. Someone will release the album that's for sure but at the moment it's a bit uncertain who it will be. Mysterious enough?
To wrap up this interview, is there anything you want to add to this interview ?
Check out our albums where ever you can and you'll be surprised. If you can't get a hold of an actual album (which we certainly prefer you to do) check out our two latest albums on Spotify or something. There are also a few songs available (including a Queensryche cover) on our http://www.myspace.com/malpracticefinland" rel="nofollow - . Thanks for your support and interest in Malpractice. Stay tuned.
Thank you to Joonas for this interview

Their PA profile is http://www.progarchives.com/artist.asp?id=1887" rel="nofollow - and their homepage is http://www.malpracticeband.com/" rel="nofollow -