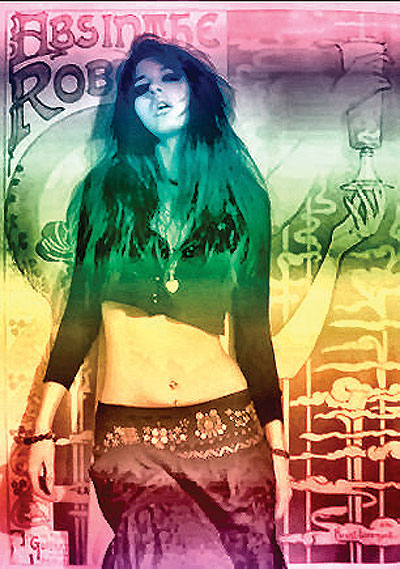 Avant-garde composer Sarah Ellissa Marquee alias Mademoiselle Marquee is sometimes also mentioned with the appendix '& Le Labyrinthe De Marmelade'. Hailing from Glasgow/Scotland she acts as a solo performer where the music represents only one facet. Besides painting and photography some poetry is offered by her additionally. Handling mind expanding and cosmic themes the lyrical substance is an inner dimensional reflection and highly transfigured, encrypted.

Sounds interesting to me. I got in touch with Mademoiselle Marquee and she kindly answered my questions.
++++++++++++++++++++++++++++++++++++++++++++++++++
Let's start this interview with a questions about your artist name. Neither your birth name or the Mademoiselle Marquee sounds like a typical Maryhill, Dumbarton Road or a Govan name to me. Milngavie on the other hand...... Why did you choose this name and who are your inspirations ?
Well I chose the name when I was around 17 or 18, my friend and I made up the name le cirque de lumiere for our jamming and recording sessions and then a film about an artist in France came on the television in black and white. I thought it was a good omen. My parents are from Glasgow and their musical tastes certainly influenced me. I was born in Irvine but I spent most of my life in Bishopbriggs and was fortunate enough to meet some very talented musicians of my age who became great friends, they were the best of inspiration. I grew up listening to Frank Zappa, The Beatles, Pink Floyd, The Doors & some Classical... Pink Floyd were probably the biggest musical inspiration growing up, seemed like classical music to me then - of the same stature.
Glasgow has moved to become a more diverse place during the last decade and has got rid of this small minded people and secterian syndrome. How is it to work and live in Glasgow for an avant-garde artist as yourselves ? Is there a bohemian scene in Glasgow ? 
There is a Bohemian scene & it is the one people make by just wandering around with that kind head.  Music definitely helps to unite people. So many people love The Floyd. We all treat each other how we have been treated maybe. I love Glasgow and know some amazingly creative people here. Also I have never been anywhere quite like Tchai Ovna. I used to work in the west end of Glasgow in a rather cool shop up great western road, I love that place - all the trees in Glasgow are most excellent too. Great greenery. The people are interesting. good and quite mad in my experience.
Let's move over to your Eps and album. Please tell us more about.........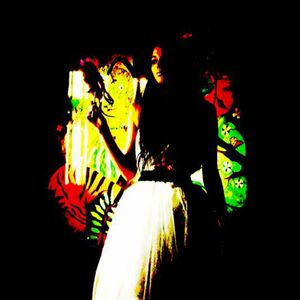 Parallel To The Pink Pyramids from 2005
I began recording on cubase before I had a proper microphone and this piece was a result of those recordings. I recorded this after We Tried To Get To Heaven But Ended Up In Space, I consider that my first album really. This was a piece experimenting heavily with different sounds in my room, plugging my keyboard into a guitar reverb pedal and recording nights of smoking with a small computer mic. The back my keyboard had some kind of loose connection though, so I had to swirl the wire round a few times to make it work between recordings; but that added to the experience because it was a great feeling when the light came on.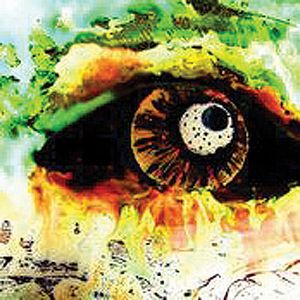 We Tried To Get To Heaven But Ended Up In Space from 2006
I recorded this in my bedroom and also in the house of a friend when I was around 18 and I was living a mad life generally. I had been using a four track recorder to record strange sounds and I happened upon cubase through a friend who was a serious musician and so then began to spend a lot more time recording somewhat structured pieces.  The songs are the result of some very out there experiences and experimentation in entering a new phase of my life.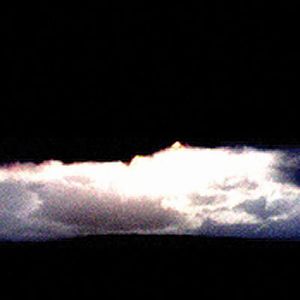 A Meeting With The High Wizard from 2007
This was mainly based on a riff I would play often over and over. I liked just drifting off with a riff and delay. I do have images in my head with songs... I might write a story down about The Wizard, in time.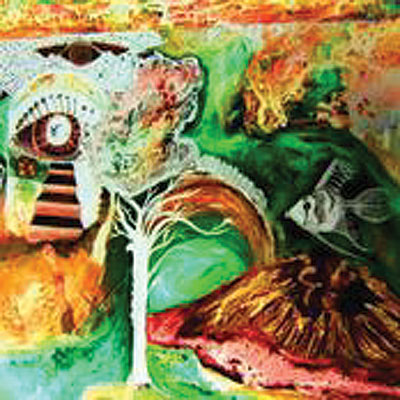 Law Of Fives from 2009
The tracks on this were orphan numbers I found scattered around my computer and decided to compile them somewhere. I had been reading Illuminatus! when I named this as I enjoyed the book tremendously and was going through a period of little sleep. It's very pleasant to be awake at 5am you know, when it is raining outside: Probably the most peaceful and contemplative time of day in my experience. I need two more songs to finish this. I will have a look around my old computer for some.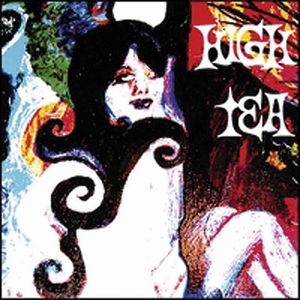 And your album High Tea from 2007

I had nearly went a little too far when I took a trip to Amsterdam and healed my troubles with something called Philosophers Stone truffles, after a concert. The experience prompted me in part to go and record The Eclipse Reversal when I returned home. From there I began to write and record High Tea.

Which artists/bands would you give as references ?
Well when I started off recording my influences were still spilling over from my earlier teens - Pink Floyd, Frank Zappa, The Doors, The Beatles, Nirvana, Jimi Hendrix, King Crimson... When I had been recording a while, I met some people who began opening up my musical horizons to people like Can, Captain Beefheart, The Residents, Boards of Canada and thanks to LastFm.com I have found artists such as Ulrich Schnauss. I very much love Serpentina Satelite from Peru too and Cat Food from California.
 I would describe my music as....... 
Dabbling.
The artworks on your Eps and album deserves a lot of praise. Please tell us more about them.
Well I love to paint but really need to improve in many areas there. I have two pieces I am doing at the moment and I am pacing myself a little more than usual with them. I know and love a very wonderful artist named Holea Wright - whom is my cousin and lived with me for a while I did a great majority of those pieces. Holea was a big inspiration for my painting, she is very talented and was also focusing on psychedelic work at that time - we would record the room we were sitting in, sometimes erupting in laughter from mad commentary by my friend Milligan. I get a lot of inspiration from dreams too. Dreams about ufos, coi carp and swans... Orbs and strange houses.
Do you do gig your material ? 
I really should but I haven't got around to it yet. I will say I certainly intend to sooner rather than later but would first like to have a band to play with.
You are also a performance artist, film producer, poet......... well, in general a 360 degrees artist. Please tell us more about your non musical activities. 
I have been sending postcards to people around the place with drawings on them, I had been doing it for a little while and working on some paintings when I discovered information about the correspondence artists, who would do similiar things. Getting letters unexpectedly is a good feeling. I would like to be able to send around five people a fruit tree.

What is your plans for this year and beyond ?
Write, Record and Paint...As well as release music on Cat On The Moon!
To wrap up this interview, is there anything you want to add to this interview ? 
Thank you for reading, anyone can email me at mailto:[email protected]onthemoonproductions.com" rel="nofollow - here
Thank you to Mademoiselle Marquee for this interview
Her PA profile is http://www.progarchives.com/artist.asp?id=4418" rel="nofollow - and homepage's http://www.mademoisellemarquee.com/" rel="nofollow -