Could you introduce yourselves, tell us your background, etc.
We are Herd of Instinct. We
'
re a trio from Arlington, Texas. We
'
ve all played in various bands in and around Texas for 20+ years. On guitar and guitar synth we have Mike Davison. On Warr guitar we have Mark Cook. The Warr guitar that Mark plays has 14 strings, which enables him to serve as both a bass player and a guitar player. My name is Jason Spradlin. I am the drummer.
You played in two previous bands: 99 Names of God and Nervewerks. How did Herd of Instinct come to be? Why did you choose the O.Rang album title as a band name?
Mike was in Nervewerks, while Mark and I played in 99 Names of God. Both bands have played many shows together. A few months before 99 Names broke up, I invited Mike to come out and jam with Mark and I. We recorded a long improvisation which we decided to include on the final 99 Names of God e.p.
"
Potala
"
in 2007. The piece is called
"
Dikika
"
. The 3 of us stuck together when 99 Names ended and for a while we called ourselves Mirror People. We discovered there were many Mirror Peoples in existence, so after tossing a few names around, we decided to name ourselves after one of our favorite obscure albums.
Your album is out on Firepool Records, Djam Karet

'

s indie label. How did that come about? How did you catch Gayle

'

s attention?
The Herd of Instinct album is the debut release for Firepool Records (Catalog # FR001). Our album is the result of merging two projects into one. The first project being the original trio and the music we wrote. The other project being one that Dave Streett and Mark started back in the 99 Names days. We
'
ve known Dave for a long time. He
'
s a talented song writer and a fine bass/Warr guitar player. It was Dave
'
s tireless networking that brought us to the attention of Gayle Ellett and Firepool Records.
http://2.bp.blogspot.com/-LK4J0aotJPA/TqBOK71IElI/AAAAAAAAIBg/ds7I6I4sN6Q/s1600/herdofinstinct.jpg" rel="nofollow">
The music on your album features many guest musicians. How do you translate all that into a live setting? Do you consider this when writing a song or do you do the adaption later?
When we started this band we had no idea that we
'
d be making an album with so many great musicians. Some of the music on the album is designed to be played live, while others are designed to be album only tracks. We (the trio) already had a surplus of songs before the idea of guest musicians ever surfaced. When we write music, out approach is to emphasize ensemble playing.
How did you manage to get all those musicians to play on your album? How did recording each one go about?
All credit must go to Dave Streett for getting those musicians to play on the album. A little cash and a lot of networking go a long way in the music biz. When you
'
re nice to people, it opens many doors. Most of the guests recorded their parts in their home studios, and sent them to us virtually. Two or three of the guests came to Texas and recorded their parts with us. It was a time consuming process, but we're satisfied with the finished product. We
'
re very proud of this album.
What are your sources of inspiration for writing your music? How do songs evolve in your band? Who are the musicians and bands you look up to and those that influenced you?
Sources of inspiration can come to us from anywhere. The sound of dead leaves blowing in the street, children playing outside, a cd that is skipping/glitching, books, films, etc. Rhythm is probably the main source of inspiration. Our songs are often
"
Frankensteined
"
together, while others form organically. Many songs come to us through improvisation. As far as artists that influenced us
,
this could take days. We are all over the map with influences. Personally, I worship at the altar of Black Sabbath, Pink Floyd, and King Crimson. I
'
ll just throw a few names out there: Bill Laswell, Zappa, John Zorn, Brian Eno, David Sylvian, Beatles, Aphex Twin, Talk Talk. It only scratches the surface.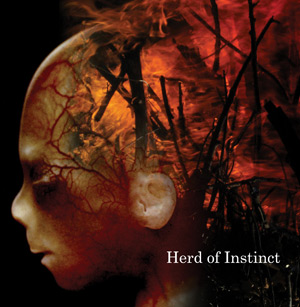 How was the reception to your music in the reviews you

'

ve seen and in your live shows?




Our reviews have been 98% positive, with only a few criticisms. The art of music criticism seems to have suffered a little over the years. We

'

ve found that on occasion some writers just sort of copy what the last guy wrote. But luckily there are still some critics out there that embrace the old school Lester Bangs spirit. Our live shows are received differently each time. We are often booked with hard rock/metal bands, and some of those audiences aren

'

t sure what to make of us. Reaction to us is usually good/polite. Other times reaction is luke warm or apathetic. We are committed to our music, and we create music that we ourselves would go out and buy.




You

'

re now working on your follow-up album. How does it compare to your first one?




The new album will be much more focused on the core band. There will be less involvement from guest musicians. We just spent a weekend with Gayle Ellett recording improvisations, so there may be a few improvs on the follow-up. Gayle has also added mellotron/synth to many of the composed pieces. Many of the new composed pieces will incorporate programming and various electronics. There may be 2 or 3 songs with vocals. Our goal is to improve and continually progress, while maintaining a certain stylistic aesthetic. We believe it

'

ll be much better than the first album.







Support the band and buy the album from the sources listed http://www.wix.com/herdofinstinct/herdofinstinct#%21store" rel="nofollow - here .

Info about the release http://www.djamkaret.com/disc-fr001.php" rel="nofollow - here .

http://www.wix.com/herdofinstinct/herdofinstinct" rel="nofollow - Band website

http://www.facebook.com/pages/Herd-of-Instinct/153462274689341" rel="nofollow - Band facebook

http://www.youtube.com/user/organizedchaos" rel="nofollow - YouTube








-------------
http://hangingsounds.blogspot.com/" rel="nofollow - Hanging Sounds

http://www.progarchives.com/ProgRockShopping.asp" rel="nofollow - PA Index of prog music vendors