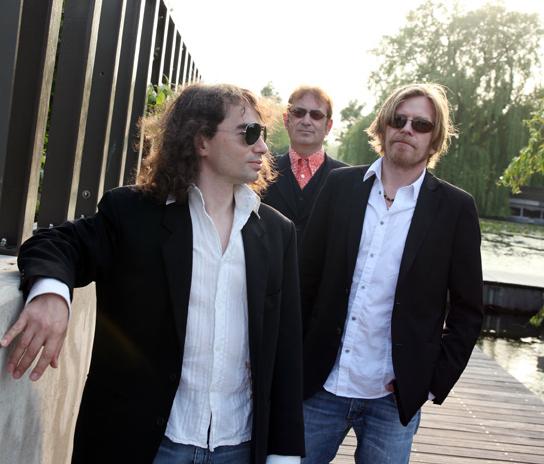 Dutch based outfit SUN TRAVELLERS is an international band, which was formed by Italians Luca Giustiniani (guitars, bass) and MarcAntonio Spaventi (keyboards, drums), Swedish Paul Ehn (keyboards, vocals) and Scotsman Gordon Todd (vocals) in 2006. All four are engineers with an education in music technology, and it was while first recording for local artists and then later teaching in Audio and Web classes that the foursome started to develop and explore their own material. Their debut album Excursions was released in the spring of 2010.
I got in touch with the band and Luca Giustiniani kindly answered my questions.
###################################################################################
When and by whom was your band born ? Did any of you, past and present members, play in any other bands before joining up in your band ?

I formed the band during 2006, after meeting Paul Ehn (keyboards), Gordon Todd (vocals),
and MarcAntonio Spaventi (keyboards and drums) in Amsterdam, where we all had relocated recently.
Paul was co-owner of DHS Studios back in Sweden and had been writing so much material of his own. We immediately complemented each other with his complex keyboard playing
exploring all possible voicings, and my trusted Stratocaster on top.
Gordon was teaching audio and music theory at SAE for a long time, I really admired him and soon noticed he had such a brilliant voice, with a natural gift and feel for harmonies, so I invited him to join in.
With MarcAntonio I had started working on a couple of instrumental projects, we are both so much into soundtracks, but we never actually got around to finish, so there is still material that I'd like to complete and release some day.
We were (and are..) all working day jobs too, so it took us over two years to write and record enough material for Excursions.
When we were almost ready we were blessed to meet up with fabulous drummer Tom Pettit (Très.B), so we were able to record the album with him, except for a couple of my instrumentals, where my mate Jon Miller appears on drums and percussion.
These pieces needed a free form tribal climax and Jon was the only one patient enough to be able to follow me on that.

Why did you choose that name and which bands were you influenced by ?

The name came from some visions I had long time ago, inspired by space sci-fi and the idea of travelling into cosmos. I also had these mind blowing lyrics resonating in my head
ever since, Roger Waters' Two Suns in the Sunset, and Richard Wright' Remember a Day.
Many cosmic visions of 60s and 70s comic books and cover art contributed into that as well. Those were the days when technology was beginning to influence radically all forms of art. We were all young kids in the 70s, being exposed to certain experiences like Star Wars and all that lushous space rock at such an early age I guess left an indelible imprint on
us.
I also love taking unusual sightseeing photographs and distorting them to fit into my visions, I feel this form of visual art deeply bound to my music. In the end, because the band name sounded like a travel agency, Paul and Gordon suggested it would be an idea to name our albums after promotional slogans from agencies, so here we go, watch out for the next journey proposal.

You are all sound engineers working for other artists. Making your own album must be like a dentist performing root canal treatment on himself. How is this process in your band ?

Actually that is a sort of misconception about us, we have been working for other artists very shortly, soon realizing we didn't want to keep doing it.
When you move your first steps in an audio institute such as SAE you get to know some amazing emerging artists that can really be an eye opener.
Just when things were starting to get serious about engineering in the studio and live (Suus de Groot, John Doe's Revenge), I realized that wasn't what I wanted.
I wanted to develop my own project, focus on my guitar playing, make our music sound really good and go our own way.
So in the end it wasn't a painful approach at all, rather instead a beautiful epiphany.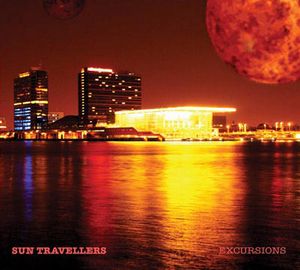 Your debut album Excursions was released last year. Please tell us more about this album.

Excursions was created mainly from our individual compositions, some written way back in the years, which we re-arranged and partially re-wrote.
It was a very introspective journey for us, we felt free to expose our inside out, our dreams, our thoughts about the crisis we are going through.
We heard these interior voices that wanted us out of our day jobs routine, to follow a different direction that had remained unseen for too long.
There was too much left unspoken that needed to be revealed to tell about our real selves.
I was the executive producer, put most of my savings into the project, and right after the master was ready I took the time to contact alternative radio stations and music magazines that would be interested in reviewing the album.
We recorded drums, initial bass lines and rhythm guitar on a vintage SSL console with Pro Tools, with most of piano and keyboard leads pre-recorded at Paul's home studio.
Then we overdubbed Gordon and Paul vocals, some additional bass and rhythm guitar parts, and finally my guitar solos and lap steel on my boat, where I also worked on the sampling, panning effects and mixing automation.

For those of us unfamiliar with your music; how would you describe you music ?

We have different roots and we are nicely assorted I think, like a kaleidoscope showing different faces and colours.
Rock-blues, early metal, acoustic fingerpicking, early electronica, atmospheric soundtracks, vocal harmonies, psychedelic journeys, multi-instrumental adventures.
It's all we do, doesn't matter what comes first, we can enjoy a raw 3' rock'n'roll or a 20' full dynamic piece, the song structure can be as free as we like.

What have you been up to since the release of that album and what is your plans for the immediate future ?

Right now we are I guess in our power trio rock-blues moment, the line-up has changed, with Mehdi Benkirane on bass and Matt Ogden on drums.
I am not sure how much of the material we are playing will be released in our next project, it is still too raw, but so alive and energetic.
Paul had to move back to Sweden soon after Excursions was released, so there will be plenty of material we won't probably be able to play live, but we are still writing and developing songs together when possible.
I see two parallel tracks in front of us, one more essential and live oriented, one more based on multi-layered studio production.
You can hear this already in Excursions at times, and I think our next release could be as well a double album expanding this concept.

To wrap up this interview, is there anything you want to add to this interview ?

Thank you so much for having us. ProgArchives is a focal reference for many of us.
We like to believe that the best approach to music doesn't need to fall into any classification.
Let it come from your heart, let it be strange, upsetting, and mutational as you like.
Thank you to Luca for this interview
Their PA profile is http://www.progarchives.com/artist.asp?id=5684" rel="nofollow - and their homepage is http://www.suntravellers.com" rel="nofollow -