Il Cerchio D'Oro - June 16-26 2013

Printed From: Progarchives.com
Category: Progressive Music Lounges
Forum Name: Interviews
Forum Description: Original interviews with Prog artists (which are exclusive to Prog Archives)
URL: http://www.progarchives.com/forum/forum_posts.asp?TID=94313
Printed Date: December 12 2017 at 17:16
Software Version: Web Wiz Forums 11.01 - http://www.webwizforums.com


Topic: Il Cerchio D'Oro - June 16-26 2013
---
Posted By: Aussie-Byrd-Brother
Subject: Il Cerchio D'Oro - June 16-26 2013
Date Posted: July 03 2013 at 06:45
---
IL CERCHIO D'ORO
- an interview by Michael H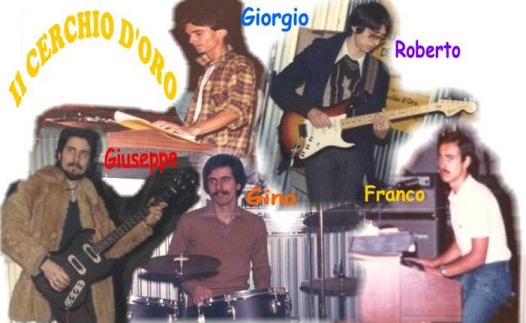 Formed in 1974, Il Cerchio d'Oro, from Savona, only managed to release three singles a few years into their career before falling apart near the end of that decade. Comprised of members Gino (drums) and Guiseppe Terribile (bass/guitars), Franco Piccollini (keyboards), and later Piuccio Pradal (lead vocals, 12 string guitar) and Roberto Giordana (guitars), they were similar to symphonic styled bands of the time, especially Le Orme, yet the band couldn't manage to get a recording deal during these early years, the sole professional recordings being three singles between 1977 and 1979. The first two tracks `Quattro Mura' and `Futuro Prossimo' were minor gems, the rest more in a commercial/disco style that was popular at the time.

In 1999, Mellow Records issued a self-titled compilation of those singles, unreleased recordings, live tracks and demos from the band that, although inconsistently recorded, provided an interesting glimpse of the different styles the band was attempting while finding their own sound. A further compilation from Black Widow Records in 2005 `La Quandratura del Cerchio' offered more of the same, with the addition of rehearsal tape recordings of covers by fellow Italian bands such as the New Trolls, Le Orme and The Trip.

2008 finally saw the band return with it's first proper debut album, `Il Viaggio di Colombo', a fine example of how good the comeback albums from vintage Italian bands can be. Not only have they returned to the live stage, they've since followed it up with the recent release of another grand effort, `Dedalo E Icaro'.

Thanks to the offer from Black Widow Records, the band was made available to interview, and this took place through email from the 16th June 2013 - 26th June 2013.

*****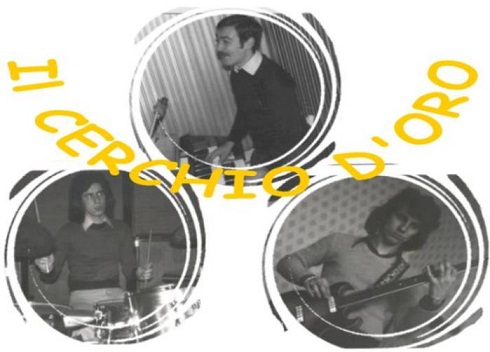 First of all, congratulations on your superb new album `Dedalo E Icaro', as well as your official `debut' from a few years ago `Il Viaggio di Colombo'! You carry on the tradition of grand, sophisticated and exciting Italian progressive music, and you should be very proud of them both. How does it feel having made a comeback, about thirty years after the band was initially active?

First of all...thanks for appreciating our work, we are very glad for this and it's very important for us! After almost 30 years, an artistic comeback is something special! When `Il Viaggio di Colombo' was published we were all very excited; "making" music was (and is) not our job and during all these years everything has changed in recording music! It was not easy playing all the parts, making vocals and instrumental arrangements and following the mixing; fortunately our friend Enzo Albertazzi, passionate sound engineer, has been great and professional. But when the first positive reviews about our album started to come, all the troubles and fears vanished! For `Dedalo e Icaro' the situation was a little different, the way to realize `Dedalo e Icaro' was long, due to different problems, but we were more relaxed! In any case the emotion related to the coming out of our new album is so big and we hope that "prog" people will appreciate our work.





The late 70's and 80's were a time when the mainstream music public, record companies and fashionable music media were not interested in prog rock. How difficult was it for you and other bands trying to play progressive rock style music?

The situation was tragic! In fact, Il Cerchio d'Oro, after two singles with on side A a track a little influenced by disco music, was disbanded in 1980! Actually, changing sound (hard rock) and name (Black Out) with 4 original members and two new guitar players, released a single in 1981 having a contract with Golden Record, the later label that issued the records for Il Cerchio d'Oro. This single nowadays has a big value for record collectors. We think it is an interesting hard rock single. After this, for some members, it was time to stop playing music, for others, with no intention to compose and to play a kind of music far from their preferred sound, it was time to form "Cavern" a Beatles tribute band (maybe one of the first, in 1982) a band active for these decades...till last year (2012), now taking a break.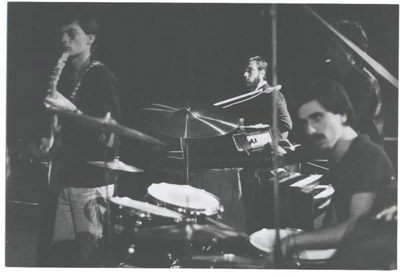 Although some of you remained active in music during those years with other projects, was a reunion of the proper Il Cerchio d'Oro band ever discussed during this time? When did you know the time was right, and who initially suggested perhaps getting back together in the first place?

When Il Cerchio d'Oro stopped its activity, there were no fights, simply we had the perception that the "game was over". Friendship remained the same, just separated from common musical interests. There was no planning about a reunion. In 2005, at Gino and Giuseppe's 50th birthday, during the celebration, we tried to play something all together...nothing serious, but it was the first spark that made us think about a possible reunion...We convinced Franco and Piuccio that it was time for us to create and play the music we've always loved. In fact more or less a year later, considering that a CD in 1999 (featuring old material) and a vinyl LP in 2005 `La Quadratura del Cerchio' (published almost for our pleasure) were well appreciated, the spark became a fire and the complete band (except Giorgio Pagnacco) started to prepare our first real album: Il Viaggio di Colombo.


Did you ever have any doubts as to whether it was worth the time and effort to reform?

Who doesn't ever have doubts? We had no fear to waste time: we play for our pleasure, not for job and this situation helped us find good ideas, simple but effective melodies, suggestive lyrics thanks to our historical lyricist Pino Paolino. Again, a real pleasure to play (and in certain cases re-discover) instruments with the purpose to realize a new work all together. Obviously there was the hope to realize something interesting for genre lovers, but the main purpose was making an entire album, our way. In any case in the last years the interest for good Italian "prog" was and still is high. When we contacted Black Widow Records, the great Italian Label, so sensitive towards Italian rock-prog music, and they were well impressed about the first trailer of the album...all the remaining doubts were wiped-out...and the expectations arrived! We always have to thank Black Widow Records, because it respects the choices of our band and never imposes a style or "forces" a particular solution. Many other Italian musician are followed, edited, published and distributed by this label: it's a big work made by men with a great passion.


During the early 90's there were numerous Italian bands releasing albums in the Neo-prog style, that are mostly influenced by 70's/80's British bands like Genesis, IQ and Marillion. Did you consider perhaps changing your sound and writing/recording music in that style at that same time? If you know of any particular albums from this period that you enjoy, can you please tell us which ones?

As already written, the above three of us (Gino, Giuseppe and Roberto) were part of Cavern. We had no idea to reform il Cerchio d'Oro...so we had no way to consider a change in composing/playing something in neo-prog style! However we don't know any Italian prog albums of the nineties...even if some of us are also record collectors, but the artists we collected are related to the 70's or even to the 60's.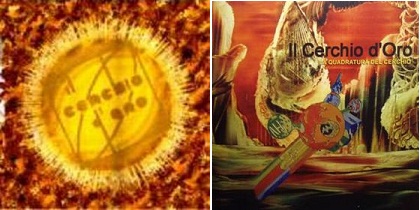 The band has two early compilation releases, `La Quadratura del Cerchio' and a self titled CD, that are a mix of unreleased pieces, rare singles, live performances and demo recordings. The sound quality varies from track to track, and can be challenging to listen to, although they do give an idea as to the sort of different styles the band was experimenting with during that lost period. Now that the band is active again, would you consider re-recording these tracks and releasing them again as new arrangements, maybe for something between proper new albums?

Those albums are a bit curious; they were released just to remind us and our friends the music, the experiments and the atmosphere of when we were 20. The quality (except tracks from the singles) was very low and realized with no purpose to make an album; despite this, many people have been caught by these characteristics and the recording was appreciated by the "prog" people. We don't have in our target to re-record those tracks, we prefer to create new music, new stories...obviously with our style that is almost the same of those years. In any case...everything is possible, never say never.....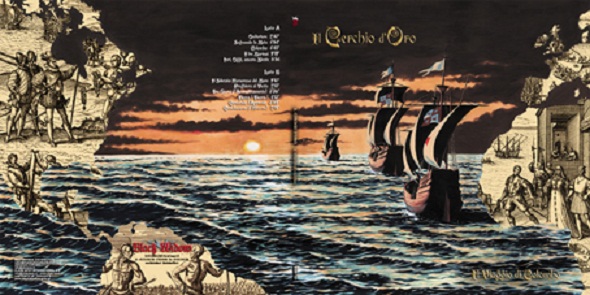 Your first `proper' album in 2008, the concept work `Il Viaggio di Colombo' is a superb modern Italian progressive concept album. I am the proud owner of a vinyl copy of this one and I really cherish it, a very special album to me that I still play frequently! What was it that inspired you personally about the story of Christopher Colombo that made you want to dedicate a whole album to his legacy?

Cristoforo Colombo was born (maybe) in Genoa, that is very close to Savona, our town and here the young Colombo lived some years with his family (maybe) in the alleys of the local harbor. In any case this famous "sailor" is still present in the background story of our small city and in its culture. So it was not difficult for us to imagine a story of sea, sailors, conquests, related to Cristoforo Colombo, as a link between two worlds, the old and the new one...and why not...a musical bridge, from the old ways to make prog towards the new generation.....


I love the slightly rough guitar sound on that album, it really gives the album a special unique sound, a bit of grit! But how happy were you as a band with that album, and if you could go back, would there be anything you would do differently about it?

Well, a very difficult question. When we play live some songs from that album, we introduce some changes in the arrangements, sometime a more aggressive rhythm, sometime a sweeter melody, but basically we offer the same atmosphere. If we should record that album now, probably we would use more attention to the sung parts, we would try to offer better arrangements, quality, and also better recording and upgrades. `Il Viaggio di Colombo' was made after a very long period of inactivity (more than 25 years for Franco and Piuccio) and in these years we have all tuned our capacity to express ourselves through instruments or voice. But that album is so sincere and "true"...and those are the qualities that made it so interesting and unique.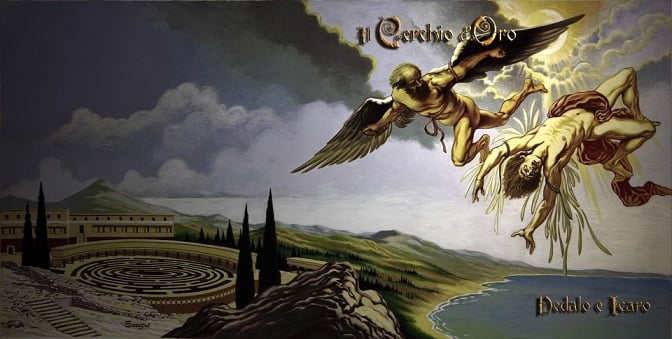 May 2013 has now brought us another gift with your splendid new album `Dedalo E Icaro'. This time around the band sounds even more polished and melodic! The music is so uplifting and grand, the band also sounds very joyous and relaxed on this one! How do you feel about this latest work?

`Dedalo e Icaro' was born from a different necessity: `Il Viaggio di Colombo' was created with the will to express a big part of ideas and emotions collected in 25 years and more...`Dedalo e Icaro' has been realized with the aim to continue our way, our sound, our music. We have understood that our ideas and our style have been appreciated and so we were more relaxed in playing music. As said before, in these last 4/5 years we have refined our approach to our instruments and we have removed a lot of "rust" from fingers and vocal chords. What you say is the confirmation that we have reached the goal! (And we really love it, obviously).


What a wonderful tale the story of Dedalus and Icarus is! What made you want to write a concept album about it?

Yes, you're right! The mythological legend of Dedalus and Icarus is charming, but it was not easy for us to decide about it. We liked referring to a famous epic, suggestive, strong, heroic tale and Greek mythological stories are the best inspiration for this. Icaro was almost a perfect character...but incomplete. It was necessary for us to re-discover all the legend and doing so, we realized that the dualism father and son, Dedalo and Icaro, was the perfect matching to tell and to explain contrasts, frustrations, a will to escape, challenge, experience and recklessness, youth and maturity...everything is linked to our music and to us. Every component of this band is father and son too and so we have all been involved in this story. It's a tragedy, for sure, but the message is great: we must escape, we must challenge destiny, we must imagine new ways to reach the goals (as Colombo did...) but we must use heart and head properly mixed.....


You seem to have some special guests helping out on the new album – Pino Sinnone (The Trip), Giorgio "Fico" Piazza (P.F.M), Ettore Vigo and Martin Grice (Delirium)! How did you make these contacts, and how do you feel about their contributions? Perhaps members of Cerchio D'Oro might get to play on new albums from them in the future?!

Since the early days of our story we have had many friends among musicians, especially in Liguria (we come from Savona). Pino Sinnone is from Turin but The Trip were often in Liguria (Joe Vescovi , the leader is from Savona too) Delirium are from Genoa and we have in common the same label (Black Widow) also we have done some concerts together with them. Giorgio Fico Piazza lives near Milan, we met him a few years ago, but a special feeling was soon born between us... he loves our way of writing and playing music. So when we spoke to them about our new album and asked them if they would contribute, they accepted at once. We are very proud of their presence and the great performances are the demonstration that they like our music. In the future who knows...A little curiosity: in the first track of new album, you can hear the Mandolin: it has been played by Athos Enrile, our friend, great passionate of music, famous blogger and co-founder of the web magazine MAT 2020, dedicated in a special way to "prog" lovers.


The last decade has also seen several other vintage Italian progressive bands release new albums after a long break - Alphataurus, Museo Rosenbach, Delirium among many others. Do you have any particular favorite comeback Italian albums from the last ten years or so?

We love the 3 groups you have mentioned, they have recently done beautiful albums , but if we should speak about one album, we'd say `Il Fiume' of Le Orme even if it's not so recent; it dates from 1996, but we can say that it is the first comeback of the Italian prog bands.


How important is it to you to sing in Italian on your records? When you were preparing the first comeback album, at any time did you consider using English lyrics, or would you ever in the future? Many Italian progressive devotees (myself included) feel one of the most defining elements of the RPI genre are the Italian lyrics and vocals.

We are an Italian band that play Italian music, as you say; it's important to maintain this characteristic. Singing in English could lessen our work. We have 3 singers in the band...2 of them have no problems in singing in English but we think that singing in Italian is important considering the sound of the group, even if abroad Italian is not understood. Anyway the translations in English of the lyrics are featured on both our latest albums.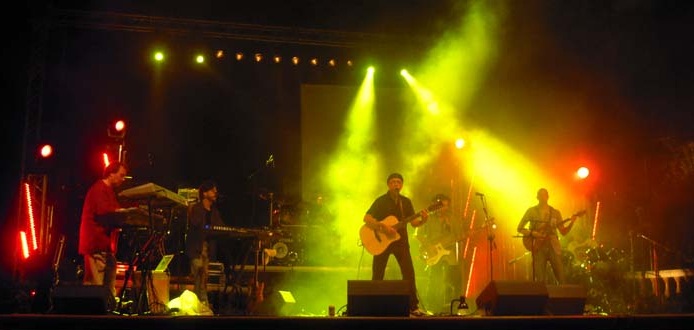 I, and I'm sure many fans, would love to watch some films of the band playing live, perhaps even the entire `Colombo' and `Icarus' albums! Do you have any plans for live albums or concert DVD's?

In 2009 , after the release of `Il Viaggio di Colombo' we played live the entire album and it was also filmed in amateur way. Anyway you can see 3 video tracks on the new cd enclosed as bonus: the first one : Leri, Oggi Ancora Niente (from `Colombo' 2009) the second is a medley of `Il sole Nascerà / Sguardo Verso Il Cielo (New Trolls/Le Orme covers, 2009) and the third `Impressioni di Settembre' (a PFM cover with special guest original bassist Fico Piazza 2012). The quality is low but it's a small witness.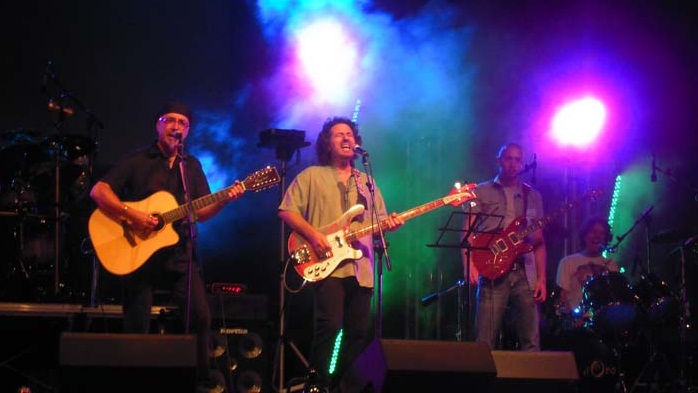 What's next for the band? I know it's just been released, but I hope `Dedalo e Icaro' won't be your last release, and that we'll see more works from the band in the future?

We have recently taken part in the Riviera Prog Festival (F.I.M.), 2 days of great prog band concerts (The Trip, Delirium, Latte e Miele, Garybaldi, Biglietto per L'Inferno and many others) and we'll do some other concerts next summer. As regards another new album...who could say? We hope to go on and to make another one...thank you for your support...anyway, in `Colombo' the main element was the water...in `Dedalo e Icaro' the main one is the air...we have at least a couple of possibilities about the next album theme...


What a scoop! Thank you for your time!

Don't mention it! Our pleasure!

Interview conducted by Michael H (Prog Archives RPI team member Aussie-Byrd-Brother).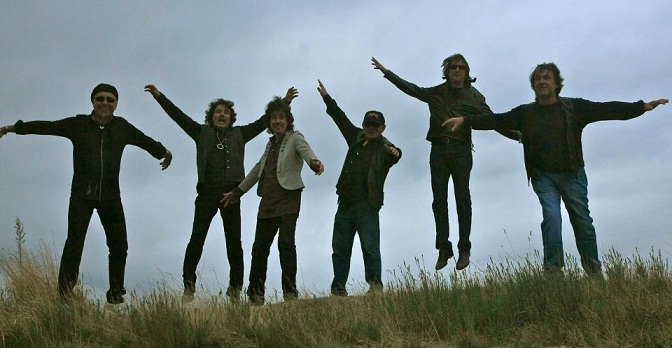 Some listening:

Early singles:
Quattro Mura (1977):


Sognando La Meta (2008), from the album `Il Viaggio di Colombo':


Il Silenzio Rumuroso Del Mare, a wonderful live performance:



My review of `Dedalo e Icaro' - http://www.progarchives.com/Review.asp?id=990958" rel="nofollow - http://www.progarchives.com/Review.asp?id=990958

Progarchives band page – http://www.progarchives.com/artist.asp?id=4125" rel="nofollow - http://www.progarchives.com/artist.asp?id=4125
Il Cerchio D'Oro Facebook – https://www.facebook.com/icdoro" rel="nofollow - https://www.facebook.com/icdoro
Black Widow Records – http://www.blackwidow.it/" rel="nofollow - http://www.blackwidow.it/

Interview posted 7th July 2013.
---
Replies:
---
Posted By: NotAProghead
Date Posted: July 03 2013 at 12:49
---
Excellent job, Michael!




You prepared well to the interview and asked good questions. The band showed their best in return, I can't imagine better answers.



-------------
Who are you and who am I to say we know the reason why... (D. Gilmour)
---
Posted By: progbethyname
Date Posted: July 03 2013 at 13:01
---




.....sorry sorry I can't stop clapping!



Amazing job, Micheal. PA is so lucky to have you. I'm honored to have been able to get a nice understanding
of II CERCHIO D'ORO through you. Wow. That Columbus concept album sounds adventurous and I'd like to hear ICARO as well. Great Q&A man. Anyway, I can't believe they were hiatus for as long as they were, but still came back after 30 plus years! God bless those birthday parties. ;)

Thanks again for a great read. Learned a lot.
Metal-man out....




-------------
Raving and drooling I leaned on his neck with a screeeeeeeamm! ;)
---
Posted By: progbethyname
Date Posted: July 03 2013 at 13:09
---
Also. I really like that il viaggio di Colombo track link you have here. Beautiful eclectic 70's sounding prog.
Melltron sounds amazing 2minutes in. So emotional and beautiful. Great guitar as well.
Thanks again.

-------------
Raving and drooling I leaned on his neck with a screeeeeeeamm! ;)
---
Posted By: AEProgman
Date Posted: July 03 2013 at 15:44
---


Well Done Michael! You really did your homework on this. Very insightful questions.

Makes me want to move their album up to the top of my wish list!



-------------

---
Posted By: Finnforest
Date Posted: July 03 2013 at 22:27
---
Great job Michael.

---
Posted By: apps79
Date Posted: July 05 2013 at 14:24
---
Awesome work with many details around the group, thanks and congrats!



-------------
When the power of love overcomes the love of power,the world will know peace...



listen to www.justincaseradio.com , the first ever Greek Progressive Rock radio
---
Posted By: Todd
Date Posted: July 10 2013 at 11:31
---
Wonderful work, Michael! And thanks to the band for the collaboration.

-------------
"A good album should always be much more about questions than answers." Bill Bruford

http://gnosis2000.net/ratertodd.shtml" rel="nofollow - My Gnosis Ratings

---
Posted By: Altairius
Date Posted: June 07 2014 at 07:18
---
I liked their 2013 album and never knew they had such a long history. The interview is very well done.

---
Posted By: Aussie-Byrd-Brother
Date Posted: June 07 2014 at 09:19
---
Thank you Altarius! I couldn't have asked for better answers from the band, who were very helpful and genuine!

---
Posted By: hellogoodbye
Date Posted: June 07 2014 at 09:43
---
Hey Kangoo, many talents in your pocket !



---
Posted By: Aussie-Byrd-Brother
Date Posted: June 07 2014 at 10:08
---
Thank you, my fine feathered friend!

---