4 little gems (54)

Printed From: Progarchives.com
Category: Progressive Music Lounges
Forum Name: Prog Polls
Forum Description: Create polls on topics related to progressive music
URL: http://www.progarchives.com/forum/forum_posts.asp?TID=97312
Printed Date: December 14 2018 at 11:32
Software Version: Web Wiz Forums 11.01 - http://www.webwizforums.com


Topic: 4 little gems (54)
---
Posted By: hellogoodbye
Subject: 4 little gems (54)
Date Posted: February 26 2014 at 12:33
---
Minus Two : SWF Session 1972

https://www.youtube.com/watch?v=c3cMKljsP34







Rain : Norsk suite

https://www.youtube.com/watch?v=IJYlbBFzcbs







Julian Jay Savarin : Waiters on the dance

https://www.youtube.com/watch?v=Jvsa9iMcfzQ







Synchro Rhythmic Eclectic Language ‎– Lambi

https://www.youtube.com/watch?v=rZnSQRLJh6s
---
Replies:
---
Posted By: hellogoodbye
Date Posted: February 26 2014 at 12:39
---
Rain: Norsk Suite
By http://www.popmatters.com/pm/archive/contributor/531" rel="nofollow - Ben Peterson
6 February 2013
As Beatles covers go, "A Day in the Life" is a doozy, and Rain'sNorsk Suite boldly opens with it. By track three they're on to "Strawberry Fields Forever", and when they finally hit "Isolation" later on, it's clear these guys have a thing for John Lennon. At least two of those three are among the finest songs ever written, so just how well do the remaining original compositions hold up? And who exactly are these guys?
Rain is one of those impossibly obscure psychedelic era groups who never released a proper LP in their day, but are eventually given a shot at redemption in hindsight through archival labels like Germany's Shadoks. Turns out this Norwegian outfit recorded an entire album at the tail end of the '60s that never saw the light of day. What a shame. Norsk Suite is an experimental, immersive set that holds its own with like-minded bands like Vanilla Fudge, with whom they might well have been contemporaries had things turned out differently.
Borrowing just as much from modern classical and improvisational jazz forms as from rock, Rain were really out on a limb and taking chances. The material is far enough out that, interspersed as they are, the Beatles songs could have made for a wild unevenness depending on how straight they played them. Well, the good news is they don't. Stylistically they're swallowed into the already widely varying whole while also bolstering the album with their inherently more succinct structure and tangibility. All three are treated to explosive arrangements at once formidable and impressively original. Taking the primal scream origins of Lennon's solo "Isolation" seriously, Rain also imbues the song with a rollicking start-and-stop electric squall that fits like a glove, and seamlessly gives way to the album's finale.
The bilingual vocals are hit or miss, so it's good that elsewhere the group's wide array of instrumental prowess is provided plenty of broad expanses to shine on its own. Take the supreme "Whine and Wail", which lays into a top-notch groove and fills out with free-form sax, a sweet wah-wah breakdown and brass accompaniment ala Herbie Hancock, only relenting after five minutes plus in time for "Strawberry Fields Forever". From there it's onto the musique concrete of the title track, and the dreamy, occasionally exasperating mid-album stretch that results in the extended meet-the-band variety hour of "Sveins Vise".
Rather than try to make the hard sell of marketing themselves to an international audience or even finding a label, the band came under the employ of Norway's National Theatre around the time they were recording the tracks heard here. In what must have seemed a natural outlet, they continued to apply their intricate, highly practiced proclivities in service of musical theatre and television throughout the 1970s, at the expense of maintaining their momentum as an autonomous act.
Finally now we can hear what might have been. Rain was tight, anchored by impeccable drumming, precise guitar work and lucid Hammond organ, courtesy of Carl Jorgen Kionig, Asmund Feidje and Knut Heljar Hagen respectively. Whether for better or worse (and it does go both ways), this is attention-demanding music with its fair share of inspired moments.
---
Posted By: hellogoodbye
Date Posted: February 26 2014 at 15:20
---
http://rateyourmusic.com/~siriuspooka" rel="nofollow - siriuspooka
Feb 13 2012
This french multicultural band with members from France, the Antilles, Africa and USA isn't easy to describe in its originality and versatility. It would be too easy to describe it as partly somewhere between ZAO and Soft Machine, but that wouldn't be completely wrong. But in contrast to the aforementioned bands there are a lot of influences of the african and caribbean sound spectra.

To give an example: The 4 parts title piece Lambi starts with a short floating keyboard and guitar ouverture, before it drifts into directions not very dissimilar to Yochk'o Seffer (ca. Delire / Ima) underlined by a prominent distorted and slightly zeuhlish sounding bass, before the music changes in interesting jazzy african moods decorated with repetitive and rhythmic singing to turn into a short open minded jazz-rock part served on tricky drumming that mutates into jazz fusion with lots of unforced solos for everybody, except the accompanying distorted bass and the now not too tricky drumming, to stay on earth. In this mixture, it is perhaps not surprising that the music on this album (with the bonus tracks) travels to almost classical areas right at the end in the last bonus track. All in all a refreshing and adventurous listening experience that makes me wonder why this music seems to be quiet unknown. Unknown musicians? Not at all! Have a look at the lineup:

Drummer Steve McCall (USA) maybe the best known name. He played with Muhal Richard Abrams, Joseph Jarman (Song for you 1964) and Fred Anderson in the sixties and was one of the founders of the Association for the Advancement of Creative Musicians, He worked with Marion Brown, Anthony Braxton, Cecil Taylor, Roscoe Mitchell and recorded many lp's with the group Air (with Henry Threadgill and Fred Hopkins).
Saxophonist Jo Maka, his parents came from Gabun and Sierra Leone, is to hear on some lp's of Francois Tusque's Intercommunal Free Dance Band. He was a member in Alan Silva's Celestial Communication Orchestra, worked with Eddy Louis, Henry Guédon (Cosmozouk Percussion 1974), Bobby Few and Noah Howard (Traffic, 1980).
Keyboarder Georges Edouard Nouel made an own lp Chodo (with Louis Xavier and Saint Yves Dolphin) and played on Noel McGhie's & Space Spies - Trapeze (together with Louis Xavier). Percussionist Saint-Yves Dolphin played besides other projects with Henri Guédon a kind of west indies jazz.
Bassist Louis Xavier made an own album Ladja with Maka, Rigaud, Curbillon and Dolphin among others (Jean Louis Bucchi).
Violinist Jean-Yves Rigaud played on the first two lp's of the band ZAO (as Tom mentioned) and played inter alia on the title track of Francois Jeanneau's grandious album Éphémère.
Guitarist Gerard Curbillon is mostly known for playing guitar on the first Speed Limit lp.

Guest singer Franck Valmont (on one piece) recorded an album under his name with this band titled Franck Valmont et Syncro Rhytmic Eclectic Language. The changed spelling of the band's name is remarkable. Another spelling mystery is the 7" ep called Synchro Rythmic Ecclectic Language with the two songs Sipote and Suite. Looking at all this material it's a shame that this band couldn't make more lp's.

Also slightly confusing is the reissue of the lp Lambi on cd. The original was on the Paris Moshe Naim label (that distributed Yochk'o Seffer, Siegfried Kessler etc.) under the name Synchro Rhythmic Eclectic Language. The Moshe Naim cd reissue from 2001 has the shortened band name Synchro. On this one are besides the lp tracks 4 bonus tracks with around 33 minutes of before unreleased material.
---
Posted By: Mellotron Storm
Date Posted: February 26 2014 at 19:09
---
Went with Julian Jay Savarin but probably should have voted for the last band in the poll. Both are excellent.

-------------
"The wind is slowly tearing her apart"

"Sad Rain" ANEKDOTEN
---
Posted By: hellogoodbye
Date Posted: February 26 2014 at 20:41
---
Yep. That was my vote, John. The Synchro track is an absolute killer !
---
Posted By: zravkapt
Date Posted: February 27 2014 at 23:21
---
Never heard any but voted for Minus Two.

-------------
Magma America Great Make Again
---
Posted By: hellogoodbye
Date Posted: February 28 2014 at 01:57
---

Z



This is another truly gem from the SWF broadcast vaults recorded in 1972. Minus Two founded in early 1971 in Mannheim (hometown of Nine Days Wonder) by organ player Gr Kin (guest musician on Dzyans 1. Album) and drummer Walter Helbig (also played with Nine Days Wonder and AERA) played a powerful progressive music sound sometimes with a certain sense of drama, melted classical influences with blues-rock and slightly jazzy hints. Early "Hardin & York playing" comes to mind, but Minus Two always showed their own imagination of progressive rock. All titles are self-penned and prove the musicians high level abilities playing their instruments and there are only organ and drums. Believe us, you dont miss any other instruments! This is a very complete sound by perfect trained musicians. CD contains 3 long tracks and short opener "Sticks & Keys" from the SWF vaults plus one bonus track. All titles were remastered from original master tapes. Booklet contains band history with a lot of photos.
---
Posted By: hellogoodbye
Date Posted: March 01 2014 at 01:51
---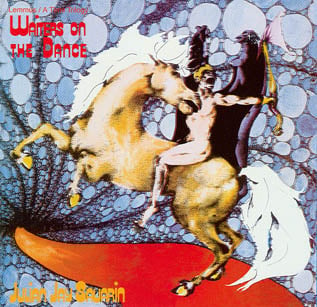 Julian Jay Savarin: Waiters on the Dance (1971)

Julian Jay Savarin is better known as a sci-fi author, but for a short time, he involved himself in music. He first founded a band called Julian's Treatment, which was a progressive rock band with lots of '60s psychedelic overtones. They released an album called A Time Before This (which I have reviewed here on this site), but the group then broke up, with female vocalist Cathy Pruden apparently returning to her native Australia. Julian then recorded that followup to A Time Before This, called Waiters on the Dance, this time under his own name. This time, he recruited ex-Catapilla vocalist Lady Jo Meek. Contrary to popular belief, Lady Jo Meek is not Anna Meek, Jo was Anna's sister. So there's no such person as a Lady Anna Jo Meek, as I have often seen in many other reviews of Waiters on the Dance (I should know, because my copy of Catapilla's self-entitled debut is the 1993 German CD reissue on Repertoire, and it clearly mentioned that Jo Meek left the group to be replaced by Anna). Anna replaced Jo in Catapilla when Jo came to Julian Jay Savarin, and it was Anna who was the one that was on the two albums that group released. Others helping out were bassist John Dover, guitarist Nigel "Zed" Jenkins, and drummer Roger Odell. The album got released on the Birth label, although I hear varying sources say this album was released in 1969 (very doubtful), 1971, or 1973. 1971 sounds about right to me, although there might have been a possibility the album's released was delayed until 1973 (if so, I'm not surprised, given how difficult it was for lesser known prog rock acts to find a label willing to release their stuff, although the Italian Akarma reissue does say 1971).

Are you a fan of Julian's Treatement's A Time Before This? It's a no-brainer, you need Waiters on the Dance. It's very much in the same style and sound, but this time around with a more aggressive, harder-edged approach, which I really like. That means I thought it was better than A Time Before This. Guitar is more dominate but Julian still uses plenty of that great organ in that same cosmic style of Julian's Treatment! Not to mention Jo Meek sounds like Cathy Pruden with more punch (Annie Haslam is another valid comparison). "Child of the Night 1 & 2" starts off calmly enough, with mellow organ and vocals, but then the music really gets intense, with some great guitar playing from Nigel Jenkins. Mellotron pops up. "Stranger" is a short piece, with real strings (the only cut on the album with real strings, as the Mellotron is used elsewhere). "Dance of the Golden Flamingoes" is the album's instrumental cut, demonstrating the harder-edged approach Julian favored on this album, with lots of nice changes, and some jazzy passages, and the Mellotron. "Cycle" features more great organ playing from Julian, for some reason the organ heard at the beginning reminds me of the title track to Web's I Spider (1970) album (Web being an early British progressive rock band who changed their name to Samurai in 1971 that featured future Greenslade member Dave Lawson), but then once the female vocals kick in, it sounds like Julian's Treatment with more punch. I really like that short, but intense bass and organ solo. The album closes with the wonderful "Soldiers of Time", rather short, but a great way to close the album.

Too bad this was as far as Julian Jay Savarin went in his musical venture, after this he concentrated exclusively on writing novels, which he still does to this day.

This really is one of those great albums that too few know about. Original LPs of course are difficult to come by, but you can thank Akarma in Italy for reissuing this (be aware there was an early reissue of A Time Before This that included material from Waiters on the Dance as bonus cuts, although the more recent Akarma version of A Time Before This simply consisted of just that album). This album simply blew me away, and comes highly recommended.
---