Metal Mind Productions presents the first live DVD release of Oliver Wakeman, the oldest son of Rick Wakeman (Yes), one of the best keyboard players in the history of progressive rock.
Oliver Wakeman is a great prog-rock musician known for his many artistic collaborations, including the one with Clive Nolan (Pendragon, Arena, Neo, Caamora), which resulted in the creation of two genuine masterpieces of the genre: "Jabberwocky" and "The Hound of the Baskervilles". Oliver Wakeman already has a cult status in the progressive rock community. He was acclaimed both as a solo artist and as part of various musical projects by fans and by critics (in January 2008 Oliver was presented with the Classic Rock Societies Keyboard Player of the the Year award!). His latest studio project – album entitled "Mother's Ruin" from 2005 - marks a progression in Wakeman's musical career. The album sees a change in direction from Oliver's recent instrumental releases and draws heavily both from his progressive roots and also the experience performing live with his band. It's a collection of hard-edged yet melodic songs, showcasing Wakeman's writing skills. The album also allows room for the dynamic instrumentation which has become a trademark of his work.

In mid March Yes confirmed their world-wide tour with Oliver Wakeman taking the position of the keyboardist.
"Coming To Town – Live in Katowice" DVD is an extraordinary mixture of progressive and symphonic rock, spiced up with intriguing sounds, performed live with both charisma and perfection! This wonderful show was filmed at an atmospheric venue of Wyspiański Theater in Poland. The band performed in the following line-up: Oliver Wakeman (keyboards, piano), Paul Manzi (vocals), David Mark Pearce (guitar), Paul Brown (bass) and Dave Wagstaffe (drums). The DVD includes an interview with Oliver Wakeman, photo gallery, biography, Dolby Digital 5.1 Surround Sound and more!
DVD is also available in a limited swing case edition, including a bonus audio CD with songs recorded during the gig at the theater.
"Coming To Town – Live in Katowice" DVD will be available on 5th May 2008 in Europe and 10th June 2008 in USA (via MVD)
Oliver Wakeman Band
"Coming To Town – Live in Katowice"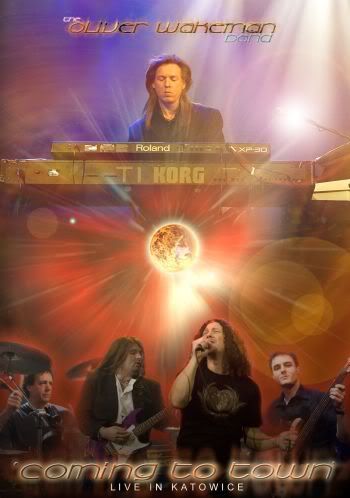 Label: Metal Mind Records
Cat. No.: MMP DVD 0137
Barcode: 5907785031609
Cat. No.: MMP DVD 0138 (DVD+CD limited swing case edition)
Barcode: 5907785031616 (DVD+CD limited swing case edition)
Genre: progressive/symphonic rock
Release date: 05.05.2008 Europe / 10.06.2008 USA

Tracklist:
DVD:
1. Don't Come Running
2. Dangerous World
3. The Agent
4. Calling for You
5. Three Broken Threads
6. Burgundy Rose
7. Mother's Ruin
8. Enlightenment
9. If You're Leaving
10. I Don't Believe in Angels
11. Wall of Water
12. Walk Away
13. Coming to Town
CD (swing case edition only):
1. Don't Come Running
2. Dangerous World
3. The Agent
4. Calling for You
5. Three Broken Threads
6. Burgundy Rose
7. Mother's Ruin
8. Enlightenment
9. If You're Leaving
10. I Don't Believe in Angels
11. Wall of Water
12. Walk Away
13. Coming to Town
Bio
Oliver Wakeman was born into a musical family and is the eldest son of rock musician Rick Wakeman. He has written and appeared on various albums, all of which have been released to critical acclaim. Oliver's musical career started at about the age of 5 with piano lessons taken during break time at New Gregories School in Beaconsfield. As a child, Oliver would often sit at his dad's grand piano in the lounge and run his fingers haphazardly over the keys thinking that if he did it enough times them something tuneful would happen and one day it did - only briefly, but it was enough to make the young Oliver sit there all day, annoying everyone, trying to 'guess-play'. Eventually Oliver realised that he was just going to have to learn to play properly.

Oliver's recording career started in 1984 when he and his younger brother Adam contributed backing vocals to a track on father Rick's "Cost of Living" album. The track is called 'Bedtime Stories' and to this day is the only track that features Oliver, Adam and Rick Wakeman on the same track.

At age 17 Oliver started to gig regularly in pubs in the Devon area and considers those experiences to be as important as the formal musical training he has received. 1989 saw Oliver's own personal recording debut as part of the band 'Obssession'. He featured on the cassette-only release "Debut of Desire'". Oliver wrote one song for the album called 'Into the Mirror' which he is still threatening to re-record one of these days. Oliver left 'Obssession' and started college in his late teens. He trained as a graphic design artist and holds a diploma in the subject. He continued to perform on the North Devon music scene as an integal part of the Rock Blues band "Smokestack" which was well regarded by the public and fellow musicians alike. Oliver left the band in early 2002 although he was re-united with the members of the band when they were the backing band at his wedding reception!

1997 saw the release of Oliver's first solo album "Heaven's Isle". "Heaven's Isle" was written at the request of the Landmark Trust to promote their 1997 season of Lundy Island. The album was re-released throughout Europe by Verglas music in late 1999. Music from this album has been used by BBC 1 & Independent Television for various programmes. The Tarka Tourism board's video "The Secret Country of the Two Rivers" also features music from this album.

His second album 'Jabberwocky' (a collaboration with London based musician Clive Nolan) was released in early 1999 and featured an all star cast, including Peter Banks (Yes), Tony Fernandez (Strawbs), Rick Wakeman, Tracey Hitchings (Landmarq) & Bob Catley (Magnum).

Oliver's 3rd album, "The 3 Ages of Magick", an instrumental work, was recorded with Steve Howe (Yes, Asia), who contributed guitars and executive production duties. This album was released in July 2001 to ecstatic reviews. The album was launched at the well known London music venue 'The 12 Bar Club' where Oliver performed to an invited audience.
Oliver and Clive released the follow up to 1999's 'Jabberwocky' album with "The Hound of the Baskervilles" in early 2002. The album featured a similar cast plus Arjen Lucassen (Aryeon), Ashley Holt (Rick Wakeman Band), Karl Groom (Threshold) as well as Robert Powell, the world renowned actor, narrating as Dr Watson. Again this album received rave reviews.
A commissioned new age album, "Chakras", was released in early 2002 and a further commissioned work 'Spiritual Enlightenment' was released in early 2003. His album 'Purification by Sound' was released by President Records in May 2003 and has received glowing reviews from various magazines. 2003 also saw Oliver team up with the Celtic singer Rachel for the 'The View from Here' single which was followed by a live performance from the band at the CRS Awards night in 2002.

Oliver was also commissioned to write a variety of incidental music for six poetry CD's. One of which features the voice of Derek Jacobi who is well known for his various film roles, most recently 'Gladiator'. Oliver has also written music for various corporate companies in order to launch or promote their products including the pro-audio company Allen & Heath. Oliver also composed the jingle for the CD version of the TV show 'Name That Tune'.

2004 saw the piece of music 'The Progress of the Soul' from the Divine Harmonies album feature as the title music for the 'A Guide to Spiritual Healing' DVD. 2004 also saw Oliver appear on Ayreon's "The Human Equation" album along with other musicians such as James LaBrie (Dream Theatre), Ken Hensley (ex-Uriah Heap) and Heather Findlay (Mostley Autumn). This also had the excitement of Oliver's first appearance on a top 10 album.

As well as appearing on the 'ProgAID' charity single (alongside Neal Morse and Arjen Lucassen and others), which raised funds for the Asian Tsunami disaster relief fund, he also appeared on Steve Howe's CD 'Spectrum' which was released in July 2005.

During 2006 Oliver took to the road with his new band performing selections from his 'Mother's Ruin' album (which was released to critical acclaim in late 2005/early 2006) as well as songs from his back catalogue. Oliver also appeared as a member of Bob Catley's (Magnum) touring band playing in the UK and Europe.
Oliver has been nominated for the Classic Rock Society's 'Best Keyboard Player' award on many occasions and in 2006 he won! He received the award from Carl Palmer (Aisa ELP) at the annual CRS awards night.

2007 saw Oliver join the American classic rock band 'Starcastle' for the American Rites of Spring Festival. He also released an EP featuring songs from Mother's Ruin and new material.
Oliver and his band continue to perform live at various venues and festivals and he is currently working on a new album to be titled 'Culteral Vandals'.