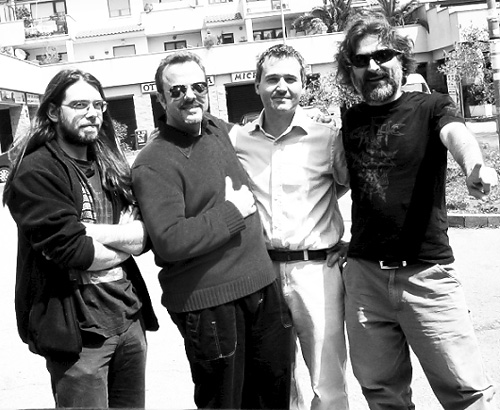 Italian band Delirio Sonoro was formed in 1991 by Roberto Cruciani (bass), Alessandro Piscini (guitars), Saulo Chiaramoni (vocals) and Daniele Santini (drums, percussion, computer, keyboards, samples, tapes, vocals). Their first task at hand was to rearrange and record compositions previously made by Chiaramoni and Santini, which was released in 1992 as the band's debut effort Delirio Sonoro.

The members obvious inspirations from acts such as Hawkwind and Pink Floyd are easily heard on this effort, while the lyrical contents are inspired by some of the great names from the Anglo-Saxon literary heritage like Blake, Wordsworth and Poe.

I caught up with the band for their story. Daniele Santini answered my questions.
-------------------------------
When was Delirio Sonoro formed and do you have any background from other bands ?

We formed in 1991. The original line up was: Saulo Chiaramoni on lead vocals, Alessandro Piscini on guitar, Roberto Cruciani on bass and me (Daniele Santini) on drums. All of us played with other bands before Delirio Sonoro, but nothing really important. At the moment Roberto Cruciani plays also with "Grey Lagoon" a remarkable Prog-Rock band and he collaborated also with Richard Sinclair (from Hatfield And The North) and Brainville 3 (Daevid Allen, Chris Cutler and Hugh Hopper).


Whose bands were you influenced by ?

Difficult question; all of us listen to a lot of music; Delirio Sonoro main genre is Psychedelic Rock but on our albums you can find a lot of influences: 70's Prog Rock, Space Rock, Pop Music, Reggae, Electronic, Experimental, Jazz-Rock, African Percussions. Anyway some bands are: Pink Floyd, Hawkwind, Porcupine Tree, Banco Del Mutuo Soccorso, CSI, Subsonica, Ozric Tentacles. Apart from the influences I think we created a "Delirio Sonoro sound" that is immediately recognizable.

To start with; please give me your (long or brief) thoughts and lowdowns on.......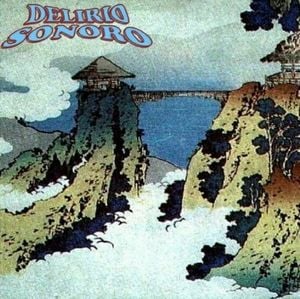 Delirio Sonoro from 1992

We started recording this album only for fun with our own (cheap) equipment. At the time nobody could imagine that this album some years later would have a wider audience, even abroad, so we didn't care about the English pronunciation or some nonsense lyrics wrote by Saulo Chiaramoni. Anyway this album in my opinion is a good one a sounds like a classic rock album of the 70's.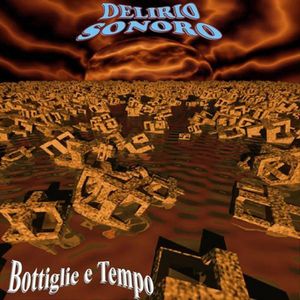 Bottiglie e tempo from 1996

This album has a long tormented story. The original ideas were good, but, frankly speaking, the final result is poor. We used a lot of ethnic percussions, self made percussions (metal boxes), tapes, samples, no copyrighted popular songs in the strive to create something completely new. The album was bad engineered and the drums had an horrible sound : to improve the sound Paolo Parea decided to add a delay, but the sound was again ugly and the delay created a "out of time" effect of the drums. To complete this suffered recording experience the multitrack recorder broke when the song were almost finished and we waited for at least 8 months for the spare parts. The best song of the album is Condizione Umana that have great lyrics and a memorable Marko Resurreccion's guitar solo. The 3 tracks "Esilio" are based on percussive improvisations on which every member added what he liked. "Esilio #1" was done by Roberto Cruciani, "Esilio #2" by Marko Resurreccion and "Esilio #3" by me.

There was a thirteen years long break after this album. What happened ?

After the release of "Bottiglie e tempo" we played live for almost 2 years. The best concerts were of improvised long instrumental tracks; at the time we played behind a screen on which were projected psychedelic images and landscapes.

In 1998 we signed with the label "Blu Mix" who used "Condizione Umana" for a compilation CD called "Estromissioni".

Then we had a 2 years break, but everyone of us continued playing with other bands. In 2000 the songs for "Atto Terzo" were almost composed and we started recording. We always realized our albums completely on our own and this time we did it only slowly. 

At the beginning of 2007 Saulo Chiaramoni left the band for personal reasons, then we decided to complete the vocal parts on our own.

In the meantime we signed with label "Dedalo Sound" who reissued the first 2 albums for the Internet Digital Distribution; we sold several mp3s mostly on eMusic, but at the end of 2008 "Dedalo Sound" closed down and never payed a cent to us.

At the beginning of 2009, with the help of Jan-M. Iversen, we founded our label – "TIBProd. Italy" - which is TIBProd. a sub-label.

Now we can distribute all of our albums and we are also producing other artists such as Conrad Schnitzler (one of the Tangerine Dream founder) and the Irish jazz-rock guitarist Mark O'Leary.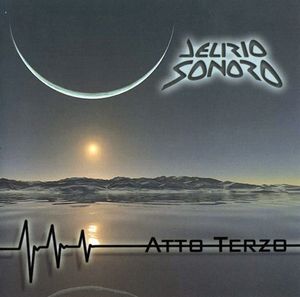 Atto Terzo from 2009

This album was conceived with the intention to create short psychedelic songs tainted with other musical genres as usual. For sure we created something new, even I realize that this album needs to listened several times to be appreciated.

The real spirit of the 70's progressive rock bands was a continuous research of new ways to compose music, creating new sounds and melodies only unimaginable some years before. Think about bands like Gentle Giant, Henry Cow, King Crimson or Pink Floyd (until The Wall).

So the real progressive music is to create something new and not the vain repetition of the genre of 70's progressive rock.

With Atto Terzo we used the classic song structure, but we inserted on the tracks some unusual parts and arrangements (looped guitars, orchestra, clarinet, trip hop drums and a massive use of electronica).

At the end maybe this album is too electronic for the rockers, too rock for the electronic music lover, too pop for the progressive music listener and very strange for all the others, but needs some time to be understood.

What is the updates on your band and your plans for this and next year ?

A new track will be published by TIBProd. Italy on the forthcoming album "Cadmium Dunkel Remixed Again". 

We are also working on a new album and will be a concept album based on novel Brave New World (estimated release date within 2020 ! J)

How is and was the writing and creative processes in your band ? 

We always wrote first the music and after the lyrics. Even on the first album the lyrics by Blake, Wordsworth and E.A. Poe were adapted on the music.


How would you describe your music and which bands would you compare your music with ?

As I said we consider us a psychedelic band and our spirit is near to Hawkwind.

How easy/difficult is it to promote your albums these days and how easy/difficult is it to get gigs ?

Well, on these days is not so easy to promote an album and sell it. Owning a label we're undoubtedly advantaged because people visiting TIBProd. Italy web site for other reasons can listen to us.

At the moment we're not interested in playing live, but I can say that here in Italy the most gigs are done by the Tribute Bands because they attract always a big audience. I prefer to say nothing about this awful phenomenon.

What is your five favourite albums of all time ?


1. Yes – Relayer

2. Pink Floyd – The Dark Side Of The Moon


3. PFM - Per Un Amico

4. Talk Talk – Spirit Of Eden


5. Klaus Schulze – Audentity

Out of ranking:

The complete Hawkwind discography; every album is a good one. 

Anything you want to add to this interview ?

Many thanks to all the people at Progarchives.com; your web site is definitely the greatest and the most exhaustive of the web.

Thank you to Daniele for this interview.

Their PA profile is here and their homepage is here