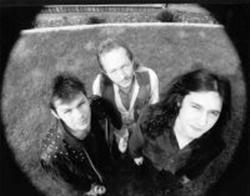 Formed in 1985, new-wave progressive British trio ABBFINOOSTY started playing live in 1986, showing an interesting blend of prog and rock and earning a reputation as a mystical pagan rock music band. Curiously, they didn't release any albums until the mid-90s, but that hardly explains how their sound and style manage to combine influences from the 70's, 80's and 90's.

Guitarist, vocalist and lyricist Asif was the main figure of the group; bassist Tony Norton and drummer Robert Lowe also mark the band's essential moments, something obvious to anyone listening to their two studio albums or reading the many positive reviews about their great live performances (their website features numerous such paper clippings, most of them showing that ABBFINOOSTY were quite a phenomenon or, at the very least, a pleasant surprise on the 80's music scene). Their biggest concert was likely held at The Marquee where they played some complex rock.
(words by Ricochet)
Abbfinoosty is sadly no longer with us. But it is still an interesting band and their story deserves to be preserved for all eternity in ProgArchives. I got in touch with Robert Lowe for the Abbfinoosty story. 
~~~~~~~~~~~~~~~~~~~~~~~~~~~~~~~~~~~~~~~~~~~~~
Our Abbfinoosty biography covers the Abbfinoosty history so I am not going to torture you with questions about that. But why did you choose the Abbfinoosty name ? 
The name was conjured up by Tony. We were having a real struggle coming up with something that was a fit with us and our music. In a moment of boredom Tony put our names in alphabetic order. Asif, Bob & Tony spell Abbfinoosty. When we saw the word jump off the page at us it was clearly the right name. The Abbfinoosty symbol is linked to that process but I'd need a piece of paper and a pen to show who how he came up with that.
Please give me the history behind and your thoughts on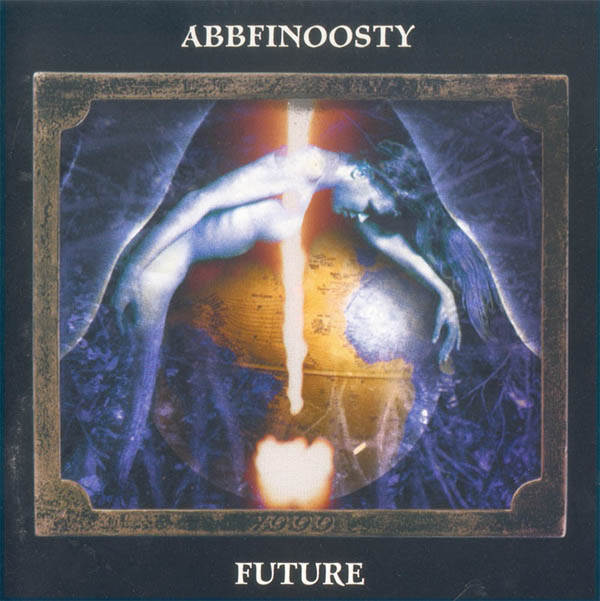 Future from 1994
I am immensely proud of this album to this day and everything about it. We funded the recording from gig money. We knew a guy at a studio called The House in the Woods in Surrey UK, he allowed us to do the sessions and pay him when we had the money, Giz & the sound man Simon Milton were real stars. Future was an accumulation of our 8 or so years together. Some of the tracks lacked some recording quality but that was a financial thing. I love Future, Wild ones, Owl, Wizard, drink with the devil & wish song. I think they were the best things we ever did as a band. The artwork was good too. There are other tracks I love but sadly they were never recorded properly, in particular, The Strut 1& 2. Anyone who went to gig would know them.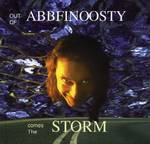 Comes The Storm from 1996
Storm is Asif's solo album, it wasn't an Abbfinoosty album. People got confused. I was happy to do some drum sessions, it was fun, I like the track I played on, Hawk. 'The Storm' is the 'artist'. 'Out of Abbfinoosty' is the album title, as far as I understood.
When was Abbfinoosty put to sleep, so to speak ?
Can't remember the year exactly, early to-mid 1990's.
How would you describe Abbfinoosty's music and sound ?
I was very proud of the fact that we never started duplicating ourselves. A girl came up to me one day after a gig and said; "I can't believe you play a whole gig and no two songs sound the same". That kind of summed it up for me really, it meant we had achieved something.
How was the writing and creative processes in Abbfinoosty ?
Generally what happened is that Asif and Tony would bring in an idea or a riff, something they'd worked on together or on their own. We'd jam it for hours while we found our parts and I'd perhaps point out it was similar rhythm to or sounds like this other riff we were working on or something like that. Next time we'd all have more ideas which expanded the piece and so it went on. My role in the creative process was more on the arrangement side, Asif and Tony came up with the ideas and lyrics. We tended to give any credits a straight 3 way split because without either one of us it wouldn't have happened like it did.
Both Future and Comes The Storm has taken on their own lives during the last years with the invention of the internet and the renewed interest in progressive rock. Who is taking care of the copyrights and is there any plans to do any more under this moniker ? What about re-releases and is there any songs/material hidden in the vaults somewhere ?
Copyrighting and legal is between Myself, Asif and Tony, not for this interview and as per last question The Storm is not Abbfinoosty, its Asif.
Yes there is other Abbfinoosty material hidden away. I have a live gig recording of the last gig we ever did and the first little known album we ever did called "greatest hits volume 2" which whe played live was a 45 minute set with no breaks. I have been considering if we should do something with these.
How was the income side in Abbfinoosty with the regards of royalties and mechanical rights payments ?
Again,Copyrighting and legal is between Myself, Asif and Tony, not for this interview.
Asif Ali has contributed to a lot of projects, including a RPWL album. The same goes for yourself too. What has you and other ex Abbfinoosty members done since 1996 ?
Asif played on my first album & I played on his as did Tony. Tony did an album with a guy who is sadly no longer with us and I believe and they have both been in other bands, together and alone.
I have my second album being mixed at the moment for release later this year (2010). Release has been put back because I am writing a soundtrack for a film and there is a dead line for it as filming starts at the end of September 2010. I am the music coordinator for this project and have pulled together 13 musicians from past and present. We have put the soundtrack album together in little over 3 months. I have written pieces for others to perform and directed them to write and record pieces of their own. It's been an intense and creative time. At the time of writing the website isn't up but more info will be at;
www.abouther.org
 Finally; what is your best memories from Abbfinoosty ?
Abbfinoosty was a momentous period of my life. At the time, the 3 of us were joined at the hip and I have nothing but fond regards for Asif & Tony and everything we did together musically and otherwise. So much so that I get a lump in my throat and a happy tear in my eye just thinking about it. Yes it was a bit messy at the end for a little while but I was pleased we managed to accept what happened and remain on good terms, that is important. We even got back in the studio years later for a jam, managing to re create the old magic for a while which was special. We were unique and it was a unique experience. Fortunately we have a legacy of the music as well as the memories to remember it all by.
To wrap up this interview, is there anything you want to add to this interview ?
The Future album is still available at;
'The Future 9.15' is me and I am at;
Thank you to Robert for this interview.