Quasar was formed in 1979 by founder Keith Turner. They found themselves to be amongst a movement of British bands during the early 1980s, including Marillion, Pendragon, Twelfth Night, Solstice and Pallas, that continued in the progressive rock style created by 1970s bands such as Genesis and Yes.

Though plagued by constant line-up changes over the years, and little or no financial backing, Quasar is still producing music. They are currrently working on a new album for release in 2009/2010.
I got in touch with the band for their story. 
########################################
Our Quasar biography is very extensive so let's not go over this again. But where in UK were you formed and where are you based now ?  

Keith : We started off in London in 1979; I wrote Mission 14 first, to have something to start off playing. I wrote Logic? next, but it didn't get on the Fire in the Sky album as we had a preference for Seeing Stars I and the UFO suite. If we had CDs back then it might have been different, but vinyl didn't have enough space.
Now I am in San Francisco, just because I love the place. But I found new members eventually, and here we are.
We are very keen to come back and tour in Europe, as soon as we can.

Just let's jump straight over to your albums. Please give me your (long or brief) thoughts and lowdowns on.......  

Keith : Well, I'll try and keep it fairly short, but explain things that might be of interest.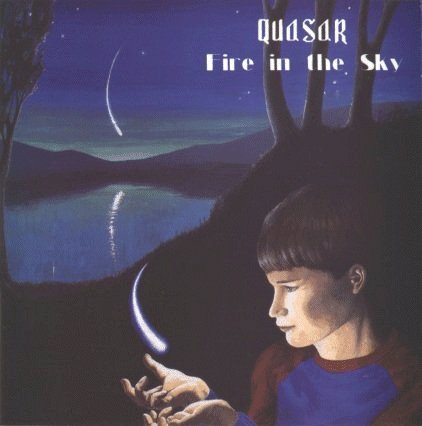 Fire in the Sky from 1982  

Keith : First, we had a new singer, in Paul Vigrass (one of the singers on Jeff Lynn's War of the Worlds). He was a good singer, but we had not done any live shows with him, so it was rather unknown territory.
Also, we had a budget of nothing, so we used downtime in a little 8 track studio that the keyboard player worked in (Pete Ware). It was challenging, but we did the best we could with what we had. Everyone comments on the production quality, and they're right, but we didn't have the $100 an hour for a good studio.
That aside, Mission 14 has always been a favourite, live it's a different beast. A good producer would have captured the live energy on the record, but no-one wants 5% of nothing, so we didn't really get it right.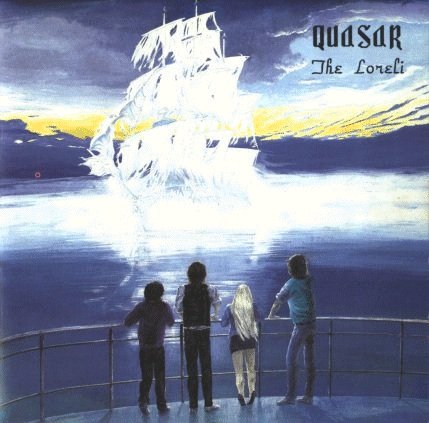 The Loreli from 1989  

Keith : This time we had Tracy and her brilliant voice. We still had a budget of nothing, but a friend of the band let us use their 24 track studio for free at nights and other down time. We did a lot better, especially as we had played the track so much live and developed them more, and Tracy knew exactly what she wanted.
Again it lacked what we were live, maybe not as much as the first album, but again we did the best we could with no Producer or even an Engineer.
I am always amused when people say the music on this, and our previous album, is simple, even naive, and not very progressive. I don't think they 'get it', and I think they expect us to sound like something familiar, which is an appalling idea to me - comfortably familiar "Prog"? Yikes!
Any past or present member of Quasar will tell that it is really difficult music to perform, even though it doesn't initially seem so. Our aim had been to make the music 'sound' like it's easy, rather than be commercial.
For example, As You Fall Asleep... starts in 9/4 for the whole first vocal section. Anyone who has tried to sing over 9/4 and have no repeating melody will know it's very difficult. But because there is just a steady bass drum all the way through it, most people don't realise that it's not 4/4.
Of course, there are some (Prog fans) that hear it, and the structure of the music. But in the end, all this is the musicians concern, not the listeners. But with enough listens, one begins to hear that all is not what it seems.

The new album, is NOT going to be like this, the tracks are very difficult to play and we will not be disguising this complexity.


The online live album Live 1984-1990  


Keith : Well, we had these bootleg tapes from years ago, and thought it might be appealing to clean them up for anyone to have on CD. They're not the greatest quality, but it's just meant to be a little memento of the past for those that might want it.
We are thinking about an 'as we are now' version of some of the previous album tracks, maybe from new live recordings or maybe studio recorded, to maybe capture what we really are like. We'll see!

Quasar is still here, thirty years later. What has been and is the motivation behind Quasar ?
 
Keith: Probably the same as most other bands, we do what we do, we have something to say, and this is our outlet. We didn't try to be a 'Prog' band really, or even a 'Rock' band for that matter, we just got put in that genre as time went on. It's good to know that we 'belong' somewhere, especially in the '80s when Prog had a huge revival in the UK. We enjoyed being part of it, and climbing up to headlining at The Marquee etc. and all the other bands (Marillion included) felt like we were collectively making waves.  
We are still trying to do what we do, even though it may be not what is expected of a 'Prog' band, and we still have something to say. The new album has a continuation of where we were going, but is considerably more aggressive in it's lyrical comment, for those that listen to the lyrics, anyway. Musically, we'll see what listeners make of it, perhaps we've become a bit more "rock".

Robert: I think our motivation is and has always been the same. We try to make music that is both pleasing to the ear, yet challenging to play.

Greg: Quasar's music is driven by the progressive mindset: make the music go further outside the norm, or more importantly try to steer it in another direction. Our music is not based within the usual standards of music theory, but upon the sound, feeling, and emotion that it can produce. There are extremely technical elements to our music, though that is not the foundation of our sound. It is instead to make the mind at ease, to make the heart race, and to even add a state of chaos, all when necessary.

Robert: There are a lot of other Prog bands that like to throw 2,000 notes into a single bar of music and call it virtuosity. While we respect the technical abilities of these bands and players, we think this approach unsuited to us in terms of musicality and composition. Every  composition we make tries to not only be an intellectual challenge, but aesthetically beautiful as well. Our forthcoming album "The Eyes Of The Innocents" will be an excellent demonstration of this philosophy.

Keren: I'm the last addition to Quasar, I joined the band about 9 months ago, after a brief meeting with lead vocal/keyboard player Robert. I fell in love with Quasar's past work, and was intrigued by the challenges the guys introduced me to with the new album.. which is AMAZING btw..!!!
I have been very fortunate to make music, record for others, and perform live on numerous projects the past 15 years, Prog music is very new to me, and 'falling' into Quasar was the right thing at the right time in my life..I am truly lucky!!

Quasar was reformed again in 2006 and a new album is on it's way. Please give us the story behind the reformation, the current line up and what we can expect from the new album.  

Keith : We reformed because I finally found others that wanted the same thing. I had been looking for years but nothing ever worked out, I/we were always too different. I'm a classically trained musician and composer (sounds very pompous I know) and I never found 'rock' very satisfying. But Quasar is a good mix for me, powerful at times, but not heavy.
This time, there will be some significant differences. Of course there is plenty of keyboards (both Robert and Keren play keys), but Greg is great on the guitar; he's conventional and unconventional at the same time, so he'll be doing more 'guitar solos' and more prominent guitar work, though using his own approach to the music.

Greg: I've played in numerous bands over the years covering a wide variety of genres, but the depth of this music and the precision needed to play it was a welcoming challenge to myself as a musician wanting to better himself.

Keith: Also, we now have Keren and Robert singing, so that adds a lot of variation in what we can do. For those that appreciated Tracy in the past, will find that Keren can hold her own in that department, and then some. Robert handles the male vocals with as much passion as Tracy did, so there'll be nothing bland in either of their performances.
Musically, we're being more adventurous, the new tracks are a challenge to play for various reasons. If anyone notices, this time, remains to be seen, but we're not going to disguise the complexities this time. Also, the budget is not an issue anymore, as these days it's all digital and we can do most of the time consuming stuff outside of the studio. So the production should be much, much better.

The current line-up is;
Robert Robinson - vocals/keyboards
Keren Gaiser - vocals/keyboards
Greg Studley - guitars
Keith Turner - Bass/12 string/bass synth

PJ Shawdowhawk (Drums) was our drummer until recently, but sadly had to stop due to very serious health problems. It's a bitter blow all round, but we're in the process of auditioning drummers.

Just to give those of us who are unknown with Quasar a bit of a reference point or two: How would you describe your music and which bands would you would compare your music with ?  

Keith: Well, we 'grew up' in the '80s with Marillion, IQ, Pendragon, Soltice etc. But we were always a bit different, maybe we didn't copy the past so much, I don't know. I've always been pleased with Genesis, Yes in their early years, and a few others like 10cc.
Quasar's music is maybe more towards Genesis, though I hope we don't sound like them, or anyone else really.

Greg: Hey, we know that all bands would prefer to say that their sound is truly unique, but I feel that our extreme dynamics, intricate orchestration, and sometimes subtle time sequences that still hold a pleasing melody can be a new sound to many ears. The early years of Genesis often included some of these elements, and I feel
that many fans of such music would also enjoy ours.

Keith: Right! The music comes first, not the genre, so I think we all quite genuinely find it hard to put ourselves in a box, which doesn't help anyone much, but equally, it doesn't misdirect anyone either.
I never cared for the Rush and Dream Theatre sound, too heavy for my ears, and not enough 'real' composing, I get tired of guitar riffs joined together for no good reason, but that's just me, both bands are hugely popular.


You are quoted to be claiming the title "The worst UK Prog Band ever". A title supposed to be awarded to you by Ken Golden from the Laser's Edge record label. Please tell us more about this "title" and how you won it.  

Keith: Ah yes, well Ken did say that in his Lazers Edge forum. Now I don't want anyone to think anything bad about Ken, not at all, he's a good guy. I spoke to him, just in case we had pi**ed him off for some reason, which we hadn't. He wishes us well with the new CD and the new band.
It was just such a funny quote, and I quoted him for the same humourous reasons. I just thought it was a great novelty 'crown' to wear, that no other UK Prog band had been so called. I take these things with good spirits. I'm still laughing about it.

Robert: *laughing*  Well, I guess it's good to be best at something,  even if it's best of the worst!  Actually, we need to thank Ken Golden. Since the time of his forum comment, we've had a substantial boost in record sales!

Keith: I don't personally think we are the worst, not that I'm at all competitive towards other bands, hopefully no-one is the worst, we're all just different.

How is the distribution of your albums ? How do you promote your music ?  

Keith: At the moment, we have nothing arranged for distribution and promotion. We are hoping that one of the more prominent Progressive Labels will take the new album on, along with our back catalogue. We'll have to wait to see if any of them are interested, when the new CD has been completed, but we are happy to let any of them
hear demos of it if they want (is that a big hint? I guess it is, ha!)
Otherwise, we'll be banging your doors down for all the help we can get!

What is your plans for the rest of this year and next year ?  

Keith: As soon as we can, we want to produce a live DVD, we need more shows under our belts first, but it's something we are very interested in. It would also be great to produce an album on DVD with video as well as the music, but that may be far too expensive for us at the moment, but we think Prog music is well suited to the concept of Video Albums.
Also, we'll be playing as many shows as we possibly can. We are working on video content for the stage show, Robert is quite experienced in that field, so we're all looking forward to that.
And so that it won't be years before another CD, we are working on material for yet another album, to follow the new one. We're planning on getting ahead of the game this time.

I guess music is not your main occupation. What is the dull daytime jobs of the Quasar members ?  

Robert: Actually, everyone in Quasar is a professional musician with no "daytime jobs"  Keith composes for TV and also makes midi bass pedals and various other digital controllers (shameless plug), Greg and I both have large studios of students learning guitar and voice and Keren sings all over the place for a host of producers and production companies, that's when she's not maintaining her glorious red hair!

Finally, we are back to enjoy proper football again after this mindnumbing boring World Cup tournament. How do you see the season unfold and which team do you support ?  

Keith: Oh, all the other members of Quasar are American.....

Keren: I'm not American last time I checked; a proud Israeli girl here; will always be!!!

Robert: Now hold on... didn't you just become a US citizen? You can't eat your cake and have it!

Keren:  *laughing*  Ok, But I don't care much for football!

*more laughing*

Keith : ...Anyway, don't ask them about Football, they'll talk about some odd game that looks like Rugby, but with helmets and padding! LOL!

Greg, Robert: (roll their eyes)

Keith: Look, I was born in Wolverhampton and support Wolves, so I don't want to talk about it......Hmmmmph. LOL ! (they're not doing well at all).

Actually, I'm disturbed at the state of Football, it's just about whose got the most money to buy the best players. I wish it would go back to the days when the players were all from the local area of each club. Then it was 'real' and  winning or losing wasn't the point, it was a great game and every club did their best, but took part. We didn't have to be angry when our own team didn't win, it was fun and part of our lives and the community, and we were proud of 'our boys' regardless of the outcome...well it's nice to win sometimes to!

Anything you want to add to this interview ?  

Robert: Thanks to PA for this interview and your readers, get ready for our next album, I think it's going to change quite a few minds about us!

Keith: And maybe we'll shed this 'Neo-Prog' label we've been given! HA HA!

Thank you to all band members in Quasar who answered my questions

Their PA profile is here and their homepage is here



Edited by toroddfuglesteg - August 29 2010 at 12:08