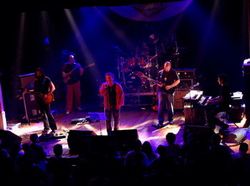 PI2 (Pi Symbol) were formed as something of a Spanish super-group in 1998, with nationally-known producer and composer Pito Costa reassembling a lineup of Lluís Ribalta, Llís Casals, Albert Lleal and Oriol Camprodón that had previously worked together to create the compositions which would become their first album, 'Retorn'.
I got in touch with the band and Pito answered my questions.
+++++++++++++++++++++++++++++++++++++++++
Your biography has been covered in your ProgArchives profile so let's bypass this and go straight to the albums. But why did you choose the Pi2 name ?  
I found it hard to come up with a name at first but given that the project was initially a solo production, I came up with a name derived from my own.
Pi2 is a socalled supergroup. Which bands did Pi2 originate from ?
The members of Pi2 hear all kinds of music (rock, classic music, jazz, flamenco, pop, etc.) but it is clear that we have very strong progressive influences. Genesis with Gabriel, Yes, Pink Floyd, King Crimson, Camel, Jethro Tull, Led Zeppelin and Rush are some of our main influences.
Please give me your (long or brief) thoughts and lowdowns on......

Retorn from 1998.
Pi2's first album is surely the worst. The next three albums are on a higher musical level. Anyway, there are very good ideas on this disc.

Tomorrow's Another Day (Dema sera un altre dia) from 2000.
The disc that I enjoyed and suffered more at the same time. Is the most especial album from the point of emotional view. The sound of the album is truly brilliant. It was the album with the best budget.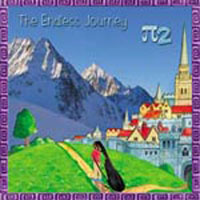 The Endless Journey from 2005.  
Contrary to "Tomorrow's another day", the disc with less budget. I spend hours and hours programming the drums. I think that is a masterclass of drums programming. The first two tracks on the album are some of the best of Pi2.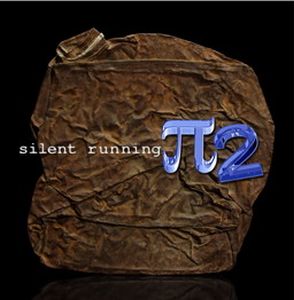 Silent running from 2009.  
Without doubt the best album of Pi2 in all aspects. In Silent Running we work as a band and this is breathed in the disk.
What is the lyrical topics on your albums and how is your creative process from coming up with a theme/riff/idea to you get it down onto an album ?
(Jordi Planas): Well, it's a concept album, and the main idea is that we are ruining this planet (basically the Powers-that-be: politicians, multinacional companies and religions in general). One of the seeds of the Project was a sci-fi fil called "Silent Running" (directed by Douglas Trumbull, which did th especial effects for Films like "2001" or "Blade Runner"), with a good ecological point… and it's from 1971, I think! After writing "The Acid Rain" Pito and I did some brainstorming sessions, and in the end we thought we could do a concept album.

Just to give those of us who are unknown with your band a bit of a reference point or two: How would you describe your music ?
Very old-fashioned, maybe? ;-) No, seriously, everyone of us traed to give our best to this Project, and we are very pleased with the results. This record has echoes from prog rock from the 70's, 80's, 90's and nowadays, but with good care about the sound: we wanted it to sound as contemporary as possible (pay attention to thos guitar riffs!).
I have been collecting Spanish prog rock albums for a while and I have found a very distinctive scene with it's own identity, which also incorporate a lot of regional scenes within this scene. We hear a lot about the Italian scene which has it's own genre. But not much is heard about the Spanish scene. As a veteran in this scene, what is your take on the Spanish scene and it's undeserved lack of recognition and affection ?   
Rock progressive in Spain is a widely dispersed phenomenon. In the seventies were rising bands like Triana and Iceberg, but didn't have the strength of the "Nova cançó" in the case of Catalunya. I think that spanish progressive rock bands are more influenced by british than the spanish music.
Which other Spanish bands than your own do you like and recommend ?
I believe that the most powerful music in Spain is flamenco. In this genre the best musicians in the world are in Spain. But if you mean the progressive music I can recommend you Pegasus (very near to jazz) and Iceberg...and Apache (probably the best cover band).
(Jordi Planas): Well, I can recomend you a couple of bands in which I was involved ;-) which are Dracma and Negua ("A Way Out" has one special guest called… Pito Costa!).
I guess this has been explained in Spanish on your website, but how is the gigs and festival situation for your band ?  
At this time, the band is rehearsing the music for live shows. For the moment, we don't have no foresight concert, but we'd like to consider any offers.
What is your experience with the music industry and the internet prog scene?  
Internet is a powerful tool to promote us and reach around the globe. Is the total democratization of music. Through internet we sell more records in Japan, Germany, Great Britain, Holland or France than Spain. Internet has changed the world and the music industry is fully globalized.
Is any of your members involved in any other bands or projects ?
Indeed, Juanjo Verdu is working in Unoma, Alex on his personal project  , Popi in a Rush cover band, Jordi Planas was in Dracma and Negua and myself also in Unoma and producing and composing music for audiovisuals, tv, theatre, movies and tv ads 
What is your plans for the rest of this year and next year ?
We would like to be ready for live shows and start writing new songs.
Anything you want to add to this interview?  
I would like to thank ProgArchives for helping to spread our music. We're very lucky that there is people like you.
Thank you to Pito and Jordi for this interview

Their PA profile is here and their homepage here