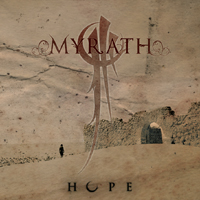 Let's move to your three albums. Your debut album was Hope from 2007. Please tell us more about this album.
Hope was a turning point in Myrath career as it allowed us to be the first Tunisian metal band to be signed by an international label (Brennus music from France)
The album was praised by the media which contributed to improving the notoriety of the band and increasing our fan base.
With HOPE we have started the process of introducing Tunisian melodies and combining some Arabian scales with metal music.
Then there was a three years long releases break. What were you up to during these three years?
Well actually we have never stopped writing songs and playing gigs.
In fact there was only a little bit over one year between the release of HOPE in September 2007 and the recording of Desert call in November 2008 but due to lengthy discussion with labels, the album was not released until January 2010 that is about 13 months after it was recorded and less than two and a half years after the release of HOPE.
If it was up to us, we would release an album each year but the music industry is a very complicated and lengthy process.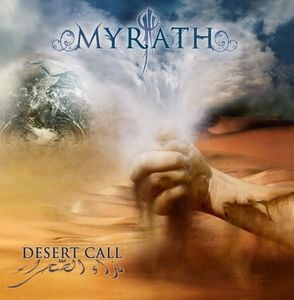 Your second album was Desert Call from 2010. Please tell us more about this album.
In view of the comments of some critics and the advice of our producer, we knew that we had to come up with a style of our own and stay away from the influence of our favorite bands.
When Zaher Zorgati joined the band in the summer of 2007, we had the versatile singer and composer we were looking for to use the mix between metal and Tunisian music in a much more melodic and emotional way and still keep the powerful metal side
DESERT CALL, album is in line with HOPE but yet different in many ways. First of all Zaher Zorgati has a much softer and melodic voice than Elyes, so that helped us staying away from the Symphony X influence at least on the vocals side
The album is also more melodic with a lot more Arabian tunes and orchestrations, and a great production by Kevin Codfert yet it's still prog-power metal ''Myrath way" with very diverse tracks.
We think that, with DESRT CALL, Myrath has brought something new to the prog-power metal music, by a somewhat new genre which mixes metal with traditional Tunisian tunes in a way different from what other band did before (As far as we know anyway)
Here is the way which one of the reviewers puts it best
''All the music on this album fuse together beautifully, like some mind blowing energy drink. One of the most interesting things about Myrath is the distinct Arabic sound going on. But this sound is strong all throughout Desert Call. And perhaps the most refreshing thing is that it's not forced. Most bands trying to replicate these beautiful sounds fail by repeating the same style riff. And it just looses the amazing feeling of emotion this type of music is meant to have. This is no problem for Myrath, they have created this sound almost as if it was natural. Which, coming from Tunisia probably is.''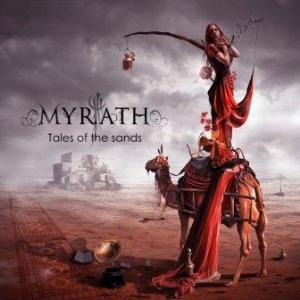 Your third and not yet released album is Tales Of The Sands. Please tell us more about this album.
For the third album which will be released on 26 September 2011, by XIII Bis Records / Warner in Europe and Nightmare Records in North and south America, we invested heavily as the album was mixed by Nordstom (DimmuBorgir, In Flames), and mastered by Jens Bogren (Symphony X) while the production was obviously taken care of by the band producer Kevin Codfert (Adagio),
This new album will be somewhat in line with ''desert call'' but with a larger input on the emotional and melodic sides as well as a wider blend between power /progressive metal and Tunisian traditional music
In a way this album will bring winds of changes to the metal scene the way the recent historical events that happened in Tunisia sparked the Arab spring
There are 10 tracks for the European version plus a bonus track for the remaining continents, they are shorter than the ones in the previous albums but they will surely get you both head banging, and filling your heart with exotic metal emotions.
We believe that this is our most mature and best release so far, as it reflects a style of our own, an oriental metal ''Myrath way''
To promote the release of Tales of the Sands, Myrath (along with Arkan) will support Orphaned Land in a one month long European tour starting November 10th 2011.
For those of us unknown with your music; how would you describe your music?
We would describe it as oriental progpower metal but it all depends on the album and track you would listen to as each song comes from the heart, we never fabricate music and this is certainly the main reason why the tracks of our albums are so diverse.
Your band had a pretty big impact on the scene when you released Hope. If my memories serve me right; you were hailed as the new big band in the prog metal scene from there on. Has Myrath gone according to your plans and how do you see your band developing in the next years?
We think that we have met or exceeded every one expectation with each of our releases, we have considerably improved over the year, we are getting a lot of praise from the media and the attention of many promoters
We have received a lot of praise after each of our live performances, the most memorable one being the one in barloo-Holland on October 2nd 2010 at the progpower europe festival
Our career is in the right course, we believe that the new album and the upcoming European tour will expand our fan base and will take the band to a higher level
Over the next years we will continue working very hard to make it in this very competitive music business.
You are on a tour with Orphaned Land later this year. Which is a logical tourmate music wise. But then again, there is this divisive religion issue. How did this tour come about and what is your reaction to tour with a band from a country which has attracted passionate hatred also in your country?
Well the tour was organized by K-production from France; we have been given the opportunity to be part of this oriental metal tour with Orphaned Land and Arkan, which we could not afford to turn down.
As far as we are concerned music is what brings people together notwithstanding their ethnic background, or religion, it brings a message of love and peace to all nations.
Most metal bands and metalheads share the same passion and the same values; they are alike no matter where they come from or the religion of the country of their origin.
We are musician not politicians, the course of history will not change if we would have turned down such opportunity even though some of our Arab fans had a negative opinion because they are confusing political issues with music.
We fully respect their opinion but they should respect ours.
We are very supportive of the Palestinian cause but we strongly believe that we are not betraying any one by playing our music in several European countries notwithstanding the nationality of the band that will play right after our show.
What is your plans for the rest of this year and next year ?
Our plan for this year is to promote our new album TALES OF THE SANDS by a one month European tour
Next year we will record another album, make another European tour and play in as many festivals as possible hopefully including at least one in the USA
To wrap up this interview, is there anything you want to add to this interview?
First of all we would like to thank you for this interview and for your valuable support
We would like to add that we are working very hard to improve the notoriety of the band and hope that sooner or later it will pay off
It just takes talent, hard work and a lot of patience, we are still young so we will continue doing what we love the most that is writing and playing our music
we are ambitious yet we keep our feet on the ground as Metal music is a very competitive market with thousands of quality bands sharing the same goal of fame and success.
Thank you to Myrath for this interview