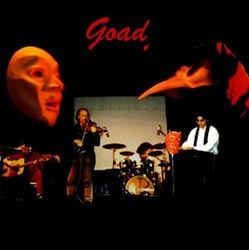 GOAD were first formed in the Florence area by the Rossi brothers, Gianni and Maurilio, in the late Seventies. At the end of 1983, they released the album "Creatures" for Northcott Production, a New York label that had already released in the USA their album of covers, "Who Can It Be". The album was issued by Emmegi (distributed by Polygram) in 1985. In spite of lack of support from the label, another album was completed. "Perfume" is a collection of pieces written and recorded from 1985 to 1988, which was never released. In the following years, Maurilio started working on a project dedicated to Edgar Allan Poe.
That and seven other albums followed. The most recent one Masquerade was released earlier this year. I got in touch with them for the Goad story.
Their biography is in their PA profile so we starts directly with the albums....

#######################################################################################
This is an archive based interview also intended for the fans you get well after both you and I have passed away so let's go straight to your albums. Please give us your long or brief views on your albums, starting with.......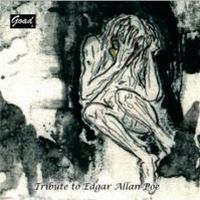 Tribute to Edgar Allan Poe from 1994
"Tribute to Edgar Allan Poe" is a state of mind. Above all it is an act of love towards the poet and the poetry in general. It is an admitting of a tight bond between poetry and music, it gives a second voice to all the words. Looking through the music of Goad, feeling through the drawings of Maurilio Rossi. This project "Dream within a dream" takes the spectator by the hand, anyone who wants to penetrate for a while, without thinking and without time limits, into a dimension of pure poetry, which is music, which is color, line and movement, form and liquid.
You pass from a dreaming and timeless atmosphere that "wraps the fog around the breast and spits the ruins into rest" (The sleeper) to the meaning of death not as an end, but as a presence, alive and real, like a continuity, as an ulterior bond between this world, which betrays, disappoints and loves for appearance and an other world, much more real, always present, which intrigues, creates bonds and tight tangles, that assists continually all the events of the living with a calm and suspended climate (Lenore).
Nevertheless capable to give delirium to the days of the livings who know to be so, but not wanting to be so because the attraction for the passage is too strong and too painful is the loneliness of life, as looking through a window, wanting to be at the other side, but remaining on your side.
And in the end, astonishingly, a powerful hymn to life, all the beauty that ferries to the native shore (To Helen), which gives relief and istigates to go ahead, to search for the pleasure of searching, "over the mountains of the moon, down the valley of the shadow" (Eldorado), to pass unharmed and wide awake, alive and conscious through death and destruction, devastation of time. It is a containing in words and music, one life, like so many, lived until the end but without peace, without serenity, tense but always searching for something else, never enjoying a serene moment of the present.
"Dream within a dream" explains this passage, this vision of life, which is in the first place the poet's own life, through music and words. The words of the poetry in music, translated on purpose, the words of the screenplay that make visible the presence of the mime, the actor, the dancer and of the appearances. A show which illuminates, thanks to a masterly scenery, the various stages of an interior trip from the poet's
state of mind, which can be of anyone of us.
Masks are used because the important thing is action, life and its contrary trip to the center, not the search of any of us, but the search itself. The line and the drawings are an ulterior passage to consciousness.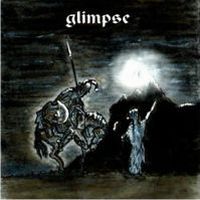 Glimpse from 1998
The album "Glimpse" is a collection of progressive songs much more short, as request by the Productor of the time, Multipromo, in1998.
In the song list was also included a new studio version of "I'll celebrate You", a song always performed live bi Goad.
These compositions are completely arranged and executed by Maurilio Rossi, but for the violin in the quoted opening song, by Roberto Masini and drums performed by Giancarlo "Bronco" Gaglioti, historical member of yhe band.
Drums are also often supplemented by digital drums.
There are many experiments in various styles within the CD, such as the "progressive" tango of "Tango in the night," or mystical songs like "On the brow of the whole."
.. but also the flagships of the band, usually performed live, as "You can-Power of habit" or "Kings Knights".
Other songs rather unique, but often played live too, are "Be happy" and "Glimpse of a child".
The album is still in the Multipromo back catalog, but it's difficult to obtain...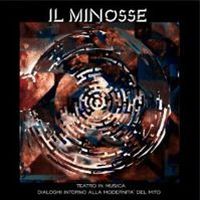 Il Minosse from 1999
Il Minosse is a fusion between Arts. It was born as the soundtrack for a theatrical play, but become more than that.
Starting from the Greek mythology of the Minotaur (and the Labyrinth), it delve deeper in comparing the ancient world with the modern one. The Labyrinth as a path in everybody's life, the rebellion against the Powers, the self sacrifice as a mean to improve. Death and Rebirth.
Music reflect all this, ominous riffs, deep croacked vocals, layered keyboards that paint a dark, yet living and fighting landscape.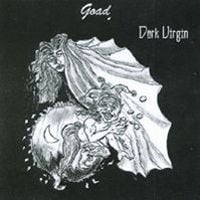 Dark Virgin from 2001
This was a first approach toward a simpler, yet darker music. Based on the lyrics wrote by an old friend, poet and journalist, the sounds are harder, less airy. The accent is on the rhythmical parts: Bass and Drums. Keyboards are present, but less up front, and the voice is nearly screamed. Some songs start immediately fast, others build up to a raging finale, as "Genius of Europe", much appreciated live, and since then, the last song of the gig.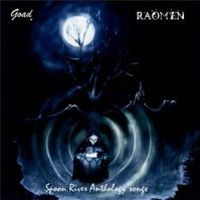 Raomen: Spoon River Anthology Songs from 2004
This time, the Art called for is Poetry. The Spoon River Anthology by Edgar Lee Master is a collection of epitaphs that descrive the lives of the deceased people of an imaginary village.
Each song is an adaptation of one or more poem. The music here is more atmospheric, trying to catch the mood of the narrated people, so, again the keyboards do most of the works. Other instruments contribute to the musical texture, but they blend more than stand.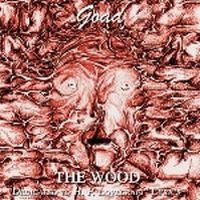 The Wood - Dedicated to HP Lovecraft from 2006
Again, another dive into Poetry, but of different substance.In his novels, H. P. Lovecraft describe a Pantheon of cosmic horrors and madness, but his poems are somewhat more "human", even if still disturbing. Only one song, a three parts suite, was inspired by a novel, The Mountain of Madness.
Anyway, The Wood is an example of progressive rock, not totally dark, but rich with ligths and shadows, soft melodic ballades and vicious guitar riffs. Thanks to the contribution of some classical musicians (violin, french horn, trumpet) and not-so-classical (more electric guitars), the Wood come out as a masterpiece. The palette of sounds is able to resonate across the musical classifications, as only few albums can do.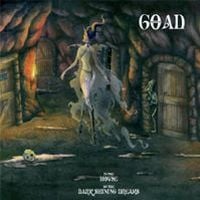 In The House Of Dark Shining Dreams from 2006
This album is the first production for Black Widow Records that produced Goad by choosing songs from the 2001 album Dark Virgin and with others original tracks.
Goad realized an opera with different influences,hard rock,prog,dark,ghotic and new age too!
Many musicians,many instruments, from sax to electric and classic violins, flute,nylon guitars,GOAD play their songs with phatos and soul trying to show that HEART is inside their concept of music..
HERE we have epic song like GENIUS of EUROPE,with WAGNER intro, and fast riffes guitar
by many guitarists in rock blues songs( Dark virgin 2, or As nothing had changed);
you can find sweet and esotheric ballads like "Springy" or rhitmic sexual tracks like "Clapper beating fast" or a typical prog song : Yet another battle field,based on G.P.Zecchi lyrics,the sound engineer of GOAD!!
Maurilio Rossi,Goad master mind, use orchestral samples and classic Hammond organ sounds, Mellotron samples and Moog too..
The recording is LIVE i n studio,in the misterious Collinuzza house , an ancient Roman construction with real GHOSTS inside!! Magic place around Firenze...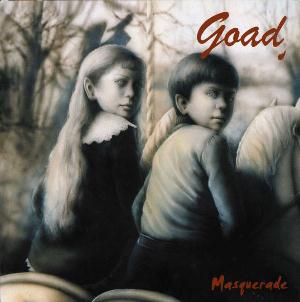 And your brand new album Masquerade
With this new work GOAD returns to break up the ground native to Rock, to say progressive is to say little, since as the traditional resonance of this kind of music of which this Florentine group in Italy is a historical icon - adds impulses of other natures. The orchestral vein, for example, deepens the organ scores that counterpoints with a dirty and insinuating guitar, that appears throughout the record as a sort of trademark. The idea is a ferrous solemn gait. Enough to listen to "Fever Called Living" crossing hard aggression, plays to the point of explosions just pointed out, to have an idea of the capacity of GOAD to remain on the outer limits, to play alternations of a duet. They play strident and wrapping harmonies, good and evil, sunny and telluric. From this dualism GOAD create a space of multifaceted sensations.
Or you can listen to the opening of "Eldorado I", with that tap on the organ that evokes John Lord and makes an incision alla Deep Purple, we would like to note that it draws forth one of the epiphanies of the whole album, in which the lessons from the greats are filtered through an original and all characteristic sensibility, GOAD's sound is recognizable at first hint: a sign that is the secret of their creativity, the possession of ones own form, drawing from an exclusive source not an unknown asset to Maurilio Rossi- frontman of the group, vocalist, keyboardist, bassist, songwriter, composer... to his many credits.
The opening riff of "Eldorado II Heavy Rain" inspired from the seductive culture of the seventies, but not to draw from a simple qoutation: the piece though brief gives the full measure of all the possibilities of this combo, in Italy you don't find comparisons for musical culture, depth of inspiration, talent that gushes out pure at every segment. We follow the musical phrases "Last Knowledge" we find the sweet work of the ballad, certainly in the best example of this manner, but we hear a liveliness rarely given in the proposal at the start of this millennium: maybe the comments of the violin or perhaps the melody of a muse that immediately takes over the senses, or even the witchcraft of a guitar that cohabits with the organ like in a post modern choral... here in effect, with GOAD, we find not disciples, not imitators, but craftsmen from a long time ago or better yet still deals with ones own taste, a style that is quality and that is enough.
Take "The Judge" symphony in the full sense of the word, held together by guitar scratches, nervous bass, classic drumming, sung alla Rush, scattered and acidic. Resting on an organ rug: Around the guitars Maurilio Rossi appears paving a true and proper route of wickedness that ambushes the melody. The flute on "Valley Of Unrest" To take note of another show piece, that avails an extraordinary succession of themes, not only putting forward once again excellent thematics of the most classic rock. Plays and tears up alla Van Der Graff Generator appears here and is a sudden and surprising stamp that reminds one of ancient patronage, otherwise it confronts for the first time this sonic focus. We point out that this album literally bristles with ideas, one after the other, rich in musical phrasings, improvised jumps, diversification, a musical kaleidoscope that at every moment reawakens the senses and asks to be followed to the very end. It seems not possible all things considering all the musical deposits in "Masquerade" It's enough to say it's not lacking in musical surprises like "Highway To Hell" by AC/DC, in a singular version that reinterprets this classic piece of Hard Rock showing a great executive vein, even in the fast parts. Until the conclusive opus, a true opera within an opera that travels from damned evocations to dreamed episodes, from ruined nightmares to unforseen lightness. With GOAD we have the documentation, that even today, in the age of disengagement and commercialisation that is pushed even more, typically in Italy musical value can be channeled at high levels through the composite vein, the genuine inspiration is authentic, the capacity to render it to it's utmost musical quality. The sound of GOAD is a winding road: These masters of old quality Rock wait that only a gleam of light opens in the darkness, and that there music become a form, breaking away from niches and opening up to an ever widening public. And the only manner in which to create true art, with ideas, with talent of good metal.
How would you describe your musical development from Tribute to Edgar Allan Poe to Masquerade and how would you describe your music ?
We tried to develop our composing manner in new and classic instruments like flutes,saxphones,violins and at the same time extending our songs in much more different movements..we love concept operas! We are experimenting in our compositions a lot of styles..we make different versions of each song..at last our choise is only one of possible choise!!
There is also two unreleased Goad albums called Perfume and Streghe?. Will those albums ever see the light of day ? Please enlighten us on the status here.
You are talking about works of 1986 and 1998..we made a new version of "STREGHE"..Black Widow records got it in 2008..may be in the future..."Perfume" is an old album that we hope to record in a new version as soon as possible..
You have released a lot of albums and have done some gigs. What is your experiences with the music industry and the gigs promotors ?
"YOUTUBE.com" we think that is a real channel of promotion..and
Black Widow records of course,with their enthusiasm and competence..they promote our music all over the world..
What is your current status and what is your plans for this year and beyond ?
New ideas,new management, live concerts every where...and new components for the band: Goad is able to play in trio or in an extended ensamble.
Is music your main occupation in life or do you have a "normal" job too ?
Music is our life
To wrap up this interview, is there anything you want to add to this interview
We feel.. we compose ..we live ...we celebrate... we play ..we LOVE!
Thank you to Goad &
Massimo (Black Widow) for this interview