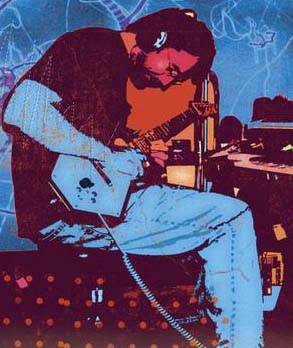 TRIP LAVA is the brainchild of US, Minnesota based composer and multi-instrumentalist Joel Lee. He started the project in 2005, and after 2 years of spare time efforts with his instruments and trusty 4-track, 2007 saw the release of the first album under the Trip Lava moniker - "Oddball in the Corner Pocket".
I got in touch with Joel Lee and here is his story.
###################################################################################
Which bands influenced you and why did you choose that name? (Trip Lava)
I started getting into music in the early 1980s, so bands like the Police, the Fixx, Peter Gabriel, Talking Heads. In the mid 80s I embraced classic rock, which is where I found an interest in prog. Yes, Rush, ELP, Hendrix, Led Zep, Cream, Beatles, Pink Floyd, stuff like that. Later 80s/early 90s I was into Husker Du, Wire, Sonic Youth, King Crimson, Zappa, My Bloody Valentine, Kate Bush, Eno, Minutemen, Cocteau Twins, Primus. In jazz I like Buddy Rich, Miles, Coltrane, Ornette, Bird, Art Blakey, Sun Ra, 70s fusion. I like avant-garde artists like John Cage, Harry Partch, Stockhausen, Glass, Reich, Riley, Henry Cow.
The name Trip Lava came to me a few years back while I was staring at a lava lamp, kinda tripping out a bit just looking at this lamp. I viewed the lava movement as an improvisation within a rigid, fixed structure, which was the lamp. This tied in with a new music approach I was working on in 2005, which is called circular improvisation. Music that is repeating like a loop, in a circular motion. Music that changes gradually with every rotation, creating almost a hypnotic feeling as you listen. I first worked with this idea in a group called Lost Mind Found back in 2003, and then used this approach for my own 4-track recording project.
How is the music scene in your local area now?
Its grown alot since the 1980s. We have very active scenes in Hip Hop, Noise/Experimental/Indie, Americana/Folk, Jazz, Metal, Punk, Pop, Blues, etc..all kinds of music. Not much attention for local prog acts, but 3 local prog acts that are mentioned in Progarchives are Bubblemath, Zebulon Pike, and Iced Ink.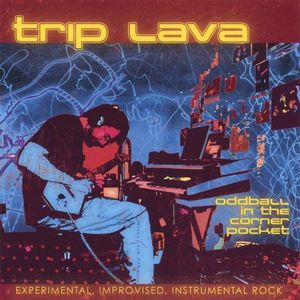 Please tell us more about your first album "Oddball in the Corner Pocket" (2007)
This album is a collection of circular improvs that are arranged in a certain way, then everything is tied together with segues and sound effects using pro tools. I started in 2005 by recording the drum tracks using an old Tascam Porta 2 cassette 4-track recorder and one microphone. I then added bass guitar, 6 string electric guitar, keys, and loops/drones all in a circular improv motion. For the guitars and keyboards I mixed major/minor scales and also used a strange atonal scale created by using chance operations. I recorded on and off for about 2 years, and finally had enough money to go into a proper studio (Nate Gillers studio) to mix and master the album for an official release. Big thanks go to Nate Giller and Dan Hartwig for making this album possible!
Then there was a 3 year long break. What were you up to during these years?
In the fall of 2007 I pressed a ton of cds for "Oddball" and then realized I had to figure out a way to sell or give away these cds. I bought a computer and began trying to promote Trip Lava online, using Myspace, getting people interested in receiving promo cds for reviews, endless trips to the post office to mail off cds and check my P.O box, just relentless self promotion for as long as I could stand it. A couple of years back "Windhawk"(aka Olav) over at ProgArchives set up a Trip Lava profile page, which was quite a surprise to me. Then I thought maybe prog was the area I should focus my promotional sights, I definately get a bigger response from prog fans then from anybody else. Also in late 2008 I started working on a 2nd Trip Lava release which was put out in March of 2010, with the title "Octatroid"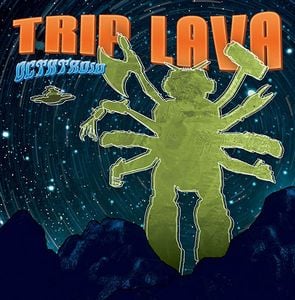 Please tell us more about "Octatroid" (2010)
This album started out with "Oddball" type circular improvs. Then one day I was checking out some old recordings I did back in the mid/late 1990s, and found 2 tracks that I really liked. One track became "Gurgblah Emerges", which inspired the whole sci-fi/robot/conceptual theme for this album. When I listened to it, I envisioned this angry, evil robot that transforms into a huge flying, laser blasting monster. The other track I liked was "Peace Returns", which became the album ending track. Octatroid was assembled like a jigsaw puzzle, hooking up the border pieces first, than filling in the middle section and eventually the puzzle gets finished. The music is formed around this sci-fi storyline, which tells the tale of a heroic robot warrior (Octatroid) who saves a village from the evil robot Gurgblah. As the music plays, you can follow the action by reading the storyline located in the cd insert. What I tried to do with this album is use music and sound effects to tell this story, without using cheesy things like narration, singers and lyrics. I received help on this cd from Nate Giller and engineer Andy Lindberg (RIP) who died shortly after the albums completion. I signed with Shark Records (a local label run by Nate Giller) and released Octatroid in March of 2010.
How is the availability of your releases?
The main place to purchase Trip Lava cds is CdBaby. www.cdbaby.com Only $5 per cd!
You can find the cdbaby music store on my Facebook page as well. www.facebook.com/TripLava
Also available through Sulatron Records in Austria. www.sulatron.com
You can find Trip Lava on I-tunes, Amazon, and many other online shops. I'd prefer people buy the cd, so they can follow the storyline in the cd insert.
How would you describe your music and which bands would you compare yourself with?
I've always labeled Trip Lava as Experimental, Improvised, Instrumental Rock. Other people call it Psychedelic/Space rock. Mostly it consists of up tempo drumming, noodly basslines, noisy guitars and keys, and tons of sounds and pro tool trickery. No songs, no singing or lyrics. You wouldn't want to hear me sing, trust me.
I'm not sure who I could compare Trip Lava with. There might be small bits of King Crimson, maybe Philip Glass, maybe some Can or Pink Floyd? Or maybe not, I don't know!
What have you been up to since the release of Octatroid? What is your current status and what is the plan for Trip Lava in the future?
I'm still doing what I can to promote the 2 Trip Lava cds (including this interview!) I tried performing live at club in St. Paul in May of this year, I was really nervous and my guitar was slightly out of tune, which made me even more nervous! The audience was polite though, I really don't want to do any more live shows, Trip Lava is strictly a 4-track recording project. I am spending the winter months working on Trip Lava #3, and when I save up enough money, I'll release it. I have been dreaming about putting out a 12 inch vinyl record this time instead of a compact disc, I know it will be expensive to do vinyl though. I don't know, we'll see what the future presents.
Is there anything you want to add to this interview?
A huge thanks to everyone who wrote thoughtful reviews for both of my albums. This includes P.A collaborators Philippe B., Uwe Z., Olav B, Mellotron Storm, Conor F, Logan A, and Keishiro Maki!
Also a big thanks to anyone who purchased a cd, my family and friends. And thank you Torodd for this interview!
Thank you to Joel for this interview

The PA profile is here and the homepage is here