Interview with Psychedelic/Space Rock band
Stereokimono
conducted by
Torodd Fuglesteg
on 11/04/2012
Stereokimono's PA profile can be found here:
http://www.progarchives.com/artist.asp?id=1204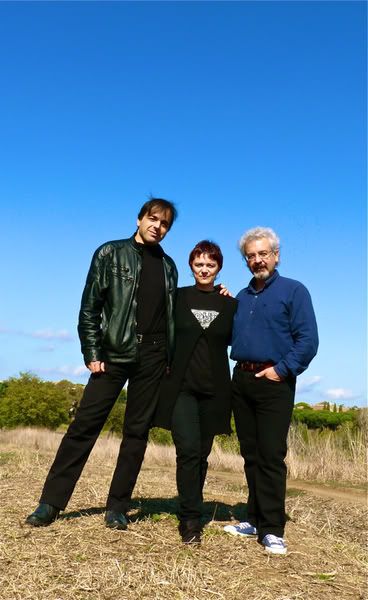 When and by whom was your band formed ? Did any of you, past and present members, play in any other bands before joining up in your band ? Why did you choose that name and which bands were you influenced by ?
Stereokimono started in 1989 in Bologna, Italy, and after various changes in the lineup was re-established in 1995 and since then was formed by Antonio Severi (guitar, keys), Cristina Atzori (drums), and Alex Vittorio (bass, keys).
Before and during the Stereokimono project we all played in other bands, Cristina has her all-female rock band 'Mumble Rumble' and plays and records with many other, Alex plays with 'MiaZia' and other projects and owns a small record label called 'Peter's Castle Records', Antonio plays with 'Blanche de Namur' (a Police tribute band) and writes music for Albateatro's theatrical performances.
The name derives from an Italian pun "chi stereo, chi mono", something like "somebody can, somebody can't"… anyway in the Japanese culture the "stereo" represents modernity and technology and "kimono" represents tradition, the same opposite elements that are reflected in our music.
We'll talk about our influences in the next answer…
For those of us unfamiliar with your music; how would you describe you music and which bands would you compare yourself with ?
We jokingly defined it "Psychophonic Oblique Rock". The Psych and Phonic terms mixed together mean music composed and performed with the intention to hit directly the listener's neural connections, stimulating fantasy and imagination. The Obliquity means that we cross diagonally among musical genres, through space-rock, fusion, electronic, ethnic music and many more… People classify Stereokimono as 'progressive rock' maybe because of this ubiquity! Of course we all have been influenced by King Crimson, Pink Floyd, Genesis, Gentle Giant, Gong, just naming only a few of these, and their wonderful music is part of our DNA.
Over to your two albums. Please tell us more about 'Ki' from 2000.
'Ki' was released by a small record label called Iridea Records. The label doesn't exist anymore, so the album is buyable contacting us on our website. We're even planning to make it available through iTunes. Ki was the result of a period of continuous changes in the band and the music reflects this "variety". It means a lot of ideas put together, we tried to organize them and finally we think it was a good work, well reviewed in Italy and abroad.
In the same year the band won the first prize of the Italian competition "Omaggio a Demetrio Stratos", a tribute to the wonderful singer/performer of the italian group Area.
You returned in 2003 with 'Prismosfera'. Please tell us more about this album.
'Prismosfera' was the very first CD on the Immaginifica catalogue, the new record label by Franz Di Cioccio, the famous drummer and singer of PFM. We contacted him and he was soon impressed by our music and decided to produce and publish the album. We think 'Prismosfera' is a "mature" album because we recorded the tracks after testing them live intensively before entering the studio.
The year before, a demo preview of 'Prismosfera' won the first prize at the MEI/Toast competition as "best instrumental album of the year" at the Independent Label Meeting in Faenza, Italy.
That is the last thing we have heard from your band. At least on a record. What have you been up to since 2003, what is your current status and what are your plans for this year and beyond ?
After releasing 'Prismosfera' we soon started composing the material for a new album, but we carried on really slowly recording and mixing the tracks because we were also involved in other musical projects, in our jobs, in growing children and so on… anyway now the new cd is here!
It is named 'Intergalactic Art Cafè' and it's an ambitious project. The concept is about a funny place suspended somewhere in the universe where strange musicians can meet and jam together. So, this time, we have several guests/friends playing and singing with us in the album. Yes, singing, because the big news are that we actually have two songs with vocals rather than only instrumental tracks like the preceding albums. Our 3rd cd is published again by Immaginifica, directed by Franz Di Cioccio, confirming us that he really believes in our musical project.
We have started again to play gigs last year, with three important live shows. The first one opening for The Grandemothers Re-Invented, the mythical Frank Zappa band. The second one at the three-days festival "We Love Vintage" in Bologna, with artists like Richard Sinclair and David Cross. Finally, the third one at the 2nd Prog-Exhibition in Rome, where we opened the two days festival with historical italian prog bands like Balletto di Bronzo, Arti & Mestieri and Goblin, with guest stars like Mel Collins, Martin Barre and Steve Hackett. A cd-box of this show, with our track "Zona d'Ombra" will be released worldwide in May by the Immaginifica label.
So, for this year we have the new cd coming out, this important live compilation, many concerts… and more to come! Follow us on our official website www.stereokimono.com, or our pages on Facebook and MySpace.
To wrap up this interview, is there anything you want to add to this interview ?
Well, as a preview of the new album we worked with a videomaker, Paolo Piscolla, on a funny videoclip of one of the tracks, "Lumacacactus". In this short video, we act as three mad scientists experimenting with impossible genetical mutations. We think the video is very nice and unusual. Look at it on Stereokimono's YouTube channel or search for "Lumacacactus"!
Last but not least, we were very proud to be interviewed by Progarchives, 'cause we really consider it the most important progressive rock site on the web.
Many thanks and best regards by Stereokimono.


Edited by ExittheLemming - May 04 2012 at 19:20