I went to the show on Wednesday November 26th, the night before Thanksgiving.
My birthday present this year was to get to go to the meet and greet prior to the performance. Devin was extremely gracious, filmed a short message for my 14 year old daughter who was bummed to be too young to be able to attend. I got to talk guitar nerd with Tosin Abasi which was amazing and the pic of he and I is currently my sig on FB. Ryan (Dev's drummer) was also very friendly, and though the whole event was short, a good time was had by all.
Monuments opened the show. I had frankly never heard of them before and they were in the djent-y metalcore realm of Tesseract with less complex riffs and better vocals. In fact, their vocalist completely laid everything out on stage, and the crowd loved it. There was a mosh pit and some crowd surfing and I was taken back to my younger days of constant concert going in the 90's. There were plenty of naysayers in the crowd but I thought they were great.
Animals as Leaders. Holy crap. They just stood there and friggin nailed it. The light show was cool enough to make up for their minimal stage presence, but in the end the music stood for itself. The crowd loved it, but it eventually got a little tiring because the formula was a little relentless. They played 13-15 songs, and though I really admire the band, it eventually gets a little boring. Tosin and Javier's custom guitars are crazy. Fanned fret 8-strings with extended low end.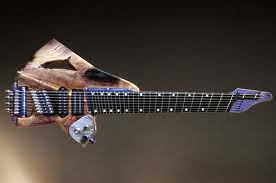 Devy came out with a mechanical turkey on his head, and did his Dev thing. Self-deprecating humor, over the top stage antics. The set was very Z2 heavy and some of the songs were a little rough. All the players were perfectly on but it didn't seem like Dev had figured out how to integrate the backing tracks into the live set. All the Anneke parts were basically inaudible. "March of the Poozers" was a highlight of the night, and usually crushing songs like "Grace" and "Kingdom" delivered.
Overall, Dev seemed a little tired, and he mentioned feeling that his voice wasn't on. Whether it was effects or just his talent, I couldn't tell that his vocals were off at all. His guitar playing is great live, and the biggest thing that amazes is some of the sections where he's simultaneously playing a lead and singing at the same time.
I'd seen Dev one other time right after Addicted came out, and it was a stronger show. But if you've never seen him, he is an amazing showman and some of the songs crush live.
BTW, the entire show was streamed live.


Edited by Negoba - December 21 2014 at 11:11