My sincere thanks are due to Yoel's wife Brenda, who facilitated the interview. Yoel would be delighted to hear from anyone who is interested in his music. He can be contacted at [email protected] .

Can we start at the beginning? What was your earliest involvement in music? You're musical education and qualifications?

You are known as a multi-instrumentalist. Can you list the all the instruments you are proficient in? Which is your preferred one?

No, I was essentially a soloist but did perform in a duo for a season in Amsterdam prior to the formation of Continuum (see below)

Continuum is probably your best known project. You are Hungarian, but the band was formed in Holland, how did it come about?

This is going to be a long one.

1) Although I'm Hungarian I was a child refugee at the end of the 2nd. World War and by the early sixties was resident in England - London to be precise.

2) In fact, Continuum was actually formed in London although I had started to develop the musical ideas in Holland a couple of years before. I'd better start at the beginning. I was a resident performer in a club in Amsterdam in the summer, playing classical guitar. One night I got very stoned, didn't really know where I was and couldn't remember the music; to keep going I kept improvising (I suppose in a very free fashion but I don't have much recollection) until I remembered what I should have been playing and again picked up the thread of the original music - and so on, in waves. The audience loved it and the management asked me to continue to play in that way. It would have been churlish (not to mention economic suicide) to refuse and as I liked improvisation, which seemed to come fairly naturally to me, I started developing my musical performance along these lines. I returned to London at the end of the summer and met an excellent Czech guitarist called Jan. The next season we went back to Amsterdam as a duo but at the end of the summer he decided to remain while I returned to London. I met John Warren there not long after. We decided to form a group in order to create, develop and play our own type of music. We found a management followed by a drummer and a bass player and the management then approached RCA who offered me a contract.

EL - Yoel's wife Brenda has further clarified that although Continuum was started after he'd met John, it was his baby. It wasn't a formal partnership, just something on which they both agreed at the time and on which they decided to work together. Previously with Jan he'd had the same working relationship - but no group name.

The sleeve notes for "Continuum" have some very technical aspects. Is that an aspect of music which is of particular interest to you?

Yes. The kind of music that we chose to play was technically difficult: We rehearsed intensively every day. We needed instrumental technique in order to be capable of playing it, and musical and technical understanding of styles, musical culture of the period, phrasing etc.

The suite on side two of "Continuum" was written by Richard Hartley. How did your collaboration with him come about? Did he ever consider jointing the group (he played piano on one track on "Autumn grass".)

Richard was a friend of our manager. He never considered joining the group but played piano for us on "Autumn Grass" because the possibility was offered to him by our manager and he accepted.

A number of the tracks on the two Continuum albums are based on classical pieces. Were your interpretations based on band improvisations? How did the composition of the tracks work in the studio?

The interpretations weren't based on band improvisations. I'll have to go into a bit of detail here. I wrote all the arrangements for the "Continuum" pieces (with the exception of the piece by Richard Hartley) and was the only member of the line-up to improvise (including on the piece by Richard) because I was the only one of us comfortable with improvisation. The title track on the second album, written by Patric Stanford, was recorded by the first line-up before we split up (which answers your question below about "guests"). The other tracks on this album (with the exception of the 2nd. movement of the Vivaldi lute concerto on which Richard played piano and a session musician played the synthesiser) were all played by the second line-up which consisted of musicians who were all comfortable with improvisation. The arrangements for all the other tracks were a group effort and each musician added his own improvisation. A typical set-up.

All the compositions were well rehearsed and had been played live several times before going into studio (with the exception of the Vivaldi). We had very little studio time.

For "Autumn Grass", the band line up changed completely, with the exception of yourself. Why was this?

Continuum was my concept. It was my group. Before I played music professionally I had been a professional painter, contracted to the New Vision Centre Gallery in London. I exhibited for ten years and had had exhibitions, at least one of which was called Continuum. I saw my music as a continuum.

The changes came about for two reasons: 1). because the musicians in the original line-up weren't comfortable with improvisation; 2). because I wanted to include some electrical instruments; with the musicians and instruments we included in the second line-up we had the possibility of a wider choice of music. My friendship with John continued though.

The other band members (John, Mike and Dick) from the original album are listed as guests on the title track of "Autumn grass", how did this come about? Did the new line up also play on it?

See above.

The title track of "Autumn grass" was composed by Patric Standford. How did this come about? Was it written specifically for the band?

Patric was a friend of my then father-in-law. Yes.

Given the extraordinary length of the title track, were there any issues with the record company in terms of squeezing it onto one side of the album?

I don't know if there were any issues with the record company - the management dealt with anything like that. But In order to get the track on the record they had to use heavy compression which you can hear on the recorder improvisation. This is something that I'm not very happy about.

How much of the wonderful flute section on "Autumn grass" was composed by Standford, and how much was your own improvisation?

There is one flute section which is wholly improvised, the recorder solo theme was written by Patric and the rest is improvisation.

Can you tell us a little about the other band members? Are you still in touch with any of them? What are they doing now?

No, I'm afraid I lost touch with them after I moved to France thirty years ago.

Did the band ever play live? If so, what was the nature of the gigs?

Yes, around 50/60 live gigs, I think. I've looked out my press cuttings to answer this one but will only give you the ones I consider the most interesting: The Round House, Imperial College, The Marquee Club, London Television "This Week", The Wigmore Hall, The Queen Elisabeth Hall several times including South Bank Summer, a few times with BBC television and radio, the Northern Polytechnic, Eairan (Irish television), Wexford Arts Festival, Edinburgh Arts Festival, ICA, Royal College of Art.

We played what you find on the records plus another few bits. With the second line-up we played non-stop, each piece running into the next.

Continuum apparently broke up after "Autumn grass", why was this? Would you have liked the project to continue?

We still played live for a few months but didn't make any other records. It's the usual story of everyone pulling his own way which leads to disagreements. I decided to leave. They tried to continue for a while after I left but ... the whole thing just fell to bits. It sounds pretty horrible talking like this.

Progarchives

is a website dedicated to progressive music in all its forms. Did you consider yourselves to be "progressive"? Which bands of the early 70's did you consider to be your peers?

I don't know if it was progressive or not - I'm not sure of your definition of "progressive". It's sure that we didn't play like the pop groups of the time, our music was different from theirs.

Emerson, Lake and Palmer, Soft Machine, King Crimson (their drummer drummed for us at a gig at Southampton University once), Frank Zappa - thought all their music was different and really worth listening to.

Have you ever considered setting up an official "Continuum" website to spread the word about the music of the band?

No.

Tim Rice is quoted in the Autumn grass sleeve notes as stating that "Such styles as rock and Elizabethan music are not only compatible, but can also be relevant to one another". Was this a vision you shared? Was it specific to Elizabethan music and rock, or did you feel there were other equally valid combinations you could have (and perhaps did) explored?

Yes, Tim and I shared exactly the same point of view on this; there were other combinations that we could have (and did) explore(d). Music is music. We didn't live in a museum. If we liked a piece we liked it. In the first line-up the choices were limited by the instruments played and, as I said above, one of the reasons for changing the line-up was to give us the possibility of a wider choice in the music we played.

Tim also said that "if analysis seems pretentious, that does not necessarily mean that them music itself is pretentious". Were you concerned that your music may be perceived in this way?

Me, personally, no. Some people might have considered that our music was pretentious but I've never been very bothered about what other people thought. We just played what interested us.

What did you do after the band broke up? Have you been involved with any other bands since? What have the 30+ years since found you doing?

1) I went to play as a session musician, playing tenor sax and completed my Masters in electronic engineering at the University of Southampton.

2) Did sound for Henry Cow and toured with them. On one of the tours I came to France and met a violinist whom I married; moved to France and did sound for Jeff Seffer* (I played with him a bit too).
*Jeff Seffer is an avant-garde French/Hungarian saxophonist who was a member of Magma (among others).

3) Stayed in France, designing live sound installations, theatre, concerts, tours, etc.; (beggars can't be choosers so sometimes I loved the music that I designed for, sometimes I hated it) until 1987;

4) Went to England to take responsibility for the Midas Console that had just been bought by Klark-Teknik;

5) Came back to France in December 1990 to continue working in sound until February of this year.

And what is life like now for Yoel? Are you still actively involved in music?

Since February we've moved from Paris (where I was based from 1993) to the Loire valley. We bought a small old farm and will move in, in a few weeks. I have started creating DVDs that, at the moment, use paintings (that now change and move) that I've done over the last thirty years and music that I recorded over thirty years ago! (At least, the one on which I'm working at the moment). Future ones will probably use music composed by some young musicians I know - we'll see, it's the beginning. This work will be included in a group exhibition at the beginning of September. It's probably not very commercial but I've come to the point where I don't give a sh*t - I was never really about commerce.

Do you enjoy listening to your old albums now?

I'm using them for the DVD so I can't say that I don't like listening to them but I can hear all the production mistakes (and some of my own). A disc is never perfect.

Did you ever consider making "commercial" music in order to "pay the bills"?

Yes, when I worked as a session musician (I played with the re-formed Foundations) but didn't want to play commercial music under my own name. I honestly don't know how do create commercial art in any form.

What sort of music do you listen to? Do you keep up to day with the current music scene? What do you think of today's music?

Like this question. Ultra modern jazz (John Zorn, for example), Rage against the Machine, Penderetzki, Bartok, Kodaly, (never got over the Hungarian connection) Ministry of Sound, Radiohead, Massive Attack etc. Am not as au fait as I'd like to be. Maybe I'll have a little more time to listen now. But I'm not into Hip-Hop or Rap. I really wish that in the days of Continuum we had had the electronics that are available to the musicians today. I really admire some of the music produced and those that produce it - they push out the boundaries.

Do you have any control over the re-releasing of your albums? I found a site on the internet which indicated that Continuum's first album had been re-mastered and released in Japan. Were you aware of this?

It seems that I have absolutely none for I had no idea that the album was re-mastered and released - either before or after the fact (until this week). I was the only member of Continuum to have a contract with RCA and this contract was never cancelled. After I found out I found a site where I could order a copy and did so (I prefer to have it than my original vinyyl which has suffered somewhat over the years) however I think it's a bit much when I have to pay for my own music!

Finally, your wife is Scottish. How did the two of you meet? Does she share your passion for your music? What is a normal day in the life for the Schwarcz or should I say Fekete family?

Met at the house of a friend in London when I was working for Midas.

Not really but she's learning to appreciate (non-commercial) music!

My labrador wakes me up as soon as the bloody sun is up; I get up, take him out, give him food and water (normally around 6.30 am while Brenda snores); try to wake up Brenda; make her coffee around 8.00am; try to wake up Brenda; enjoy a huge breakfast of cheese, ham, british marmalade; try to wake up Brenda; start working on my DVD; finally wake up Brenda. (EL - Brenda tells me that Yoel does not in fact wake her, she eventually wakes up in her own time!)

At the moment our house is full of workmen so life is a bit unsettled. I work most of the day on the DVD, walk the dog, argue with Brenda (sometimes we talk though), she argues with Ikea on the phone, we share the cooking, visit friends in the area and sometimes we'll have friends or one of the kids to stay (my youngest has just left today to go to Morocco with his girlfriend in a camper van) and Brenda drags me to brocantes (the French week-end flea markets). Sometimes we eat in a small local restaurant in the evening. We like good food.

In the future I'll keep working on my DVDs and once we're properly installed in the main house want to start painting again. Brenda's going to set up two gites - not my thing.

Many thanks for taking the time to answer these questions Yoel. I wish you well!

Yoel then....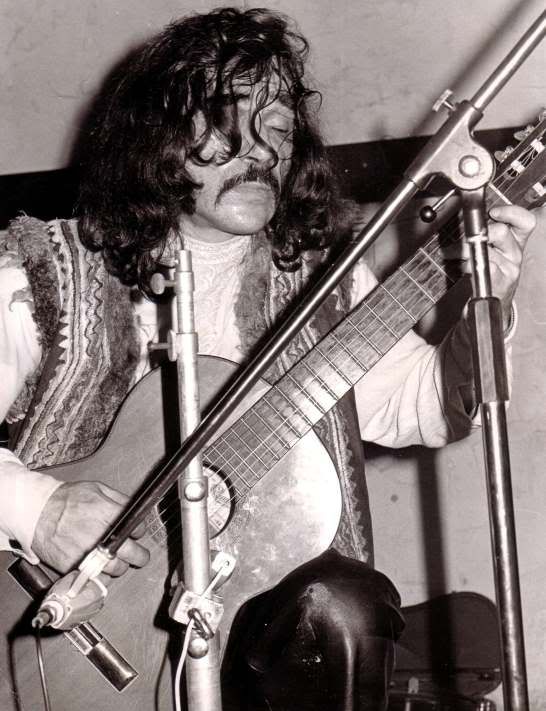 .... and now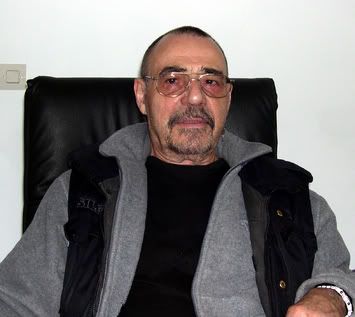 Edited by Easy Livin - May 12 2006 at 15:03