Dave Murray (ex-Estradasphere drummer, not the Iron Maiden guitarist…) is the man behind the DESERTS OF TRÄUN, a multi-genre project.
To give you an idea what the music is about, here's the bio from their PA page:
The Deserts of Träun is a project by Dave Murray who is Estradasphere's former drummer. After leaving Estradasphere, he wanted to create his own music, and fulfill his own vision of how it should sound. To say this is varied, would be an understatement. As the official website says there following ingredients are in there: "Jazz, Funk, Classical, Black/Death Metal, Rock, Fusion, World, Video Game, and Electronic Music to sonically describe settings, character personalities, and events to an original science fiction comic book epic. The music is reflectively dynamic and complex, sad and glad, frightening and courageous. The Deserts of Träun is story telling through the medium of modern music."
Dave said that in the next albums he will introduce "flamenco, jazz, a jungle/drumset samba battle, twisted blackmetal R&B, evil odd time hip hop, and more symphonic layering and circumscribed tetrohedral geometic polyrhythmic pyramid stuff. I am applying some Meshuggah theory to a slow Middle-Eastern classical sounding part as well. And what I'm most anxious for is the black metal opera epic at the end of Träun 2 which I plan to sing..."
So while the multi-genre is similar to that of Estradasphere, it is still distinct enough to make it stand as its own creation.

The project is of a trilogy of which so far one part called Part III: The Lilac Moon was released. Parts 1 & 2 are to follow.
It is a concept which he created and goes like this:
"Basicly two worlds collide. One of an evil and lonely BlackMetal emperor named Träun who is pirating H20 from vulnerable planets in hopes to build the biggest health spa in the galaxy. His terrible affluence leaves only deserts of these once water bearing planets. The protaganist whom discovered an ancient trans-planetary elevator system accidentaly/propheticly - depending on who you ask, becomes involved in saving one of many newly desertized planets. Betrayal of a brief love affair with the rescued enigmatic princess delivers the protaganist to a much grander and darker plot that sees him only the receeding edges of an unforgiving mire . The Detective Mel Function, and his sidekick Gary emerge from a short retirement to seek out and rescue the slowly sinking protagonist and together do away with Träun and his effects over the galaxy".

Among his influences he mentions Meshuggah, Mats Morgan, Cynic, Death, Dimmu Borgir, classical music (especially non western), Basil Poledorius (Conan soundtrack composer, mb), Phillip Glass and also Estradasphere as the opener of the door towards multi-genre.
__ __ __ __ __ __ __ __ __ __ __ __ __ __ __ __ __ __ __ __ __ __ __ __ __ __

Dave has agreed to answer the following questions I sent to him.
The result is below:
Hi Dave and thanks for agreeing to do this interview. Let's start with the questions:

1. Who came up with the Deserts of Traun idea and what is it about? Why only music? What about lyrics?
I came up with it in conjunction with Alfred Wiesburgh Roberts (Daedelus) and Joe Willis. We had a Jazz band and felt the inclination to play something with structure and ...adventure. Joe had been playing the original theme, sort of a fusiony keyboard jam on Db Dorian. Every time he played it
I said I saw this image of a transparent cylindrical elevator descending from the sky on some alien desert planet. The character inside the elevator was/or looked like Tron, or Flint from the Tron Movie. There are limited to no lyrics because I want the artistic challenge/freedom of describing only
with music and not with intentional descriptions of words. I can't sing either.

2. Why did you create that multi-genre DOT sound? Why risk doing something that can deter potential listeners by including in your music genres which will alienate a part of them? A metal fan, might not like some of the more orchestral or non-rock parts in there. And vice versa, someone who like your more creative and non-metal parts, might be disappointed with your inclusion of metal parts.
It does alienate many, and unfortunately labels as well who remain close minded only because of financial reasons. It does however attract listeners that are interested in bending the rules and mixing things up. I am a fan of blending things, if done well. Multi genre is critical for the experience. These days I think it would be harder to get away with claiming your music tells a story in only one style of music. I remember being in 5th grade band class and having heard Swan Lake. The instructor mentioned descriptively what was happening in the story. I remember at the time I thought, really?
These days I think figuring out ways to be AS descriptive as possible requires using other forms of music that really are powerful ingredients. Kind of like bolding the text of the invisible story in the music.

3. Because of the imagination of yours that I can perceive by the music you write and the track titles, I was wondering whether you considered writing? What books do you read; do you have a particular genre that you prefer (assuming you have time to read)?
I haven't considered writing anything, however I am getting into (when there is time) screen writing. i have (verified by others) some pretty good ideas. I am not much of a reader, and i know that readers are very proud. If I ever read, other than for work, its Philosophy, Hesse, Tolkien or non fiction.

4. The cover art for Lilca Moon is captivating. Who created it?
Colby Bluth. He is amazing. He painted that in an hour or so. He is the main artist for Traun and has a ton of artwork done in the old days. He is also working on 4 minute animation piece.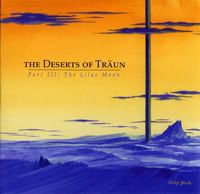 5. How did you gather all those people to record The Lilac Moon? Were they personal or indirect acquaintances or simply session musicians?
Friends and acquaintances. At that time I did not make any money so there was no way to truly pay people a fee.

6. When I first saw Part III: Lilac Moon, I was confused because I didn't see anywhere, part I and II. Why did you release part III first?
I know, and unfortunately it looked like I was ripping of the 'prequel' idea from Star Wars (like there aren't enough similarities already). After I quit Estradasphere I knew I wanted to do my own thing. I also knew I had a great project collecting dust that now one knew about. Originally I was going to make a 'best-of' Traun, and re do all of the better parts of the original live versions (The live versions call Version 1 and no one will probably ever see these because they sound horrible). Once I got going with piecing it together I started re arranging things and writing a lot of new material - which of course reflected more story. It wasn't till half way through production I decided this would tell a specific segment of a trilogy vs. just a montage of disparate music. Had I stuck with the idea of just making
a best of I wouldn't have the task of making more of these. But that is not a problem because there is more than enough ideas I have for part 1 and 2


7. When are the following DOT parts due? Will they be in the same vein?
2 years about. Realistically. They will be in the same vein - and I want to make them as fluid as possible. I think that the orchestration, arrangements and the complexity will be greater because I will be working with midi and a computer to help with composing. The current Lilac Moon was almost entirely written on a cheap keyboard and demoed to a broken 4 track. So with my new set up I will have greater tools for writing. Also the current Lilac Moon (version 2) will be enhanced and re worked for the final version 3 trilogy release. i don't want pt 1 and 2 sounding bigger and better than the finale.

8. Are you first a metal musician? Or do you consider yourself simply as a musician that is playing in various styles?
Not sure. I am more and more becoming just a musician that is obviously open to metal music. Although metal are my roots for sure, my playing is becoming less 'metal'. Compositionally I am doing my best to pry myself away from metal-esqe parts

9. Is metal your first musical love? What else do you listen to? Which bands/musicians do you appreciate?
Yes it is. 80's, classical, jazz,... not sure I could really answer this well. I love a lot of bands and composers.

10. What's your attitude towards progressive rock? Do you listen to it? Like it? Think it's just pretentious? Do you feel comfortable with being in PA and other prog rock websites? Do you feel "at home" with other "more conventional" prog rock acts? Do you have any favorite prog band?
I think Traun belongs to the progressive rock arena, although it may be too progressive, or distastefully 'wrong'. I haven't taken a liking to many typical modern or older prog bands. But at the same time that is how I play drums, and it is a huge influence and part of my approach to music. The lack of jazz finesse at least as a drummer is what turns me away. Once a prog rock drummer has jazz finesse then he is a fusion drummer, and I am not the biggest fan of fusion music either. so to answer the question, i do think its pretentious, which is the kind of music I think is worth learning from. No fav's Rush is a favorite though. maybe I haven't heard the right stuff though

11. Besides drums, do you play other instruments?
I play didj and throat sing to a mediocre level. I am a beginner at cello, piano, bass, guitar and flute.

12. How was it for you to compose all those extremely different parts and instruments in DOT? Did you start with one idea and then went on developing it?
I don't recall, I think I remember starting with a tiny idea and expanding on it improvisationaly . I spent a lot of time working with Paul Mckee and together we sort of worked things up into a listenable/interesting form. I just spent a lot of time, and knew I wanted to use different styles to
depict a stronger sense of story.

13. Is Estradapshere a major reason for the style of Deserts of Traun and your other projects? Is this something you deliberately chose to do?
They are a huge part in training and opening my eyes to other styles of music and integrating it.

14. You left Estradasphere several years back. Why? Are you still in contact?
There were differences in opinion about livelihood, business etc and issues with the label that ended up creating resentment on both ends. After 2 tours and no plan to make a living or build a life I felt uncomfortable, and I had no other way of paying rent or bailing myself out of a hospital if something
were to happen. I originally saw the full bodied musical pursuit as a higher level pursuit in life, but felt later that in the capitalistic paradigm the pursuit is utterly senseless and ultimately an extreme psychological need to be heard, admired, adored, feared and worshiped by people to the point of
driving all over the country and ignoring the sense of harmonious living. It was hard to let myself continue with this change of impression. I remember quitting when I realized I had a choice to and I was ready to loose. We are still in contact and I love them all like brothers.

15. Did you listen to Palace Of Mirrors (for the readers, Estradasphere 2006 release, AV) and if so, what did you think of it?
Yeah I did. I thought it was a HUGE strong release for them. I was blown away. The drumming was also really good. They lucked out with Lee. Personally I found some of the melodies too 'wrenching' particularly the ones in the opening. So there are parts that don't work for me or are attempts at a great strength and passion that feel contrived (not claiming I have overcome this in my music). The song corporate merger is amazing compositionally - probably "espheres" best tune ever and I wish I had played that one. I think the tone of the album is not as appealing as others, and the multi-media/conceptual angle is unnecessary, undeveloped and not as artistic or interesting as I have a feeling they believe it is. So musically I think they are doing real well

16. Who else in the multi-genre world of bands do you appreciate?
Mr Bungle, Secret Chiefs, ... maybe I am not thinking straight right now, but is there anyone else?

17. Aside from Mike Johnson, do you collaborate or plan to collaborate with other musicians? Is there anyone in particular that you'd like to play/release an album with?
Not really. Traun will have a lot of the same people on it. I did want to play some gigs with Steve Digiorgio (sp) of Death who claimed to want to gig with me in Dark hall. I also wanted to collaborate with the great Didj player Stephen Kent who produces some worthy 'world' music.

18. As a solo musician and one that is involved in various projects and struggles to make a living, why persist with writing and recording music, and having your own record label? (I don't mean to despair you at all, keep up with your music, please!).
Well, exactly. That's why I don't. Over the last few years I have struggled to get into a new profession that works better in the capitalistic matrix. I have a productive steady job that is flexible and leaves some time (not nearly as much as a full time musician) for music. My music time is now spent 100% on what I want to do and produce. Basically I don't rely on music for money at all. That gives me a balanced approach to life, as well as makes my music stress free and unhindered by the market.

19. If you had a very generous funding, what kind of album would you do?
Something with a huge symphony

20. Tell us about Tholus? What kind of music is this, who are involved and how did it come to be? Will you be touring?
Tholus is technical death metal with 90's sensibilities. It is the music of guitarist Mike Johnson. I produced it and played on it, and actually there are a few parts in Traun that are taken from this album. Mike and I decided to make this record because it was unmistakably good metal. He then backed
out and I painstakingly found replacements and eventually finished it. Wally Scharold, Rob Pumpelly and Aaron Ortiz are big players on the finished product. There are no tours planned, but maybe if it was al paid for in Europe we would start practicing!

21. Since DOT are multi-genre, and Tholus is more a death metal release, why not do a project in which the lead style is not metal, but some style you used in DOT? Why not a folk (Gypsy maybe?) or some other type of album?
Although gypsy is in, in the "esphere" circle, I am not the biggest fan of it, although I like and appreciate it. I am sure I will produce in other genres. Tholus was just next on the plate. But to be honest I am not so sure how well I could play in other genres and create a full album that was interesting. I'll see eventually.

22. Do you have any other projects besides DOT and Thouls?
Nothing else in motion. I have a backlog I plan to produce. Project including a death metal cover band, faux black metal, symphonic metal, acoustic polyrhythm group, a cello album with piano and various instruments.

23. If you had to convince a potential open minded listener to listen to DOT, what would you say?
Don't let your hearing be prejudice. Eat your veggies; learn to like more foods/sounds. Imagine what each genre can try and represent. don't be turned off by metal... Christ peoples ears can be so wussy ; )

24. Anything else that you might want to add?
I have said a lot for sure. I am very excited about Version 3 of Traun – the full trilogy.
Thanks to Dave for his time answering the questions.
More info, sound samples, and general background can be found in these links:
http://www.davemurrayonline.com/ - Dave's website with links to his projects and his online web-store.
http://cdbaby.com/cd/desertsoftraun - CD baby page of The Lilac Moon with samples.
http://www.progarchives.com/artist.asp?id=2944 – PA's DOT band page.
http://www.cs.uu.nl/~jur/reviews/thelilacmoon.html - Details and review of Lilac Moon.


Edited by avestin - May 07 2007 at 10:42