SBB, one of the most important bands on the progressive rock/jazz music scene since, returns in 2008 with two new titles: a DVD release entitled "Four Decades" and a CD release "SBB – A Complete Tapes 1974". SBB is with no doubt a legend of Polish music scene. During their career, they shared the stage with Bob Marley (co-headlining Roskilde Festival in 1978), Soft Machine, Mahavishnu Orchestra, Charles Mingus Dynasty, Jack Bruce Group, Thin Lizzy, Canned Heat, Omega or Klaus Schultze. At the beginning of their career they recorded many fantastic albums, thanks to which they gained a status of a legend on the progressive rock scene.
"Four Decades" is a live DVD recorded in a refreshed line-up: Józef Skrzek, Apostolis Anthimos, Gabor Nemeth (known from Scorpió and P. Mobil). With the new album "The Rock", the band get back to their roots. The music featured on this album refers to one of the best periods in the band's career, crowned with the release of "Memento z banalnym tryptykiem" (considered by many to be SBB's opus magnum). Soon after the premiere of "The Rock", the band hit the road to play several gigs in Poland. The highlight of the tour was the concert at Wyspianski Theatre in Katowice, where SBB recorded the show for the "Four Decades" DVD. This release also includes: interviews with Józef Skrzek, Anthimos Apostolis, Gabor Nemeth, biography, discography, photo gallery and bonus video material from a concert SBB played as a support for the hard rock legend Deep Purple (Spodek, Katowice, February 24th, 2006). "Four Decades" DVD is also available in a special DVD+CD limited swing case edition with an audio CD with songs recorded during the show at Wyspianski Theatre!
The band started in 1971 as Silesian Blues Band. Then the musicians played for 2 years with Czesław Niemen in his group Niemen, to finally return as SBB in 1974. From that moment on, the three letters came to mean Search-Break-Build. In this period SBB recorded the material included on "SBB – Complete Tapes 1974". This unique 2CD digipak contains complete material recorded live during two shows promoting SBB's debut album in April 1974. CD 1 includes complete material from the concert played on 19th April 1974. CD 2 includes tracks played in different arrangements on 18th April 1974. This remarkable release is a must-have for the fans of SBB and of the best quality progressive rock!
Both titles will be available on 28th January 2008 in Europe. US release date for "Four Decade" DVD is set for 15th April (via MVD).
SBB
"Four Decades"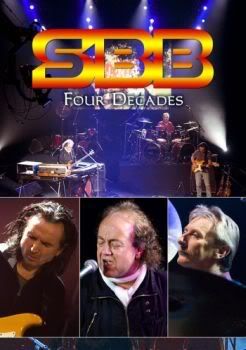 Label: Metal Mind Records
Cat. No.: MMP DVD 0127 (DVD)
Barcode: 5907785031395 (DVD)
Cat. No.: MMP DVD 0128 (DVD+CD)
Barcode: 5907785031401 (DVD+CD)
Genre: progressive rock
Release date: 28.01.2008 Europe / 15.04.2008 USA (only standard DVD edition!)
Tracklist:
DVD:
Live at Wyspiański Theater, Katowice, November 19th 2007:
1. Pielgrzym
2. Odlot
3. Freedom with Us
4. 3rd Reanimation
5. Going away
6. Żywiec Mountain Melody
7. Memento z banalnym tryptykiem
8. Pieśń stojącego w bramie
9. Płonące myśli (Ojcu)
10. Rainbow Man
11. Drums
12. Walkin' around the Stormy Bay
13. Skała / The Rock
14. Sunny Day
15. Z których krwi krew moja
Live at Spodek Hall, Katowice, February 24th 2006:
1. Memento z banalnym tryptykiem
2. New Century (Incl. Tajemniczy Świat Mariana)
3. Odlot
4. Rainbow Man
5. Całkiem spokojne zmęczenie
6. Improv: Drums-battle
7. Walkin' around the Stormy Bay
CD (swing case edition only):
Live at Wyspiański Theater, Katowice, November 19th 2007:
1. Pielgrzym
2. Freedom with Us
3. 3rd Reanimation
4. Going away
5. Żywiec Mountain Melody
6. Płonące myśli (Ojcu)
7. Walkin' around the Stormy Bay
8. Skała / The Rock
9. Sunny Day
10. Z których krwi krew moja
SBB
"SBB – Complete Tapes 1974"
Label: Metal Mind Records
Cat. No.: MMP CD 0567 DG
Barcode: 5907785031296
Format: 2 CD Digipak
Genre: progressive rock
Release date: 28.01.2008 Europe
Tracklist:
CD 1
1. I Need You, Baby
2. Odlot
3. Wizje
4. Wicher w polu dmie
CD 2
1. Pamięć z nami
2. SBB - Completed Tapes Zostało we mnie
3. Wolność od tyłu
4. I Need You, Baby
5. Zostało we mnie
6. Figo - Fago
7. Rock for Mack