....started not too good. I didn't had the time to have lunch, just rushed of to the train to Lyon, tried to evacuate the stress, nearly missed the connection, didn't had the time to buy the ticket to Bourgoin-Jallieu…had some fuss with controller in the train and got lost in an industrial zone on my way to the festival and ...

.fortunately it started to rain only the moment I arrived…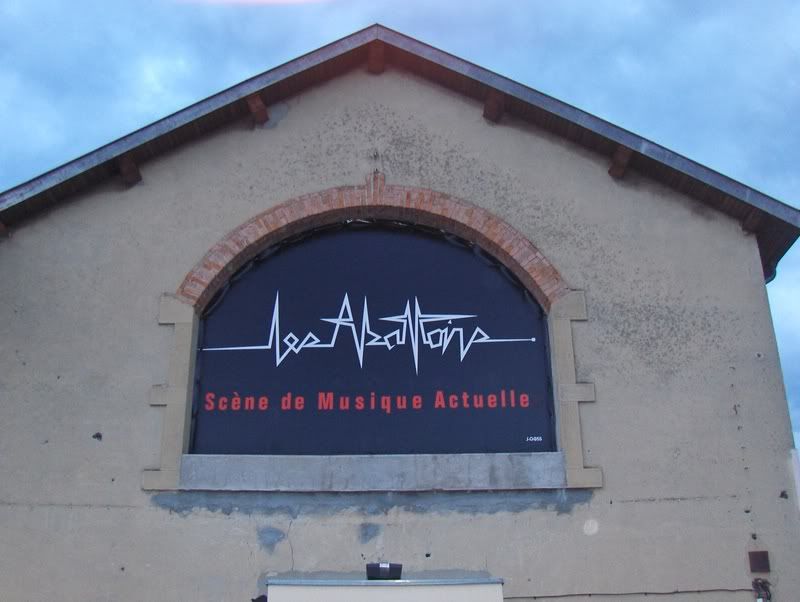 I
So I got me a coffee and chatted with some concert goers. I met Sylvia & Walter, a nice Argentinean couple, who studies in Barcelona and had come over for the festival. Mike King, who had written a bio about Robert Wyatt ('Wrong Movement') has recently created his own label 'Reel To Reel' records and had come over from Canada to present his records on a stand. So far he released mainly private concert recordings owned by the musicians. I bought an interesting 1978 Soft Heap release owned by Hugh Hopper and there are records by the Steve Miler Trio, Kevin Ayers , Ray Russell, Lol Coxhill among others. Mike will send me all infos and I will add the records to the database soon.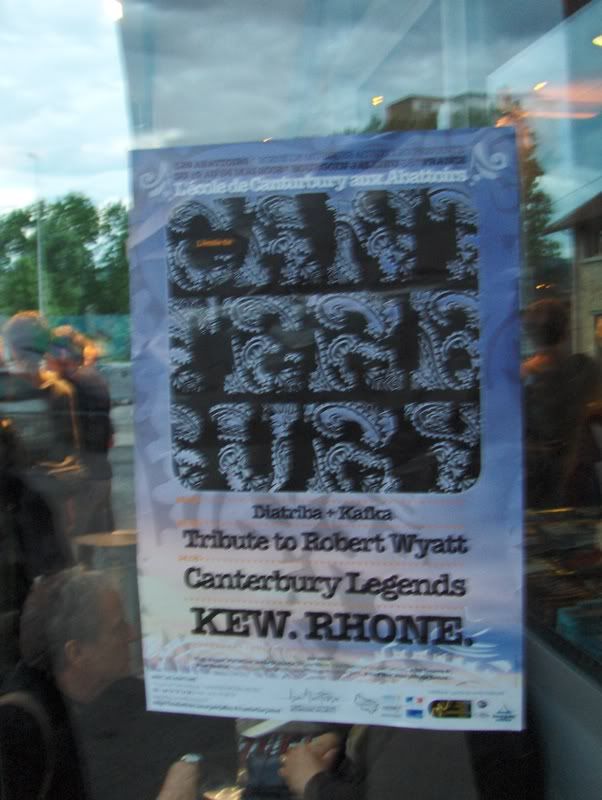 Now 'Les abbatoirs' (ancient slaughterhouse) is a nice venue that can hold up to 200 people and has a good stage and good acoustics. The attendance on the first evening was about 40 people, considered that a bigger part of the audience were hardcore fans and journalists, there were only a few people from the town to discover this "strange kind of music". The first evening was dedicated to Robert Wyatt and started with a local sax player J.P.Ramos, who had prepared a multimedia show, a psychedelic slide show using and transforming pictures of Robert and his record covers while Ramos played some of Robert's songs and compos on sax over a programmed multi-track set. Nice idea, but slightly too long and musically not very interesting.
A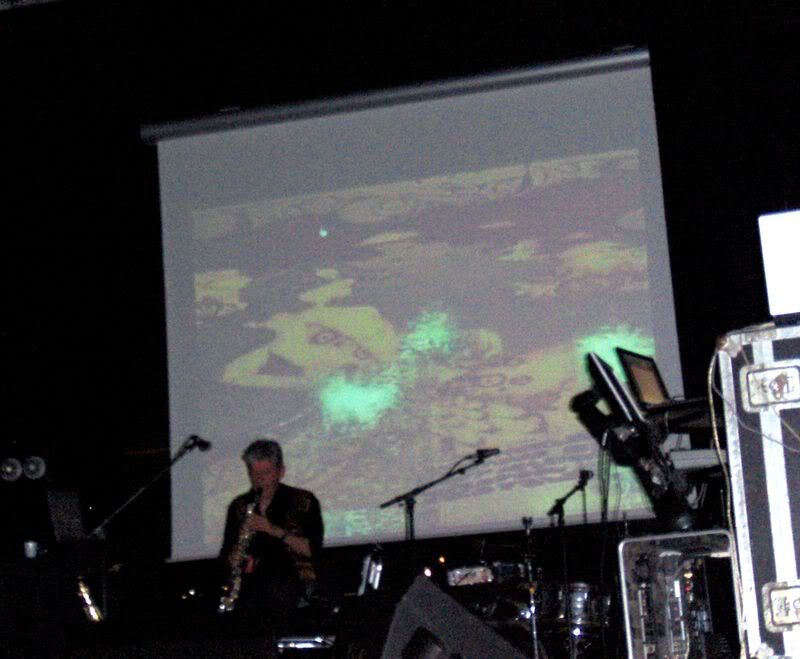 JP Ramos
A pause and a chat with Aymeric 'Calyx' Leroy , John Greaves and Allesandro Achilli, a Milanese jazz journalist and big Canterbury and Avant-Jazz follower and the evening continued with a great documentary about Robert Wyatt by Mark Kidel "Free will and Testament" (2003), a fantastic film produced by Channel Four, and one of the best musical documentarys I've ever seen!!! If

you like RW you have to see this film!.
Another short break and then Aymeric presented the festival together with John Greaves, Hugh Hopper, Phil Miller, Mike King and José the organisateur of the festival.
The last part of the evening was a creation "Canterbury /Broadway/Ramos" , based on a workshop of a local band 'Braodway' and the trio of John Greaves, Peter Blegvad and Lisa Herman playing mainly Blegvad/Greaves songs. A new interesting approach to the songs of John & Peter among them the classics "Green Fuse" and "The Song".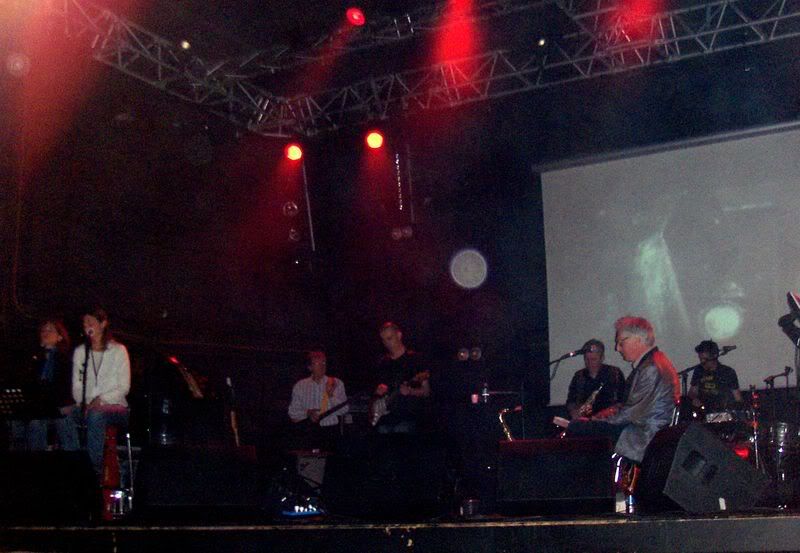 L.Herman,Cecile,J.Greaves, J.Morin,JP Ramos, P.Blegvad
A good night's sleep, a nice sunny day, a good lunch and a walk through the old town center just got me in a perfect mood and at 3PM I joined the new Mediatheque where Aymeric Leroy animated a conference about the School of Canterbury. Unfortunately like the day before the audience attendance was more then minimal, but Christine a habitant of the town, who followed the conference stayed with us for the rest of the evening, calles some fiends to join us and was quite impressed.
It's always a pleasure to listen to Aymeric talking about his favourite subject and I discovered some new (old) video clips that he brought along among them a hilarious Gong concert and an early Caravan clip. At the end of the conference Elton Dean's wife arrived and brought with her a documentary about her late husband 'Psychic Warrior' that was shown as a bonus. A reception & snack finished the conference and a part of the conference goers went to a pub to get some food and drinks before the evening show.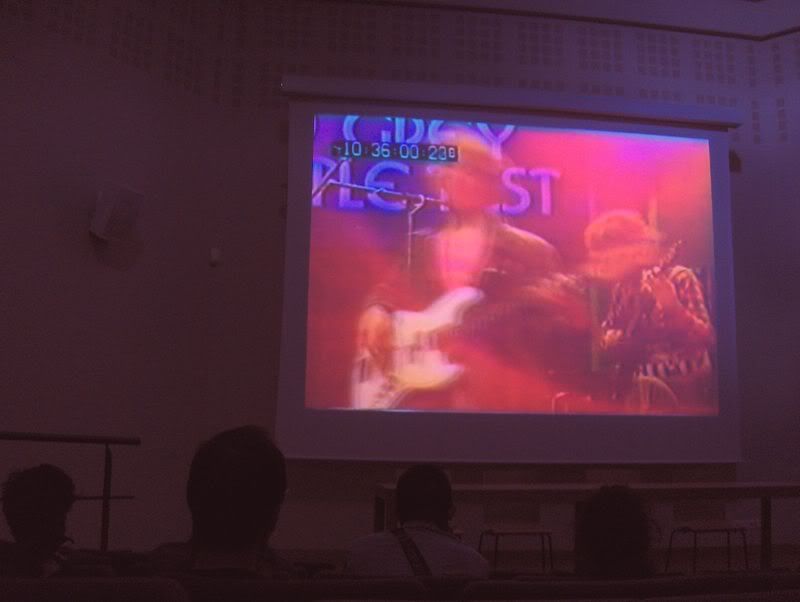 Mediatheque : clip of National Health at the Old Grey Whistle Test (with J Greaves freaking out on bass...much to the displeasure of Dave Stewart)

A slightly bigger audience then friday and one more row of chairs , but still not more then 60 people all
in
all. The first part : Hugh's new band 'The Canterbury Legends'. Presenting Didier Malherbe (sax flute & Duduk) Phil Miller (guitar) Patrice Meyer (guitar) Manuel Denizot (drums) Hugh Hopper (bass) and Alex Mc Guire ( keyboards) a Canterbury dream team indeed, playing a mixture of Canterrbury band songs + some new compositions. On the set list " 7 Sisters" by Pip Pyle, several
compos by Elton Dean , "2 PM's" a Hopper compo dedicated to the 2 guitarists and as an encore "Face Lift". A great concert and a good synthesis of the Canterbury sound.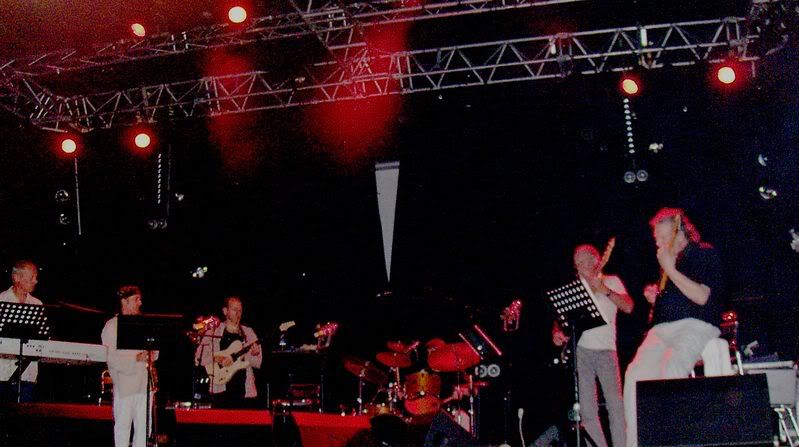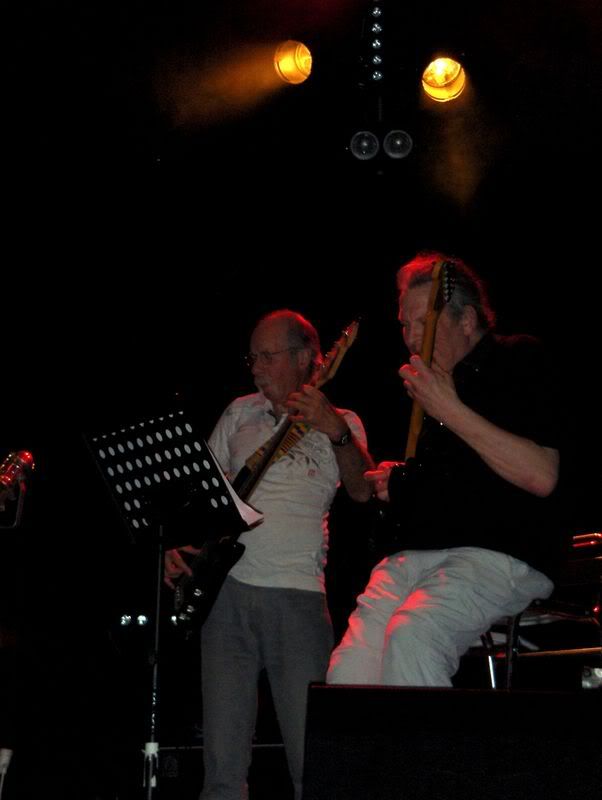 Hopper /Miller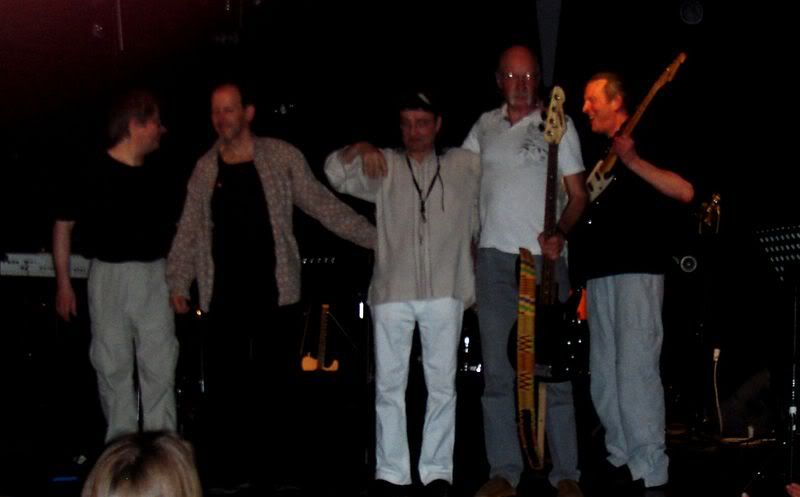 Denizot, Meyer,Malherbe, Hopper,Miller
After some more chats and another coffee, the show continued with the reunion

of

the original Kewn Rhone members , for the first time since it's release in concert with the three original members Lisa Herman, Peter Blegvad & John Greaves, who were all three visibly

touched as

were all the 'Kew Rhone' fans (like myself) who heard one of the greatest Prog records live on stage with the sublime and beautiful Lisa Herman. The trio was joined by Jef Morin on guitar, Simon Goubert on drums, Daniel Yvinec on bass and Cecile on vocals. Now this music is very hard to play and sing!!! and

Lisa, having come over from NYC , hadn't had much time to rehearse with the band. So she had a couple of false starts, but this made the concert even more touching with it's work in progress character. For me the only minor note was the presence of Simon Goubert who is a great jazz drummer, but who's drumkit was tuned very high and even so his playfullness is great

he often

just drowned the rest of the band in a constant high end frequency orgy.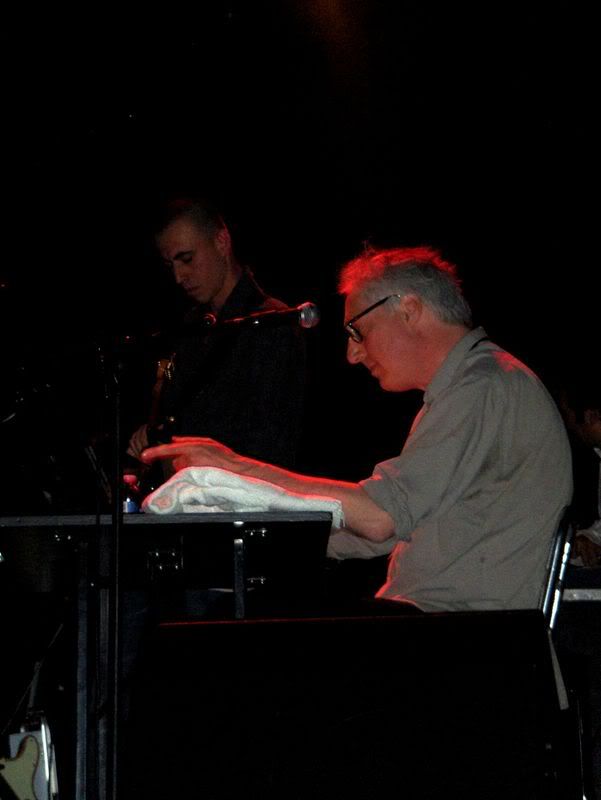 P.Blegvad & J. Morin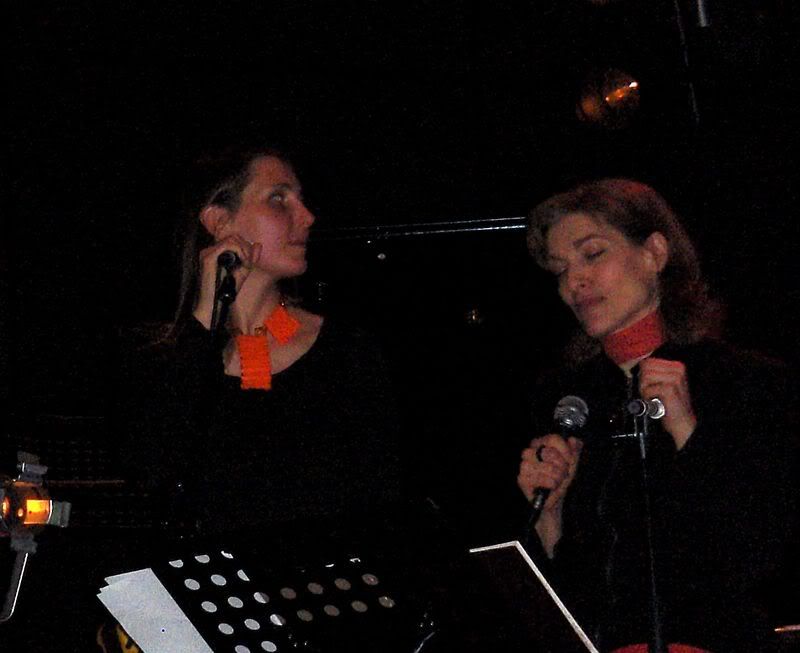 Cecile & Lisa
Greaves,Herman,Cecile, ?, Yvinec, Goubert, Morin, Blegvad, ?
After the show Christine and her friends invited us to an Irish Pup to finish this great weekend.
Sunday 25:
I met Hugh Hopper on the platform for the train back to Lyon, but unfortunarly (for me) he took the next train, otherwise I would have asked for an impromptu PA chat/interview....next time


Edited by Alucard - June 13 2008 at 14:09