I had the chance to talk to one Mr. Alan Morse of Spock's Beard regarding their upcoming tour, their new DVD, Chuck Norris and the plans for the next studio album. So here it is, enjoy!
[UPDATE 08/02/08] - There's also an audio version of the interview available on
the band's PA page
------------------------------------------------------------------------------------------------------------------------------------------------------------------------

Progarchives: Thanks for doing the interview with us Alan, how are you today?
Alan Morse: Excellent, it's a beautiful day here in Southern California, who can complain?
PA: Nice... It's nice and cloudy up here in Canada... nothing new. [We both laugh]. Can you tell us a little bit about what Spock's Beard has been up to since the last studio album?

AM: Oh gosh... jeez, well it's been a while now. We've been doing a lot we've been doing some touring and we're just now coming out with a new live DVD from our last tour when we did a show in Holland and recorded it. So that's kind of the biggest thing we're working on right now. Of course we're getting ready to go out on another tour out in Europe, uh... next week I guess [he laughs], so pretty soon. So that's what we've been doing, you know, working and doing our thing - spreading joy all around the world.

PA: The Spock's Beard joy to all the people!
AM: Yeah, that's right. To all the girls and boys!
PA: Right on! So this is your first live DVD in about 6 years, so why now?
AM: Well, it's been a while and it seemed like we were pretty tight after having toured and done a lot of stuff. So y'know, felt like it was time to document were we're at now and what we're doing these days and so you kinda get to see and check it out!
PA: Can you tell us a little about the CD/DVD, kind of what fans can expect?
AM: Well, uh, let's see, we've played some old stuff, some new stuff and it was fun show. I remember it well, and of course I've watched it a few times - working on it and stuff, and it's a lot of fun! Ryo gets pretty out there - and I think it sounds really good, the sound is awesome and it's just a lot of fun and we're just doing our thing!

PA: About Ryo - has he ever fallen off of his keyboards?
AM: Oh yeah, a bunch of times! [I laugh] One of these days he's going to break his... clavicle or something, I dunno, but yeah. And of course you have all our poor crew out there just trying to keep him from breaking something, but yeah. You can't stop him [we both laugh], we've tried, believe me. He's just like that.
PA: What does the trypical concert rehearsal for Spock's Beard look like?
AM: Well, it's very glamourous. [He laughs] we go to some grungy place out in some industrial part of town where they don't mind of you make a whole lot of noise and slip all our gear in there and set it all up. We set up all our own stuff usually, of course. but we get out there and come crawling in around... eleven o'clock or something like that and put all the stuff up and kind of run through the things about 8000 times and then we're ready to go! It's a lot of work, that's not exactly the funnest part of doing this, but it's something you gotta do right?
PA: Of course! So on the tour you played "Return to Whatever" from your solo album, how'd you convince the band to do that?
AM: Oh you know - a little arm twisting, a little bribery [We both laugh] - no it did take a little bit of convincing because they're all like "well we've all done solo projects" and "it's about the band" and I appreciate that y'know and you don't want to have it turn into where everyone's promoting their own thing so much. But I kind of said, "well, come on you guys, my record just came out and I'd like to try to promote it a little bit" and stuff. Plus I thought it would just be kind of fun and a little different and they said "well, okay - sure whatever". I did take a little bit of convincing but not too much, and everyone was kind of cool with it.
PA: Good to hear. So last year you put out that first solo album, "Four O'Clock and Hysteria", why did you decide to do something away from Spock's Beard?
AM: Well, I just decided that it was something that I really, finally, wanted to do. I mean I sort of shied away from it for a long time and people used to ask me about it and I said, "oh you know, Im not going to do that". But I did this Tony Robins course and I've kind of... He was talking about what could be possible for you life and I thought, "hey, maybe I'll just go for it and do that". So that's kind of what made me think about doing it, so... The rest is history, as they say. But yeah, I had a lot of fun doing it and I'm really proud of it, I think it came out awesome - I think it's a cool record, I like listening to it still and my kids like it too, so that's fun.
PA: Well that's always good!
AM: Yeah. Yeah, it's important [he laughs]
PA: So how was writing and recording that different than doing something with the band?
AM: Oh well, it's night and day because it's my thing and I can call the shots. Neal worked with me on it a lot, he co-produced it and stuff. But y'know he say, "well I think you should do
this
like
that
" and I'd just kind of go "No, nah, let's do this," and he'd go, "okay!" so that was fun to have just complete artistic control which I almost never get being part of a band where you kinda have to make a lot of compromises. So it was nice to just be a little tyrant for once.
PA: Do you think it's going to change the way you write for Spock's Beard?
AM: Oh well, not really. Probably not, because it was a whole different thing. Doing instrumental and everything, and that was one of the reasons I wanted to do that - partly that and partly because I just like doing instrumentals, and we don't do that very much in Spock's, cause that's not the kind of thing that we're doing but... Yeah, it was a lot different so I don't think it will change the writing all that much. Because you throw lyrics in there and it's a whole different animal.
PA: Do you think there will be other Alan Morse solo albums in the future?
AM: Heh heh, well... I'm still trying to pay off the first one so [we both laugh]. Y'know it's sort of a labour of love I'd guess you'd say. I may do another one at some point, but I don't have any plans for that at the moment.
PA: So, I'm kind of curious as to this... when and why did you stop using a pick... or have you ever used one?
AM: I never really have. And of course the story is - and this is basically true... well it's not even basically true it just is true. Well the story is that I started off playing bass. I started off playing the upright bass - the big ol' bass - at school in the school orchestra. 'Cause I think they already had enough violin players and they needed somebody to play the bass. Anyways, so I was playing the bass and I had some proficiency at it, and so I was, of course, plucking it with my fingers, so when I started playing guitar I didn't want to have to relearn everything so I just figured, "well, I'll just play the guitar the same way!" Well - so I was going along and then Neal comes along and says "Aw, you can't play lead like that! Nobody plays lead with their fingers! You gotta start using a pick!", "Oh yeah!?" [he laughs] so it was this sibling rivalry sort of thing it was like, "I'll show you! I'll learn to play with my fingers!" and that sort of stuff... so that's sort of what made me go in that direction. And you know, I've never really looked back 'cause that's natural to me now - I can play with a pick, but I suck so bad... it's frustrating and no fun... so I kind of give up pretty quick.
PA: So I'm guessing your fingers are kind of nicely callused then, eh?
AM: Oh yeah. Jeez. Especially now, I've been practicing and getting ready for this tour. Yeah, my ring finger on my left hand is just hard as a rock, it's ridiculous... but yeah, that kinda comes with the job!

PA: I think I know a lot of guitarists whose fingers would start to bleed after a while doing that.
AM: Yeah, right [he laughs], yeah I used to have that happen a lot, but not so much anymore.
PA: Back to Spock's Beard, for your last studio album I found that it was a very heavy record with a lot of rock elements, do you see the band continuing in that direction?
AM: Well, we all like doing that. But my though is that on the next record we'll probably go more towards the classic Spock's sound... that's what I would like to do. I'm not sure if all the guys are on board with that, but I'm kind of thinking that's the thing. So, we'll see. But that's where I'd like to go 'cause, "get back to our roots man!" Y'know, whatever. That's what people want from Spock's Beard, that's what they like - and we like it too, so we might as well do it. I think we were just kind of going out there and kind of stretching out a little bit to see what we can do. And of course that's one of the things that's fun about the whole thing is that you can do a lot of different things and it all sort of... To me the whole prog 'umbrella' is pretty big - there's a lot of places you can go and a lot of things you can do and you still fit. But yeah, anyways - to make a long answer even longer - I would kind of like to go back towards our strength.

PA: For the last couple of suites you did 'As Far As The Mind Can See' and 'A Guy Named Sid', they were released as separate tracks instead of as one big song, was there any particular reason for that?
AM: Well, it all depends on how you conceive the song, if you think of it as one piece or just a bunch of pieces stuck together. Yeah I don't know, that's just the way we decided to do it [he laughs].

PA: And on the last one as well you took over the mic for a track, 'Sometimes They Stay, Sometimes They Go', why'd you decide to do that for this one?
AM: Well, I wrote it and I sung on the demo and I kind of had a thing going on - it was something I could sing. I just thought it would be fun to do that for a change. It was certainly fun for me, I don't know if anybody else got the joke [he laughs] but I did and it was fun. It was something I could do and everyone was cool with it so, "oh, cool," y,know. "Why not?"
PA: Think you'll do it again in the future?
AM: Oh I don't know, maybe. If they'll let me, if there's something appropriate for it... I don't really consider myself a lead singer very much, I've got a very limited vocal range unfortunately, there's only so much I can actually sing. And you've got somebody like Nick hanging around and you'd might as well let him do it [he laughs] 'cause he can do it really good! So rather than subjecting everyone to my limitations I'll let him go for it.

PA: You're one of the few guitar players I know that runs a business on the side, is it tough trying to run DynaMetric while trying to record and tour?
AM: Sometimes. Most of the time it's not that hard. I'm here right now, actually, I'm here at work... sittin' here talking to you. I'm really fortunate to have a really good crew of people here who just know what to do, and they do their job and they don't need me sitting here looking over their shoulder all the time. That's a really rare situation, so I'm just really lucky with that. So it's not all that difficult most of the time. It used to be, more-so, but it's not so bad now.
PA: Good! So tell me... do you wear a tie-dye shirt to work?
AM: [He laughs] no I try to tone it down a little bit around here. I don't wear my stage clothes here. Although they've all seen the pictures so they know what it looks like! [He laughs]
PA: You're also one of the few musicians who can say they've worked with Chuck Norris - how did that come up?
AM: Heh, how does that happen? Well, I was just working with a friend of mine and he got that gig somehow, he got hooked up - Chuck was wanting to do a record and he got the call. So he called me in on it and y'know, the rest is history I guess! But uh... it was kind of amusing. [We both laugh]
PA: To say the least.
AM: Well I didn't... he... yeah, it was interesting [He laughs]
PA: So you've also worked on a couple other film/TV related projects, soundtracks and whatnot, do you see yourself working on anything like that in the future?
AM: Oh... probably not so much. I'd like to, it's kind of fun! I think it's fun and interesting... it's interesting trying to do stuff that fit in to somebody else's artistic vision and just to hear something that you did coming out in a movie or something is kind of cool. Yeah, I'd totally be into doing it, but that's not the kind of thing that usually just drops in your lap. So probably not, but I'd be totally open to it, if anyone's got a gig out there just give me a call!
PA: So what's your favorite instrument to play other than the guitar?
AM: Huh, well... I like to play around with the Theremin, I like to play... I like to just make weird noises on whatever I can get! It's always been one of my favorite things to do. We used to have, back in the day, one of those early synthesizers and I could just sit around doing that forever. I've got a software implantation of an old ARP 2600 synthesizer with the patch and all that stuff. It's just modeled in software but it's really accurate, and I like playing around with that - it's really fun 'cause you can get just all kinds of wacky sounds. In fact I used that a bit on my solo record on the intro of... gosh, I can't remember which tune it was now, just some bizarre, kind of weird noises going on there and that's what that is. So I like playing with old synths and stuff like that. Especially old, classic mini-moogs and stuff like that.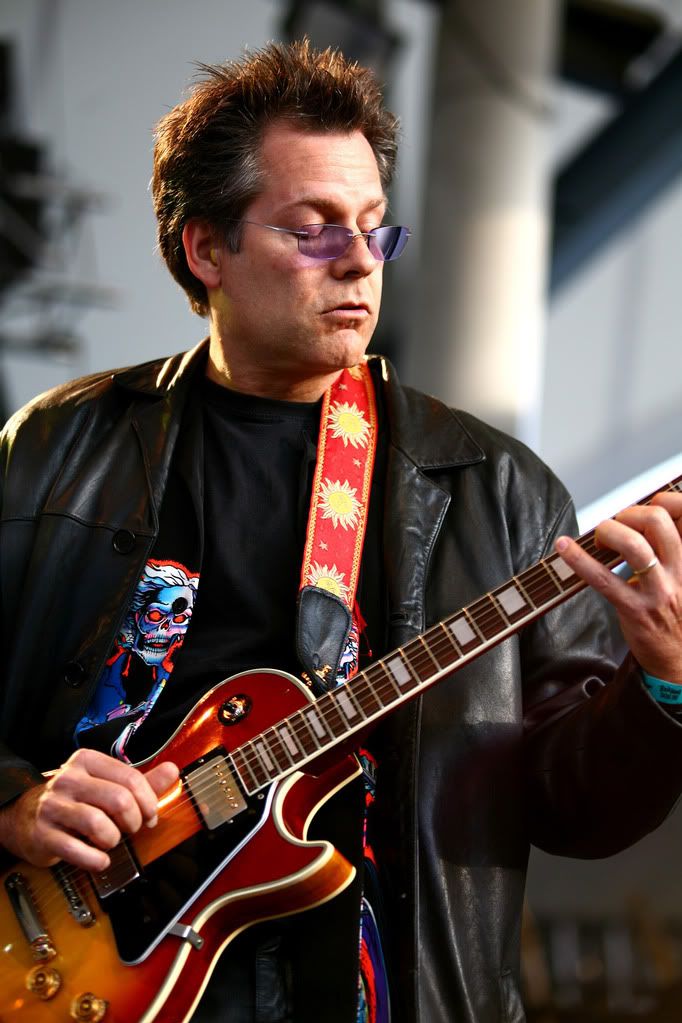 PA: Can you tell us a bit about the Theremin you use? It's kind of a strange instrument.
AM: Oh yeah, the Therein is totally bizarre! I mean, if you're not familiar with it - you don't actually touch it you just wave your hand in front of it and it uses an electromagnetic field around it and you disrupt the electromagnetic field... so you move your hand and it change the pitch and volume of the sound. So it's wacky when you see someone playing it, you're just kind of standing there waving your arms around and not touching it. And y'know it's the classic sound from all the old horror movies with that old *oooooOOOOOooooooOOOhhhh* kind stuff, that's all Theremin. Of course now they have since, but in the old days that's how they did it. It's one of the first electronic instruments and I've always been into that too, the history of musical technology and how that effects music. People don't realize how important all that stuff is, how much that's changed whatever music people are making which depends on what the tools you have to make it with.
PA: Where do you learn to use something like that, or do you just sort of buy it and mess around with it?
AM: Mostly I just buy one and fool around with it, yeah. I'm not that serious about it. I'm kind of a dabbler, I gotta admit. So I mostly just goof around. I was taking cello lessons for a while because I was wanting to get where... and of course I did play it on tour... but I wanted to play it and actually have it... sound good. [We both laugh]
PA: Usually something a musician wants to do.
AM: Yeah, it's kind of one of the things you shoot for generally. [he laughs]
PA: You've worked with a bunch of different musicians over the years, but if you had the chance to work with anybody on their record, who would it be?
AM: Oh wow... Well, if Paul McCartney isn't busy or needs somebody he can always give me a call. But somebody like that is just because... he's Paul McCartney! [he laughs], but um, I'd definitely want to take that call. But otherwise and maybe even more and on another level, something like Jeff Beck. If Jeff Beck wanted to do something I'd be all over that! And of course there's a bunch of guys from history that aren't around anymore that I'd certainly like to play with but... now you're really reaching, right? [He laughs]
PA: Well, you can always wish!
AM: Yeah, right! We're just hypothetical here - Hendrix or Mick Ronson or somebody like that I'd just love to stand there while they do their thing. On my solo record Jerry Goodman came out and played and it was like... that was... oh man... that was one of the high points of my life! You know, just to stand there while he's doing his thing was just awesome.
PA: Right on! So you guys are just about to head out to Europe, like you said - next week, when do you think you'll be seeing the studio again?
AM: Well, given that my studio is at my house I'll probably see it tomorrow [we both laugh]. But I know what you mean, "when are you actually going to start recording?" - well that's another thing. Well, obviously we're going to have our hands full for a while but we're going to have to get in there pretty soon! I was actually out there just last night, Stan Ausmus, one of our co-writers, came out and we did a little writing session. After this tour we're going to have to get serious I think. We're going to have to buckle down and do some serious writing. We probably won't get in the studio for a while after that... but we're going to have to get on it! We want to have a record out... probably next year, but we gotta get going and that takes a while. So probably later on, maybe after summer or something like that.
PA: This is going to be my last question for you, what was the last CD you listened to?
AM: Well... just sat down and listened to... jeez, I don't know. What I've been listening to lately is mostly Charlie Parker, y'know, the jazz saxophone guy. I was really jazzed the other day - I was at a restaurant and they were playing Tom Jones greatest hits and ah, that guy slays me, I love that guy! Sort of... ironically, but still! It's just... I dunno, I love that kind of stuff! I've got some pretty eclectic tastes I guess you'd say.
------------------------------------------------------------------------------------------------------------------------------------------------------------------------
Thanks again to Alan for taking time out of his day to answer some questions for us, and of course a big thanks to InsideOut for setting up the interview!
The new CD/DVD entitled "Live" has already been released everywhere but North America, and that's slated to arrive on June 24th.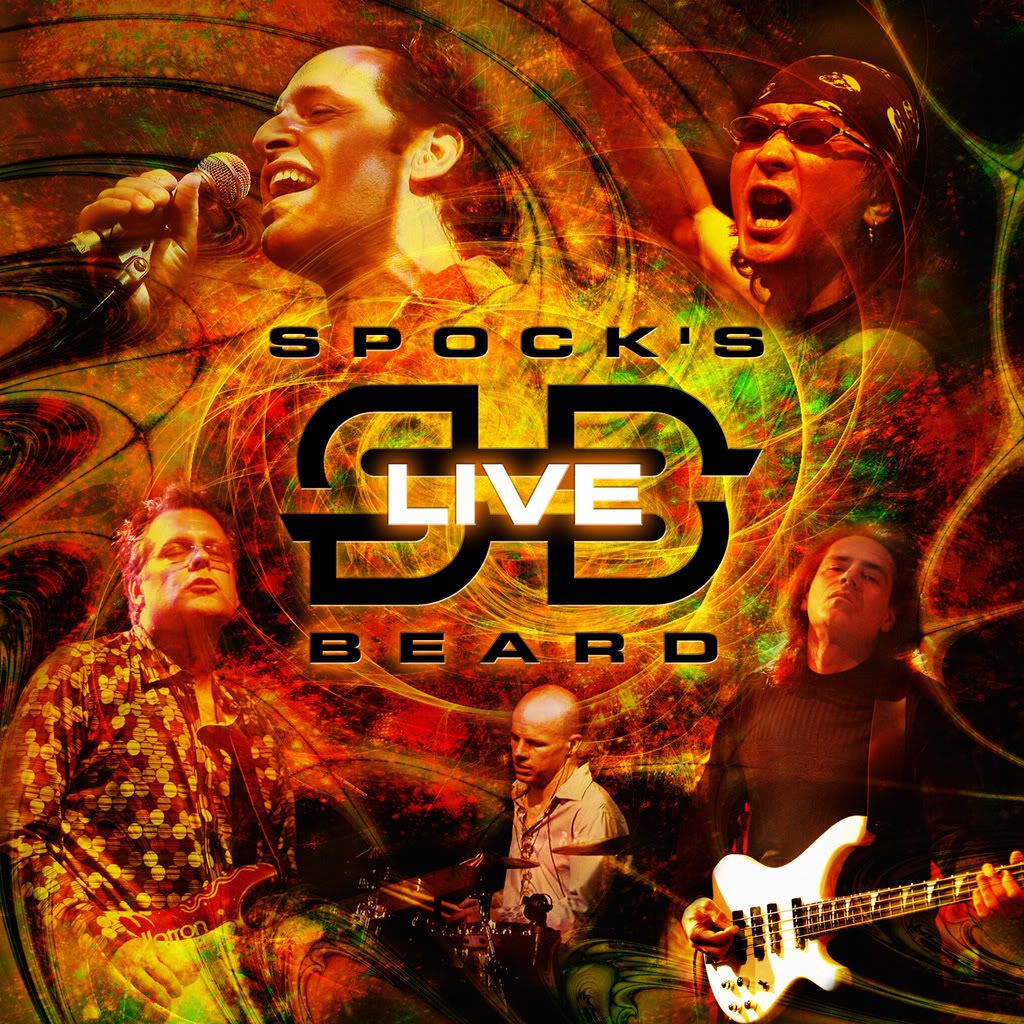 Edited by King By-Tor - August 02 2008 at 22:12