I had the chance to talk to Roine Stolt of The Flower Kings, and it was a very long conversation so I'll be breaking the interview into two parts. Here's the first half of the interview which includes:
Roine's thoughts on
Sum of No Evil
one year after.
The story behind the album's cover art
What the band has been up to
Roine's thoughts on the modern prog scene
-----------------------------------------------------------------------------------------------------------------------------------------------
ProgArchives: So my first question: You released your last album, Sum of No Evil, last year, how you feel it compares to some of your other work now that it's been around for a bit?
Roine Stolt: Do you mean what I think? [he laughs]

PA: Yeah, sure!
RS: It's probably… I'm too close to the music… and probably a couple more years will make it more clear what album I prefer ect, ect. But I think the idea in doing the album was to do a really over-the top progressive rock album and I think that's what it ended up like. I would say… I can't say which album is my favorite, but I would say that this album and Unfold the Future and Stardust We Are – there's similarities in the albums and it feels like the style we're playing on this album is what's closest to
my
heart, you know? So in that sense I still like the albums – I don't listen to my own albums [he laughs] that's not what I do but just from having now played some of the songs live, and you're familiar with the songs of course, and it also feels good to play them live and that was also my feeling when we played the "stardust" material and we play Unfold the Future material. When I was playing a little bit Paradox Hotel material – all of it – it was lots of fun in the beginning and then after a whiiiile it faded away, not that the songs aren't good. It's just that the content in the songs, the melodies, the construction of songs I feel that The Sum Of No Evil is close to my heart, at least.
PA: I'm interested in the cover art for the album, is there a story behind that? Because it's kind of odd.
RS: Yeah [he laughs]! Someone told me the story about it but I didn't listen hard enough. I think basically… I've been in contact with this artist Ed Unitsky who's from a part in Russia. We've been in contact for a couple of years and he's been doing odd stuff for touring like posters and tshirts and stuff like that. Anyways, when the word is out on the internet that we're working on an album normally I get a couple of e-mails from Ed saying, "Oh! I'd like to do your new cd cover!" ect. Ect. [he laughs] and he keeps sending me lot of jpegs of things that he's done lately. And I said, "well I'm kind of open to suggestions right now because we haven't decided on who's going to do the cover art," so I said, "well, let's give it a shot – send whatever you have," and then I presented to him my idea of what I wanted. But –kind of- because I couldn't say exactly, "this is what I want you to do". So I gave him a few hints and he sent me some stuff. I'd say, "well maybe not that," and, "can we add… I'd like to have" and then certain things, certain colors that I don't want. Certain things that I could think of having in this picture.
I wanted it to be a little bit hippy-ish, a little bit mysterious and if possible a little bit funny too. He sent some stuff over a couple of days and suddenly this image with a Volkswagen bus came and after a few seconds I started laughing, you know, because it's so bizarre. And I liked the colors of it and we just did the bizarre idea of merging a Volkswagen bus with a fish that was… completely weird. And uh [he laughs] I thought that if this makes me smile and if this makes me laugh then it will probably have the same effect on some other people. So it's a good sign. I sent it over to the other guys in the band and they had the same feeling about this one. And then we started working on details, like I think the background was different and a few other details that I asked him to take away because I felt that a Cd cover – there can't be too many details. Because it's small, it's not like the LP sleeves where you can have lots and lots of detail. But this is like, 12x12 centimeters and I think there's some kind of limitation to whatever you can put into that area.
So I asked him to take away a few thing to make it clean and easier to understand, and I think we just went from there and then we worked for a couple of days sending back and forth a couple of ideas. So there's really no connection to the picture and any song from the album. Of course you can always find thing, you know. Like thinking of… Summer of love and the Volkswagen buses and the hippies and everything, you can probably [he laughs] find some sort of connection with the songs, but I think, to me, it's more like a striking picture that triggers your imagination. That's good enough for me.
PA: So what have you guys been doing since the release of the last album?
RS: Since then, well… just after releasing the album we did a tour in Europe and then after coming home from the tour we've been… all of us, we've been working on different projects. In my case I've been working with a possible dvd from the tour. Trying the mixing and getting the editing of the video together with another guy. But we haven't decided yet if we're going to release it… for now. But you know, you keep working on it and tweaking the sounds and tweaking pictures and see what you can get out of the material that we have. So that's one thing.
Besides that I also did the mixing of a live show from America, 2006, that's been released as an offical bootleg. That took me some time also because, basically the recording was quite good, but I had a few things that I really needed to work on – the drum sound and it was over compressed so it's difficult to turn back and get some kind of punch when everything is squashed with a compressor. That took me more time than I expected in the beginning, and that's something we released in the spring time, just selling mail orders on the website, ect. And at concerts, of course.
And what else… Basically I've been working with a bunch of material, lots of different stuff. I just can't do one thing because it's kind of intense and if you work for a couple of weeks you just get bored. It's too much of everything! [he laughs] So I've just been trying to go from one thing to another, I've been working on some acoustic stuff, I've been working on some fusion things together with Jonas, and I've been working on some other possible progressive rock stuff. And I know that Jonas has been finishing his Karmakanic album that will be out in… a couple of months, 2 months from now I think. So the third Karmakanic album, and Tomas has been working on a keyboard/synthesizer album an instrumental thing.
Touring this spring we also recruited a new drummer and an extra keyboard/guitar/vocalist for the band, so we were doing some auditioning for that. Yeah, that's… we've had our plates full it feels like, for me at least [he laughs]
And you know, every once in a while we'll get together, we are musicians, and jamming and trying out things. I have friends in Uppsala and in Sweden and we're getting together and trying new combinations of musicians. I've been trying to do some of that to. Sometimes you get lucky, you get together with someone and with some luck you feel there's some sort of chemistry and you plan for something possible to record and release in the future, or just playing live, I can't say – really. But we kind of keep busy with music 7 days a week!
PA: Good! And you guys also did the Three Rivers Prog festival down in Pennsylvania not long ago, right?
RS: Yeah! It was two weeks ago I think. Then in connection with that we played New York and we played Boston and we played Milwaukee and Chicago and I returned to Sweden… this Monday morning in fact, so. Yeah it was… you never know! It was the first time they'd put on a festival and you never know if it's going to work out – all the technical things and the schedules and planning, ect. But I've been playing most of the festivals in America, at least, the progressive one like Prog Day and ProgFest and Nearfest. To me it felt like a good festival, good place to have a festival and the line up had a good variation. I didn't have the chance to see every band, but it felt like a good festival.
For us maybe not a perfect gig because you fly over and then the next day you play the show and it's late Sunday evening so. But still, I think it was a reasonably okay gig for us.
PA: Do you guys have some sort of trick to get over jetlag or do you just deal with that?
Well in my case, I can't speak for the others, but in my case I don't feel much. This time I, for some reason, I felt quite tired and I was actually playing the first night when we arrived. I played also a few songs in Neal Morse's set, so I played Saturday and Sunday. I was going to join Neal on the encore of his set, but I felt really, really tired and I just didn't know how to handle that. So that was probably just jetlag and… normally I don't drink coffee but this time [he laughs] I had to drink lots and lots of coffee just to stay awake! So I think I got a kick out of that and, you know, once I got on stage with Neal it felt good. Basically the same thing the night after that with The Flower Kings, I was kind of tired all evening, but once we got on stage and I had a bit of coffee it felt okay.
But I can't say what the other guys do, they… they probably do the same I guess.
PA: Just bear with it and drink lots of coffee!
RS: Well, coffee, I think that does the trick!
PA: Good! So about the new members of the band, Erik and Ola, how did you come about meeting them?
RS: Well, Erik was… I think I actually saw Erik play on Swedish television some three years ago and he was playing in a band… kind of an odd band, I don't know how to… kind of a Tango, a modern Tango kind of thing. I saw this on a station on television and I was reading poetry – so kind of the artsy-fartsy TV with tango and poems [he laughs]. Anyway, I spotted this drummer and I thought to myself, "I've never seen this drummer before, who is he? I think he played really nice." He had this nice groove and played nice on the cymbals, you know. So I was interested to know who he was. But then after seeing that I never heard of him again, until I called my friend Morgan, also a drummer, we were talking and I explained the situation, I said we're looking for a drummer, and this may sound bizarre, but I'd never ask Morgan [he laughs] because I know Morgan well and I don't think he'd really enjoy being in The Flower Kings. It's really too strict and too much of symphonic rock for his taste… but he's a really nice guy and he knows musicians in Stockholm, so I just called him and asked him if he knew someone that would fit in The Flower Kings. He came up with two names and Erik was one of them. When he said Erik Hammarström I said, "who's that?" and he said, "oh he plays with Katzen Kapell" and suddenly that was like a lightbulb and I went "OH! That's the band I saw on television! I know this guy, I've seen him play!" [He laughs] "and I really liked him". So when Morgan recommended him everything sort of came together and I just called him and asked him if he wanted to audition for the band.
We had lots of people sending me e-mails, sending me cds, sending me whatever through the mySpace. We had people from Italy, from France, from South America, from Central America, places in Canada, the United States, from Europe, Germany, Sweden. People known and unknown, they actually wanted to play with the band and I had a feeling that to make it work out okay we should probably look for someone who's close to where I live and where I rehearse. So the first thing we did was bring two guys who were the closest to Uppsala, and that's Stockholm. So we just took in two guys from Stockholm and Erik was one of them and there was another guy who was, like 23 or 24-something, and he was just starting in music singing, and he seemed to be a quite okay drummer too, but Erik was the better one of them. So we just went with what was closest to here with logistics and, you know, convenience. If you're going to get together and rehearse it's always frustrating to get together with someone from Holland or from France or from South America and it's… it's doable! It can be done! I mean, we did it with Transatlantic, but there will be lots of flying over and stuff like that. And we had Mastelotto playing drums for the November tour and it was great, but I couldn't really see Pat being in the band because he lives in Texas and we live here. So in the long run it's not really something that can be done with the economics we have in the band today. So getting a guy from Stockholm was a good option I think. And We were all happy with what Erik played, so. And that was Erik!
Ola was someone who Jonas knew because with the previous Karmakanic album he played piano on that one. He's basically a piano player/singer. He's mostly into Jazz I think, but he also has a pop group, like a Christian pop group he plays with. He also plays a bit of guitar too and he's generally a guy who's really into music and knows lots of different style and a very, very good player. So that's why he came in. But really it was because we felt, or rather
I
felt that the last tour we did here in Europe there was lots and lots and lots of keyboard things and Tomas had to concentrate on the keyboards so much that he couldn't lift his hands [he laughs] doing a two and a half hour set he couldn't lift his hands and he was just playing, playing, playing and pushing buttons trying to get the next sound. So I just imagine it was a kind of frustrating situation for Tomas because the music demands lots of different sounds all the time because it's the symphonic character of the music, you know. And that was very obvious of the last album. So this is to free up some hands for Tomas or give him a break, give him a 20 second break somewhere in the set list, and free up some hands for the modulation wheels and pitch bends and all that stuff with the synthesizer, tweaking on nobs. So I think we get a more detailed sound having someone who can back up on piano and some guitar, and the vocals of course.
PA: Like you mentioned, you had Pat Mastelotto on your line up for a bit, how was working with him?
RS: It was a pleasure, actually. As I've said, now he lives in Texas, but if he lived in Stockholm I'd ask him right away, but he's such a nice guy. Very, very professional, and a guy who knows how to play the songs in a very musical way, there's never any excess, there's a steady beat. He's also into lots of electronic things with his drums, and that's something I really like. He's the kind of guy, you never need to tell him what to because in an instant he knows what the song needs in terms of the electronic drums or sampling that he wants to do – he knows exactly what to do! You just hand it to him and he plays it! [he laughs] exactly the way you want him to play! Besides that, he's a really nice guy, he loves to play and he likes to rehearse – I can't say enough good things about Pat, he's one of the nicest guys I know in the music business. So it was a pleasure, absolutely. Hopefully there will be some project that we can do together again.
PA: So what do you think of the prog scene right now in Sweden and the rest of the world?
RS: Well the prog scene in Sweden… I know that a lot of people outside of Sweden, in Europe and America we talk to people and they think that the Swedish progressive rock scene is fantastic because they see all the bands that they like, whatever it is – Anekdoten, Pain of Salvation, Opeth, Flower Kings, all the new bands… they think it's fantastic how a small country like Sweden can produce so much interesting progressive rock or melodic or psychedelic, prog metal things. Living here in Sweden you don't see it quite that way because it's all silenced. In the media it's silenced – they never play the records, the media… they kind of pretend that style of music or the band that exist, they just pretend that they
don't
exist [he laughs]. So I think a lot of the bands that you see coming from Sweden, we have to go outside of the borders to Europe or America to actually play the music live. Also in a way, sell the albums. The Flower Kings… a few other bands we're not selling much, but we're selling a little bit better today than we did a couple of years ago. But in general the Swedish market is very small, we're only 8 million people living here so you can imagine… if you go to Holland it's different and if you go to Germany or to the USA it's different.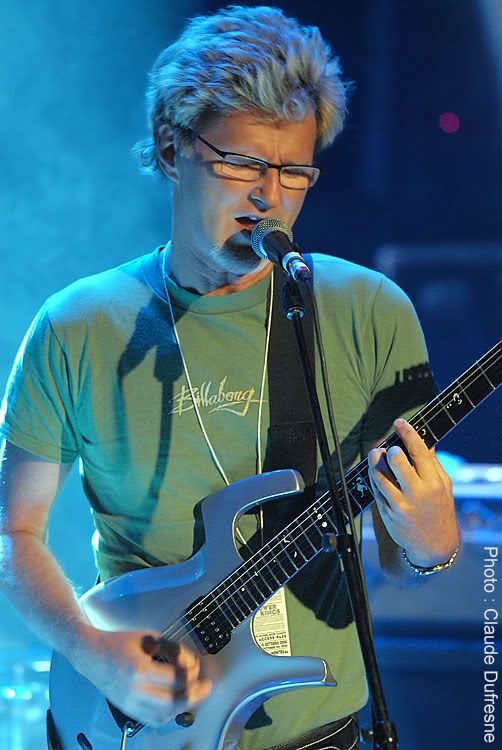 As far as the progressive rock scene on an international level I would say that, from what I can understand, there are more bands playing recording and producing things today than it was in the 70s. You probably have more variation in style, there's a bit of metal leaning and a little bit of psychedelic and you have bands like – I mean, the more successful ones like Mars Volta or Sigur Ros, from Iceland – many, many different styles of progressive rock. The more traditional… the bands that sort of resemble the 4 or 5 major bands from the 70s – leaning more towards Genesis, Crimson or ELP, Yes – you have many many bands, all over the world, if you go to Japan you can find hundreds of bands, you can find it in Europe and in the United States and in South America, in each ever country and each and every city there's bands playing that style and they produce their own albums. Some of them get a record deal, and some of them just keep selling them through the internet or if they can't sell it they just put it up on the internet for free download or on their MySpace sites or whatever – just to make music.
So my feeling is that it's by far many, many more bands playing this kind of music today than it was 25 or 30 years ago when I started, you know. It was at that point you either got a record deal or you didn't, you know. You weren't clever enough, you were too obscure, whatever. [He laughs] You couldn't get a record deal. So I think the bands that we saw playing and producing albums – there weren't as many as today. I can't say if it's a good thing or a bad thing. Probably in a way, the fact that there are more bands can confuse the audience. And for musicians like ourselves we're trying to survive playing the music and making a living out of it, it's of course more competition. So suddenly instead of competing with, like 40, 45 bands you're competing with 450 bands! They buyer, the people who buy tickets and records, they have to go through the internet to find out all the new bands and Flower Kings is just one of them.
It's hard work! It's very heavy competition, I feel.
-----------------------------------------------------------------------------------------------------------------------------------------------
Coming in Pt 2.
Roine's thoughts on the Retro Prog label
Answers to the infinite Transatlantic questions
Plans for a new album
...and more...
As always, thanks to Roine for the interview, and InsideOut for setting it up.
and this time special gratitude is due to Scott (Rushfan4) for his help finding info from the depths of the internet.


Edited by King By-Tor - September 12 2008 at 15:29