If there's one bass player who knows how to keep busy, it's The Flower King's Jonas Reingold. He takes a quick break with us from his busy schedule of producing and performing to share his thoughts with us about the new album from his solo band,
Karmakanic.
So Who exactly Is The Boss In The Factory? Reingold explains it away.
-----------------------------------------------------------------------------------------------------------------------------------------------------
ProgArchives: How did you find time to do this record with everything else that you have on the go?
Jonas Reingold: You know, I'm a full time musician, so this is the only thing I do. I probably work 60-70 hours a week, because I'm not considering this as my job, I'm just living my life! I'm privileged. So this is what I do, and if you add up 60-70 hours a week you can… and if you have vision while you're working – you'll be able to do a lot of things, I think.
PA: When you were recording this album, was it during the sessions with your other bands like The Flower Kings and The Tangent, or did you have it aside for when you were finished everything else?
JR: Actually Karmakanic has always been my side-project. I run a studio here in my home town, and I'm playing with Tangent and The Flower Kings, so I'm doing about 10 records a year, I'm always involved in production and writing songs for other people. So Karmakanic is my "off-time thing", my off-time project that I do when I'm not busy in my studio or with the Tangent or The Flower Kings – when I have a hole in my schedule for, like 2 weeks then I put it to writing songs for Karmakanic or recording it or whatever. So that's also why it took such a long time! I think I started writing this one in 2005.
PA: For the new album, would you consider this to be more of an upbeat, positive album, or a negative one? There's a lot of different tones on the album
JR: Yeah! You know… I think it's like life in general - there's positive, sunny things in life and there's also negative things and I think the record reflects that. Because there can be a day when I feel uplifted and positive and I might write a song like Send A Message From The Heart. Or as you probably heard, my parents died just before Christmas, and a song like Eternally will be a natural result of that. It depends on my own mood, and if I see something on television that upsets me then I might write something. The song, Who's The Boss In The Factory, that was an idea I got when I was watching television, because it was a famous trial in the United States, in California, like 10 years ago, it was a black guy who committed a murder… not OJ Simspon, but they sentenced him to death – but he was in prison for 10 years before his death and then he was executed and he asked the governor to pardon here, but the governor rejected him – but he was rehabilitated during his time in prison and was a total different person. So he asked if he could simply stay in prison for life instead of being put to death, and the governor could pardon him, but he didn't. Just by signing a paper… and that's the idea behind "Who's The Boss In The Factory", the boss is actually just the guy with the pen that can decide who's going to live or not.
So I'm like a mirror to the rest of the world, I try to reflect on things that I see. Of course, Let In Hollywood was a story about a band going over to Los Angelis, the only problem is that the band is playing progressive rock, and all the songs go in 7/8, so they cannot get a deal because they have a guy saying to them, "Look, I need '4 on the floor'" and stuff like that. So I'm trying to mix up different subjects that I feel for, or that I feel is urgent.
PA: So was there anything that you wanted to do particularly differently from the other 2 Karmakanic albums, or your other projects?
JR: I don't know. I think it's a new occasion every time you record something, and I'm 5 years older than last time, or 6 or whatever. I'm learning every day and I'm trying to develop and write better songs, and it's a thing about who I am, right now. Hopefully the next record will also be like that. It's always different, and my ambition is just to make a good cd, and write good songs. Make something that people care about, and something that's meaningful, and has soul. That's what I'm trying to do every time. So there's no difference there, even though the record might end up sounding differently. The basic engine is to write a good song.
PA: For "Send A Message From The Heart", was that intentionally going to be the big epic, 20-minute song, or did it just turn out that way?
JR: No, I started with the first verse. Just the first verse where my son is singing in Swedish, but where Goran is singing the first part, that was the starting point of the song and it was the main theme – the first vocal line. And that was it, it was just two minutes. But I thought, "well, this has a nice theme, maybe I should do an intro" and the intro got quite long, so all of a sudden I ended up with 20 minutes! It was not intentional. But I'm trying to write in a way so that I'm not using too many melodic themes throughout the song, maybe restrict myself to just using 2 or 3. But I'm working with the themes to put them in different chords, sometimes in major, sometimes in minor – they could be in different time signatures, but I'm trying to work with just the few themes, because I think many progressive bands try to merge many sections together and to me that's not a good solution as to how to write something. I think it should progress! I think the genre should be taken literally, the songs should progress from something to something else. Not changing the mood. It's like talking, if you're talking about the subject, like if you're talking to your wife like, "yeah we're going to holiday next week and we're going an island outside Sweden," and then all of a sudden you start to talk about Car Engines… it would sound silly if you're changing the subject. I think that's the same with music, you have to have one idea running through the song, even if it's 20 minutes.
That's how it unfolds for the listener. If you listen to the cd, like, 20 times, it should be like, "yeah! Yeah! I love the melody in the bass, okay, but now it's in half time! Alright, the piano is playing the first theme, in this second section," so hopefully it progresses for the listener, even if it might be blurry the first time you listen to it and you think, "oh f**k, there's a lot of information here!" But you give it time… and that's my philosophy.
PA: [laughs] alright! So you also had a lot of guests on this album, people from your other projects, was it hard to pull in favors with these guys?
JR: No, because I know all these guys, and they're my friends, so I just pick up the phone and ask them if they want to be on the record. Sometimes they want money and sometimes they don't, but the reason that I ask the guests on is because I'm looking for a particular sound. And that's the only reason. Sometimes I want an accordion, for example, so I have to go out and find an accordion player. Or say I want a saxophone, because I know Theo Travis it's easy for me to pick up my phone or send him the files. So that's why… because I'm lazy [laughs], and it's better to call someone to do it.
PA: So was the album written by you 100%, or was there a lot of collaborations?
JR: Actually, Lalle Larson, the keyboard player, wrote the first section of Eternally, the first two minutes. It was just him goofing around in the studio because I asked him, "hey, can you do an intro for Eternally, just improvise," and he sat down for a couple of hours and I recorded him the whole time, then I picked the part of the song that I thought was suitable for the intro. So he wrote that, of course, but also my wife, my wife and I write a lot of the lyrics together – she's quite a good lyricist. But other than that, yeah, it was just me.
PA: And who did the cover art for the album?
JR: A German guy called Thomas Ewerhard, he's made a lot of covers for InsideOut… and he's a good guy and I think he did a good job on this one, he really captured my idea for it. I wanted this guy and this factory, this boss in the factory. And of course he runs the show, but he doesn't do very good because he doesn't have any customers – as you can see – the production is like zero. So I think it's a nice, funny cover art and when you see it in the record store you will hopefully have to pick it up. So you can look at it, and that was the goal.
PA: Do you think you're going to be taking Karmakanic on tour with this album?
JR: Hopefully! We have a couple proposals from festivals and stuff like that, so we'll have to see what the future has to bring – but I'm 40 years old and I've been playing all my life, I've done like, 3500 shows so far, so it wouldn't really be good for me to do a small club tour and play for 50 people because I'd only be loosing money and it wouldn't really have a purpose. But if the record will sell or if, for example, Yes asked us to support them on their 40th anniversary tour, of course I would say yes! But just to go out and play gigs is probably out of the question since it is like it is. But of course, if we sell a lot of records and it's the public demand, then of course we will go out and play. We'll have to wait and see.
PA: Going back a little bit further now, what originally inspired you to pick up the bass guitar all those years ago?
JR: I started out when I was 8 years old with music I played the violin and for a couple years I played in the symphony orchestras and stuff like that. Then I got a guitar as a Christmas present when I was 12, and I was big fan of Kiss and Iron Maiden and stuff like that when I was a kid, and Rush, and that more harder stuff. But I played guitar for many years and had bands when I was a kid. But then I discovered Jaco Pastorius, and it was during a time when I subbed for a guy in the band, and he played the bass guitar, so my friend asked me if I wanted to sub for their bass player, so I did that for the summer and I was offered a job to play with the band. So I played with them for a year, because they had a lot of gigs and it was a good thing. That was about the time I discovered Jaco Pastorius, and I started to practice on the bass – and he really opened the door. I merrily walked in after that! So he was my god when I was 16 or 17 years old and I heard Bright Size Life with Pat Metheny. I don't know if you've heard it, but it's a really great album, and after that I checked out all the Weather Report albums. That's the reason I started to practice and play bass.
PA: Are there any instruments you'd want to play other than the bass?
JR: I play other instruments like the piano. I have a masters degree in music, so I play the piano and I play a little bit of guitar, and I can play some violin. I think I'm covered… but I would like to be able to play drums better. I would like to be able to record my own drums in my studio, but I can't because I suck.
PA: One thing I'm interested in is the tag that seems to follow you throughout your projects, what do you think of the "retro" tag?
JR: We are retro. We're dinosaurs, I was born in the 60s! [laughs] But that's the music I grew up to, in the 70s I would always listen to music like… the first time I bought an LP was in 1976 or something… at the end of progressive era, but I bought stuff like Kiss and Uriah Heep and Deep Purple all those bands. That was my generation's music! That's the music I know and that's the music I like, so that's just the natural thing to continue on that path, although I'm open to new ideas, I love a lot of new bands like Porcupine Tree, they are brilliant. But I think the stuff I'm best at is playing music from the 70s, that's what I know best.
PA: And what do you think of the music scene in Sweden right now? It seems very fertile.
JR: Yeah, I think that the average climate for music is very good! Not that they're all getting gigs everywhere, I kind of think the gig scene is pretty low everywhere… but we're the third biggest exporter of music in the world, and I think that's pretty good considering our population. I believe that United States is number one and then England is 2 and then we're number 3, so it's a big success internationally, and we love that. There was a time in the late 90s where we really dominated on the Billboard list with guys like Max Martin and those guys who wrote songs for Backstreet Boys and Britney Spears and Celine Dion, and I think there was a specific week when Max Martin had number 1, 2, 3,4 and 5 on the charts and that's only happened once before with the Beatles in '64 or '65 or something. I think it's because of that and I think it's because the parents can read that people are actually making money from music and it's considered a good business here in Sweden. If you sell a million records you will make a good amount of money, so, they're encouraging kids to play and we have a good education system here in Sweden where the parents can put their kids into a music school. I went to that school and they just had to pay a very, very low fee to have your kid in a musical school – I think it's like fifty bucks a year or something – plus you can rent an instrument for fifty bucks more. Its nothing! So it's a good system where anyone can start to play, and we have rehearsal rooms and studios where people can go and practice and form bands, and we have programs to try and keep the kids off the streets, just focusing on good, positive things like music or art. So we're harvesting the benefits of what we started, like, 25 years ago - right now. There's a lot of bands playing and of course Abba opened the door in the 70s. There's a lot of reasons, but it's because we had things in place to do that, we had programs to keep them out of the streets and to stay productive.
PA: You've done a lot of collaborations during projects, is there anyone you'd really want to work with if you had the chance?
JR: Yeah… many people! I would like to do recording with Joni Mitchell who is my living hero, and I would love to do a project with Paul McCartney or Peter Gabriel or a dual bass project with Chris Squire. Or play with the symphony orchestra with my fretless bass, and maybe play traditional folk songs arranged for the orchestra. Yeah, thousands of things… the list is endless.
PA: And do you have any producing gigs lined up in the near future?
JR: Yeah, I've got two right now, I'm actually sitting in the studio talking to you, I'm on my break. We have an extra keyboard player in The Flower Kings, and his band is doing their third cd which I'm producing and mixing right now. It has to be ready on Thursday next week, and I'm also doing another cd that's due out next year, the deadline for that is on Sunday. So I'm really, really busy in my studio. Of course I'm still writing songs, I actually got a double platinum album quite recently for a song I wrote for a popular band here in Sweden. I also got 2 gold albums last year… no, no, this year – from that same band. So I'm doing stuff all the time. I have to keep my head above water, you know… and a double platinum award helps [laughs]. But I don't get anything from the prog world, I think I will buy the whole world something if Karmakanic goes double platinum – that would be something.
PA: So, what's next for you then, coming up in 2009?
JR: Me and Roine are working on a fusion project, some instrumental songs that we will hopefully record come December. We'll do a couple of gigs with the Flower Kings, and I have a lot of projects waiting in the pipeline – I'll put bass on Tomas Bodin's new album, and I'll be producing a band in January as well, a really talented jam band. So I work all the time. I never wake up and think, "oh, what shall I do today?" And I have 2 kids as well… 4 and 6 years old, they keep me busy.
PA: So do youhave any advice for aspiring musicians who may be reading this?
JR: Yeah, you know… be open and follow your heart. Try to visualize how you want to sound in 2 to 3 years from now and try to work in that direction. If you have a vision that you want to play with a lot of chops and technical stuff then you should probably practice a lot of technique, if you want to play something very symphonic then you should work on your tone. But always keep your strategy and practice hard, and follow your path! Don't listen to what other people say and don't follow the trends, listen to your heart. And try to have fun while you're doing it! It's not the goal that's important, it's the journey that counts. How you get there is important.
PA: And my last question, what was the last cd you listened to?
JR: Ooooh, a cd I didn't do myself, probably [laughs]. I think I listened to Rascal Flats new cd, actually. The country band… because the band I'm mixing right now has a country flavor, so that was the last cd I listened to. But it was mostly from a professional point of view, I wanted to check out the sound and see how it sounds.
-----------------------------------------------------------------------------------------------------------------------------------------------------
Karmakanic's new album, Who's The Boss In The Factory hits stores on Novermber 18th - make sure you check it out.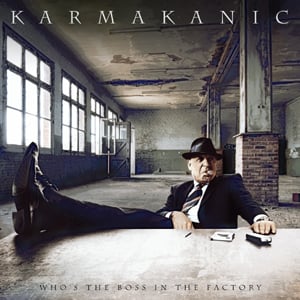 Thanks again to Jonas for taking the time to do this interview, as well as insideOut for arranging the interview.