Hailing from Brazil, this 3 piece band started in the mid-80s, but have only really had any luck recently in the progressive music scene, releasing their first album back in 2008. In this ProgArchives exclusive I had the chance to sit down and talk with all 3 members thanks to the miracle of the internet - about their career, their debut album, rumors of a sophomore, and many other things.
They are existent now and may very well exist forever, Dialeto:
-------------------------------------------------------------------------------------------------------------------------------------------------
ProgArchives – You guys have been around for quite some time. Would you like to give us a quite bio of the band to this point?
Nelson Coelho – Okay, well…
Miguel Angel– The first time we got together was in '85 or '86. Nelson was playing in another band and he somehow met Andres in a McDonalds while buying lunch
PA – [laughs]
M – At the time he was looking for a drummer and a bass player, because he was looking to make a new band, get out of his old band. So he said, "yeah! Let's do this, let's get together" and I think the first time we did was in '86, maybe.
N – '85, it was '85.
M – So we played Nelson's music to start and from there we started writing out own material and playing together.
N – At the time the band's name was Sotaque, which you can translate as "Accent", from there we changed to Dilect, which you can translate into "Dialect", and that was pretty much the same idea… more or less. But we had a singer at this time, with this band. So we ran this band for about two years, from '85 to '87 and then the singer left and we rebuilt our music then and renamed ourselves Dialeto.
M – We have an interesting point in that mid 87 when the singer quit… just before she quit we had a synth guitar… a Roland synthesizer guitar, and we made some very strange music with it. At the time it was very strange
N – It really was a synthesizer… but it was this Roland with this crazy design.
M – Yeah, the Synth guitar GR-700. We had some music with this thing and we let it go and did some more traditional songs with music and lyrics.
Andrei Ivanovic – In about '91 we recorded our first record…
M – down at the farm!
N – and we released it in '91… it was the same songs as the one on this new release, but we lost some tapes with the overdubs, so those had to be rerecorded for this album. So basically, this is a new version of the same album!
M – At the time we recorded… in the 90s… on this 4-track Tascam machine – I don't know, maybe you're too young to have seen this.
PA – [laughs] yeah, probably
M – [laughs] It was awesome at the time! We had this 4-track machine and a cassette, and so we went to a farm to record basic tracks with stereo drums and a guitars and bass. Then we took it to a 16-track studio to do the rest, like the vocals and the backups and the violins. So this material has gone, and we've saved the 4-track tapes from that time and last year we had record everything but those 4 tracks. Violins, vocals, everything. And this time we did everything digital.
N – But the bass is also the same, with the same energy. And we recorded it live! With us three playing together.
A – At the time it was released in LP, vinyl!
N – ah yes, the LP [laughs]
PA: And then after that you guys disappeared for about 15 years, what was the motivation to get back together and rerecord everything?
N – Well, in fact it was by luck! A friend of ours had scheduled a gig and he told me, "Hey! I scheduled a gig for you!" and we thought, "Oh great! Let's do it!" it was funny.
M – He kind of forced us to reunite, because he had some dates at the venue and he said, "oh, I've got you to play on these dates, is that okay?" and we said "yeah!", so we started rehearsing again. The same guy has the master tapes from the 90s and we started talking… We have everyone together and now we have all this digital stuff, so everyone can record in very small studios so we all thought, "yeah, yeah! Okay!" Right now all of our lives are very different, some of us are married, others have work family… and then we started to have some conformity, we had normal lives again after raising kids and stuff, so we tried to return and our friend gave us this push by scheduling this show and now we're here talking to you.
N – Yeah, in fact the band never…
A – Broke up
N – yeah! I mean, really… we just stopped rehearsing! [laughs]
A – for the lack of time… and in those years it was very difficult for our kind of music, there was not many gigs.
PA – I was going to ask if it's still hard to find gigs to play for your kind of music.
N – Oh yeah.
M – even here and now we have some contests and some … how do you call it "look-out for new bands". But it's never the kind of stuff that we play, it's always this sort of rock/pop stuff… maybe some indie, maybe some new punk, but never progressive. I've never seen a progressive show.
N – Even the progressive scene here is much orientated towards Symphonic Prog. Which is not our case.
PA – Oh yeah, I know… [laughs]
All - [laughs]
A – So we don't fit in the hard or heavy scene, nor in the progressive scene, we don't have really a place to stick in. So we try to play for everyone
M – Sometimes we play for the margin who wants to play metal, and sometimes we okay for the margin who wants to hear symphonic keyboards… and uh… we don't have keyboards [laughs]. Kind of strange, but that's how we do it.
N – Yeah, it's strange for a prog band, not having any keyboard.
PA – Behind all your music you have this eastern sound, which is one of the driving forces. Where does this come from?
N – Well, this came from research that I did with a friend years ago. We listened to a collection of folk music from the east, songs from Afghanistan and India and many places in this area. It was really just for research – to know – to hear what the music sounded like… and then we developed from there! It was a really great experience to know this kind of music.
M –but you have to know that at this time, during the 80s, 90s… places like Afghanistan were… "What the hell is that!?" I've never heard that before. So when we started doing shows and started playing Afghanistan scales people thought "what!? What is this!?". And of course today it's not that strange.
N – You get news form Afghanistan everyday/
All – [Laugh]
M – At this time no one knew what it was about.
N – and we have this song, "Existence" which is based on a theme from Afghanistan and Paskistan. A theme, a traditional theme that you find even in Pakistan that's very similar between the two countries because they have no boundaries, no frontiers. So we adapted this into our music.
PA – I was going to ask about that song, I'm really fascinated by the lyrics, could you tell us about them?
N – Well! The lyrics tell about the idea of existing forever… matter and energy. It's based on a physicist's idea that the sum of matter and energy is always the same. We're made of this matter and energy and you can imagine that in the big bang all of this matter and energy was still there, concentrated. The things that we are made of were there, so we're there… so we are now existing and we will exist forever, because the matter and the energy that we are made of will never stop existing. That is the idea. Even after we die, all the energy and matter that form us will get another form and integrate in the big scheme of things and become new again.
PA – that's some… freaky stuff…
All – [laugh]
PA – So you gave us some info on the band and the background, where in particular does the name Dialeto come from?
N – Well, it's based on the idea of having our own language, having our own dialect. The idea behind that is that we've made some music that is very particular. Like a language, which has an origin in some place, it's like a dialect.
M – In Brazil we have several kinds of way of speaking Portuguese, and sometimes it's so different that a guy from the north can't understand a guy from the south, because of the dialect, even though it's still Portuguese! There's so many different words and so many ways of speaking that everyone has their unique way of speaking. So we try to expand musically, and try to work our music into a dialect.
N – In the language of music, we are a dialect.
PA – I was also wondering why you guys decided to record all your vocals in English. There's still a version of "Animal" sung in Portuguese on the album. Was this to appeal to a wider audience or was there some other reason?
N – Well we have some songs in Portuguese, and that's how we started singing. But we expanded our lyrics into English because, well… it sounds cool!
A – English sounds better.
N – English sounds better!
M – We still have a very strange way of behaving for the lyrics because we're very English orientated music listeners. After listening to so much English music it's very strange to hear lyrics sung in Portuguese, for us. It may sound strange, but we don't feel comfortable working in Portuguese, even though we've heard, "yeah! We like the Portuguese, it's very nice, you should record it." For ourselves, English sounds better… maybe it's because we can't really understand it that well when he's singing it so we're not bothered with "what the hell does it mean?". It's very… I dunno.
N – it becomes more abstract, so we can understand the music better.
A – Plus it is to reach a wider audience, because English is more worldwide, so there's that reason too.
N – But we do have some songs in Portuguese that are not translated… and on our new album there may be some songs in Portuguese.
A – Pure Portuguese.
PA – Actually, I was going to ask about that. Your new album… if there is an album in the works, a follow up to "Will Exist Forever", could you give us some information on that?
N – Yeah! We're very excited about it. We already have the songs, we're in the preproduction stage. It's going to be really… really interesting.
M – I feel that myself, as a drummer, that now I understand that less is more.
N – [laughs]
M – maybe it's because I can't do it, or maybe it's because it's better not doing it. But for me we're better now because we know what we want, and we know what to do to play it.
A – And we've grown more mature as musicians. Over the years of experience... So the sound is going to be different, but in the same style.
N – Yeah, I think there are some new songs that are more complex – if you like – more complicated and they're… well, they're cooler! I dunno! We like it a lot!
M – [laughs] yeah, we still like it, but the first impression that we got was that we had to do the show that our friend scheduled, and we didn't know what we were going to play. So we played the music from this CD and all the music that we used to play 15 years ago, and it sounded great! So we thought, "Wow, we're getting better! We're aging better!"
A – Like wine.
M – So we thought, "good!" Then we thought about rerecording the old stuff and the and now we're producing the new cd, a lot. Even though we're still used to working on LP, you know [laughs]. We're very digital now, the three of us all have computers and digital music. So just think about guys like us who used to record on 4 tracks, now having 50 or 60 tracks in the rehearsal room! It's something I never thought could be possible 20 years ago. We're comfortable doing preproduction and recording… how difficult can it be? How great will it sound?
N – yeah, from a composition point of view, we're more mature. It's really interesting – the new songs are great in my opinion! [laughs]
M – I like to say that we have a left-handed side of music, like someone trying to paint in the left hand. It's very powerful music, but it's not something that you can't just… you have to listen! It's very provocative.
N – it's not just something that you hear one time and think, "oh, I understand," no. You have to listen many times and then maybe it will evolve from there.
PA – I know that from the progressive community there's often a pressure to do the long song, a lot of people want the 20-minute mega-epic. Do you guys ever feel like going that way or do you just want to keep it like you've been doing, short and complex?
N – Well, it depends on the composition!
M – during the recording we try to use a very standard length of song. 3-minutes, 4-minutes, 5-minutes, and we think of that for quality. But for the live show a lot of stuff gets bigger because we have more solos,
A - more improvisations…
M – Yeah, more B-parts and C-parts, we just let it go during the show! If Nelson wants to get his solo as far as he can we just run with him and let him go! We don't have the same time notion for recording, we just let it go if it sounds good… if he's freaking out we just let him go!
A – Then we say, "okay, Migel can take on this part" and the song may get to be about 10 or 15-minutes long.
N – We like to improvise a lot, and we improvise together, so it's not just a solo thing. The three of us improvise and things come, music happens! But from a composition point of view we don't think much about length or what time we have. It doesn't matter. If the song sounds good with 2-minutes then that's okay! Great! I'm just remembering The Residents, they could do whatever they wanted in 2-minutes
PA – Yeah, and it would be the craziest 2-minutes you've ever heard
N – Exactly, so we don't try to think about compositions just based on how long it's going to be.
PA – So tell me about a Dialeto live show, what would that look like for those of us who haven't had the chance to see it.
N – Uuuuh
All – [laughs]
N – Well, we have a lot of improvising, because that's where the music really happens.
A – We play really loud too!
N – Yeah it gets really heavy sometimes.
M – But we don't have scenery, we don't have lights, nothing visual, special effects…
N – It's just about the music.
M – Yeah, we try not to worry about that, we just need to try and hear each other and get a nice sound.
N – I like to think that sometimes it's like an adventure because of the structure of the songs and the improvising thing – we create music in real time. Because of the melodies and improvising… it's some kind of adventure, so it is very intense! And music happens.
A – that's why every gig is different, it's never the same.
PA – So what does it look like when you guys finally get down to writing new songs what does it look like for Dialeto? Do you jam until something sounds good or do you cryptically sketch out note by note what you're going to do?
M – The main idea always comes from Nelson. It's his ideas that he brings to rehearsal, but from there we try to expand on it. The three of us, when we're heating up at the beginning of a rehearsal, a nice bass line or drum line is all it takes to get the music going. But most of the time Nelson comes in with a fresh idea and we take it from there.
A – Then we make an arrangement in real time.
N – yeah, then we get into the improvising. Sometimes I'll bring in some riffs that I know I want to use or sometimes I'll bring in something a little more complicated. We try to evolve from there.
PA – You guys each have a wide array of influences, can you tell me what was the main piece, the main key that made you want to get up and start playing music?
N – Well, I think we have influences of our own… each of us… and I think the band doesn't have one influence. Because we don't play cover music… We come together to create things. I think for myself the main influence is King Crimson and all the type of prog rock classics like ELP, Jethro Tull, Yes, Gentle Giant… and other stuff. But more strong influence from King Crimson, Jimi Hendrix and Led Zeppelin.
M – For me, as a drummer, I'm very common. I like Stuart Coplain, Neal Peart… I started hearing stuff like Blue Oyster Cult and I have some influences from some very mixed up stuff. I started working in the music industry as a sound engineer, so I had to start listening to everything. The main influences are still Neal Peart and Stuart Coplain – but you name it. As soon as I hear it, it becomes an influence. So everything from country music to King Crimson to Steve Vai and some crazy stuff from California like Mr. Bungle. Oh yeah! And Frank Zappa too!
N – Oh yes and Frank Zappa! I forgot [laughs]
M – For me the main influences are The Police, Rush and… everything else!
A –For me as a bass player I like all the great stuff like Black Sabbath, Crimson… and all these great classic rock bands. Also a lot of blues and rock bands. I also play some jazz, so there's a lot of stuff.
N – And Andrei also has a particular thing in this band because he plays a fretless bass.
A – Oh yeah, I think for this band, the fretless bass has a really unique sound,… and in that way I have a lot of other influences – like all the stuff from the late 70s, all that Jazz Fusion – Jeff Beck group and all that stuff.
PA – Alright, coming into the end of the interview now… Do you guys have any last thoughts for those reading this interview?
M – We just want to make music and for people to hear it. We just want to spread the music! Like spreading the word, only with music.
N – The thing about Dialeto is that we are very weird music. A lot of people have said that they've never heard anything like this before. This sometimes is bad and sometimes is very good. [laughs] we really don't know! But we like to experiment with new things… we're a very open minded band, open minded kind of guys. So what we like from the audience is for them to be very open minded as well. We're also very excited about our new album! We haven't found a label or distribution yet, but I think it will be very good.
PA = My obligatory final question – what was the last cd you listened to?
M – Well, I was listening to Porcupine Tree…
N – Yeah… I think we were all listening to it [laughs]
PA – Which album?
N – Deadwing! Very nice, very cool.
-------------------------------------------------------------------------------------------------------------------------------------------------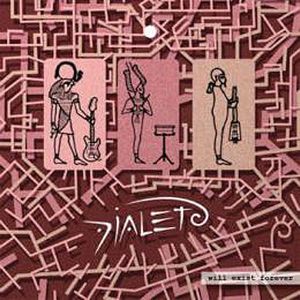 Dialeto's PA Page
Dialeto's Official Website
Dialeto's MySpace Page


Edited by King By-Tor - April 29 2009 at 10:21