We are very happy to announce that on Saturday, January 16th, British band DeeExpus received "Best New Band of 2009" at the Classic Rock Society's Band of the Year Awards!! This prestigious award summarizes the band's hard work on getting a recognition both by music fans and press in the past year.

Andy Ditchfield: "We are incredibly proud and honoured to have won //Best New Band// of 2009 at the Classic Rock Societies Band of the Year Awards and would really like to thank all who voted for us. We are made up :)
2009 has been our first full year as a band and what a baptism of fire it's been. We played our first ever gig on 24th Jan 2009 and in Feb were whisked off to shoot a DVD in Poland where we played with RPWL. We've played Cambridge Rock Festival with Manning and Tinyfish (and Asia, The Quireboys, Uriah Heep, Touchstone etc) Rotherham Rocks with Pendragon, toured with Touchstone and have been confirmed to play Rosfest 2010 in May. We've had review after review of "Half Way Home" and "Far From Home" all of which have been amazingly positive and sometimes positively amazing!! (…) See you ALL a bit later in the year!"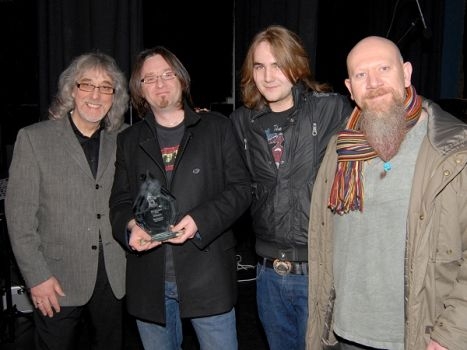 (left-right): Gordon Giltrap, Andy Ditchfield (guitars, vocals), Henry Rogers (drums), Ian Raine (bass guitar)
This talented band from Durham has so far released one studio album entitled "Half Way Home" but with their superb performance at the first edition of Prog Rock Festival at the Wyspianski Theatre in Katowice, Poland (released in mid 2009 on "Far From Home" DVD), they proved that they do have much to say on the prog rock scene. Currently, the band is writing and recording the follow up to their debut album. The new material entitled "King of Number 33" is scheduled for the release later this year.
DeeExpus first DVD "Far From Home" was released by Metal Mind Productions in July 2009 in 3 different formats: DVD, limited DVD+CD edition, including bonus audio CD with songs recorded during the gig at the theatre, and CD digipak. For full info please go to:
www.deeexpus.com
***
Metal Mind Productions - Promo Dept.
Katowice POLAND