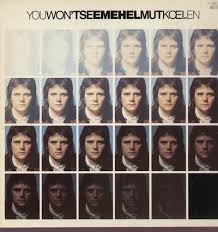 Band (Solo Artist)-Helmut Koellen

Album Information-You Won't See Me (Harvest/EMI) 1977

Rating-5 stars (70s Rock)

Prog Appeal-Strong

You Won't See Me is the debut solo album by the late Helmut Koellen, formerly a Guitar Player/Lead Vocalist for the German progressive rock band Triumvirat, and also previously a session musician/vocalist for German group Jail.
Mr. Koellen's solo album was released in October, 1977, in both Germany and South America, after his death earlier that year. The recording is the best example of Helmut's musical inclinations after having split from Triumvirat at the end of 1975.
You Won't See Me has some elements from Koellen's past, combined with a direction that was somewhat new to fans. It seems as if he still had a partial connection to progressive rock, with elements of that genre evident in the rock, jazz, folk, and almost funk influences the nine songs that make up this album have at times. Though, in the same breath, this recording is not as progressive or symphonic as his previous work in Triumvirat-the numbers here are shorter, and less elaborate, instrumentally. Listening to You Won't See Me is definitely a very refreshing, and ultimately rewarding experience, though. Helmut does all the lead vocals in his unique and very special way, a truly great voice he has, and a great pleasure to hear.
Lyrically, there is a lot going on here, from a story of a love affair gone wrong in It's Hard To Love You, to achieving something superhuman in I'll Walk On The River, to the spirit of brotherhood in Playin' This Song Together, a mutually enlightening conversation with an elderly woman on a plane in Listen Lady, to being ready to go out for the evening in Station, and the story of "living the high life" in The Story Of Life. The real "rocker" song here is Mainstreet, a song whose story is in it's title, and so catchy and infectious, well, it could have been a big Rock Anthem, for sure.
There is one cover song here, that of the Beatles song You Won't See Me, a fairly laid back approach, complete with strings added.
The female background vocals on this album, sometimes by Helmut's sister, Elke, are nice, as well. Instrumentally, all songs are indicative of some very tasteful playing, which unites with the vocal parts quite excellently, and voice and instrument are never at odds with each other, but always complimentary.
This solo album is a splendid, and overlooked one, at that. On hearing it over and over, I marvel at it's crafty intelligence, and general accessibility. And very indicative of Helmut Koellen's unique and very special musicality, which always came straight from his heart, a truly sincere and genuine artist.


Edited by presdoug - August 09 2014 at 17:16

poeghost wrote:

Love An Adventure by Pseudo Echo - 1987

This 1980s new wave synth pop group were from Melbourne, Australia. They consisted of Brian Canham - Lead and backing vocals, guitars; Pierre Gigliotti - Bass guitar, bass synth, backing vocals; James Leigh - Keyboards, bass synth, backing vocals; and Vince Leigh - Drums and backing vocals. This is an excellent album. All the songs are wonderful. Brian Canham had a deep to midrange smooth voice and the group had a surprisingly heavy rockin' guitar sound at times, yet had a smooth interesting synth sound. The album I'm reviewing is the U.S. version which includes the cover of "Funkytown", it was added to later releases and replaced the song "Don't Go". I remember seeing the video for "Funkytown" back in the 80s. I thought it was a lot of fun and it rocked! The original version was a disco/dance hit for Lipps Inc. in 1980. That was a fun song too. Pseudo Echo's music is available to listen to on Spotify. Though the album track listings are different there.

LP Record RCA 5730-1-RX
Cassette RCA 5730-4-RX

Track list - Side A:
A Beat For You
Living In A Dream
Try
Listening
I Will Be You

Track list - Side B:
Love An Adventure
Destination Unknown
Funkytown
Lonely Without You
Lies Are Nothing

Prog appeal: Light.

Rating: 5 stars!
GREAT ALBUM, long time favorite , 3 sublime tracks (Lonely without you, Love an Adventure, Living in a Dream)