There are some bands in this scene which is almost impossible to label. So we have come up with the label Eclectic Prog for bands like this. In the case of Minimum Vital, it covers almost everything. I am picking up traces of a very wide variety of influences on the four albums I have put my head into so far.  
In short, an album from Minimum Vital is a very interesting experience which demand some cranial activity from the listener. It therefore should not come as a major surprise that Minimum Vital comes from France. Neither should it come as a surprise that a man like myself who was raised by a curious fearsome cat decided to investigate this matter further by sending Minimum Vital some questions. These were answered by Thierry Payssan.
My questions are in bold and Thierry Payssan's answers are in italic bold blue
-------------

What are you up to these days, just some months after the release of your last album ?
Well, we are trying to give a new shape to the band, as we would like to play concerts again, wich is something we didn't do for a long time. We work now as a trio including Eric Rebeyrol on bass and saz (turquish guitar), Jean Luc on percussions and guitars, and myself on keyboard and percussions.
The last album "capitaines" has been made as a studio work. Now, we are pleased to work on something more "live" oriented.
I also work on a solo album, with many piano parts, and a special atmosphere ...
Over to that past and "this is your life" bit of the interview. When, where and by whom was Minimum Vital formed ? Why that name ?
As far as I can remember, we began having music lessons at 14 /15, and from the beginning my brother and I tried to write music together. That was during 1978 / 1979. Before that, we had a school friend pretending to be Elvis, and we wanted to form a teen age rock band with him. But in the beginning of 1978, we had discovered the music of YES with the "relayer" album, and after that, of course, nothing was going to be the same ! So, we kept on playing little rock songs with our friend, for our parents and family, and during the same time, Jean Luc and I began to think about something more adventurous.
We formed a duo called "Survival" (!) in the summer of 1980, but the only concerts we gave were in our bedroom ! The style was a mix between "classical" (in a very simple way), and some "ancient" (middle age) music. Jean Luc didn't play electric guitar at all at the time, only classical guitar. I learned piano with a very bad italian organ producing an awfull sound, but was happy with it.
The year after (81), we worked on musical ideas more "prog" oriented. Finaly, between 81 / 82, we recorded a demo with one of the first available 4 tracks cassette tape machine, in our parent's garage, with a drum player, under the name "Concept" (a bit intellectual, isn't it ?).

This drummer had a friend who played guitar, Eric Rebeyrol, and wanting to join. As Jean Luc was already the guitar player, Eric took the bass guitar, and always played it until today.

We met then a young and gifted drum player, Tony Fillon, who replaced the first one, and that was the first important step for us.  

Under that form, in 1984, we won a local rock competition, and had the oportunity to record in a "real" studio. That's how we made our first recording "envol triangles", wich appeared later on the 1992 CD.

The recording was made in 1985, and released as a cassette tape. We had to find a new name for the band, as "Concept" was already taken by a local band, so we choose "Minimum Vital", which means in French the last vital thing you need to survive (that's to say "music" for us !). Maybe it's bad sounding in English ... we thought about "maximum vital", but it was not chosen in the end !

So, we can say the beginning of Minimum Vital was the year 1985, with our first "official" recording.
How was Minimum Vital's formative years ? It took ten years from you started up to you released your first album, according to your biography. 

Actually, the real beginnings of the band was the released of the cassette, even if we gave some concerts under the name "Concept" during 1983 / 1984 ... Before that, we were learning music, outside school time. 

In the early days of the band, we were a little jazz oriented, as we thought the next step after the progressive wave of the 70's was jazz rock and what was called "european" rock (including MAGMA, ART ZOYD, etc.).

Today, I'm sure we were not strong enough to play such a music. The "envol" tape is poor in terms of recording technique, arrangements, and even performing, but I still like the music.  With a good playing and a good studio, it could have been a better album.
You signed on Musea and have been there throughout. How did you get in touch with them and how has the co-operation been so far ?
The tape went to the ears of Bernard & Francis, co founders of musea. They liked it a lot (I remember them calling it "symphonic jazz rock"), and they were on an ascending wave with their new label. So, they asked us if we were interested in making a LP, wich we were of course, as it was a dream coming true !
 
Thats' how we made "Les Saisons Marines", released in 1987 / 1988 I guess.
Since that time, we are friends, and musea has always been helping us when we have a project in mind. 
Please give us a presentation of Sarabandes from 1990. The lyrical themes, the recording, the music and the participants. 
It was a good period for the band, as we played and rehearsed a lot in those days, and we were on a very creative wave. Above all, we met at last a real sound engineer, Jean Paul Trombert. This guy taught us very important things about music, not only in terms of recording and mixing, but also in arrangements, playing, and so on. In France we miss what englishmen call "producer", and fortunatly, Jean Paul is not only a good engineer, but also a musician, and, finaly, a real "producer" ! He helped us a lot.
It was recorded with simple equipements, including a 12 tracks AKAI analog recorder, very well used by Jean Paul.
Christophe Godet was our new drummer since 1985. We knew each other well, so It's an album where we were all united, and found a style of our own. It was mainly recorded during summer 1989. Some keyboard sounds could seem to be a bit "dated" today, but it was the sign of the times, as the digital sound was the reference. But I also used analog keyboard like the Korg Sigma on it, and the overall sound keeps "warm" I think. It was our first CD, and the first album with a good producing. We all like this album in the band. It was also very well received in the "prog" community.
Please give us a presentation of Envol Triangles - Les Saisons Marines from 1992 which I guess is two demos put onto one CD by both yourself and Musea. 
Yes, those tapes can be called "demos", as they both fail in terms of producing and playing. It's a shame, because they contain good pieces of music, but not enough well expressed ... In 1992, the Compact Disc was selling well over the world, replacing LPs, and we had not finished the following album. So Musea was interested in releasing the older tapes, not to wait too long between "sarabandes" and the follow up ("la Source"). 
At the time, we had no idea about what exactly a "mastering" was, and unfortunatly, there were none for this project, and it's terrible ! With a good mastering, we could have get a much better result. I'm affraid it's too late, now ...
Please give us a presentation of La Source from 1993. The lyrical themes, the recording, the music and the participants.  
For this album, the personnel is the same than "Sarabandes", and we wanted to get to another step, a higher level. Unfortunatly, we all, including the sound engineer, fell in the trap of using too much technology in the studio : it was the MIDI SEQUENCE EMPIRE in 1992 (the ATARI computer was present in many studios) !  Listen to the album "Union" by YES, and you will know what I mean by that ! I personaly made the mistake of throwing away all my analog keyboards, and all the parts were made with a EMU Proteus sample sound module, wich is very poor.
Same error with the drums parts, made via a midi drum kit. Christophe, the drum player, did not agree with that, but Jean Luc and I let him no choice ... stupid guys we were !
Anyway, I still like the music. In spite of the problems about sound, it remains rich and original, and I hope there is in it the little "light" we were searching for ...
It's the first album where we try more vocal parts, but we are shy singers ! We had a little help in the studio at the end coming from a professional singer, Jaky Whitren, who apears in some tracks. I wish we could have worked more time with her. 
Please give us a presentation of Esprit D'Amor from 1997. The lyrical themes, the recording, the music and the participants.  
After "La Source", we were a little desapointed, because the result wasn't what we had hope. And we felt there was a special music coming through and wanting to take shape. So, we decided to give a new face to the band and find new musicians. 
We first met singer Sonia Nedelec, as the experience with Jaky gave us the idea of having a real singer in the band. And just after, Charly Berna became the new drummer. The both of them gave us wings ! The band get a new strenght and a fresher style thanks to them.
Sonia introduced to us Jean Baptiste Ferracci who made the male vocal parts. We were aware that our voices were not strong enough, and we wanted to have good vocal parts in the album, what he did.
At the time I had a leslie cab and a XB2 hammond organ, and the sound is very warm. Jean Luc has also a superb sound, using a Gibson Les Paul for the first time and a Marshall speaker. 
"Esprit d'Amor" is an album we like very much. We were trying to find a new kind of progressive rock, both fresh, happy, with rich arrangements and harmonies. 
We where happy to write and play a "danceable" form of music, not in the commercial sense of the word, but in terms of joy, and also a certain kind of spirituality.
Please give us a presentation of Atlas from 2004. The lyrical themes, the recording, the music and the participants.
"Atlas" is the "Esprit d'Amor" follower. Some says it's not as interesting, and even poor. My opinion is that it is true this album does not bring new things, but the music is still well written and arranged, and contains its own part of light. The problem is that the album was made several years after "Esprit", and after the VITAL DUO experience. 
So there is maybe a lack of coherence in time with it. It should have been made before, actually.
Charly Berna had left us for professional reasons, and was replaced by Didier Ottaviani, also a very good drummer. But when the album was released, the band was spliting actually. After "Esprit ...", we felt we had to search in other musical directions, but without knowing which path to take. So the writting of "Atlas" has begun with the idea that it would not reflect in the end the future of the band.
The other important thing about this album is that it was the first time we produced an album by ourselves, with our own equipement. I worked a lot on recording and mixing, and was proud to reach this level, as the album is well mixed in my opinion. 
Please give us a presentation of Capitaines from 2009. The lyrical themes, the recording, the music and the participants. 
" Capitaines" comes after a long time spent with the VITAL DUO experience. When we began to work on it, MINIMUM VITAL was not a live band anymore, but we wanted to give a new life to it. We thought we could try to write and record a new album as a trio, without any drummer. After all, it had worked with VITAL DUO, so why not as a trio ?
At the end, I think the result is fine, and this formula gives something new to the music. We also tried to bring "ethnic" sounds, with the oud (arab lute) and the saz (turkish guitar).
As there was free space left by the absence of drums, Eric was able to expand his bass parts, wich he likes a lot ! He has got several bass guitars now, and could try different sounds and settings.
We asked Sonia to help us on the vocal front on some tracks, but the album was mainly conceived as a trio.
How would you describe the musical journey from Sarabandes to Capitaines ?
Well, I hope there's an evolution, but I also like the fact that there is something common in all our albums. I like artists to have a universe of their own. But we also need to evolve, it's like being an explorer ... I would say that "Capitaines" contains many of our stylistic elements, and also contains the experience of VITAL DUO.  
There has been some long gaps between the albums. What happened in these gaps ?
There always have been long gabs between albums, as music is not our job, except for Sonia, Jean Baptiste, Charly and Didier ... who are not permanent members.
We also had childs during all this time, and family lives are often difficult to reconcile with musical activity.
Your live album Au Cercle de Pierre from 1998 is a bit of a favourite in my house. Please tell us more about this live album. 
Thanks ! Actually, the CD is not exactly what we had in mind as it was supposed to be a double album. The aim of this evening concert was to present a big retrospective of the band, including new and old stuff, and also solo parts in the beginning of the show : classical guitar solo, piano solo, then a trio with piano, guitar and Sonia on vocals, and finally the complete band. 
We rented huge light and sound equipement for the evening, with speakers all over the people, thanks to our sound engineer Bertrand Amable who was very involved in this project !
Unfortunately, it was not filmed (except rehearsals that came on the CD bonus as little clips), but all was recorded. The problem is that we had no time enough with Bertrand to mix all those things (and all was not perfect too, to be honest !), and we thought with Musea that a double album would be too expensive to make.
I don't know what happened to the remaining tapes, maybe Bertrand has still them somewhere. 
However, we are pleased with the album in this form, it gives a good idea of the band.
You have released some cassettes and have contributed on some compilation albums. Is there any gems there you would recommend to us ?
Actually, the only official cassette was the first edition of "Envol Triangles". We had some tracks on compilation like : "Enchantement" (track "Oxis Oponem") - 1987, and more recently two tributes to Christian Vander (MAGMA) : "Hamtaï !" (track "La Dawotzin" as VITAL DUO) - 2007, and "Hur !" (track "Udü Wudü", as MINIMUM VITAL) – 2009.
Those two last compils are very interesting, including many talented bands with a personal cover of MAGMA music.  
There is also a long track (20') of MINIMUM VITAL ("Etranger en sa demeure") in the musea / colossus compil "Odyssey - the greatest tale", released in 2006. 
Your band is impossible to describe in a narrow context. Your music have everything from Genesis to Magma, including some long detours into Gentle Giant, Caravan, Soft Machine and Yes.... just to mention a few. How would you describe your music and who are your main influences ?  
Obviously, we are child of the progressive family. We arrived too late, as we were born in 1964, but we always felt close to the 70's bands, with humility, of course.
I never felt something really strong coming from the wave called "neo prog" in the 80's, I'm sorry to say that, with bands like Marillion, or even IQ. Of course, I know those musicians are very talented, but their music is not my cup of tea. There's a lack of interresting harmony, something immature, to my ears, as a simple listener ...
For example, I often found that many "prog" bands use too many "prog" clichés in their music. On the contrary, we have a great respect for MAGMA, and what was called "eurock" at the end of the 70's (ART ZOYD, UNIVERS ZERO).
I have many records at home, including early, classical, contemporary musics, and of course all the masterpieces of the 70's rock and prog bands.
We also love all kind of traditional music (especially from Brittany). May be all this could be find in our music ...
The art-work on your albums is absolute excellent. Please tell us more about them.  
This is due to our friend Philippe Poirier, who we met at school. He and his wife Claire Guiral are talented graphic designers. Philippe is responsible for our art work albums since "Sarabandes". He has also a huge musical culture, and his discotheque is impressive !
Please tell us more about the gigs and festivals you have played.  
There were some important events outside France for us. The most important is may be the ProgFest 94 in LA, october. What a remembering ! It was the first time we played in a foreign country, not to say that it was like being a part of the "american dream" ! The 10 days spent there were wonderfull. The audience was very responsive and kind, and we also travelled a few to discover California by road. A magic time. 1994 and 1995 were very good years for the band.
The other important scene was Rio in Brazil, by 1996. Beautifull place, and a very big scene ! The audience was lovely. Especially during a second show in a little town called Macae : very nice people !
We also had a great time in Mexicalli, Mexico, with MINIMUM VITAL in 1998, and then VITAL DUO in 2001.
I have good memories of concerts in Holland, Poland, Spain, and Belgium.
You also have a side project called Vital Duo. An album was released in 2001 called Ex Tempore and a split DVD with Minimum Vital was released the year after. Please tell us more about Vital Duo, the CD and the DVD.  

This project was a necessity for us. It gave us the opportunity to plug ourselves into our "medieval" roots. It was a magic experience to be only the two of us on stage, as we learned a lot about listening to each others, having a good control of sound and dynamic. 
"Ex Tempore" is a very special album, the overall atmosphere is unusual, due to the mood and sounds (acoustic guitars and percussions, pipe organ sounds, and so on). 
By 2003, we had enough material to make a second CD by VITAL DUO, but we preferred show the "live" aspect of the duo which was the most important for us. So, we decided to make a DVD, with the help of our friend Gilles Pialat. 
Even if the video was recorded without an audience, for technical reasons, the music is live recorded.
Today I think the VITAL DUO formula has came to en end, but it's true it have been a great and necessary experience for us. 
I guess Minimum Vital is not your main occupation which brings food on the table and pays the bills. What else are you up to ? 
Well, Jean Luc is a librarian, Eric does computer maintenance in a college, and I'm an architec collaborator ... The other people who contributed to the band are professional musicians, except for Christophe Godet (drummer), who is an anesthetist.
What is the plans for Minimum Vital this year and in the future ? 
We are willing to record some videos for youtube, with the new formula of MINIMUM VITAL, next month. After that, we will keep on working on new music to fix a set list to play live. I wish we will be able to play more on stage in the future, as it's important to give life to music on stage, and not only with studio works.
There will be a new album, on which we will begin to work when the music is well played live. So, in a different manner than with "Capitaines", which was built in the studio.
Please name your all time favourite five albums.  
Hard to say, because there are so many ! I would say the ones which opened our ears at some point : "Relayer" by YES, "Trespass" by GENESIS, "Retrospective 1&2" by MAGMA, "Climage" by Philippe CAUVIN, and "Ballo Del Ingrate" (Claudio Monterverdi), by William Christie & "Les arts florissants" ...
Anything you want to add to this interview ?
Hope you will forgive me to be too talkative !  
You are forgiven ! Reading your answers was a sheer pleasure, Thierry Payssan.  
Minimum Vital's PA profile is here and their website is here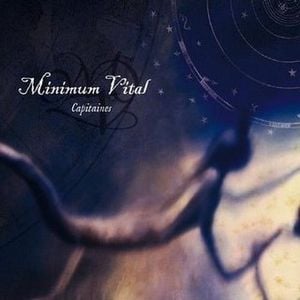 Edited by toroddfuglesteg - October 27 2010 at 05:34