Malibran is one of the new Italian prog rock bands who has continued the great RPI tradition. Their 2009 album Trasparenze won them many new friends. But not much is known about Malibran. I contacted Giuseppe Scaravilli for an update and the full Malibran story.
As usual, my questions is in bold and Giuseppe's answers are in bold red italic.
Let's start with the beginning. Malibran were formed in Catania, Sicily in 1987, but by whom ?
Yes, the band were formed in Sicily in the summer of 1987.  In the early days the line up was:
Jerry Litrico on guitar, Roberto Anile on drums, Angelo Messina on bass, Massimo Greco on vocals, Giancarlo Cutuli on sax & flute, Benny Torrisi on keyboards and myself on vocals and guitar. Then ( October 1988 ) my brother Alessio Scaravilli ( drums ) joined the band, and, without Massimo and Roberto the classic 6 piece line up recorded 4 studio albums: THE WOOD OF TALES, LE PORTE DEL SILENZIO, LA CITTA' SUL LAGO and OLTRE L'IGNOTO. The last concert with this 6 piece classic Malibran line up ( Jerry, Angelo, Benny, Giancarlo, Alessio and myself ) was in February 2001 in Belpasso, Sicily.
From January 2002 the band re-started without Giancarlo and Benny: Jerry on guitar, Angelo on bass, Alessio on drums and myself on vocals, guitar and flute: four original pieces without new members.
What does the name means ?

Maria Malibran was a great soprano singer during 1800…
How was it to grow up in Sicily and how is it to live there now ? Several blockbusting Hollywood films from the 1970s has perhaps given us the wrong impression of this island and it's culture. 
 Sicily is a wonderful Island kissed by the sun for many months in the year...There is is very warm, friendly and spontaneous people. The sea is great. My house is on the Etna volcano: I' ve the mountain and the snow on one side, the sea and the beach on the other side. Many bands played in Catania. Every night is saturday night, in Catania, with many pubs, live music and happy young people all around. The Hollywood films tells about Mafia. The Mafia unfortunately is a real problem, here, but is only a little part of Sicily. Also, many people go out to find some work opportunity: it's another problem, and it's very sad…
 You played a festival in Rome where you decided to do Malibran properly, a record deal was signed and the first album released. Please tell us more about this. 
Well,  Malibran played in Rome during a beautiful Prog Festival in July 1989, with other Italians Prog band called NOTTURNO CONCERTANTE, EDITH and LEVIATHAN. The Malibran performance was very strong
( you can see the 1989 Rome video on www.myspace.com/malibranprog ) and the boys from the label Pegaso Records was there. So THE WOOD OF TALES was recorded for Pegaso in Sicily very soon, during August and September 1989. Riccardo Maccari, the producer, ( from Rome ) was there during the recording sessions in Sicily, near Catania...I think it was the best of time for us…The recording studio sound quality wasn't very good ( I think the band was much better on stage in these days…), but many people loves that album yet, more than the other ones…
Your debut album The Wood Of Tales was released in 1990. Please tell us more about this album. 
We played live that old material in Rome and all around in Sicily and the South of Italy during 1988 and 1989,  before the first album...Well, the band plays that songs 're in the present days too… I think 2 or 3 of that songs during every show...Prelude is the last one in the set list every night… from more than 20 years !...In 1999 The Rock Symphony Brazilian label re-issued the first album for the first time on cd. Some bonus live tracks from that era was added in the cd re-issue from Mellow Records in 2002. In 1990 the original first album was issued on vinyl only ( black, green or red vinyl! ).
I had the idea for the artwork, with the man on the front cover inspired from the lyrics of the first track, called Malibran…then a friend of mine painted this front cover. The original illustration became a big picture hanging on a wall in the house of the producer, in Rome…I saw it there in the summer 1993…
The photos in the back was taken at the Rome and Trecastagni shows in July and September 1989, some days before and after the recording sessions.
 Please tell us more about your second album Le Porte Del Silenzio from 1993.
 Well, Le Porte del Silenzio was recorded in Rome during 5 days only in December 1991, issued by Pegaso Records in 1993 ( on cd only ) and re-issued by Rock Symphony in 1999. I think it was the album of the maturity…Now I' ve a remastered and remixed new version, with some bonus track and new booklet, if someone ( maybe Electromantic Music, my current label ) want to re-issue this work in the present days… Here you can find the only Malibran 27 minutes suite ( the title track ). Here I sing in Italian for the first time. The other songs on the album was in English language yet , like some old songs on La Città Sul Lago album ( 1998 )…Anyway, I don' t write lyrics in English anymore from 1992…  
Your album Molecole from 1995 is described as "Compilation. Malibran:"In the time" live '93" at your website. Please tell us more about this album. 
Molecole was a Various Artists ( Italian Prog bands ) compilation, issued by the Kaliphonia Italian label in 1995.  We plays one track only: a 1993 live version of In The Time, then on La Città Sul Lago in a new studio version…
Please tell us more about your third studio album La Città Sul Lago from 1998.
After some years without a new album ( but playing many many shows in Italy ) the band recorded this third album in Sicily, at the Tower Hill Studios, near home, between December 1997 and April 1998. The line-up was the same, the lyrics was in English (some old songs ) and in Italian ( the new ones )… For the first time here I play many instruments (no more the electric guitar only ), with more acoustic guitar (no acoustic guitar on the first 2 albums… ). Some tracks was performed live from 1992…The new label was the Italian Mellow Records. 
The same year, you also released a cassette called Raccolta 1990 – 1998. Please tell us more about this release. Is there any plans to re-release this as a CD or a digital download ?
Oh, no, it wasn't an official release…Now I' ve some better Malibran studio tracks unofficial compilation on cd…I hope for an official Malibran studio compilation in the future.
Please tell us more about your fifth album Rari Ed Inediti from 2000. Is this a live album or a compilation album ? 
Rari ed Inediti ( rare and unreleased tracks ) was an unofficial compilation album, recorded live & in studio between 1987 and 2000. Part of this work became the official release called Strani Colori (Mellow Records )…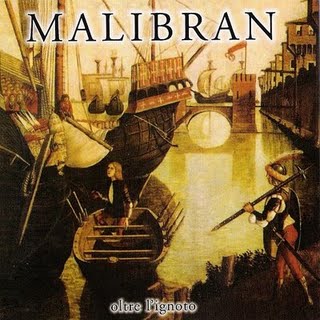 I gather Oltre L'Ignoto from 2001 is a studio album. Please tell us more about this album.
Oltre L' Ignoto ( Mellow Records, 2001 ) is the fourth Malibran album, the last with the classic 6 piece line-up. It was recorded before and after the Malibran experience in the United States in October 2000. Giancarlo, the flute and sax player, said " after the United States I leave the band ". So he did. 
And Benny ( the keyboards player ) too after the last show in February 2001. Many times I was the only member of the band at work in the recording studios…But this is a Malibran album yet. A very good album, in my opinion. The lyrics are in Italian here. I play all the instruments on 3 songs. I think the first and the last song on the album ( Si Dirà Di Me and In Viaggio ) are very, very strong Prog Songs…The first one was performed in America before the album issue…Also you can hear real violin and cello on some tracks…You can found some song from this release on the Malibran MySpace web site too.
Please also tell us more about your album Strani Colori from 2004.
Strani Colori ( Strange Colours ) is a live & studio compilation, including unreleased songs, a The Wood Of Tales ( the instrumental song ) 1989 live version, some cover like Rhayader ( Camel ) and other strange things…
It is my understanding that there was some major changes of members in Malibran after the release of Oltre L'Ignoto and that most of the responsibility of creating Trasparenze fell on your shoulders. Please tell us more about these member changes. 
The current 4 members are the same from the beginning, without the other 2 guys…We had not any new members and we had not any keyboards on stage from 2001. Now I play the keyboards too on the new studio tracks…and the flute ( plus electric guitar and vocals ) on stage with the band. Also I play the bass live with other bands ( Deep South, Jade & The Others, Interference ) in the current days, and the electric guitar with a Led Zeppelin tribute band called Tangerine.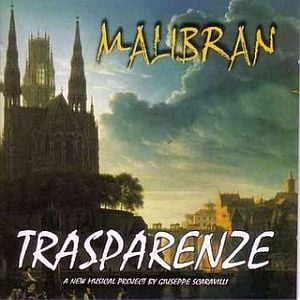 Your studio album from 2009 is called Trasparenze. Please tell us more about this album too.
To be honest, this is a Giuseppe Scaravilli solo album, with Jerry Litrico ( guitar solos ) and Alessio Scaravilli (drums ) from Malibran like special guests…plus the old friend Giancarlo Cutuli on sax and the incredible Toni Granata on violin on same tracks. I don' t think it' s a real Malibran album…But ¾ of Malibran are here, so…I plays all the instruments, with many acoustic guitars and quite songs, but with some Heavy Rock tracks too, like Vento D' Oriente ( also on the My Space web site ). The album ( Electromantic Music 2009 ) received the Prog Awards nomination and I' m very proud. I think it' s my best work of ever.
You have also released the live albums In Concerto (1997), A live Show (2001) and Live On Stage 1994 (2004) in addition to a DVD from 2005 called 10 Anni in concerto-1988-1998*. Please tell us more about these live albums and the DVD. 
In Concerto was recorded live in Pedara ( Sicily ) on 10th August 1997 ( some month before La Città Sul Lago recording sessions ) and issued by Mellow Records in 2000. It was the entire show, except the encore of that night ( I remember it was Livin' Alone, from Le Porte Del Silenzio ). I think this is the best Malibran live recording on cd. Live On Stage was recorded in September 1994 in Acicastello ( Sicily ) and issued 10 years after by Rock Symphony. The performance was good, but the recording quality is not great. Here you can find 13 minutes from the 27 minutes suite Le Porte Del Silenzio too. The band performed live the entire suite version many times between 1990 and 1994. The dvd is an official 2005 release too ( Electromantic music ), including various Malibran shows ( on stage & on tv ) between 1988 and 1999. Many songs are filmed in Belpasso on 7th  August 1997 ( 3 days before the In Concerto recordings ) and in Ragalna on 13th September 1996. A Live Show is an unofficial release, recorded during the 24th February 2001 last show with the 6 pieces line up, with some track recorded in USA some month before. 
How would you describe your musical journey from The Wood Of Tales to Trasparenze ?
In the early days the band was very spontaneous, strong and inspired by the 70's heroes like Jethro Tull. Then the sound was more sophisticated, with more acoustic and quite moments…Sometimes the albums sounded like works of different bands…But something of the Malibran sound I think is always the same, from the beginning until now…
You have been using both English and Italian lyrics and vocals. Please tell us why your lyrics are bilingual. 
It seemed English was the best language for the early Malibran songs…My English was not great, but I don' t believe than the first album was all around the world through the years!
There is no doubt that Malibran have at least one eye on the great Italian symphonic prog tradition. A band like Locande Delle Fate has been mentioned as a reference for your music. But how would you describe your music ?
Oh yes, I think the Malibran sound comes from many 70's Italian and British Prog bands… but the Malibran sound is different too. We plays heavy music and melodic, acoustic and classical music, with some southern passion. We' re a Sicilian band anyway…If you want to listen the classic Malibran sound, you don' t find it on the Jethro Tull, Genesis or PFM albums, 'cause it' s different.
There is a new generation of Italian bands which is, with great skills and luck, re-creating the great Italian symphonic prog sound. Bands like Calliope, Hostsonaten, Il Castello Di Atlante and yourself springs to mind and warms the hearts of those of us who love that old Italian scene. How would you describe this new Italian scene ? 
Well, I like the new and the old Italian Prog scene, but I don't know the new bands wey well. We played with many good new and old Italian bands like Men Of Lake, Deus Ex Machina, Balletto di Bronzo, Banco del Mutuo Soccorso, Osanna, Conqueror… I like PFM and Banco, La Locanda delle Fate, Il Biglietto per L'Inferno, Le Orme… But I listen always the same 70's bands like Tull, Zeppelin, Purple, VdGG, Free or King Crimson…Maybe it' s wrong… but this is the true.
Please tell us more about your experiences with the music industry and how is the availability of your albums.
Well, is not very easy to find the Malibran album in the records shops, I fear…but you can find all the Malibran records on web…I think you can try with Electromantic Music, Mellow Records and Rock Symphony labels too. Also, you can listen to many songs on  http://www.myspace.com/malibranprog with many photos and videos…And you can see all Malibran news on http://www.malibran.it
Somebody told me you are hardly playing concerts outside Sicily these days. What is your concert plans for this year ? Are you planning to release another album this or next year ? 
Well, we plays outside Sicily when someone invite us to some Prog Festival in Italy or in other Countries. But we played all around much more in the past. In the present days we plays some show here or there. But yes, we' re still alive…I've some new song for some future release, but before I hope to issue Le Porte del Silenzio new version… Also I've another rare tracks double cd called FRA I SOGNI TUOI (Between your Dreams ) and 2 different Malibran live compilation on double cd…
What is your favourite five albums of all time ?
Oh, it' s a very difficult question, 'cause I love all the 70's Jethro Tull, VdGG, Genesis, Pink Floyd, Led Zeppelin, Deep Purple, Supertramp, Free, PFM, Banco, Black Sabbath & King Crimson albums! Also, I love all the live albums. Anyway, I like This Was and Minstrel in the Gallery ( Jethro Tull ), Trespass and Nursery Cryme ( Genesis ), World Record ( VdGG )… In the present days, I think Music from the Divine ( Glenn Hughes ) is a great album too...
A big thank you to Guiseppe for sharing this with us. The official Malibran website is here and the Malibran PA profile is here