Quaterna Requiem is not the most known band from Brazil. But they are a good band with some real gems in their discography. That's why I interviewed them. They deserve some good exposure and I sent them some questions. Claudio Dantas took time out from his busy schedule and answered the questions.
What are you up to these days ?
We are doing many shows in Brazil and finishing rehearsals to record the next CD – "O Arquiteto" ("The Architect"). We think 2010 a great year to Progressive Rock in Brazil and the World.
How is life in Brazil these days ?
We're living a extraordinary economic and political moment due Brazil had overcome the International crisis last year.
So, it's good to Music and Arts in general.  We have seen a great number of young people in our shows, we think it as  a good sign.
Please tell us more about your background. Who was your musical inspirations ?
All musicians have classical background and live from Music, except me – I live from Painting (www.artwanted.com/claudiodantas).
Kleber plays on Brazilian Symphony Orchestra, Elisa plays organ, piano and harpsichord on several Chamber Music ensembles, Jorge sings (bass) on Municipal Theatre Opera, Crivano is musical director of several theatre groups and I played timpani and percussion in some Medieval and Renaissance Ensembles.
Our musical influences are Classical Music, ELP, Camel, Kansas, Yes, PFM, Banco and 70's Progressive Rock in general.
 

When did you start up Quaterna Requiem, with whom and what does that name means ?
Me and Jones Jr (Index) start up Quaterna Requiem in 1986 with some friends and we sound much more "primitive". The Velha Gravura line up was formed in 1989 when my sister Elisa join the band.
Then we start to sound like Quaterna Requiem due her classical compositions.
I create Quaterna Requiem meaning "rest of the four", since we were 4 guys (1986) with non musical jobs trying to rest though music.
Both your albums and the DVD are self-released through Quaterna Records. Please tell us why you went down that route and the pro/cons of doing everything yourself ? 
Velha Gravura was released by Faunus Records,  Livre and DVD by Leonardo Nahoum from Rock Symphony.
Quasimodo and Wiermann And Vogel were self-released. 
The problem with Progressive Rock in Brazil is that no major label is interested, and these minor labels, despite the best of intentions, release just few prints; we have a great demand for Velha Gravura and DVD but both are out of stock.  With Quasimodo, we have full control.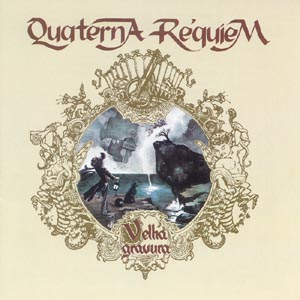 Please tell us more about your debut album Velha Gravura from 1990. 
We released this album in a era with very few progressive bands in activity in Brazil and the world, we consider ourselves a kind of pioneers mainly in Brazil.  This brought to us a legion of fans and endorsers devoid for this style of music.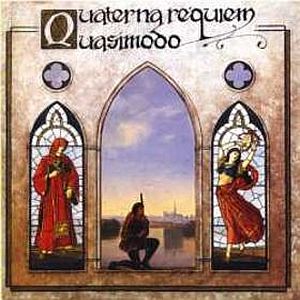 Please tell us more about your second album Quasimodo from 1994.
Quasimodo is much more keyboard leaded because Elisa was fascinated by Victor Hugo's Notre Dame de Paris.  It's a mature album, our performance was in the peak and the shows were fantastic, with scene stages and so.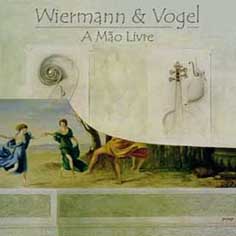 This seems to me to be the final Quaterna Requiem studio album because the next album A Mão Livre from 2003 was released as a Wierman & Vogel album. Please tell us more about this album.
This album was inspired from a solo painting exhibition I did called "A Mão Livre" ( Free Hand).  I was very honored.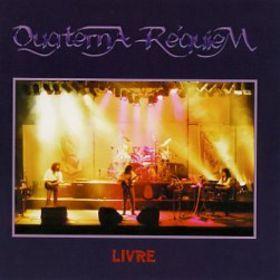 You also released a live album in 1999 called Quaterna Requiem Livre and a DVD in 2006 called Quaterna Requiem. Please tell us more about these releases.
Livre (free) we use to advantage the recordings from the entire show from Leo Naohum's RARF 1997 (Rio Art Rock Festival) we've played with Par Lind and Violeta de Outono, since we like very much the live short version of Quasimodo.
DVD we had a chance to record that show with the video facilities of a great friend Eduardo Agtos that have a solid and respected career in Globo TV (the biggest in Brazil), since we didn't released anything for many years.  It was a chance to show some new work that  it will appear in O Arquiteto, like Casa da Cascata, Bramante and Fantasia Urbana.
Musically, I feel that Quaterna Requiem comes across as a blend of Camel, ELP and an electric version of Flairck. But how would you describe your own music ? 
Thanks for the compliment!  You got it! I should include Italian Progressive Rock too.  But we think we have reached our own sound beside the influences due the Baroque side of Elisa's compositions.
Some music critic called our style as "Chamber Rock" and we like it.  First of all, we play to music, not to show off ourselves.
Please tell us more about the gigs and festivals you have played.
There were so many great gigs and one festival (RARF 1997).  We plan many more to 2010.
Is there any plans to release more Quaterna Requiem studio albums ? How do you see your future ?
Yes, "O Arquiteto", a suite with architectural themes form Renaissance to Modernism and other pieces.
We think Progressive Rock is extemporal, so we plan to continue making good music.
What is your five all-time favourite albums ?
Brain Salad Surgery/ELP, Close to the Edge/Yes, Foxtrot/Genesis, Dust and Dreams/Camel, Io sono nato Libero/Banco.  These IMO define Progressive Rock.
Anything you want to add to this interview ?
We fight too many battles to do Progressive Rock in XXI Century, but it's innate to us as musicians and as persons.
We thank you very much for this opportunity.  We keep the flame thanks to people like you.
All the best!
Claudio Dantas / Quaterna Requiem
A big thank you to Claudio Dantas for the interview. I sincerely hope it will raise their profile also here in Europe.
Their PA profile is here and their homepage is here