Little Tragedies comes from the big Russian city of Kursk, a place also known for one of the biggest battles during WW2 (and a more recent submarine disaster with the same name), or the Great Patriot War as it is called in Russia. 
This interview is meant to be a "this is your life" type presentation of Little Tragedies. Few have heard their albums. But those who has, rate their music very highly.
So that is why I give you Gennady Ilyin from Little Tragedies.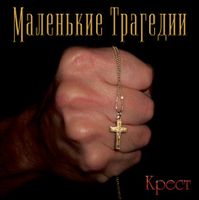 When was Little Tragedies formed and by whom ? What was your musical visions/ideas ? Was there any scene at all in Kursk or was Paradox/Little Tragedy the only band here ?
I founded Little Tragedies in the summer of 1994, right after I graduated from the Conservatory. I had my first band when I was 17. Then I played with different musicians and the names of the bands changed depending on the line-up. Studying at the Conservatory gave me knowledge and skills, and I needed a band to implement what I had learned there and what I hadn't been able to do before. Since I was little, I always loved classical music and rock-n-roll, and I have tried to bring these two elements together. There have always been many bands in Kursk playing different kinds of music, from classical, rock-n-roll, metal to jazz. So we were not alone…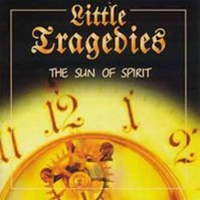 How was it to start up a band in Kursk, Russia with regards to equipment and the finances ?
At that time I lived and studied in St. Petersburg and spent my vacation in Kursk. We had some instruments, but almost no equipment, actually, just like now. The band finances have always consisted of our own personal budgets. Our friends have helped us many times by giving their instruments and letting us use their facilities and equipment. These were happy times, really!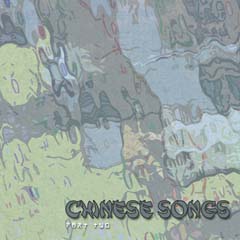 You were previously known as Paradox before you changed name to Little Tragedies. Please tell us more about this change of name.
The change of the name has to do with the new musicians. The only person who has been playing with me since those times is Yuri Skripkin (drums). I never really liked the name "Paradox", because it did not reflect the essence of my music that I wanted to play. The music of "Little Tragedies" is the music of extreme situations, from the most tragic to the most lightful, from the most infernal to the most heavenly.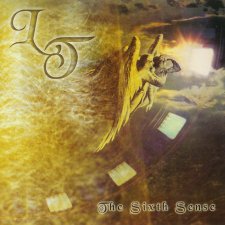 I have noticed that a lot of bands from the countries previously known as The Eastern Bloc has it's roots in the music conservatories from these countries. A pretty similar type of education system which was common in all major cities from Vladivostok in the east to Prague in the Czech Republic. Please tell us more about these educational institutions.
Among the conservatory graduates let us distinguish between instrumentalists and composers. I know examples of instrumentalist musicians who are trying to compose music… However, it doesn't go beyond performing techniques. Skillful musicianship is excellent and keeps your attention for a while. But then you feel like you want to hear some intellectual work and quality development of the material. And here the talent is not enough, this is what students learn at the composition department. I studied in St. Petersburg and I wouldn't be able to tell you about the other institutions.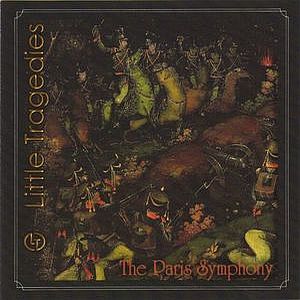 Please give us a presentation of each of your releases, album by album. The music, the recording, lyrics, the musicians, the artwork, the tracks.........
Oh, this is very difficult. I have tried to do it a few times. It is very time-consuming, and most importantly, I don't believe that such information by itself can attract listeners attention. Only if you listened to the music first and liked it makes you go and read about it. I think we have enough information about the band available at our website in the History section, and most recent activity can be found in the News. All our albums are listed there with their details, and you can also listen to the samples and form your own opinion.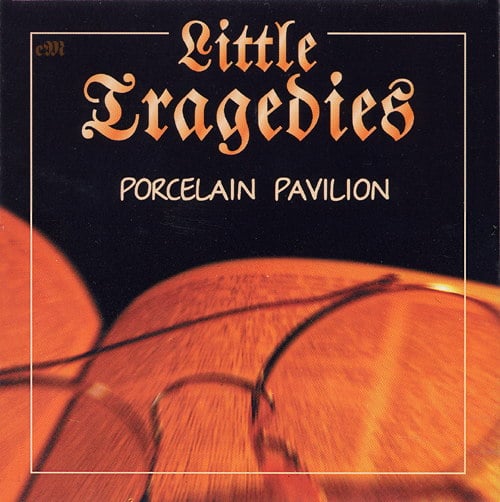 A couple of these albums were originally meant to be your solo albums, but were released as Little Tragedies albums. What happened here ?
True, "The Sun of the Spirit" and "Porcelain Pavilion" were meant to be my solo albums. But during the recording session I was joined by my friend and ex-guitarist of "Paradox" Igor Mikhel and the sound engineer Eugene Shchukin (the latter has done so much for these recordings that he became a full-fledged member of the team). There had been no CD released with the name of "Little Tragedies" by that time, so we felt free to use it. To put it simply, "Little Tragedies" is where I am.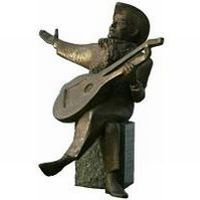 Concept wise; you have released two albums with Chinese poetry (!!) and done some other concept albums. Please tell us more about your lyrical concepts.
Poetry is my inspiration for the music. At certain times I happened to hold different collections of poems which appealed to me, and new albums followed. These were poems of Russian poets or translations of Chinese poets, etc. Our latest works for the international Colossus-Musea compilations were inspired by the film "The Great Silence", Dante's "The Divine Comedy" and Edgar Poe's story "The Man of the Crowd". And I think my music quite closely depicts the contents of these texts as I understand them.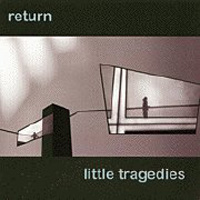 Little Tragedies have released albums through various record labels. Please tell us more about these record labels and your experiences with the music industry/business.
Our publishing experience is not very big. The labels we have cooperated with include Boheme, Musea and Mals. I am a musician and not a businessman, that's why I don't feel like commenting on it.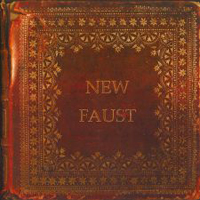 What is the current situation regarding availability and distribution of your albums ?
Almost all our albums can be purchased through mail-order systems on the Web and, as far as I know, in most countries of the world. There are also special websites where you can download and listen to our albums for free. It was difficult to get used to this practice in the beginning, but now I take it positively. Thank God, people have interest to listen! That's what our distribution is about.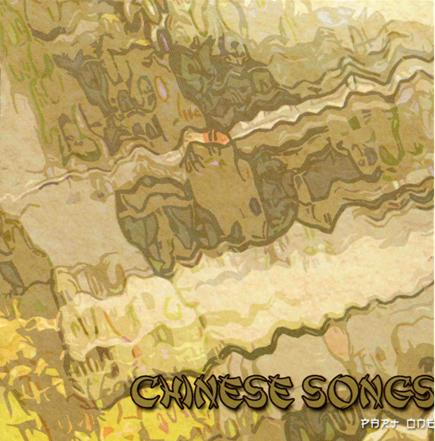 As I touched onto in my first line of this interview, every single square meter of Kursk and the western part of Russia is blood stained due to the various wars and years of terror/massacres/famines during the last century. How much has this part of the history formed Little Tragedies ?
It's difficult to say. I left Kursk when I was 20 and now I only come to rehearsals, recording sessions and to see my mother. I was more influenced by the atmosphere of St. Petersburg where I lived for 10 years – the discipline of the Conservatory, a very well structured curriculum, the architecture of St. Petersburg with its straight streets where, as Shostakovich said, "even the stones teach". I know about and remember the bloodshed in my home town, but I was rather molded by the Russian and foreign classical literature, philosophy and music.
Tech talk: I have heard you are into MiniMoog and Hammond organs. Please tell us more about your equipments.

Yes, I really like analogue synthesizers and I think their sound is more profound and expressive than digital sounds. It also has to do with the nostalgia on the 1970s when Keith Emerson, John Lord and others were creating their best music. In my experience, a real Moog and Hammond keyboards together were used only in "The Sun of the Spirit" and "Porcelain Pavilion", because they were available at that recording studio in Moscow. On our later recordings I played different synthesizers, partly mine (Yamaha, Korg), partly belonging to my friends (a nicer Yamaha, Kurzweil, etc.). Sometimes we used sample libraries with a midi keyboard. Since 2006 I have owned a Moog Voyager, and it is now used on every recording beginning from the "Chinese Songs". I also have a Clavia Nord Electro 3 keyboard that allows me to play organ sounds and orchestral instruments. So far I've been very happy with the quality of this keyboard and I see it as a good alternative to an orchestra. But here you must be careful, because using orchestral or symphonic sounds you can't play as you would play on a keyboard, but you must play the way this particular instrument would play. At the composition department we learned about the special features of every instrument, correct voice leading, etc., and only by observing certain rules, you can make your digital keyboard sound almost like an orchestra. Every Little Tragedies musician has his own instrument and of quite good quality – it is important to us.
Is Little Tragedies your main occupation in life or do you all have other jobs ?
I teach piano and keyboard to children and adults, also trying to cultivate good taste for music. And since I work in contact with classical music almost every day, over the years my heart has been leaning towards it. Yes, I also love rock-n-roll, but I am beginning the see a gap between it and classical music. Rock-n-roll attracted with its dancing rhythm, showing-off and provocative style, no technical difficulties in playing, availability, etc., but we shouldn't pretend that there had been no music before. And I think, in the contemporary situation, you have to be a well-educated and a well-informed musician in order to find new ways of how rock-n-roll can develop. I would be interested in combining the simplicity of the melody in rock-n-roll with the complexity of the form, harmony and rhythm in classical music. So Little Tragedies is really my main occupation in life, but it is not my job.
What is the plans for Little Tragedies this year and in the future ? Gigs or any new albums ?
We haven't had much luck with concerts so far. But we constantly work on the new material. We have just submitted our new tracks for Colossus-Musea projects "Paradiso" and "To the Tales of Edgar Allan Poe". Now we are mixing the "Obsessed" album recorded in August 2009. At the same time I am working on the new album called "In the Night". I already have 10 tracks, for which I am now writing the scores and sending them to the band. The next on the recording list is, actually, an instrumental album called "Scenes from the Gospel" composed a few years ago and written down in the score. So we have things to do.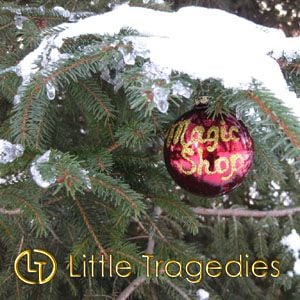 Just for my curiosity and because Kursk is an exotic place for most of us; what does Kursk and Russia means to you and how do you see the life in Kursk and Russia ? Btw the pictures of Kursk at www.kursk.org is beautiful and deserving some further explorations... but not with an uninvited invasion army.
I love Kursk as my home town. My mother and other relatives live there, as well as my friends and band fellows. It is a very beautiful place indeed with fertile black soils where anything grows well which suits the climate. Winters are very cold and snowy and summers can get very hot and parching. We go bicycling with our friends, swim in the rivers, play soccer, etc. Well, you are welcome to come and visit and see it for yourself!
Anything you want to add to this interview?
Listen to classical music and pursue self-education !
Thank you to Gennady Ilyin for this interview.
As you can see, I have put in the cover arts for their albums in this interview to trigger your interest in the band (but I ran out of albums towards the end).  

Little Tragedies PA profile can be found here and their can be found here

.......and I cannot help myself for ending this interview with this stunning painting by Ilya Repin (1844-1930). It describe a religious procession in Kursk. Enjoy !

(the painting = open copyright)



Edited by toroddfuglesteg - March 26 2010 at 11:52