Let's start with the beginning: When was Albatros born, by whom and how was your formative years ?
Albatros was born in 2000 by five friends who wanted to play the music we liked. We began to write our own songs that ended up in our first amateur recording called "Quién colgó a los lobos?". After this recording, Albatros changed the members several times until 2006 when the band gets stability with the present formation. On this line up there are only two former members: Joan and Javi. The rest of the line up, Marc, Red Pèrill and Tolo joined the band in 2006.
I know that Spain is a collection of some proud regions. That makes Spain quite an interesting country. From which region of Spain are you from ?
We are from Catalonia. Maybe there is a band from another region in Spain, Andalucía, that influenced us: Triana. However, most of our influences come from outer Spain: England and USA. 
Please give me your (long or brief) thoughts and lowdowns on the following releases.......
¿Quién colgó a los lobos? from 2001:
It was recorded with an eight-track tape by ourselves without neither professional guidance nor devices. It shows the naivety and illusion of our beginnings. We wanted an everlasting legacy of what Albatros meant those days.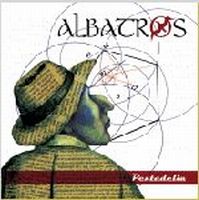 Pentadelia from 2008 :
It consolidates the sound and personality of Albatros. This record is an inflection point that starts a new stage for the band.
Your lyrics are in Spanish, I guess. Spanish is not a language I speak. Please tell us more about your lyrics. 
The lyrics of Albatros arise from the feelings of the lead singer, Javi. The roots of his epic lyrics grow from literary, cinematographic, mythological and historic references.
Albatros is one of the true independent bands and Pentadelia is a free download from your website. Is it fair to say that you put more emphasis on the live part than on the studio part of your career ? 
No, we put a lot of emphasis in the studio. Pentadelia is a free download on the internet because we wanted to promote and spread our music to the whole world. Unfortunately, in Spain it is very difficult to play live without losing money, especially for progbands like us.
I guess the best description of your music, based on Pentadelia, is psychedelic space heavy prog which I guess goes down very well live. But how would you describe your music ? 
Our music is the sum of the members' influences: 70s progressive rock, jazz, metal and alternative rock. What makes Albatros different is the way we mix our imagination, creativity and personal background to get our sound unique.
You are currently recording a new album called Ursus. Please tell us more about the recording and what we can expect from this album. 
 Ursus is the evolution of the way drawn by Pentadelia. On it you will notice the maturity acquired through the growth as a musicians.
Besides of the recording of Ursus, what is your plans for this year and where do you want to take this band ? 
We wanna get to the most of the people with the brand new album. Because of this we will promote Ursus in the specialized media, and we will play our new stuff in as much places as possible.
Just to wrap this interview up; do you have any regrets in your music career ? 
No, there are no regrets. After 10 years of good and bad times, we've learned a lot and, as a band, we are wiser and stronger than ever.
What is your five alltime favourite albums ?
Tolo: "Close to the edge" from Yes
Red Pèrill: "Songs: The Art of the Trio, vol. 3" from Brad Mehldau
Joan: "Led Zeppelin I" from Led Zeppelin
Marc G. Rossell: "L.A. Woman" from The Doors
Javi: "El patio" from Triana

Anything you want to add to this interview ?
We only wanna thank the support from ProgArchives, and we hope all the progheads will enjoy the new material as soon as possible.