Deventter is a new Prog Metal band from Brazil. Their two albums has got some good reviews, but they are still not a household name here in Europe. I got in touch with the band for some more info about them and their music.
Various band member answered my questions.
André Marengo: We have been making some shows and taking part in some Brazilian festivals, such as the Wacken Metal Battle, to which we have been invited to play, along with other independent bands. It is structured as a competition, and the winner will be invited to play on the main festival (Wacken Open Air) in Germany, so we certainly have been rehearsing having this event in mind, to give our best shot at it. And of course, we are still promoting Lead... On, our second album, released last year.
André Marengo: Deventter was created by Hugo Bertolaccini, our keyboard player, and André Gabriotti, the former bassist of the band. I met André G. at College, and joined the band on 2001 to record the demo "The Beauty... and the Dark Side of our Lives", which was an instrumental piece of 23 minutes, and, from then on, new friends joined and left the band until we came to our present line-up, with 6 members. Most of the musicians had already participated in other bands and some still maintain some parallel projects. The background of those bands was composed of various styles, such as grunge, alt-rock, progressive rock, blues, jazz, hard rock, heavy metal and some others.
About the name, it was chosen more because of the sound of it than any eventual meaning. It was almost random. Deventer (with a single "t") is a historic city in the Netherlands, which staged some battles during the 2nd  World War.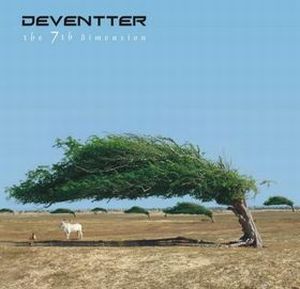 The 7th Dimension from 2007
André Marengo: The 7th Dimension was our first album as a full band, since the mentioned 23-minute song we made had only real tracks of the guitar, bass and keyboards, as the drum was software-made.
By the time we started The 7th Dimension recordings, we did not have sufficient experience or resources to make a flawless production, but we wanted to record our music any way we could. The result was not exactly as we expected, but we enjoyed the fact that we then had registered the first steps of the band. Soon after the recording was done, we received some bad news: one of the Deventter's founding members, bassist André Gabriotti, was leaving the band for personal reasons, and we were about to start the new album promotion shows. Luckily, we found a bassist that was able to play the first show with us, and then Leonardo Milani definitively took the job and became another great friend of us.
It was with The 7th  Dimension that Deventter had some really good exposure on the specialized media, both inside and outside Brazil. This repercussion as so positive that we had some really great opportunities, such as playing on the Latin America's largest music fairs, Expomusic, in 2008, participating on some big open-air festivals here in Brazil, being the opening act of Circle II Circle, and, in the same year, being chosen by Mike Portnoy of Dream Theater himself, to be the opening act of their show in Belo Horizonte (Minas Gerais - Brazil). Even knowing that we had seriously made an original work, we could not know that it would take us that far.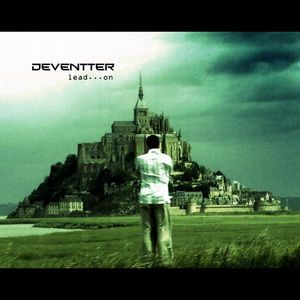 Lead... On from 2009
André Marengo: Lead... On was the natural progression of our evolution as human beings and musicians, and also the sequel of The 7th Dimension's theme. The compositions started when we where rehearsing for our promotion shows, and probably that was the reason they sounded heavier, with that "live" kind of sound.
Some of those new songs where actually played live when they were still under development, and, that being, we could feel the public reaction to them. On Lead... On production's last step, we had the great and essential help of Brendan Duffey, a California-born sound engineer that owns a recording studio here in Brazil called Norcal Studion, which opened nearly 4 years ago.
The album was released on December 2009, and we are now promoting it as much as we can. Its repercussion has been very good so far, and was even elected here as one of 2009 best releases by various media vehicles.
What is the lyrical themes on your albums?
Leonardo Milani: It is quite complex actually, and it will be somehow completely explained on the next few albums. Basically, it is a story about the origin of mankind, as well as its spiritual evolution. We built some characters into the concept of it all that somehow weave the tale by themselves. Those characters, in my opinion, are better developed in Lead…On rather than in The 7th Dimension, as the latter is a much more introspective album. Also, on Lead… On we deliberately used them to be able to show distinct point of views between how "things are going".
Both your albums are self-released. Please tell us the pros and cons of self releasing albums.
Leonardo Milani: I think the great thing about releasing albums ourselves is that we don´t need to worry about signing contracts that would bind us to unnecessary obligations, and we can freely do things the way we chose to. We can choose to follow this path because the means needed to make a quality recording do not have prohibitive prices as it used have, say, 15 years ago.
The bad thing about that is that you do not have a company-sized structure to distribute your albums to the public, and it is not easy to sell it if people never heard of you or your music. Gladly, the internet is making this part of the work easier to us, but it is still a very long road to travel.
How would you describe your music and which bands would you compare your music with?
Leonardo Milani: We discussed this topic with ourselves many times, and never really reached a solid conclusion. To classify our work as merely rock music is too generic for me, at least, but I also believe that we don´t actually fit more specific genres as Prog Metal as well, so I guess that will have to do.
Maybe we can say that we do something that close to what Muse, Nine Inch Nails, Rammstein and Dream Theater would sound if they were all thrown together and mixed in a single pot. We also have some (close to) pop-songs, but I really don´t know where all that came from!
What is the pros and cons of being based in Brazil?
André Marengo:Well, the benefit of being in Brazil is that our friends and family are here. I personally wouldn't leave it unless for an extremely good reason. I guess that´s all that it is to it…
The cons, however, are plenty. Here, musical instruments of quality, strings, pedals, as well as recording studio equipment, are mostly imported, and tax rates here almost makes you want to kill someone. Thus, everything we try to do here thrice as expensive as it would be in the United States and maybe Europe, which creates a heavy burden for us to carry.
Also, the kind of music we produce (some kind of heavy/modern rock) is not exactly admired by most people around here as it is something almost alien to Brazilians in general. Because of this, we have great difficulty to spread our music through the mainstream media, which makes it almost impossible to get fully repaid for all the effort (and, the money) we put in it.
What  are your plans for this year and where do you want to take this band?
Leonardo Milani: As we have said, we have some potential upcoming projects in view, and that means we are composing a few more new songs as we can. We are also looking forward to some rock festivals that will be taking place in the next few months, one of them being the Brazilian edition of Wacken Metal Battle.
Just to wrap this interview up; do you have any regrets in your music career?
Leonardo Milani: Actually, none of us have a real music career! Haha! Every one of us have daytime jobs and/or college courses which we (try) to take very seriously, as we are very aware that we wouldn´t be able to feed ourselves. If I managed to do a living out of music, however, I would obviously have no regrets about it! Actually, that is something all of us consider in the back of our heads… Time will have to show us the way, as always…
What  are your five all time favorite albums?
Leonardo Milani: Gee… Only five? I won´t even try to make that list as I would probably waste too much time, as well as completely forget some albums that should have made into the list. Suffice to say that Downward Spiral by Nine Inch Nails, and the Beatle´s White Album would surely make into the list.
Anything you want to add to this interview?
Leonardo Milani: I would like to thank Prog Archives for this opportunity to talk about ourselves a little to people that might like what we do. If the readers get curious, you can listen to us at our MySpace page:
www.myspace.com/deventter
.
Thank you all!
Thanx to Deventter for this interview. Their PA profile can be found
here