What are you up to these days?
Alan: While the group spent most of 2006-2009 in "live performance" mode (recruiting, rehearsing, and performing), we are now the midst of an extended period dedicated almost exclusively to composing/arranging/recording our third album—which we hope to have finished by the end of this year (2010). I'm really excited about what we've got together thus far and am optimistic that this may turn out to be our most interesting (and diverse) album yet.
Mark: We've been busy writing, rewriting, arranging and recording pieces for the next Advent album. It's always a dirty job (and never easy, considering our writing style), but generally very rewarding for us in the end. Hopefully it will be for those who enjoy our music as well. If all things go as planned, we also hope to get back out there and start playing the stuff live again. Doing both at the same time is just too much work, considering our personal lives.
Your homepage http://www.adventmusic.net has both your biography and some too tasty MP3 samples (Warning to the community: It is almost guaranteed you will buy the album after listening to them...... I did!!) so I think we have got all our answers to the history bit. But what was your musical vision from the start?
Alan: From a personal perspective, my goal in starting the band was simply to write, perform, and record music for our own personal enjoyment—without any compromises whatsoever. (I had actually given up the idea of a full-time career in music a while back and, over time, started to realize that the biggest benefit of this decision was that it left me completely free to pursue making music that I really loved.)  However, while we intentionally wanted to avoid creating music for any particular "market" (so to speak), there was always a hope that the results would resonate with other like-minded listeners as well. (Thanks very much for the kind words about our music too!)
Henry: I think one of the things that attracted me to the genre referred to currently as "prog" was the opportunities it afforded for reconnecting with music with older and deeper roots. While I enjoyed a lot of the early pop stuff for what it was, I noticed my ears always perked up when classical, jazz, and traditional folk influences were skillfully integrated into what up until then had been almost exclusively a two-to-three minute twelve-bar medium. When I heard the kind of instrumental ensemble playing typical of the classics used in middle-eight sections of, say, "Pretty Ballerina" by The Left Banke, and of course later on with those groups that most people credit with having done most of the heavy lifting in this regard, it began to dawn on me that such fusions could actually work beyond the capacity of just an occasional gimmick. Even the music of the Beatles seemed to have broadened in scope with a classically trained musician/producer like George Martin to bounce ideas off of—I guess I wanted for Advent to be part of all that, and it was obvious from the outset that I didn't have to sell Alan and Mark on the idea. It's safe to say we were all on the same page from day one.
Mark: Can't say it's terribly complicated. We basically got together like any other band, to write music we enjoyed ourselves first, and then if anyone else got jazzed about it, so much the better. Being a musician, you have lofty ideals at the start, hoping that your music will reach the ears of millions, but obviously this is the wrong genre and the wrong time in musical history for that. Thankfully, since the (ahem) advent of the Internet, it's been easier to get noticed if you stick to your guns and have something interesting and unique to offer. Either way, I think we'd still write just to get it out of our system, as it's quite the therapeutic remedy for many of life's struggles and complications.
Just let us run through your two albums because these may be unknown to many of the members in our community (we are all curious cats). Just give us your opinions and thoughts about: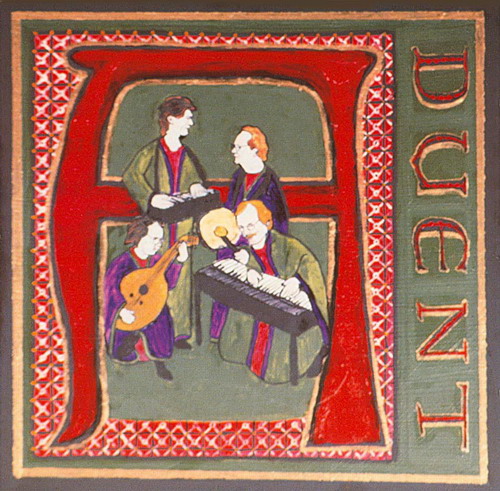 Your first album Advent from 1997.
Alan: I have so many wonderful memories of working on the album—and, while most of it was recorded under the most modest of circumstances, I still feel very good about how we managed to capture the real essence of all the pieces in spite of the corresponding technical limitations. Am also extremely fond of all the material and am happy that we are still able to perform several pieces from the album in our live shows.
Henry: It's very interesting how a number apparently unrelated circumstances and initiatives coordinated somehow into producing what became our first CD. A lot of the musical materials that eventually wound up on the CD already existed in some form or another when we started recording what we intended to be nothing more than a demo: an '80s-inspired oddity, "Trompe L'Oeil," which was written for (but left unused by) a friend who needed it for a film he was hoping to make; an independent Internet-based project dedicated to the music of Gentle Giant, which led to a similar Mellow-based project and Mauro Moroni's interest in hearing our original work and his subsequent offer to release what we sent "as is"; a pair of classical/Renaissance covers, reflecting some of our listening habits at the time—it was all a bit odd. But it was great fun, and we're very grateful to Mellow for the chance they gave us to be heard. Towards the end, we were scrambling around a bit to make the (mostly) mono recordings on the CD as presentable as we had time to do—it was sort of like a "Mr. Bean getting dressed in a hurry for an important social engagement" sketch, with Alan and Mark really showing a lot of production ingenuity considering the technical constraints they had to work around.
Mark: Basically, it's a demo that ended up being picked up through the kindness of Mauro Moroni at Mellow Records. We did a few covers on that one—a Renaissance piece (sections of William Byrd's The Battell) and a 20th-century work by Joaquín Turina ("Caminando"), as well as the first of our two Gentle Giant covers ("BITB"), which also ended up on both of the Gentle Giant tribute releases. The original stuff was fun to do. It was basically a master's class in "utilize whatever clunky equipment you have to the fullest possible extent." We got pretty lucky with the mixes we ended up with on that demo. I'm still amazed how we were able to multi-track all the parts with just a four-track audio cassette deck and a Betamax VCR. It was a fun time—lots of goofing around while still getting the job done. Cantus Firmus got a bit more serious and "nose to the grindstone," once we realized people were actually listening to the results (LOL).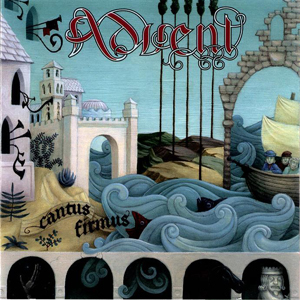 Your second and most recent album Cantus Firmus from 2006.
Alan: Although I suppose I can't be entirely unbiased, I really happen to love Cantus Firmus—from beginning to end. In fact, while I am fortunate to remain very happy with just about all the music I've created (and helped to create) over the years, I definitely consider this album to be a personal highlight. Like a lot of my other favorite music, however, I think it is an album full of subtleties and complexities that can take quite a while to fully sink in—and I'm always particularly appreciative of fans who communicate how their enjoyment of the music keeps increasing as they become more familiar with the material by virtue of repeat listening.
Henry: The big news here was a significant upgrade in the recording equipment—we could do stereo now (woo-hoo!), and some new keyboards and other assorted goodies rounded out our arsenal nicely. A chance conversation with a colleague led to the conversion of a 24-track analog recording of some of our stuff (which we ran out of time and money to complete back in the early 1990s) to a Pro Tools-compatible format so that we could now take our time and render a proper mix. These ended up as bonus tracks on the CD. Apart from "Parenting Parents," we started pretty much from scratch in writing the material for Cantus Firmus. I think the early music/traditional folk vibe is still very much in evidence—and that we were successful in our matching of music to the lyrics, especially with John Dowland-inspired things like "Utter Once Her Name" and the motet-like stuff such as "Your Healing Hand." I don't think we started out with the intention to write a work as long as "Ramblin' Sailor"—it sort of developed into something of a fantasia, which frequently needed structural adjustments to be brought into proper balance. I especially like the way Alan's lovely acoustic/electric instrumental "Remembering When" sets the mood for it. Song sequencing required a bit of thought, considering the number of slower works, but I think it works pretty well overall. Michael Phipps's cover art is absolutely brilliant too.
Mark: Well, "Ramblin' Sailor" was done in a day, and "GK Contramundum" took nine years to record…. (LOL, just kidding.) In actuality, we had taken some time after the debut release to try to put a band together and learn/rehearse the material with the goal of playing it live. We managed to practice it with a skeleton crew for a time—but then life, as it often does, cut in and we had to take a respite for a little bit while other more personal and pressing issues were sorted out. After that was overcome, we decided to just concentrate on writing new material for a second release. We were pleasantly surprised to find that many people had still remembered us and were looking forward to hearing new stuff. So, we took our time getting everything just right, in the hopes that the final product would pique the interests of new listeners, as well as old. Thankfully, it worked out well in the end. We were proud of what we conceived and produced, and others seemed to like it too. In fact, the album actually made the top 20 (our slot hit #19) in the Gagliarchives top-100 list of best prog releases for 2006. So, the arrow we shot up in the air actually landed higher than we'd hoped.
There is a nine years long gap between the first and second album. Please fill in the gap for us......
Alan: I think the primary reason was the band trying to address everything (searching for new players to replace our departed drummer and Stick-bass player, trying to promote the first CD, writing and arranging new music, etc.) simultaneously—and eventually coming to the realization that, as responsible adults with families and day jobs, we really had to shift our focus to addressing our priorities in a more sequential, prioritized fashion. On top of that, it just takes a lot of time to compose, arrange, practice, and record the majority of our music—and, while we'd like to be able to move more quickly in this regard, we refuse to rush the process in any way that could adversely affect the integrity of the results. (I seem to recall taking about a year to work on "Ramblin' Sailor" in and of itself, for example.)
Mark: The only thing about this that I can add that wasn't covered in my answer to your previous question is that it is really quite hard to find musicians that: a. like this style of music (or at least don't mind it so much), b. are willing to offer their time and effort for very little money a lot of the time, and c. share a similar view of music and are a good fit in terms of their personality—AND the person with all this has to be within driving distance. The perfect storm, for sure. Finding people really eats up a lot of time. Advent "live" cannot realistically sustain itself with three or even four people in the group. Five is workable, but six is optimal. So, do the math and tell me how likely it is that all six people, with their various schedules will be able to accommodate each other in order to produce a well-polished unit for music as complicated as this? I'm actually shocked that we made it out there after the release of Cantus Firmus and were able to pull off the shows that we did. A small miracle for us, that's for darn sure.
Advent was released through Mellow Records and Cantus Firmus was released by yourself. Please compare the experiences. 
Alan: I have to admit that our offer from Mellow was an unexpected surprise, as I had only sent Mauro Moroni a DAT (of everything we had recorded up to that point) for the sole purpose of attempting to secure a spot on Mellow's then-upcoming Giant for a Life Gentle Giant tribute package—and we were caught a bit off-guard when he sent detailed feedback on all the pieces, along with an offer to release the contents of the DAT, on his label. We were very appreciative of the opportunity and also quite happy to take advantage of it. Since then, however, we have developed relationships with quite a few people in the prog community and thought it might be best to have a go at releasing Cantus Firmus independently. (I also have to thank Greg Walker, in particular, for his guidance along the way.)
Mark: There are advantages and disadvantages to both methods. I think the biggest difference for us was the marketing issue. We were more motivated to do more for ourselves I think, for obvious reasons. Mellow's a great label, and a well-known one at that. So it was good for us to get our first exposure through them, basically, because right off the bat people looked at you more seriously, especially at a time when the transition to all things "'net-related" had not yet taken off and become what it is today. There was no MySpace or anything like that so, interestingly enough, even though you may be signed to an independent label, you still had to rely on your own marketing strategies and skillfully attack any avenue available to you, which was a little more challenging in 1997. The writing/recording process hadn't changed for us coming to Cantus Firmus, though (except for the updating of our own recording tools). Of course, doing Cantus Firmus ourselves allowed us to put the proceeds right back into the band for necessary Advent expenses, and kept us (for the most part) from having to dip into our own personal pockets to continue doing what we're doing.
There is a strong hint of Gentle Giant in particular your last album Cantus Firmus with also some references to the Italian scene and English folk rock scene. Being compared to Gentle Giant is a huge compliment in our community btw so don't be depressed. But never mind my opinions. How would you describe your music ? 
Alan: While I think that comparisons are probably the most helpful tool when trying to define one's musical style, they also tend to be incomplete and sometimes perhaps a little misleading as well. That being said, the oversimplification I typically use as a reference point is "perhaps a modern equivalent to the symphonic side of classic English progressive-rock groups like Gentle Giant, (early) Genesis, and Procol Harum, but with a little Tubes-style funk and the occasional jazz-rock flourish as well." Without giving too much away, I might suggest a little bit of a Pekka Pohjola vibe in some of the material I've been writing for the next album as well.
Henry: I think that the aforementioned influences regarding our musical vision pretty much sum up what directs the way we work. We tend to favor an ensemble approach in our presentation—and as such, our music tends to stress those types of devices that lend themselves to that most readily. We're all great fans of contrapuntal music, and since a lot of what we do tends to be on the longer side, I think we use contrasting sections and thematic development in ways not unlike those used in the traditional influences mentioned earlier. We also wanted a strong vocal component in our material, and the influences there likewise run the gamut from Palestrina, Josquin des Prez, and Victoria through the Beach Boys, the Association, and of course Gentle Giant. A lot of what we do has a very visual aspect to it, and I think that so far we've tended to write to suit the mood of the lyric rather than the other way around.
Mark: We're often compared to Gentle Giant, and that's a good thing—especially since we're all big fans of their music. You know, it's funny that people often hear "GK Contramundum" and automatically think Gentle Giant—and as well they should, I guess. Though, what a lot of people don't know is that the inspiration for the piece actually came from a song by Nando Lauria called "Episode: Prelude" which is a beautiful a cappella opening to one of his tracks on the album Points of View. But I'm glad you mentioned the other styles because it is typical for people to latch onto just what they're familiar with—or, more to the point, what's popular within the genre of progressive rock. We've made it a point to try to go back and study the periods of music that bands like Gentle Giant, Procol Harum, or Genesis imitated when they were writing their stuff. You have to approach and tap the source, rather than just endlessly listening to the same 50 or so popular prog albums. I'm a huge J.S. Bach fan, and Henry and I are quite fond of the Renaissance, classical and romantic periods of music (plus some 20th-century pieces), and a lot of our recreational listening involves that type of stuff (particularly the English "William" composers like William Byrd, Ralph Vaughan Williams, William Walton), and Elgar. Then, of course, there's the sacred music. Henry and I both sing in a choir at a Tridentine Latin Mass on Sundays, so we've been exposed to a deep wellspring of lovely sacred vocal works, which includes some Gregorian Chant. So, what I'm saying is, all of this stuff is in our back pockets when we write and it sort of gets added like spices to a recipe. All of the main ingredients are us (as people), but the spices mixed into the dish are our influences. And just as spices come naturally from deep in the earth and get added to enhance the flavor, our musical influences come from somewhere deep and serve us in much the same way.
What are the lyrical themes which you have covered on your two albums? 
Alan: Many of our lyrics started as poems written by Arthur Hoffman, a very talented friend of Henry's—and I hesitate to say too much about the themes of these poems in fear of limiting or leading/misleading those who may interpret things at least somewhat differently. Instead, may I offer a link where one can read one of these poems directly? That would be: http://www.adventmusic.net/adventln.html. I'd also add that the themes tend to vary in general, although both of our epics thus far do seem to favor a nautical setting.
Henry: Interesting question. I always liked Arthur Hoffman's lyrics that were paired with our songs. He definitely has the "poet's eye" in that he seems to be able to write about familiar things in ways that highlight odd associations that most people don't realize they've made with a given situation until sometime after the fact. His sense of humor occasionally reminds me of Squeeze's Chris Difford, but with Keith Reid's (Procol Harum) flair for capturing an unsettling atmosphere in an engaging way. I think the nautical theme, or subjects involving the sea, is something I'd like to go back to—a lot of the composers I seem to like at one time or another explore sea-going imagery as a metaphor or a backdrop for something else. I agree with Mark that the warfare theme seems to recur in our songs, but I think they often suggest a type of contemplative grappling with issues of a personal sort—and again, that's one of the strengths of Arthur's lyric-writing. His stuff is always bigger than it looks at first reading.
Mark: Well, battle themes seem to be pretty common, though I'm not sure why. "Maginot Line" is a battle theme, and so is "Awaiting the Call …" (even though it doesn't have lyrics and is kind of jazzy). The middle section of "AtC" was really supposed to represent the night before a battle, soft and quiet with the acoustic guitars and stuff, looking into the stars in the night sky, etc., and then the call comes for the ride into battle, and the tail end of the song is much stronger and gallops along. "Alison Waits" is basically a ghost story, "In the Tree" is about a young boy left out of the main group of his school chums, "Nowhere Else To Go" is basically a song about seemingly endless travel of the country only to end up back where you started from, "Rear View Mirror" and "Utter Once Her Name" are relationship-oriented songs, "Parenting Parents" is a poignant look at the care of an elderly parent, while "Your Healing Hand" is a touching letter to a child from the father. So, sorry, nothing to get stoned by and no political statements—we've chosen lyrical material that usually helps to convey an atmosphere, and ultimately makes the listener take a hard and deep look inside at themselves, hopefully for the better.
The latest update of your news page is from July 2008 where it says you are working hard on the third album. Please give us a more recent update. What are your plans for this year and where do you want to take this band?
Alan: After spending the last few years ramping up to perform the music live and playing several concerts and a couple of festivals, we are now pretty much dedicated to the "creative mode" process that we hope will lead to the completion of our third album by the end of this year. In fact, I doubt that we will even try to perform again until the CD is finished, just to ensure we don't delay its release any longer than absolutely necessary. Unlike last time, however, we hope to keep the band in tight form so that we can start playing out again right after that. (Depending on how things go and opportunities that arise, however, we may end up making an isolated exception here and there.)
Henry: Just to continue to improve, both creatively and on a performance level. Once some momentum has been generated, you obviously want to keep it going so as to reach as many people as you can with your work. In that sense, I guess one could say our ambitions for this year are the same as last year, only more so.
Mark: We don't like to give out too much info at this early a stage, but I think I can say the following with relative certainty: whereas Cantus Firmus definitely had a European flavor to it (and probably more English than anything else), I think this next one will most likely hit closer to home for us—that is, it'll probably have more of an American feel to it. There are certain American composers that we've really taken a liking to, such as Roy Harris, Charles Ives, Copland, of course, and even more contemporary ones like Burt Bacharach and Eric Whitacre. Songwriters like Brian Wilson and Roger Joseph Manning, Jr. are also often up there on the radar for us. Many of the things we enjoy, regardless of whether they're American or not, have a choral or multi-vocal emphasis, and I think you can expect us to possibly give ourselves another attempt at some (hopefully) interesting vocal work—as long as our throats hold out anyway. Where would I like to take this band? I would love to take this band overseas for a few shows at some point, but that really depends on a lot of factors, most of which are financial or time-related. We'll see.
Just to wrap this interview up; do you have any regrets in your music career? 
Alan: Not really. I suppose it would be nice to be able to make a living playing the music I truly love, but I just don't think that the world is quite ready for that. J
Henry: Regrets? Yeah, I wish I could have hooked up with these guys (in Advent) sooner….
Mark: Who doesn't have any regrets in their music career? There's always a voice in the back of your mind that says, "Oh, I wish I had done this at that time," or "It's too bad I didn't have more time for such and such." But you know what? I'm a firm believer that everything happens the way it's supposed to happen. Would I have liked my "music career" to have gone further than it did at this point? Yeah, sure. But I wouldn't want it at the expense of things infinitely more important and more timeless than just a short music career. So many lives have either been completely destroyed or have left in their wake a past that's littered with broken promises, shattered families, wasted opportunities, etc. I didn't want that to happen to me (or any of us in the group). Early on we agreed that Advent takes a back seat to the more important things in life. That's the way it's been, and I'm happy with that. I don't want my kids growing up saying that Dad never had time for them, or hardly ever saw them. And if it takes a little extra time to put out a CD full of music, then so be it. But you can be assured that when we do give you music, it will be because we had the proper time to devote to it, and that it will be the best we can make it. And for that reason, I believe that it will be good music—possibly even great music. Well, at least music of which I can be proud—for the right reasons, and, as you say, with no regrets.
What are your five all-time favourite albums?
Alan: That's a very difficult question to answer, but I'll give it a shot (in alphabetical order by artist):
·         GENESIS – Selling England by the Pound
·         GENTLE GIANT – Octopus
·         MÚSICA URBANA – Música Urbana
·         PEKKA POHJOLA – Visitation
·         MR. SIRIUS – Barren Dream
Henry: Only five, eh? Hmmm … in no particular order of preference, and with lots and lots of close 2nds and 3rds:
·         PROCOL HARUM – Shine On Brightly
·         GENESIS – Selling England by the Pound
·         GENTLE GIANT – Free Hand
·         Tomás Luis de Victoria's Ave Maris Stella and O Quam Gloriosum masses sung by the Westminster Cathedral Choir (David Hill, conductor)
·         Roy Harris's 3rd Symphony/William Schuman's 3rd Symphony (Bernstein conducting the New York Philharmonic)
Mark: As of today (April 21, 2010) it's:
·         GENTLE GIANT – Free Hand
·         PROCOL HARUM – Grand Hotel
·         GENESIS – Wind & Wuthering
·         ROGER JOSEPH MANNING, JR. – The Land of Pure Imagination
·         TODD RUNDGREN – Hermit of Mink Hollow
Please understand, though, that this list has a tendency to change as the years go by.
Anything you want to add to this interview? 
Alan: On behalf of the entire group, I just wanted to thank you for the interview. We sincerely appreciate your encouragement and hope that your readers will find at least something of interest within. Best wishes to you and everyone reading this!
Henry: Thanks for your interest and your encouragement—and for the interview. A pleasure talking with you.
Mark: I just wanted to say thanks for your interest, Torodd. I'm glad you enjoyed Cantus Firmus as much as you did, and I'm very honored to have had the opportunity to answer a few of your questions along with Henry and Alan. Keep those ears peeled, 'cause we hope to unleash some pretty cool stuff on you as soon as we can. God bless!
A big thank you to Advent for this interview. I gladly admit I am a fan....... and that I have also dusted off some old Gentle Giant albums in the process. Superb albums, btw. And so are the Cathedral's Stained Glass Stories album too. The latter album is a good reference source, but I forgot to include that in the interview.  
The Advent PA profile can be found here and their homepage with those dangerously tempting sound samples can be found here.