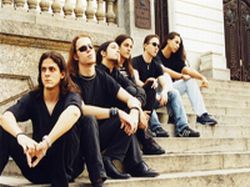 Equilibrio Vital was born in Maracay, Venezuela, with the following members: Marcos Chacón (lead guitar), Jaime Moroldo (fine arts), Carlos Serga (guitar) and Guillermo González (bass, flute, guitar). In June 1980, they decided to begin with this big project.


In October 1980 Elena Prieto joined the group (voice, literary arts, theater and dance). In May 1981 Norma Figuera (literary arts) Aracely Ramírez (fine arts), and Arnoldo Serga printed the shirts with the first logo of Equilibrio Vital. In August of the same year Laureano Rangel (drums) joined the group.

Equilibrio Vital signed with Color for their first record production in 1983, that was called "Equilibrio Vital". In December of the same year they took part in the filming of the first movie about Venezuela rock called: "Rock Venezolano" where Equilibrio Vital performed with the following bands: Témpano , Resistencia and La Misma Gente, among others.

In 1984 they recorded their second album, again with Color, under the name "Kazmor el Prisionero". It included songs in a experimental style that even though was explored from the first days of the band, it was never presented neither to the public nor to the record company. Both the cover and the back cover, just like the first one were, Jaime Moroldo's work.

In 1984 Trina Noguera (dance) joined the group.

In 1986 a new member joined the group: Maximino Suárez, in the keyboards, rhythmic guitar and backing vocals.

In 1987, the band signed contract with Top Hit, for the production or their third album. In 1988, Carlos left the group.

In 1990 Marilú Calandriello joined the band, as part of the management. Also at that year, they recorded their fourth album, including the sax in it, which was played by Guillermo. This work was broadcasted by different radio stations from Caracas and main cities of Venezuela. After this, Elena, Norma, Laureano y Trina left the group.

In 1993 Marco Fatone joined the band in order to substitute Laureano, but left a year later. In 1995 Arnoldo also left, and Jorge Luis Ayala(drums) joined the group.

In 1997 Maximino, Marilú and Jorge Luis left the group.

In 1999, Equilibrio Vital decided produce a new album, seeking to show a range musical styles that goes from ballads to the experimental side, because the band feels that music is the utmost expression of the soul and shouldn't be hidden, since every song is the result specific moment and different experiences faced by the band members. It, includes, as usual, Jaime and Aracely's works, and literary thoughts of the members of the group. In April, Fernado Salas (drums) joins the band. In july, Jorge Lieschtenstein joins the band to substitute Fernando. In 2000 Endgork Moroldo (keyboards, graphic design) joined the band. In 2001 Jorge Luis Ayala (drums) joins the band to substitute Lieschtenstein. On December 29, Marcos passed away.

In 2002 they took part in the concert of Premiata Formeria Marconi (Caracas)

In 2003 Musea re-edited the first record production, that was called: Equilibrio Vital "Tributo a Marcos Chacón"

In 2004 they took part in the Bajaprog festival.


In 2006 Musea re-edited the second record production, that was called: Kazmor el Prisionero, with five bonus tracks recorded between 2002 and 2005.

(taken from their Myspace page)
Venezuela is perhaps not a prog rock powerhouse. But the scene there, and that also include the excellent metal scene, should not be disrespected.
I caught up with the band for an update and their history. The whole band answered my questions.

@@@@@@@@

What are you up to these days?
Endgork: We are finishing the mastering of our new album, "Retorno".  For diverse circumstances we needed more time than we have thought but we are now to finishing it.
Equilibrio Vital is from Venezuela, a country with some good bands. Tempano and Estructura  being two of them. How is life in Venezuela?
Guillermo: Venezuela is a beautiful country, with rich landscapes. Our city Maracay is located in the central zone of the country, in the Valleys of Aragua, at the foot of the Henri Pittier National Park. It is a wonderful place to visit.
Please tell us more about your background and the start up of your band. By whom, where and how was Equilibrio Vital formed? Which bands influenced you most? 
Jaime: The band was formed in Maracay on June 1st 1980. That day I meet with Marcos and Carlos to discus the earliest details of the band such as style, name… although Guillermo and Marcos already have been discussing about start a band this was the first "official" meeting. From this moment new member began to sum to the band line-up which gave more shape and sense to the project combining music, art, theater, literature and photography.
Guillermo: I always wanted to start a prog-rock band, I thought of stating the idea to Marcos, a musician who I admired much, I had the opportunity of saw him playing in his last band "Cópula". I was impressed with one of his songs: "Lluvia Cósmica" which later we included in our second album "Kazmor". Marcos, who had the same idea, was thinking of starting a band with Carlos and Jaime. This is how we started EqV.
Music wise we experimented much. We listened to all types of music; nevertheless we identified ourselves with the symphonic rock. We were influenced by bands such as: Camel, Pink Floyd, Deep Purple, Jethro Tull, Gentle Giant, King Crimson, Genesis, Jan Ackerman, Al Di Meola, Chick Corea, not forgetting the Venezuelan folkloric music which had all played since we were kids.
How and with whom did you get your first record contract?
Guillermo: In 1981 we record a demo with two acoustic songs. "Pensamiento" by Marcos and "Mi Canario" which was a poem wrote by Elena with musical arranges of Marcos and mine. It was a mix of guitars, marimba, flute, percussion, and choirs.
Jaime: With the integration of Laureano as drummer, we recorded another song this time instrumental:  "Hipnal" and another one "Guerra" which it was emblematic for the band earliest days. Marcos show them to Ángel Navarrete, who had organized some years ago the concert "Resuelto"in Maracay. Ángel then showed it to Samuel Hidalgo Futrillé, who was the director of "Radio Satélite".  Both of them became involved with the band producing the first concerts. One of the most important was accomplished the 22nd of October 1982 with great support from the public. Thanks to these performances the label COLOR became interested in us so in 1983 we signed up with them.
Ara: Due to the musical projection that was gained  with these performances and later with the fist LP, we had to adapt to the new times and for the ones who did not play any instrument they took charge of things related to the management.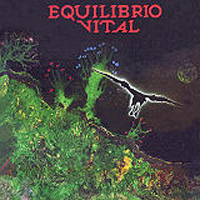 Please tell us more about your debut album Equilibrio Vital from 1983 (later re-released by Musea). 
Guillermo: This album includes songs composed mainly by Marcos.The songs go from very heavy such as "Guerra" or "Tras del Sol" to the most progressive such as "Aliento y Esperanza" or "Armonías con el infinito".
Jaime: We chose the artwork of the cover from a series of paintings done by me. On the inside we included photos, and the lyrics of the songs. In the reissue made by Musea Recods, we named it "Tributo a Marcos Chacón", we included new songs. The design & layout was carried out by Ara and me, and we also included pictures of our artworks.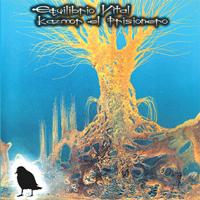 Please tell us more about your second album Kazmor El Prisionero from 1984.
Guillermo: Kazmor was more experimental Lp.  As in the first, most of the compositions are by Marcos, one by Elena: "Prisa" and another one of mine: "Inocentes Perdidos".  There is more use of guitar synth on Marco's part. In "El Ausente" we include a church bell and in "Kazmor" the keyboards for first time.
Jaime: This album featured a double cover; the artwork like in the other was selected from a series of my work. The inside part include a short story by Elena: "Kazmor" and a photograph of the band taken by Laureano. This album was also re-released by Musea, and as in the same as the first one we wanted to show a bit more or our work including new songs. The design was carried out by Endgork, Ara and me.
Guillermo: I must mention that the re-editions are made from the LPs, and not from the original tapes. This is why they don't have a great sound quality.
Your band was hit by a tragedy when Marcos Chacon passed away in 2001. Please tell us more about Marcos Chacón.
Guillermo: Marcos was a great composer and musician but most important was a friend. He began with music when he was a kid playing his Tiple. He told us, when the music is played with the soul, there are extraordinary events.
Can align the body energy points when the people listening to it, making them to be in harmony with themselves. This way of performing and understanding music, he called it Mental Energetic Music Towards a Structural Level to a Future of Hope.
Jaime: Marcos had a very wide vision of art and it was he who gave consistency to the many faces of the band. It was a tragedy because we all lost our best friend.
From this point, Equilibrio Vital becomes a mystery. Hence this interview where I am trying, with your help, to shed light on your history. It is my understanding you have released a third album.
What is it's name and please tell us more about it. 
Guillermo: The third album was made in 1987, when we signed with the label TH.
It's called "Calor Humano" It was less instrumental and more pop. It included tracks by Marcos, Elena and mine. Two songs from this album are included in the re-editions with new arrangements. In the first "Madre", was a cover by Jacinto and Jorge Luis using the voice of Marcos recorded in 2001 before his dead, you could find this version in "Tributo a Marcos Chacon". And "Tempestad" that was originally sung by Marcos was later included in the re-edition of "Kazmor" performed by Jorge Luis.
You have also released a fourth album. What is it's name and please tell us more about it.
Guillermo: This fourth album was an indie production recorded in 1990 with the typical sound of these times, more pop than prog. The compositions were by Marcos, Elena, Maximino and mine. In this album we include keyboards and sax.  The only instrumental track was a piece by the keyboard musician Maximino "Inspiración en FM". The album never was released, although we get broadcasted on the radio one of the songs "La Jornada".
Jaime: Sadly when this production was finished most members of the band left.
Is there any other albums we should know about?
Endgork: We have made two compilations. One of them a promo cd released in 2003, with a selection of videos and music which we called "Continuidad por siempre".  The other is called "Extremos temporales" and was made it as a gift for the fans at Christmas 2008.  There are 12 tracks. Some of them released like "Tras del Sol". Others were not, such as "Solitaria mujer de la ciudad", "Síndrome de rock " and  "Tempestad" which were recorded for "Calor Humano".  "Ciudad", "Inspiración en FM", "La Jornada", "El Viaje"  and "Navidad" which were produced in for the unreleased album 1990.
You have also contributed to the compilation albums Dante's Purgatorio - The Divine Comedy Part II and Tuonen Tytar II. Please tell us more about your contributions. 
Jaime: The contact with Colossus Magazine was thanks to Endgork.  The first contribution was for Tounen Tytar II, in which we take part with Impressions of India, of Jukka Tolonen. We get the help and collaboration of Arnoldo, the bass player, who was present at the beginning of the grouping and has always been tied to the band. In addition, we called the drummer Laureano Rangel, who was an active member in the early days of the band.
Endgork: For Dante's Purgatorio - The Divine Comedy Part II, we chose the canto XXXII the song was composed by Guillermo and is called "Juicio Final".  This time we also invited Davide Guidoni (drummer) and Roberto "Bobo" Aiolfi for the bass.
It was an excellent experience be part of such projects.
You also took part in a movie called "Rock Venezolano" together with Tempano and other bands. Please tell us more about this movie.
Guillermo: More than a movie it's a documentary about the rock movement of the 80`s in Venezuela. It deals with a mix of footage showing concerts performed at the Poliedro de Caracas, combined with live action scenes featuring actors dramatizing the songs. Between pieces, fans and detractors of rock music give their opinion about Venezuelan rock.
We participated in the concert on the 2nd of October 1983 together with "Tempano", "Resistencia" and "La Misma Gente".  The concert was fully packed and we were first to perform. We played two songs "Guerra" and "Tras del sol", for the film they selected "Guerra".
You have been around since the early 1980s and released a handful of albums. What happened in these years? 
Jaime: There is a first stage that goes from the beginning until 1990, it's was the most active stage, during the first 10 years there is a established line-up, but  from 1991 various members retired so we had to reorganize ourselves. At this time various drummers played with us, nevertheless the stability of the first years could not be achieved, even though there are performances and some tracks are recorded there is no really new production. It's in 1999 when we start working on a new album, this time searching for the electro-acoustic sound of the beginning.
Guillermo: Marcos, was suffering from a severe stomach disease since the 90`s, with a crisis that with the passing of time became more distant and bearable, however when we began to record in 1999 his health was very bad. This was the same year when Musea contacted the band and they raised the question of the re-editions.
Jaime: When Marcos died in 2001, we decided to continue with the band, so we invited various friends who had one time been Marco's and Guillermo's pupils, it's with them that the new production is recorded.
Ara: With this new line-up the stage was shared with Premiata Forneria Marconi during his visit to Venezuela in 2002 and we attended to the Baja Prog Festival in Mexicali in 2004. 
You are listed as a symphonic prog band in our community. But how would you describe your music? How would you describe your musical journey from the debut album until today? 
Guillermo: We began with prog and acoustic music; bit by bit it became more like rock as an experiment, then with pop playing sax and keyboards giving it a part of metal fusion. Then again we passed on to electro-acoustics. Now we are searching for a balance between acoustic and electric guitar and keyboards
Endgork: "Retorno", is exactly where we are moulding this sound.
What is your experiences with the music industry and how is the distribution and availability of your albums? 
Guillermo: in 1980, most of the bands in Venezuela depended exclusively on one record label to produce an album. Our first experience was very positive with the Color label.  It was one of the companies that offered the most support to rock music.  With Color we could release the two LP`s with total freedom. Keep in mind that both LP`s are rarity today, they are hard to find mostly because they are 30 years old…
Endgork: The re-editions and contributions are distributed by Musea in physical and digital format, so it's relatively easy to get them through different online stores such as iTunes.
How is the prog scene in Venezuela today and is there any local bands you would recommend to us?
Ara: They are great bands such as Sibelius, Sexto Sonar, Sur Solar…
How do you see the future of Equilibrio Vital and what is your plans?
Guillermo: After an experience of 30 years we have decided not to make any plans, we just hope that we could be able to keep creating.
What is your five all-time favorite albums? 
EQV: It's difficult to choose, but I think we all coincide:
-                      "Snow Goose" by Camel
-                      "Atom Heart Mother" by Pink Floyd
-                      "Romantic Warrior"  by Return to Forever
-                      "Close to the edge" by Yes
-                      "Selling  England by the Pound"  by Genesis
Anything you want to add to this interview?
Jaime: One last thing, the musical or visual creation should always be linked to emotions.
Guillermo: I would like to tell to the bands who are starting, to always enjoy what they are doing… trying to learn form others not to mimic them, always looking for your own personal sound.
A big thank you to Equilibrio Vital for this interview. Their PA profile is here and their Myspace page is here.