Headed by guitarist Kenny Håkansson, this early 70's Swedish band, named after the highest mountain in Sweden, tried their hands at a number of different styles over the course of six albums, including blues rock, jazz rock, even African music. However, it is for a couple of Scandinavian folk LP's that they are remembered for. By the end of the 70's, and after a slow disintegration of the band, they more or less successfully tried their hands at symphonic rock and then disappeared. Their albums are mostly instrumental.
(words by Lise (HIBOU), CANADA)
This band is also a mythological band so I got in touch with them to explore this band some more. Mats Glenngård and Kenny Håkanson answered my questions. 
¬¬¬¬¬¬¬¬¬¬¬¬¬¬¬¬¬¬¬¬¬¬¬¬¬¬¬¬¬¬¬¬¬¬¬¬¬¬¬¬¬¬

What is Kebnekaise up to these days ?  
We are working on our next album, rehearsing and doing a few performances.
First of all; is the correct spelling of your band name Kebnekaise or Kebnekajse ? Various sources operates with different spellings.
Our spelling is KEBNEKAJSE. The mountain is spelled as you do.
The next part of the interview is a bit of a "this is your life" where I ask you some more or less intelligent questions about your music and your albums before we move on.
Kebnekaise is the highest mountain in Sweden, standing 2100 meters above sea level proud & tall. Have any of you climbed it ?
No. Once we were by the foot, but that was in wintertime. It was too much snow for climbing.
When and where was your band formed ? 
1971 in Stockholm.
In Sweden at the time when Kebnekaise was formed, there was both a small prog rock scene and a bigger progg scene around Hoola Bandoola Band and MNW Records. The latter one a leftist scene. Were Kebnekaise ever a part of that progg scene ? What scene, if any, were Kebnekaise part of ?  
We were a part of the progg scene, even if we never did file ourselves in any particular scene.
How did you get your first record deal ?
Kenny: I had contact with record company Silence since earlier through Anders Lind.
Anders was discjockey at the club Filips in Stockholm 1967, and there Pelle, Bella and I played a couple of days weekly September - December, so we got to know each other then. Sometime in 69 or 70 I introduced him to some of my home recordings, and that led to our first album "Resa mot okänt mål", "Journey towards unknown goal".  
Your first album Resa Mot Okänt Mål from 1971 was a hard rocking album. Please tell us more about this album.
Kenny: This was a result of my own. I wanted to move in another direction after Mecki Mark Men. Pelle and Bella went along with me and formed Kebnekajse adding Rolf as second guitarist. As I said, I introduced my music to Anders, and he got interested. We had during that time get to know a group named "Homo Sapiens", from Pelles and Meckis neighbourhood, which we invited to the studio. They are doing some background singing in thev album "Resa mot okänt mål".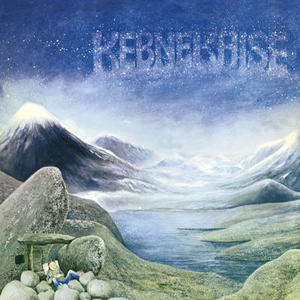 You changed style to folk rock on Kebnekaise (also called II) in 1973. Please tell us more about this album and why you changed style.
Kenny: It was when I came home after being on tour with Cornelis Wreeswijk, a very popular artist in Sweden those days. On this tour there were two fiddle players. They used to do their warming up in the backroom, before going on stage. Then I discovered this music. This music has been around us, you can say, always, but hasn´t been noticed by me until this event.
It so happened that Mats, that then played guitar in his group, also had a background as a fiddler, or maybe you should say violinist, and Pelle Lindström, the singer in HomoSap, was brought up in an environment full of ancient fiddle music.
This was then a time of root-searching, and wanting to know more about our history, musically, and also a kind of happiness finding this music and us being a part, and taking part, of it. Connecting the present with the past.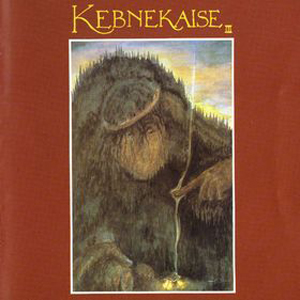 Your next album Kebnekaise III from 1975 was also a folk rock album. Please tell us more about this album.
This album contains some more folktunes, a bit more developed, and also one tune of Ingemar.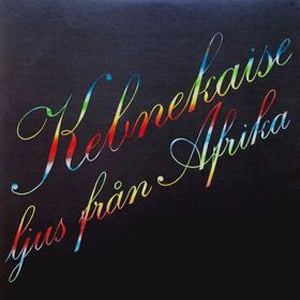 Your fourth album Ljus från Afrika from 1976 was your Graceland album and a pretty hard album to digest with it's African folk music. Please tell us more about this album and the reactions to it because I guess many had problems digesting it.
We have a percussionist in the band already from start. He is from Guinea, Africa. With him he brought a lot of music that he continuously played on his cassette tape player in our tour bus. We all loved it, and loved to play it, and somehow we felt the close connection between our music, though it may sound different. Folk music world wide is very much the same, even if it sounds differently.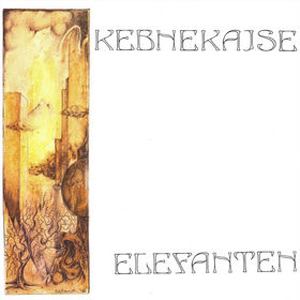 Your fifth album Elefanten from 1977 was another change in direction again. This time, towards the jazz-rock lands of Mahavishnu Orchestra. Please tell us more about this change of direction and this album.
We were, as you have noticed, under the influence of the jazz-rock kind of music. This is when we more or less lost our folk-rock direction, and went astray, trying to go further, getting a bit bored of fiddle-tunes. We had gotten into a dead end, in that matter, and we were very fascinated by McLaughlin, Ponty, Stanley Clarke and so on...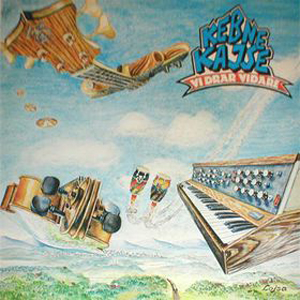 The final album before the thirty-one year long hiatus was an album called Vi Drar Vidare from 1978 and that was another radical change towards symphonic prog again. Please again tell us more about this album.
Mats: In this album its only me, Thomas and Hassan from the original Kebnekajse. We invited two new members to do this recording, Pelle Holm and Per Lejring. The result, as you can hear, are more like "Genisis"-style with a lot of song. Kenny was at that time into his own musical thing. Pelle was playing with some different rockbands and Göran was playing more jazz things with Egba. You can say that Kebnekajse needed a rest at that time.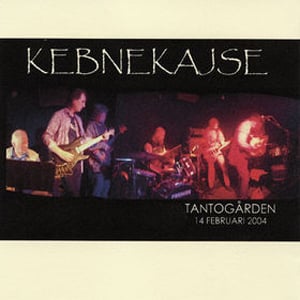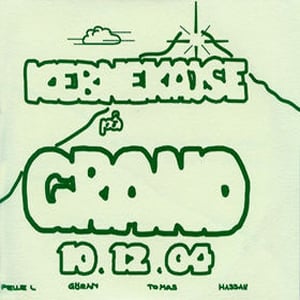 What happened during these thirty-one years of silence, except from some live dates, documented on your two live albums Live Tanto 14-02-04 (2004) and Kebnekaise på Grand (2005) ?
Kenny: I have been playing with a lot of other groups.
Mats: I have been working with graphic design and taking care of my family.
I have also been playing with different groups more or less during that time.
Hassan have been playing with a lot of other groups during that time.
Göran have been working with supporting computers and taking care of his family.
He also been playing with a lot of other groups during that time.
Thomas have beed working in a mecanical service company. He has been playing now and then with different groups.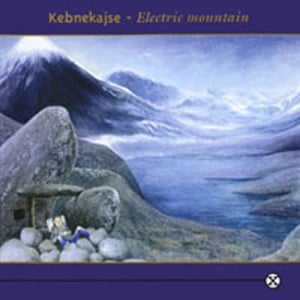 You also released or perhaps a record label released a compilation CD called Electric Mountain in 1993. Please tell us more about this album.
Not much for us to say about it. You have to ask Silence.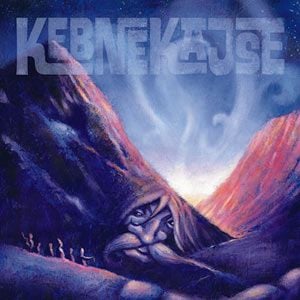 Please give us a presentation of your 2009 album Kebnekajse. The music, the recording, lyrics, the musicians, the artwork, the tracks.........
The music - Swedish fiddle-tunes mostly ancient.
The recording - Started in Silence studio in the deep forest, close to Norway. With some adding on computer in Kennys house. Mixed it in Polar studio, Stockholm. Finished it in CRP mastering studio in Segeltorp.
Lyrics - no lyrics.
Musicians - Kenny H guitar, Mats G fiddle, Göran L bass, Thomas N bass,
Hassan B percussion, Pelle E drums
Mats did the graphic design. The cover-illustration is made by Tomas Lindell.
Photos by Anders Roth.
The tracks -- 1. A tune played inviting guests to the table for meal.
2. A dancing tune in 3/4
3. A tune sung by the woman taking care of cattle, when she called them in for milking time.
5. A tune for the newly wed couple walking out of the chapel.
6. A dancing tune in 3/4.
7. Another tune for dancing in 3/4
8. Also a tune for wedding, walking in or out of chapel.
How would you summarise the life and career of Kebnekaise ?
We are happy to be here, all together again, making music and perhaps a bit of history.
What is your experiences with the music industry in Sweden and world wide ? What is the future plans of Kebnekaise ?
Kenny: I don´t have much experience with the industry. I have always somehow been outside the industrial side of music.
Mats: I been involved in the music industry in two directions.  
With Kebnekajse we always been doing our own music thing. Always making the decisions our selves, in the group and always have a mission with our music.
When I have played with other well known musicians in Sweden its almost always a big record company involved – making the decisions what to do and what to record.
Our future plans are, new albums and performings.
Please name your five favorite albums (from anywhere).
Kenny: I don´t have any particular favorite albums, but I can mention a few that meant a lot to me: Mothers of invention - Freak out, Jimi Hendrix - Are you experienced, John Lee Hooker from 1964 or -65 can´t remember the name of the album, and same for Snooks Eaglin, also -64 or -65.  
Mats: I use to listen to different kind of music. Folk music (Irland, Sweden, Arica, oso….), Hardrock, Jazz, Classic. Some favorites from the past: Santana, Greatful dead, Friendship, Jean_Luc Ponty, Pat Metheny, John Mayhall & The Bluesbrakers.
Anything you want to add to this interview ?
Keep music alive, live and lively.


Edited by toroddfuglesteg - October 17 2010 at 12:09