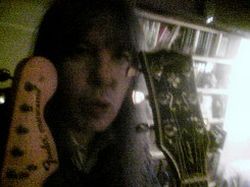 MARC CECCOTTI is best known for his work with Edhels. Even though he appears to be the primary force of that band, he has still found it necessary to work strictly solo. His musical life began at the Monaco Academy of Music. Through connections there, Edhels was formed in the early '80's. After around ten years of life with the band, he decided it was time to break out on his own. (words by H.T. Riekels)
I got in touch with him for an overview of his career.
_____________________________________
First of all, please give us an update on Edhels. 
There is not a possible update anymore, the Edhels ship disappeared in the faraway ocean mist surroundings of the year 2001 either twenty years after its set afloat.
The Universal (live) album was the real last album of the band, it remains a pleasant experience but its imposing crew could only survive with the consequent support of a serious Label , in spite of the obvious interest of the public, of the musical magazines and music reviewers and even of several distributors none label didn't never know how to propose a serious offer…. after all these years and a lot of effort so badly rewarded the incentive missed to a lot of us and to remain in the same metaphor the ship has been deserted...
To start with; please give me your (long or brief) thoughts and reflections on.......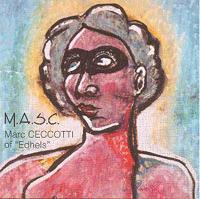 M.A.S.C. from 1993
M.A.S.C  is my first solo album, most compositions that are in this album didn't splice in characteristics required for the Edhels band that is the reason for which I had recorded several of them aiming to make a solo album. I sent it to the Musea label that produced the band at the time but it didn't interest them, the pretext was that the albums solo didn't have the favor of their customers...I have been very disappointed  because they produced some solo artists at the same time,so I put my tapes in a drawer and I worked on other musics.Some months later I had the opportunity to make listen to  Moroni from Mellow Records and he decided to produce this album spontaneously . Fifteen years after,  I still receive sometimes some compliments about M.A.S.C.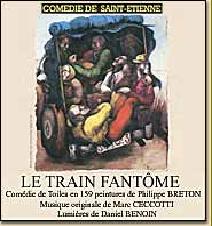 Le Train Fantôme from 1994
Le Train fantome is a spectacle conceived  and achieved by my friend the excellent painter Philippe Breton. He imagined and wrote a history told on the scene of a theater by more of 130 pictures painted by himself, only the pictures appeared on stage, descended by hangers, either they arrived on arranged rails of every side of the stage, one synopsis acting as guide was distributed to every spectator what helped them to follow history told by the pictures and the music for that Philippe had asked me to compose. The spectacle lasted a few more of one hour.We played it in the national theater of Saint Etienne in France during three days and we made heaped room during the three days.We hoped that some investors he demonstrates to present this unique spectacle in other cities but it was really complicated  and expensive to transport all this material and also immediately the first evening some spectators had bought pictures of the spectacle and had not wanted anymore to let leave them on a tour.It had been necessary that Philippe recreates the spectacle every day while repainting new pictures, what would have inevitably provoked a systematic modification of the history.It remains only the music of this incredible spectacle because since this time the 130 pictures have all been sold and each now has its own history.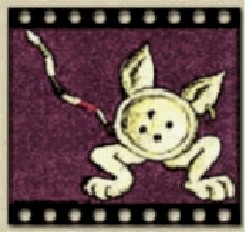 The Dream Side Project N° 1 from 1999
- I remember that some of my friends artists, sculptors, painters, designer had to organize an evening to present their works in their shop at Monte Carlo, they asked me if I could prepare some musics to create a way of ambiance with their works, I was installed on a metallic catwalk way and had very little place, I had therefore write and recorded some arrangements on a revox that acted me as playback and I intervened lead with a guitar or a keyboard.Thereafter several people asked me where they could find the musics that they had heard at the time of this evening, So I took these tracks  and I worked again on them to achieve The Dream Side Project N° 1.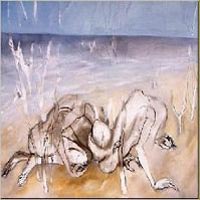 An Enigmatic Wave Of Empathy from 2001
After having understood that the new adventure just begun with the Universal album had already no future, I composed several tracks in forecastings of a next album to motivate the band and myself once again  while choosing a way more oriented toward the experimental. However I think than unconsciously I understood that the adventure with the band had arrived to its term so my compositions took again another way that I would qualify of new way of movie music , a strong movie music and not only support of pictures, a music of movie without movie. Certainly conceited but necessary so that I accept to be alone on board.  From this strange alchemy  "An Enigmatic Wave Of Empathy" is born.
There is here a small mistake in your list, the album that follows is " SALTIMBANQUES" from 2003 - some can believe that it is about an album of Edhels but it is an inauspicious (confusion - commercial)... It is  my fifth solo album, even though I invited two ex members of the band to play on two or three tracks.Some tracks of this album were written for a long time (the themes of the tracks 2 / 4 and 9 have been written in the 70's) they would have may be played by Edhels but it is not the case.
I am very proud to have gotten the Best song Guitar instrumental 2006 (Golden Kayak award) with the track " Paradoxical intentions " on the famous independent artists company USA.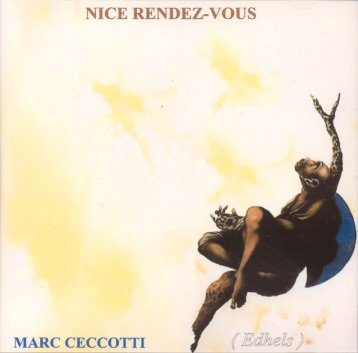 Nice Rendez-Vous from 2005
When I have write " Nice rendez-vous  " I had just crossed a period of multiple changes in my life, important changes and other miners and also it is a period or after several years I had restarted to play in public places as restaurants or private evenings in private places, some with playback - machines, some with other musicians.I think that it reflects this transient period with some tracks a few jazzy,some a few bluesy, some acoustic oriented and some innovating and more experimental.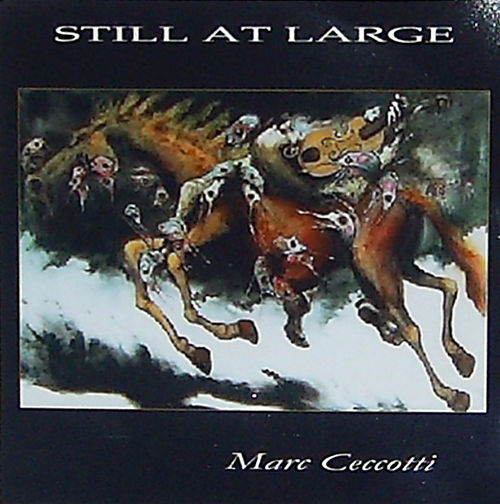 Still At Large from 2007
Still at large is probably the synthesis of the previous albums and the previous musical adventures, it is incontestably in the opinion of a lot of listeners and myself too a strong and prominent album in my discography, he proves a certain maturity and a shape of stability in the style nevertheless in the same time he elaborates some bridges toward other universes and demonstrate a will always presented of musical adventures and non conformism.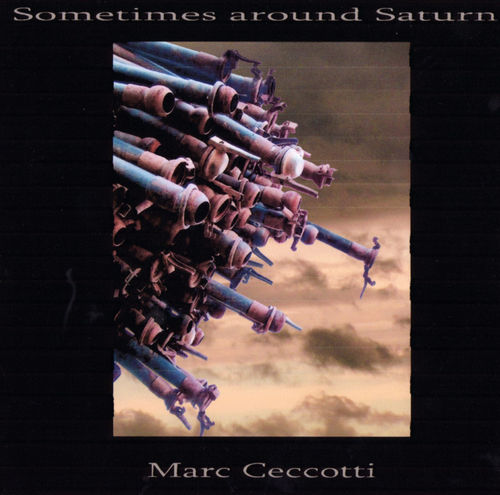 Sometimes Around Saturn from 2008
I wanted for a long time to write a new concept album but I didn't want to fall in the fairy tale usual of the prog bands, many bands already made it and makes well and with Edhels we had by a certain manner crossed this time, of another hand I had several times considered to write some musics about Saturn and its multiple moons. The information about these moons are very few so it has permitted me to write a musical history all in evasive questions, I could say "suspended questions" as if they floated in air...the answers will arrive later as the light of some novas that reaches us of years after their emission J .I think that Sometimes Around Saturn  is certainly one of my best albums at this day, may be even the best... Edhels inclusive albums.I adored this period of composition and recordings that was like a musical river that flooded this period of my life, a lot of spontaneity, of ideas, of pleasure. This album lets the door opened on a whole future...real or imaginary...? The art - work photo of the front cover achieved by my daughter Lauren is also a big satisfaction.
What are you currently up to now and what is your plans for this and next year ?
- I began to work on a new album during 2009 but for various reasons I have to interrupt my work of compositions and recordings during some months, I begin rightly since some days the continuation of this new adventure.It is not indeed about a concept album but there is a way of thread driver...for that will know to see it...this album should appear certainly before the end of 2010.
How would you describe your music and whose bands/artists are you most influenced by ?
I would define it like a music in perpetual research, a way of perm alchemy mixing some materials acquired and some daring less known matters. I have indisputably undergoes the influence of thousands of composers and musicians of classic, jazz, blues,rock, Contemporary music etc...To give some names is not of a big utility it would require several pages because there is also an alchemy...one doesn't go without the other... On the other hand I am not sure to know all influences that arrived until me.
How is your current label situation and what is your experiences with the music industry ?
Since several years I don't depend on any official label it is not always easy but the liberty of creation is total and for me it remained an essential condition, the development on Internet of several sites that have mediator's role in the distribution as itunes, Reverbnation, IACmusic, Amazon etc...permits to have a direct accés to the listeners and customers, they can listen to the excerpts, to make themselves an opinion, to buy a track or 2 or 3 or the complete album even with cover. With regard to the labels I can tell to have a certain experience.In the  80's with Edhels we had signed a contract with A&M at the time that was probably the biggest company in the industry of the disk, they had Supertramp,Police,Brian adams and all Numbers 1 at this moment... it was  enthusiastic...We were the only French band to sign with an American label and it was the number 1... they convened us in Paris where they had their French office because 1 track of our demo had attracted their attention, They asked the director of the Europe section to come in Paris, he arrived from Amsterdam in some hours,, the following day in the morning the big boss from Los angeles arrived in Paris with his private jet to meet me, he proposed me an impressive list  of producers and sound engineers  while telling me that they could be there in less than 24 hours...at this moment it became frightening...he listened to the track again and said " ok! now it's necessary that you write the small brothers of this track..some kind of clones of this track...you understand...the business work like that !..." L ! We recorded 3 tracks with them in a big studio..then there was an economic problem wave in the world, A&MS have been touched, they closed the French office , in the same time they made me known that they didn't need the whole band...only (me) the composer had the interest for them..then some times after A&M have been sold and this history it is stopped there ! It demonstrates rather well what we can think about labels. At this day only some people know that we were the first French band  to sign a contract with the biggest US label in the 80's.
Is music your main occupation or do you also have more sane occupation ? 
Music is a healthy occupation. Contrary to the oil industry, the political hypocrisy or the inconsistency of the traders...  Fortunately I have other occupations  and especially a family... it is a big occupation !
Just to wrap this interview up; do you have any regrets in your music career ? 
To have no regrets offer only two possibility , either: to be God, either: to be unconscious.But I don't make a fixing while saying "if that..or if this.... !"  It doesn't serve to anything, it is necessary to go ahead.
Anything you want to add to this interview ? 
Thank you to prog Archives readers, I hope you'll love & buy massively my music ! I promise that with my profits I would not construct oil basis in front of your beaches, that I would not hire a trader to steal your pension , nor that I would make the politics while saying that all problems result from the Martians or other Aliens.I would use these profits to write & play more musics again and to offer you some unpublished dreams.  So go proudly and without fear to buy my music to the following addresses: