Alex Carpiani Band is a pretty well known band in the scene. This despite of only one album behind them. But they will soon release their second album. I got in touch with Alex for the story. 
-------------------------------------------------------------------------
Please tell us more about your musical background and where you were born.



I was born in Montreux (Switzerland) in 1970 of an Italian father and a French mother. At the age of six I started playing electronic organ and taking my first lessons of solfeggio and music theory. Later I passed to piano and composition.
I took a graduation in Musicology at the University of Bologna, I specialized in "music for film" at the C.E.T. (a famous Italian school of music) in Central Italy, as well as in "sound engineering" with top Italian sound technicians at the Arte Scenica Foundation in Bologna. I've also been awarded in several Italian and international composition prizes in the 90s.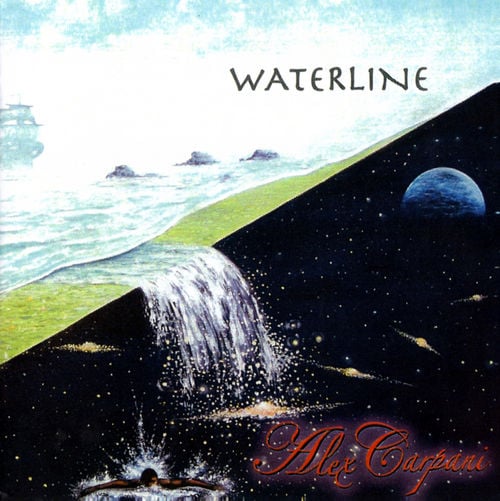 You have so far only released one album in 2007 called Waterline. Please tell us more about this album.
"Waterline" is a progressive rock concept album dedicated to the thin line dividing the world emerged from the water, the familiar one, from the submerged world, the unknown one. Originally conceived as an instrumental project, it has become an album with lyrics, with the vocals taken care of by Aldo Tagliapietra, the leader of the legendary Italian prog band Le Orme.
Thanks to the genial painting by Paul Whitehead (collaborator of early Genesis, VdGG, Le Orme, etc.) created for the album artwork, the original "waterline" has become an accomplished surreal scene with characters and real objects. This new scene inspired me, Dan Shapiro and Paul Whitehead for the lyrics writing and the final titles of the album playlist.
"Waterline" has been composed in three weeks in my home-studio during a long period of immobility due to a serious ankle fracture. I composed, arranged, performed and recorded all the parts and sent a demo to Aldo Tagliapietra, who liked the project and made the connection between me and the American prog label CypherArts. After an hard-working process of production the album has been issued in 2007. Several prestigious musicians of the American prog scene have been involved in the recordings: Neil Bettencourt (drums and percussion), Dan Shapiro and Ken Jaquess (bass), Tony Spada, John Thomas, Robert Wolfe and Marc Pattison (guitars), Cory Wright (saxophones and flute), etc..
I know you are pretty active and this album does not tell the full story about you. What happened after the release of this album and what are you up to now ?
Since 2007 my band, the Alex Carpani Band, has performed in several prog festivals around the world, as well as in top rock clubs in Europe. Our live sound has become very original and suggestive and we have periodically added new songs in our repertory, giving many "previews" of the upcoming studio projects to our fans.
I'm now in the process of finishing my new album, "The Sanctuary", which will be issued in September 2010. This album is the product of many years of work and represent the next step following "Waterline". It's a symphonic prog album with a more "rock" taste compared to the debut album.
We decided to perform the new album live before its issue, so our 2010 Tour starting at Prog'Sud Festival in Marseille, France, on May 14th will also include the new stuffs.
How would you describe your music and which bands would you compare your music with ?
My music can be described as a symphonic rock, with keyboards parts in evidence and a descriptive and visionary style. In fact, in our concerts the music is always accompanied by visuals…
I usually write all the instruments parts when I compose, including drums, so my approach is similar to the one of a composer writing a symphony. Orchestral parts are important in my music and piano, strings and winds are never missing in my compositions.
I cannot find the right band to compare my music with, but certainly Genesis, ELP, Yes had their influence in forming my music style and profile.
Classically speaking, my inspiring masters are Respighi, Mahler, Ciajkovskij, Prokofiev, Debussy, Satie among others.
What is your plans for this year and where do you want to take your music ? 
The new album will come out in September and the band will perform in Italy, France, Germany, Serbia and more places to be announced.
Our 2010 Tour will start in May and will end in December. The fall leg is under construction at the moment.
I'd like to take back my music in America and Mexico, where we played in 2008, where there are a lot of fans of us, as well as in Japan, where we never played yet.
Just to wrap this interview up; do you have any regrets in your music career ? 
I spent many years in composing as a solitary artist, making music for my own pleasure. Since 2006 I discovered the pleasure of sharing this magic art with other artists and I regret a little bit to have discovered it so late…
Anyway, in those years of "pleasant isolation" I worked a lot, writing all genre of music, form symphonic music to electronica, from new age to electro-jazz, from music for films and documentaries to drum'n'bass and music mixed to poetry…
It has been a very useful training for developing my composition and arrangement skills.
There are more than 30 albums in my self-produced 1990-2007 discography.
What is your five alltime favourite albums ?
(not in order of preference)
Kind of blue, by Miles Davis
Crime of the century, by Supertramp
Picture at an exhibition, by ELP
Wish you were here, by Pink Floyd
The lamb lies down on Broadway, by Genesis
Anything you want to add to this interview ?
Yes, I would say that I'm a lucky artist because I play with great talented musicians, and friends of mine, like Ettore Salati (guitars), Marco Fabbri (drums) and Fabiano Spiga (bass), which have interpreted in the best way the sense of my music, adding their own precious touch, personality and sensibility on everything we've done until now. We are a band, a real band. It's not me plus them…
Thank you to Alex for this interview.
His PA profile is here and his homepage is here