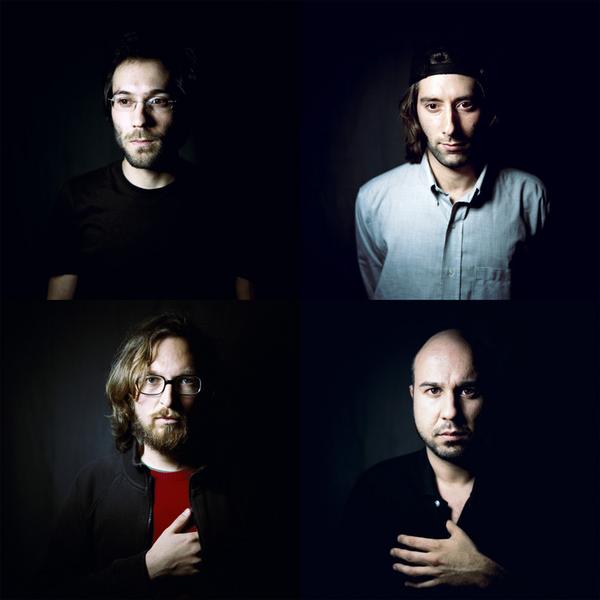 I got their debut album some months ago........ and I am scratching my head. What in the name of Alaska is this ? Canterbury or Eclectic ?
It is pretty obvious that this band is a pretty special band which should win a lot of admirers among both Eclectic Prog and Canterbury Scene fans....... if they get the recognition they deserve. I got in touch with the band for some more informations about them. Damien answered my questions.
---------------------------------------
When, where and by whom was Centenaire formed ? Why did you choose that name ?
Centenaire started out as an accoustic trio in 2006 : Aurelien Potier (Cello), Damien Mingus (Charango, vocals) and Orval Carlos Sibelius(12 strings accoustic guitar, vocals ). we played some sort  of minimalist,  baroque, elegant and progressive popsongs. 
Six months later Stephane Laporte (Domotic) joined the band to play percussions and an old electric organ.
The name "Centenaire" means Centennial and was inspired by an old tree. Most of the songs of this period were written in an old mansion surrounded by beautiful old trees in Brittany.
To start with; please give me your (long or brief) thoughts on.......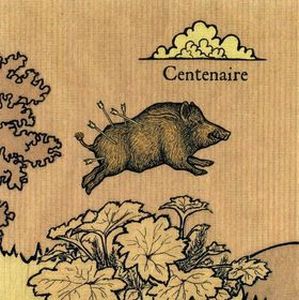 Centenaire from 2008
Before starting Centenaire, each of us had his own electronic solo project, and was spending a lot of time making music that was based on computers and the whole recording/overdubbing process. The music of Centenaire was a reaction to this "selfish" way of creating music. We wanted to explore other musical genres and a more "traditional" and ancient way of making music, playing together and letting the instruments resound in a room...
This way of working was very fresh to us, so the songs came quite easily, and even though we paid a lot of attention to structures and such, they are pretty spontaneous. The album was recorded live at the mansion, we wanted to capture the sound of us playing together in a room.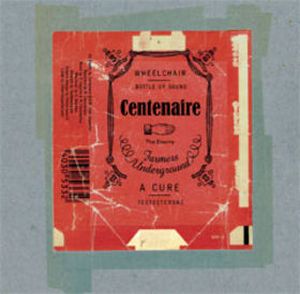 2 - The Enemy from 2009
We started working on "The Enemy" right after the release of the first album. We wanted it to be more electric and we spent much more time composing each song. With the first album we played a lot of home shows where you have to be very quiet. After its release, we played more "regular" clubs and venues, we had to play much louder and we began to introduce more electricity and energy to our sound. We had a lot of fun doing that and therefore we wanted the new album to sound more "raw" and electric. The goal was still to compose "pop songs" without the traditionnal forms of it : that's our "progressive" touch !
With songs like "Testosterone" and "Farmers Underground" we pushed things even further, and prefigure what we want to do for the next album.

What is the latest update on your band ?
It's a major update ! Orval who played guitars in Centenaire left the band and we decided to go on without trying to recreate the "old" Centenaire (we didn't look for new personnel neither we tried to adapt the old repertoire). It changed a lot of things : Aurelien who played the cello now plays the drums, Stephane who played percussions now plays baryton guitar and Damien  plays much more organ. The "new" Centenaire is therefore more, primitive and straightforward. But the way to compose songs is still the same : we jam and experiment a lot, and we pick out the best ideas. We still spend a lot of time on structures and songwriting.  We already have recorded 6 songs and we are currently working on new material.

I have your debut album and I am scratching my head over it because your music is truly unique. But how would you describe your music and which bands or scene would you compare your music with ? 

Since we started Centenaire we always wanted to play and perform songs , but without the boring traditional structures. We listen to a lot of different kinds of music which help us a lot on our goal : We can think of Jazz, experimental, pop, electronic, noise music etc... to create our own thing. Bands like This Heat, Sonic Youth, or King Crimson are good examples of this alchemy we're looking  for.

You have done a very impressive amount of gigs and small tours which has taken you around France and into neighbouring countries. How do you get gigs, how is the gigs situation for you and any chance you will venture over to Great Britain for some gigs ? 
First of all, we don't perform as much as we would like to. As usual money is the problem and concert venues don't t take that much risk. We mainly toured when the album were released, and the fact that Orval left the band made it even more complicated.
Right now we are focusing on writing new material and we'll try to tour much more when the new album will be out. But to play Great Britain, the best way would be to release our music on English labels. (if you have any suggestion, let us know  !!!;)

You are signed on a record label called Chief Inspector. How is the distribution and promotion of your albums ? 
Chief Inspector is not releasing albums anymore (at least for the moment). It's sad but it is the case for a lot of small indie labels right now. The promotion was ok in France but nothing important happened abroad for "The Enemy" .The distribution was not that good : huge record stores sell less and less independent music and there are less and less small record shops in France.
We'll try to find new music labels around Europe when the new album will be ready.
Your image is slightly jazz-orientated, arty, bohemian and intellectual. Or is it me misunderstanding your image ?

It's true, even  though The Enemy was less jazzy  . The new songs are  less jazz-oriented and bohemian, still 'intellectual" but rawer and straightforward. The fact that Orval left the band and that we are now a trio makes it more open : we are re-inventing Centenaire !
Just to wrap this interview up; what is the plans for your band this year and next year ? 

As we said : working on new songs, recording them in a better way,  looking for labels around Europe to release it and tour much more !
What is your five alltime favourite albums ?

Of course the three of us don't necessary have the same top 5 ! But we do agree on :

This Heat : The Peel Sessions (because it's like a best of)
King Crimson : Red
Steve Reich : music for eighteen musicians
The Beatles : Abbey Road
The Velvet Underground : Live 1969


Anything you want to add to this interview ? 
Thanx a lot to Damien for this interview. I wish them all the best in their hunt for a record deal. I think bands like this adds a lot of color to the prog rock scene.  



Edited by toroddfuglesteg - May 11 2010 at 13:12