Also Eden is a well known band from England from the festival circuits. They are doing the music business the old and only way: By building up a dedicated fan-base through gigging the world........... OK, Europe then. 
I got in touch with Steve for an update. 
¬¬¬¬¬¬¬¬¬¬¬¬¬¬¬¬¬¬¬¬¬¬¬¬¬¬¬¬¬¬¬¬¬¬¬¬¬¬¬¬¬¬¬¬¬¬¬¬¬¬¬¬
Let's start from the beginning: Also Eden were formed in 2005 as a recording project. Various festival then beckoned where you built up a solid reputation and fan-base. 
Let's rather start with your (long or brief) thoughts and concepts on your two albums starting with....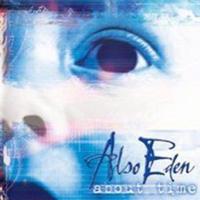 About Time from 2006
About time – written largely by Huw and Ian, with some of the instrumental section such as For Bumble developed by Si and Ian. It was really an album project, with some of the material written in the preceding years. Various members joined to create the overall band sound, and the eventual final recordings. Lyrically quite auto-biographical/biographical, but with other more general themes covering street children and chat rooms! Quite a dark album in places.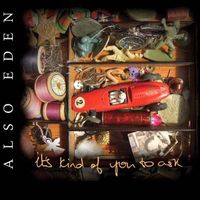 It's Kind Of You To Ask from 2008
IKOYA – Having gigged quite a bit the previous year, we managed to write some new material. Much of it was part of the set, but in a slightly different format (e.g. parts of Star were merged with the end of Skimming Stones). Tracks like Photographs and Widows Eyes had already been played live quite a few times, so didn't change significantly. Widow's Eyes almost made an appearance on About Time (It's an old song of Huw and Ian's). A couple of the tracks started out as acoustic tracks from Si (Skimming Stones/Artificial Light/Together Alone), and morphed, more or less, into band tracks, Star is a good example of complete band collaboration - we had developed a good band sound by this point, playing a few festivals in Europe. Again, very strong lyrical themes covering war, loneliness and consumerism. Some pretty dark sections, with strong emotional overtones.
All the albums have been released by yourselves. Which is a pretty big commitment. Please give us the pro and cons of going it alone.

Doing the albums by ourselves means we keep the costs down. It gives us freedom to do things the way we want, when we want. It's very rewarding to see the whole thing through from start to finish. The downside is you need to factor in all the non-musical stuff, which can be time consuming. Also, you lose out a little on the marketing and promotion. That said, in today's world of digital downloading, on-line purchasing etc, we never seem to be short of sales. We find we sell a lot at gigs as this is where we have a captive audience. We are currently working with promoters to help us market our products better.
Is it fair to first and foremost regard Also Eden a live band ?
It's a balance between the 2. We certainly are a very good live band, but also pay massive attention to detail in the studio. They are 2 different disciplines which we cope with very well. We have a very big live sound. We love playing live.
You have done some festivals around England and Europe. Please tell us more about them.
Our former singer Huw Lloyd Jones is co organiser of the Summersend Festival, so we've managed to play this one 4 times. Also Progfarm in Holland twice (first time as a 3 piece acoustic 'Almost Eden'), second time as full band. Also Prockfest with good friends Abarax from Germany, Highlight was last years Loreley Festival. Have played many times in Europe (Germany, Belgium, Switzerland and Holland). We hope to do more European gigs later in the year. We seem to have a great rapport with Dutch and Germans in particular. That said, Dave (Deef) our drummer is Dutch, and Rich has been a Dutch resident in the past!

Also Eden have recently had a line-up change and also have a new EP coming out before the summer called Differences As Light. It is said to be a new direction for your band. Please enlighten us !
If you listen to the first 2 albums you will hear a dramatic improvement in our playing. This is certainly true with DAL too as we now have a rock solid rhythm section, and we are much more advanced from the recording side of things. It's fair to say we are also a lot braver these days, drawing from our past experiences and mistakes. We are now more willing to push the boundaries a little more, and experiment with different styles. We are musically a lot better. Most importantly is the change in vocal delivery. Rich has a very big vocal range, so this has pushed the music into directions which we weren't able to before. The lyrical themes are still very important, but they are very different this time, more political/reflective of society in content.

I guess it is fair to say that you belong to the British Neo-Prog tradition together with the likes of IQ, Magenta, Pendragon & Co. But there is also a lot of references to the likes of Genesis and Yes here too. But never mind my opinions, how would you describe your music ?
Yes, we have often been described as neo-prog, sometimes Symphonic Prog. There are certainly similarities with the bands you mentioned, and we are fans of their music too, and are friends with some of them. I think if you were to ask the guys you mentioned the same question, the answers would largely be the same. We have very early 70's prog influences, with a more contemporary feel. We all like music which is not just prog, so there are wider influences there too (rock, folk, classical, pop, blues, alternative). Genesis and Yes is definitely there, but you will also get other influences if you listen closely. Si is also working on an early Genesis project too, so some of this might have infiltrated our stuff! Some of us have other outside projects, which are not necessarily what you would consider neo-prog.

I guess this year will be filled with gigs too. What is your other plans for this year and where do you want to take Also Eden ?
Yes more gigs with the new line-up. We will also work on new material for inclusion in the set and album 3 late 10/early 11. We have an EP for release in May 2010, which is really meant as a taster for things to come, and as a bridge between IKOYTA and the new album. The themes from the EP will spill over into the new album. All part of the same concept! We really hope we can reach a wider and newer audience, particularly with Rich in the fold. The new stuff is very strong.

Just to wrap this interview up; I guess Also Eden is not your fulltime jobs. Can I ask what your respective full time occupations are?
Si - Regional Managing Consultant.
Steve – Guitar Teacher/Information Officer
Ian – BBC sound engineer
Rich – Computer Programmer/Consultant
Dave – Building Trade/Student

What is your five alltime favourite albums ?
Genesis - Selling England By The Pound (Si)
Marillion – Brave (Rich)
Jimi Hendrix – Band Of Gypsies (Steve)
Genesis – Seconds Out (Ian)
Bela Fleck and the Flecktones– Live at The Quick (Dave)

Anything you want to add to this interview ?
Look out for the new material and gigs in 2010. We are looking forward to getting back out there and seeing a few friendly and familiar faces. It's all good!!
Thank you to Steve & Also Eden for this interview.