Odin's Court is a progressive-metal band born from Maryland, USA. They have played with most of the big prog and progressive metal bands in the USA and has a good reputation in the scene. 
I got in touch with Matt for the Odin's Court story.
###############################################################
When was Odin's Court formed and do you have any background from other bands ?
November 2001.  I was in many other bands before Odin's Court, but none that did more much than play some local/regional shows.  Some were cover bands and some were original.  They ranged from rock to metal to country to jazz and all kinds of stuff.  I also did some solo acoustic fingerstyle performing.  That all contributed towards my "style."
Whose bands were you influenced by?
I typically say inspired by and not influenced.  There are lots of bands and artists who inspire me.  Some may make people raise an eyebrow, and others are obvious.  Artists and composers like Pink Floyd, Counting Crows, Devin Townsend, Journey, Boston, Queen, Fleetwood Mac, Dio, Iron Maiden, Angra, Lionel Ritchie, BB King, Van Halen, Beethoven, Mozart, Yanni, Enya, Annie Lennox, and more.  And I absolutely love the 80s – not just the hard rock and metal, but the pop too.
To start with; please give me your (long or brief) thoughts and lowdowns on.......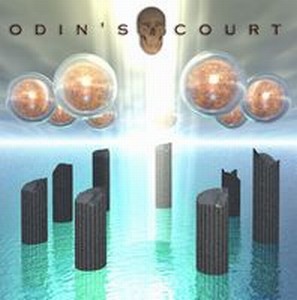 Odin's Court from 2003
We were struggling to find our sound, our place, our way…  It was a different band then.  We were still mostly playing small bars in our hometown with 90% covers.  We did metal from all decades, from Sabbath to Megadeth to Tool to Disturbed.  Then we'd mix in our originals.  The goal was to start out with covers and eventually transition to all originals.  Scott, John, and I were tight – both musically and as friends.  We still get together and jam when Scott is in town.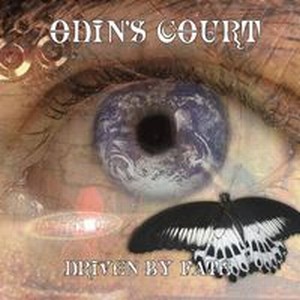 Driven by Fate from 2003
I wanted to do an album that was progressive in nature – changing time signatures, complex rhythms, and so on – but as a collection of songs that were not too flashy.  I also wanted them to be more metal/hard rock, and a concept album.  There really are various concepts on the album, but the main one is how the mind may dwell on the universe, creation, its place in it, etc.
None of us had ever done a full album in the studio before.  I had an original band I put together in high school, wrote 6 songs, and recording them at a local studio that was basically a bedroom with a 4 track.  But this was much bigger, so this was a schooling for all of us.  We definitely were not ready for prime time.  But despite that, it was a very valuable experience.  We learned what to do and what not to do.  I started to learn about sound engineering and mixing - though it was just an expensive lesson.  And the studio owner is now a good friend of mine, so I wouldn't trade the experience for anything.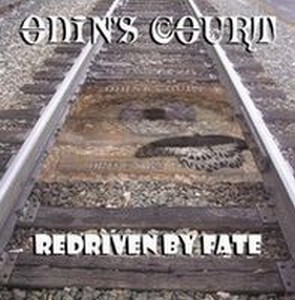 Redriven by Fate from 2006
This was the first album I did entirely on my own.  For Driven by Fate we went to a studio.  For this album, I started piecing together my own studio.  We actually had a good portion of Deathanity written at the time, but I thought a good way to get something out sooner was to rerecord this album.  Plus, it would help me learn more.  The big difference was that we were a 3-piece for Driven by Fate, so I did hundreds of guitar and keyboard overdubs.  For ReDriven, we did it exactly as we play live, which included Rick on additional guitar and Savino on keys.  I thought that would be a fun way to differentiate the albums, since they mostly contained the same songs.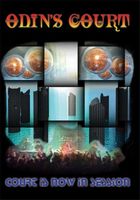 ...Court is Now in Session from 2006
That was fun. The idea to do a DVD came about as a result of a show we did opening for two larger National bands in Springfield, VA, USA.  In a nutshell, we promoted the heck out of the show and the other bands didn't draw as expected.  There were only 200 or so people there, and we were responsible for more than half.  Of course, being the opening band, we didn't get paid much – or get much time on the stage.  As a thank you, the owner asked us back to headline our own show.  So we got some other regional bands to play with us.  It was a blast.
The tedious part was when I did all the video editing and audio mixing and syncing.  But it was rewarding, and again, a great learning experience.  Each project I did, I improved vastly as a performer and an engineer.  One day, I'd like to do another DVD.  We have matured a lot as a live band since then, so it doesn't do us justice.  Though it is cool to watch it for nostalgia, and the fans that haven't been able to see us live could see what we were like in 2006.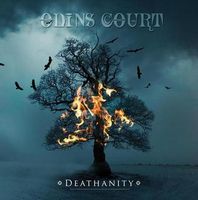 Deathanity from 2008
To date, hands down, our best work.  This is an album we were all truly proud of.  In fact, during the process, Rick had left the band due to various reasons.  Once he heard the finished product, he wanted to come back!
When I planned this album out, I wanted it to be very big.  Big in the sonic sense, the concept (which deals with people destroying the planet), the presentation, etc.  I thought of my favorite band, Pink Floyd and Roger Waters and the production that typically goes with that, and set out to do it on a metal scale.  It was a lot of fun going in the field with my recorder and collecting sounds.  I interviewed people about the state of the planet.  We recorded the songs, and I put it all together.
A huge and tiring effort overall, but again, very worth it.  Aside from the sound improving so much, the vocals were leaps and bounds above our previous works.  I finally started to figure out my voice, my range, and how to use it.  Something I have further honed as I've worked on the next album.
Your latest albums is from 2008. What is the latest update on your band and what is your plans for this year ?
We're really, really excited about this new album we're working on.  For this one, I thought it would be fun to do something different yet again.  I wanted an album that was very song focused – nothing crazy, just good riffs, nice layers, and hooky melodies.  I also wanted the production to be top notch.
So first, I thought it would be cool if Craig and I wrote the entire album together – lyrics and music.  He tends to be more spastic, and I tend to be more mellow and traditional (though we both have those aspects), so we tend to balance each other well.  I am very pleased with the results.
Next, I needed to update my studio.  So I had a new one built.  I turned this into a side business to help pay for it – it's called D2C Studios (www.myspace.com/d2cstudios).  I got a lot more nice gear, did a lot more reading, experimented, etc.  I've had some fun bands in here.  In fact, one band I've been working with is similar to us, so it's a great way to network.  Maybe we'll do some shows together some time.
The resulting recordings thus far for our new album are great – I'm super excited for people to hear it when it's done.  Three songs are essentially done, and another is close behind.
I'm not comparing us to Boston on a talent or production level, but we tend to be like them by taking a long time between albums.  In reality, the time between original albums was 5 years from Driven by Fate to Deathanity.  I was hoping to have this one done by the end of 2009 and out in 2010, but as usual, life has distractions.  I've already spent hundreds of hours, and I'd say we're only 50% done.  I still have to do vocals for 75% of the songs, and John still has drums for 2 or 3 left.  The rest of the guys are mostly done.  But I'm guessing it will be early 2011 at the earliest by the time it is out.  I'm hoping to finish it in 2010.
Like the previous albums, it is a concept album.  The working title is Human Life in Motion.  This time, it deals with the individual, whereas Deathanity was about society as a whole.  So this is an introspective album – basically, it is about life and how things are cyclical, we all go through similar experiences, etc.  Like I said, I'm excited about folks hearing it – anxious even – but I want to get it done right, so it will take longer than I'd like.
How was the writing and creative processes in your band ?
On Driven by Fate, I wrote the majority of the material.  Scott and I wrote some of the lyrics together though.
For Deathanity, again, I wrote most of the material.  Though I encouraged the rest of the guys to contribute.  Craig was eager to do that, so some of the songs we wrote together.  Savino also wanted to contribute, but he tends to be a perfectionist.  I think he completely rewrote his song at least 2 or 3 times.  So over the year or so that we were writing, he finished a song about a day before the first person started recording.
For Human Life in Motion, Craig, Savino, and I wrote a monster track together.  It's about 20 minutes long.  A very, very cool tune!  However, I am 99% certain it will go on the next CD due to all the work we still have ahead of us.  We ended up recording almost 2 albums worth of electric material and one album of acoustic material (complete with upright bass, mandolin, banjo, harmonica, and more!).
For the next CD after all of the above, I want to try another approach.  Craig and I to write the basic skeletons, and then the band to get together and jam them and record them "live" once they've developed and matured.  So it really varies.
How would you describe your music and which bands would you compare your music with ?
Each CD is a little different, but I would say melodic rock/metal with lots of diversity.  We go from heavy to ambient and everything in between.  I think we sound unique, but similar bands would be artists like Pink Floyd, Devin Townsend, OSI, Chroma Key, Type O Negative, and Porcupine Tree.
How easy/difficult is it to promote your albums these days and how easy/difficult is it to get gigs ?
We're fortunate enough to have a great label.  ProgRock Records does a great job promoting Deathanity.  Once we're done with the next one, I'm hoping they'll continue to work with us, as they are a great partner.  Shawn (owner) knows his stuff and does a great job taking care of his bands.
In terms of gigs, I worked very hard to book and promote every show we ever did.  I manage the band as well as perform in it, so it can be quite tiring.  But we have been pretty successful on a regional scale, and have played around the US some (both coasts, plus from Georgia up to Massachusetts).  We hope to get to Europe one day, as I feel like we'd be more appreciated there.  We had a great opportunity come up last year, but long story, it fell through.  One day, I'd like to find an agency or someone to manage this aspect.  But one step at a time; we need to finish our album first.  Then I plan on a short tour or two to support it, and hopefully we'll have some help booking and promoting it.
What is your five favourite albums of all time ?
That could be a long answer!  I'll try to keep it brief… Roger Waters Amused to Death; Pink Floyd Dark Side of the Moon, Meddle, Wish You Were Here, The Wall, Animals, The Final Cut, and The Division Bell; Devin Townsend Terria, Addicted, and Ocean Machine; Counting Crows August and Everything After, Across a Wire, Hard Candy, and Recovering the Satellites; Yanni Live at the Acropolis; Beethoven's 9th Symphony; Yes Talk; Bruce Dickinson The Chemical Wedding and Skunkworks; Van Halen 5150, 1984, OU812, Balance, and Van Halen; Porcupine Tree In Abstentia, Lightbulb Sun, Fear of a Blank Planet, and Deadwing; Ozzy Osbourne Blizzard of Oz and Randy Rhodes Tribute; Black Sabbath Paranoid and Heaven and Hell; Dio Holy Diver; Blackhawk Blackhawk; Prince Purple Rain; Pantera Vulgar Display of Power; Metallica Master of Puppets, …And Justice for All, and Ride the Lightning; Journey Escape and Frontiers; Boston Boston, Don't Look Back, Third Stage, and Walk On; Fleetwood Mac Rumors; Dream Theater Images and Words; Chroma Key Dead Air for Radios;  Iron Maiden Seventh Son of a Seventh Son, Somewhere in Time, Number of the Beast, Powerslave, and Piece of Mind; Faith No More The Real Thing; Fear Factory Demanufacture; Dredg El Cielo and Catch Without Arms; Lionel Ritchie Can't Slow Down; Queen A Night at the Opera; Robert Plant and Alison Kraus Raising Sand; Steve Vain Sex and Religion; BB King Live at the Regal;  Type O Negative October Rust; Danzig Danzig; Angra Holy Land, Angels Cry, and Rebirth; and I'm sure I'm forgetting a bunch.  I love music, and I can never remember all the things I love on the spot – there are too many!
Anything you want to add to this interview ?
Just that as always, we really appreciate the fans support.  Thank you to everyone who has come out to see us, bought our albums, and told your friends about us.  Hopefully everyone that discovered us on Deathanity hasn't forgotten us while we've been locked away working on our next album.  It will definitely be worth the wait!
And thanks to ProgArchives for the opportunity to do the interview.  We appreciate you taking your time to interview us and for all you do for the underground scene!
A big thank you to Matt for this interview. Their PA profile is here and their homepage is here