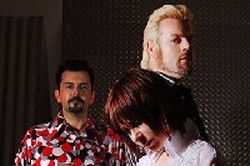 Anubian Lights are an electro-lounge outfit from L.A. masterminded by Tommy Greñas and Len del Rio. Continuously exploring space rock's possibilities, they mix sci-fi kitsch with acid-rock, spaced-out electronic and world-music, building their songs layer by layer and then filling their hooky loops with subtle details. This groove-driven (and outright danceable) material is progressive in a way, although not in the 'prog' sense per se. With the use of sampling, synths, drum machines and deep pulsating bass, they churn out some playful and infectious foot-tapping, hip-shaking numbers, creating hypnotic landscapes à la Can and Kraftwerk.(words by Lise (HIBOU), CANADA)
I got in touch with Len Del Rio and got his story.
@@@@@@@@@@@@@@@@@@@@@@@@@@@@@@@
The Anubian Lights biography can be found in their PA profile. Why did you choose that name ?     

If I remember correctly, Tommy, Paul Fox and I were sort of starting a follow-up to the Nik Turner Sphynx album. We had, that year, toured all over the U.S. with Nik, and wanted to keep the momentum up, since it had been so successful. We had also just finished the Pressurehed-"Sudden Vertigo" album, and we were ready to do something, less noisey, and more electronic. Tommy & Paul had started their Brain side project, so they had a few songs ready to work on, for what would become The Eternal Sky album. We still had some of Nik's spoken word & flute tracks leftover from the Sphynx album, and with his blessing, we would incorporate that into the new songs. One of his pieces, had the refrain: "...My Anubian Light will lead us into the next world.." or something like that?  I took that line, and sampled it for the song, "Anubian Light Destiny", and I believe, we just ended up calling this new project "Anubian Lights", because it had a nice sound to it, and had the connection with Nik, and we were still on a high from the great tour we had done with the Hawkwind guys.
To start with; please give me your (long or brief) thoughts and lowdowns on.......

Eternal Sky from 1995-
Personally, I'm very proud of that album. It was a nice collaboration between, Myself, Tommy, and Paul. Del Dettmar sent us a song he had done, "Trismegistus", and we just tweeked it a little, and that went straight on the album.Same with Brandon Labelle, who gave us "Various Hazards.." and again we would tweek and add addition instrumentation to all these pieces. Then we wrote everything else from scratch, and had Doran Shelley (Pressurehed) play guitar overdubs. Then Simon House sent us some violin solo tracks to "fly" into the mix. I thought the album came out real good. Some people over the years, say, it could have been the soundtrack to "Stargate"! That's pretty funny.

Let Not the Flame Die Out from 1998-
This album, to me was a big transition for us. We had pretty much called it a day for our band Pressurehed. The record label even encouraged us to stay more Electronic, as that seemed to be the way bands were going in the late 90's. "Flame" is pretty much, just Tommy & I, with guest contributions from Nik, Simon, Doran, & Paul Fox, (and even a Mother Gong sample thrown in the mix). I'm not sure, how or why we got the idea to start incorporating the "Lounge" style music, in with the eclectronic songs? I know I was listening to a lot of 60's soundtracks, and things, but it felt like a natural progression. I have to say, that "Flame" is my favorite album of the bunch. It's a good, late-night driving record.

Naz Bar from 2001-
What can I say about Naz Bar, but it was a complete change from anything we had done before. We were signed to a new record label, (Crippled Dick Hot Wax), and we felt really free to just go out on a limb, and do something new. We wanted to do something with a sense of humor, but still have that spacey aspect as well. By this time, the Nik Turner/Hawwind connections were no longer a part of Anubian Lights. Tommy & I were now a duo, and we would have different musicians, "guest" on our recordings. I love this album, though it does have its flaws. The songs are too long, and we really should have edited almost every song, but the label didn't seem to mind. Almost every song is like a 12" remix!  With this album, we were able to tour all over Europe & Australia for the first time, so I will always have fond memories to take away from Naz Bar. We also have remained very good friends, to this day, with Toni, who owns Crippled Dick Hot Wax.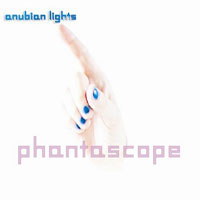 Phantascope from 2005-  
Not sure where to begin, as I have mixed feelings about this record. I was happy with the mixing I did, and with most of the songs, but not all.  The quick back story on Phantascope is as follows: After Naz Bar, our record label thought it would be a great idea for us to collaborate with Lydia Lunch, who was interested in doing an album with Crippled Dick. Since we had had a good track record with working with established singers (Nik Turner, Damo Suzuki, etc..), we got together, and wrote music for Lydia, and recorded the EP- "Champagne, Cocaine and Nicotine Stains". It came out better then we thought it would. Lydia was happy, and decided that we should tour Europe together, (backing her up), and write a full length album together. We did just that, back in LA, with Lydia. She brought in two of her friends (Adele Bertei & Carla Bozulich), to sings backing vocals. We really liked Adele's singing, and we asked Adele, if she would want to sing on a few songs, when we went back to start our next Anubian Lights album. She said yes, and a few months later, we started work on it. Tommy and I wanted to try something different. Instead of long, dancey songs with just sampled vocals, we wanted to write songs that were "Spacey", but had a slight "Pop" vocal aspect to them. We thought at first, the album would be half instrumental and half vocals, but Adele's vocals seemed good on every track, so we thought we should incorporate her into the band as our new lead singer. When the record was finished, we shipped the demo around, and Adele sent the demo to singer Nona Hendryx, who was launching her new record label. She loved the demos, and flew us three to New York, where we ended up signing with her label, Rhythmbank. We were all very happy in the beginning, but I think, in my opinion, when the album was released, and it did not sell the way the record label expected it to, the disappointment led to arguments, which led to a parting of ways with Adele. We got to do some fun things though, because of Phantascope. We played South By Southwest for the first time. We played live on KCRW's Morning Becomes Eclectic with Nic Harcourt, and we got to play some great shows in New York, and the West Coast.
What is the latest update on Anubian Lights ?
Well, things have been a little slow for us, in the past few years since Phantascope. We've been working on a new album for a few years now. We're almost done, and we hope to have it released in 2010. We hope we can do some shows to promote it. We have, in the past few years, played a few shows in Europe, and we have backed up Damo Suzuki from Can, when he tours the West Coast. Tommy is also very busy with his other band, Farflung, and I am currently back in college learning Post Production sound & film editing, as I hope to transition into that field.
How would you describe your music and whose bands would you compare yourself with ?
I guess our music is always being described as "Spacey", "Lounge-y" "Hypnotic"  Electronica Rock. That kind of fits. I don't really know what bands to compare us with, but our influences range from the obvious, Hawkwind, Can, The Fall, Kraftwerk,  to less obvious like Lalo Schifrin, Yello, Severed Heads, Morricone?
How is your label situation and what is your experiences with the music industry ? 
Currently, we are free to sign with any label, or just release our new album ourselves, which is always a good option. With the music industry the way it is today, bands have to be their own record label, manager, & promoter. It's nice to know, that we have total control over our new songs, to do as we please! Most our experiences with record labels, apart from Crippled Dick, have not been too pleasant.
You have been associated with Hawkwind in the biographies I have seen. Please tell us more about this association.
Well, it started in 1993, when our old record label, Cleopatra, wanted to re-issue an older album from Nik Turner of Hawkwind, called Sphynx. Cleopatra could not get the rights from the original record label, so, they suggested that Nik re-record the album. Tommy & I were suggested to Nik by Cleopatra, because we had just released our first album, and we had opened up for Hawkwind, when they had played LA, in 1991. We were also big fans of Hawkwind, and we really loved to watch the "Night Of The Hawks" live video from 1984, with Nik as their lead singer. We were excited to work with the crazy man we saw in the video! He turned out to be a real mellow gentleman, (he has always reminded me of Peter O'Toole!)  So, we wrote most of  the  new Sphynx music, (along with another songwriter,Wayne James from The Flesheaters). Nik sent us a cassette of his vocals & flute, and we added it to the mix. The record label & Nik were happy with the outcome, and decided that Nik should come to America, and do a tour with Pressurehed backing him up. During this time, we had met, and become friends with Helios Creed from Chrome. We asked him if he would play guitar on the Sphynx album, and later be in the touring band. From that, we ended up doing two full U.S. tours. We toured Japan, Europe (Tommy & Paul), and released 2 live albums, and a live video/DVD.
What is your plans for this year ? 
Get that new Anubian record out!
Just to wrap this interview up; do you have any regrets in your music career ? 
None I can think of? I feel very lucky to have been able to release records, tour the world, and collaborate with artists who were influential to me, when I was young.
What is your five alltime favourite albums ? 
Not in any particular order, but here goes:  1. Wonderful & Frightening World Of The Fall-The Fall,  2. More Specials-The Specials,  3. Viva La Trance-Amon Duul II,  4. Bullitt soundtrack-Lalo Schifrin, 5. Black & White-The Stranglers
Anything you want to add to this interview ?
Thanks for your interest in our music.
A big thank you to Len Del Rio for this interview.
I may add Tommy's answers (yet to be received) on a later date.