Sleepwalker Sun from Brazil is almost impossible to pigeon hole into one category. They have one foot in the progressive rock category while the other foot is all over the place. AOR, Canterbury, Symphonic, Neo and Eclectic.......... Who knows ! That makes Sleepwalker Sun a pretty innovative band in my view and one of the best new progressive metal bands. I got in touch with the band to find out more about them.†
Luiz Alvim†answered my questions.†
--------------------------------------------------------------------------------------
When, where and by whom was Sleepwalker Sun formed ? Why did you choose that name ?
I formed Sleepwalker Sun with Francisco Falcon (bass), but it turned out as a sort of project. We worked together in some tracks, one of them is the title track from our first album, but then I felt I needed to get some old songs of mine and try some new things. Thatía why I say it was a sort of project, because I was ahead of everything at that moment. We had several special guests in our first album, and we only had a fixed line-up after the release of our first CD. Everyone who worked in that album helped to make the Sleepwalker Sun sound, but the fixed line-up only came after the first release.
The name was taken from a poem by Gustavo Paiva, lyricist and executive producer, that turned into the lyrics of a song, Sleepwalker Sun.
To start with; please give me your (long or brief) thoughts and reflections on.......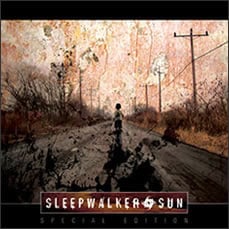 Sleepwalker Sun from 2005
It was the first one, with a lot of material from other bands I had, so it was easy, in a way. Once we decided what old and new songs we could work to make that album, I made the demos with Francisco Falcon. Then everyone came with ideas, including the guests, and added their own personal touch to every song. We were happy to have the special guests in almost every song, especially Marcus Viana, because I am a great fan of his music with Sagrado. The response from magazines and sites around the world was terrific, we didnít expect that so fast, with our first release. It was a great album for us.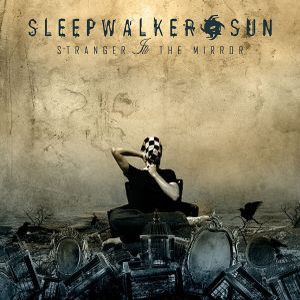 Stranger In The Mirror from 2010
We wanted to record this album more like a band, getting experience from a few concerts we had in the previous year. In that way, we can say this album is more cohesive than our debut CD. The songs were composed, or re-written, in a short period of time, which I think helped the cohesion of the album. Itís more emotional and less technical than our debut CD, we wanted to explore deeper other nuances that were present, but not explicit in our music. The artwork is fantastic (as it was in the previous one), the digipack is very beautiful, and I think it represents perfectly the music. We are very pleased with the overall result.
There is a five years long break between your two albums. What happened ?
Everyone has other musical and non-musical projects, so until we had the time to get the songs written and ready to record, 2 years passed. The recording sessions took a little longer than we thought because of agenda problems. Our first release is from alte 2005, so we can say is more a 4 year break, but itís a long period, I admit. We intend to release our next one in 3 years, at most.
What is the latest update on your band and what is your plans for this year and next year ?
We are planning to going to Europe or USA for some gigs, but itís not the easiest thing in the world :) The prog music scene in Brazil is not the best one, so itís really frustrating to be the best band we can, and not have good gigs around here. We really want to play outside Brazil, but itís not entirely up to us. If some promoter is reading this, please get in touch :)
Music wise, it is simply wrong to label Sleepwalker Sun ďjustĒ a progressive metal band. You incorporate a lot of other types of music too in your sound and music. But how would you describe your music ?
Well, we say prog music, just to simplify. But there are elements of several individual influences, not only in the compositions, but in the execution of our music. I think we are well represented when we say prog music, because nowadays bands labeled as prog music can sound heavier, or even more pop, and they get accepted by the prog audience. Personally, I listen essentially to prog music, or prog influenced, but I have several different styles in my CD collection. Francisco Falcon is a well requisited blues and jazz sideman player, Rodrigo Martinho (drums) loves classic rock, as Led Zepellin, Deep Purple, as well as more technical stuff, as Rush. So Sleepwalker Sun is really the result of our influences and styles as musicians.
How is your gigs situation ? Do you play much live ?
As I said, the Brazilian prog scene is not great. We donít have enough venues or public in the underground. When mainstream artists like Roger Waters comes here, there are 40.000 people, but critically acclaimed bands like Quaterna Requiem or Tempus Fugit play only once or twice a year, and not for too many people. Itís kind of sad, people are not used to go to underground concerts around here. So we donít play much live, as we try to play gigs only when get the right conditions and venue.
Just to wrap this interview up; do you have daytime jobs in addition to Sleepwalker Sun ?
Sure, we canít live with profits from Sleepwalker Sun!! :) Everyone has other activities whether musical or not. Rodrigo (drummer) and Falcon (bass) have other professional musical projects, but everyone have another source of income.
What is your five alltime favourite albums ?
Thatís a difficult one. I think if I have to answer this every week, it will be a different answer everytime. I think Clutching at Straws (Marillion), The Wall (Pink Floyd) and Leftoverture (Kansas) would be in most of my lists. To get just another two is very hard, but I think In Absentia (Porcupine Tree) and Close To The Edge (Yes) could make into that list.
Anything you want to add to this interview ?
I want to thank for the opportunity of talking a little bit of Sleepwalker Sun, and invite everyone who didnít listen to give it a try, itís music made of love and effort. All the best.
A big thank you to Sleepwalker Sun for this interview.†


Edited by toroddfuglesteg - October 17 2010 at 12:05