Burnin' Red Ivanhoe
is, with their jazz rock fusion style one of the most important 1st generation Danish prog rock bands, one of whose memebers is the revered Danish multi-artist Ole Fick (also known as an actor, painter, designer, comedian, and visual artist). Still going strong, they play a good handful of gigs a year, and I had the pleasure of watching them live in Amager Bio, Copenhagen, on the fourth of July, 2010.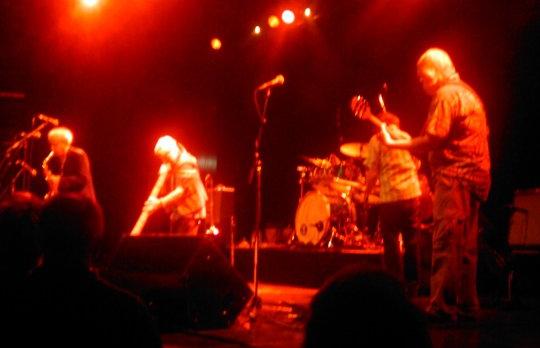 They opened up with the intrumental "Gong Gong The Elephant Song" from
Burnin' Red Ivanhoe
, which is probably their most well-known composition. By playing the song that most people know, they ran the risk of not alienating their younger audience later on during the gig by immediately shooting off the one song that they could recognize. On the other hand, it's a fairly uptempo song, serving to get the audience going from the start, and, moreover, another effect of playing their most well-known song from the beginning is that it could capture the attention of the younger audience more so than a song that might be fairly unknown to them. Fortunately, "Gong Gong The Elephant Song" had the latter effect, ensuring an active and engaged audience throughout the rest of the gig.
Experiencing this band live is somewhat of an experience. Ole Fick is a brilliant guitarist whose solos are truly captivating, and his guitar sound is crystal clear, which is impressive, considering that he only uses an old Marshall amp and an equally old effect board. Saxophonist and "keyboardist", Karsten Vogel, is the epitome of a sophisticated jazz fusion musician and his jazzy saxophone solos complement Ole Fick's more rock and blues inspired style. Kim Menzer, who is very much a multi-instrumentalist, is always fascinating. 'with great enthusiasm he plays the didgeridoo one moment, and the trombone the next, then changes to the harmonica, and suddenly you see him play some obscure type of percussive instrument.
The set consisted of nothing but well performed classics such as "Tingel-tangelmanden" and "Indre Landskab" from
M144
, "Wallifanten" from
6 Elefantskovcikadeviser
, "Zebra Danza" from
Shorts
, and the title track from
Lack of Light
. While Fick, Vogel and Mezer constitute the core of Burnin' Red Ivanhoe, the heavy "August Suicidal" from
Right On
gave the drummer and the bassist the change to impress, as a bass solo and a drum solo had been inserted. And impress they did. The drum solo was one of the more interesting drum solos I've heard (for some reason I tend to dislike drum solos), as it not only showed off the drummer's skills but also had some sort of structured variation to it. The bass solo was nothing flashy, but there was a sense of coolness to it, and that bass player calmy and coolly displayed his musicianship, as the solo culminated with some funky slapping. The many jazzy instrumental sections and the long songs were spiced up with friendly chatter on stage and anecdotes from the 60s and 70s, making for a cozy and friendly atmosphere.
That's what it was: an evening of excellent musicianship and a cozy and friendly athmosphere in amager Bio. In other words, a really really nice concert.